1 year impact report
Women are not merely an object and identified by the clothes she wears. Instead, women should be recognized by their role in the community and the contributions to their families.
Impact for girls & women
30 girls and women from the metropolitan area participated in our workshops.
Estimated girls & women affected
30
Broader impact
?
Estimated community members affected
?
Challenging anti-racist perceptions.
Since you've last heard from us, we have continued holding workshops in order to promote healthy racial identities, improve the self-image and self-esteem of Puerto Rican women and their families, and strengthen the anti-racist movement in our country. Our workshops include the following:
• The recreation of ancestral images in which participants study the life of their black ancestors through historical accounts
• The deconstruction of institutional racism in the educational system
• Anti-racist teaching of African heritage in Puerto Rico
• The exploration of racial dynamics in our society and the formation of union between diverse ethnic and racial groups
• Analysis of racial beauty constructs and the promotion of a healthy racial identity
• Reflection on internalized racism and its impact on self-identity, self-esteem, and self-love
• A fashion show that exposes the history, culture, philosophy, and religion of African heritage
The goal of our project has been to showcase that beauty is in young and old, high and low, slender and bulky, light skin and dark skin women. Women are not merely an object and identified by the clothes she wears. Instead, women should be recognized by their role in the community and the contributions to their families.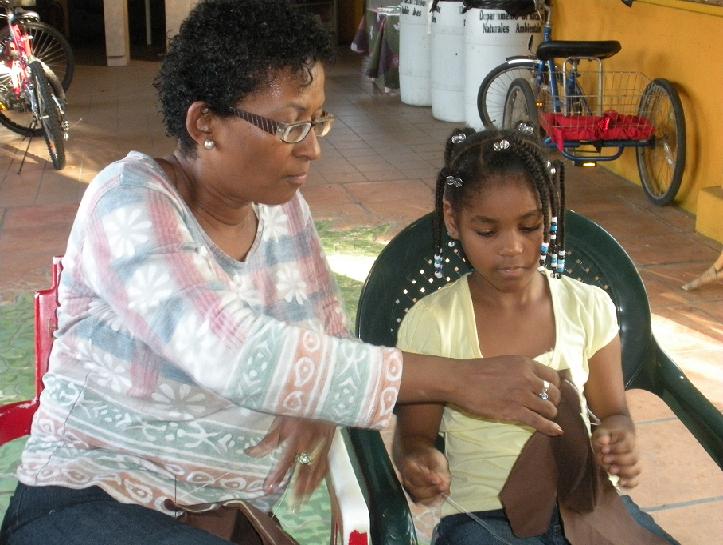 Get personal
After participating in our activities, Kimberley has been able to address the serious abuses she faced because of her curly hair, which is considered bad in Puerto Rico, and affirm herself as an African descendent. She has decided that she wants to continue with her advanced studies and will soon be making a trip to Santo Domingo to strengthen ties with the Dominican community and learn of the antiracist work that is being conducted there.
Risks and challenges
Unfortunately one of the biggest challenges we faced was criticism from very vocal people who lacked racial and gender consciousness. They would question our mission, claim that we have exaggerated our experiences, and even ridicule our participants who wore African turbans. This required us to address these issues and prepare women on how to respond and protecting them. Also, during the implementation of our project, we had to deal with the chikungunya virus, which left many sick.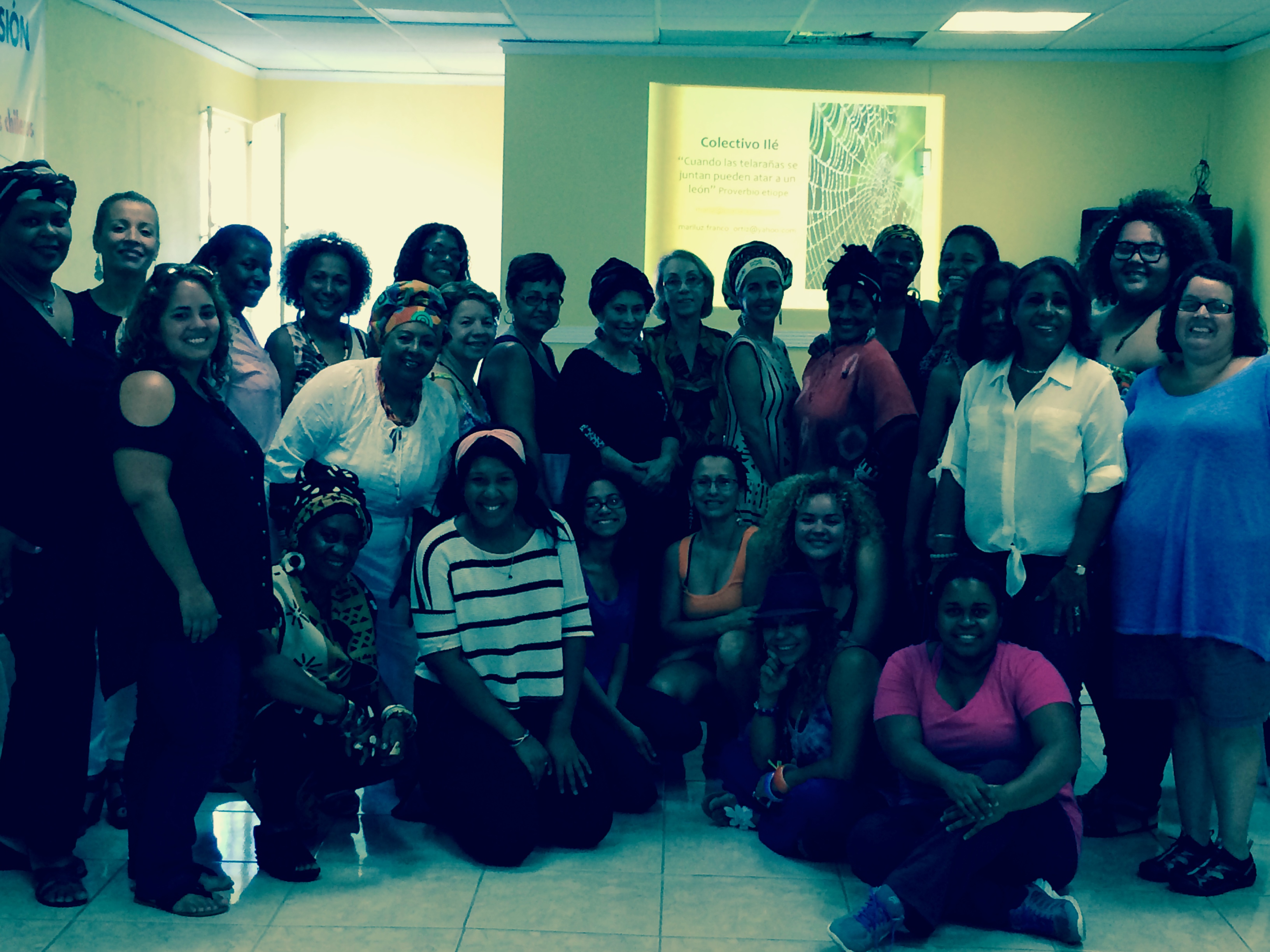 What we've learned
If we were to start this project again, we would want to include more creative ways for participants to express and share what they learn with our communities. We would also add more time for participants to reflect on what they've experienced. We hope to include this during the final stage of our project.
Next steps
In January 2015, we plan on continuing our work, spreading to the women of the Aibonito y Barranquitas community.
Budget
The funds have not been completely spent as our program has not yet been completed. We have reserved a portion of our budget to carry out the third showing of Africa in my skin, Africa in my being.
Line Items

Projected budget

Amount spent so far

Staff

Materials

Travel to communities

Premises (rent/utilities)

Communications

Total

$12,075

$2,000

$1,200

$3,200

$1,525

$20,000

$6,200

$1,112

$0

$629

$0

$7,941
90 Day Report
Challenging racism in Puerto Rico
May 6, 2014
During the past few months, we have implemented a series of anti-racist activities directed at organizing women. Through these activities, we're paving the way for how we'll carry out the programmed three performances of Africa in my skin, Africa in my being in different towns on the island. The workshops cover myths about race and racism in our education system, ancestral images, breaking racial thinking, and the racialization of hair. Other activities include participation in forums outside of Puerto Rico, correspondence with our affiliate groups, and participating in gatherings and assembly meetings.
Risks and challenges
Effective January 2014, Colectivo Ile has converted to a membership-based organization. The goal is to include more participants in our programs, as well as include the general community, so these individuals can direct the path of the organization.
Next steps
The first three months of 2014 have been spent working to achieve our projected goal of premiering the first edition of our program in March. The second showing of Africa in my skin, Africa in my being is scheduled for June 2014 and the third is scheduled for November 2014.
Budget
Up to this point we have not spent any of the money.
Help bolster women in Puerto Rico to lead their families, communities, and society in ending racism, sexism and discrimination.
Why we care: Puerto Rican women face violence because of a culture of racism that remains from colonialism and patriarchal beliefs.
How we're solving this: Training women to embrace their ancestral roots, confidently recognize and correct racist behavior and language, and become leaders of social change.
Afro-descendent women in Puerto Rico suffer multiple discriminations, based on their race and gender, as well as on patriarchal beliefs that hold them to be inferior within society. This situation has made them vulnerable to violence. Puerto Rico exists within a state of cultural, political, and social limbo. It is neither fully a part of the United States, nor a separate and autonomous entity. As a result implementation of laws that protect women from gender-based violence is inconsistent.
Ilé is empowering women and emboldening them to embrace their ancestral roots as a tool of strength in standing up for their rights. "Africa en mi piel, Africa en mi ser" (Africa in My Skin, Africa in My Being) is an anti-racism and anti-colonialism campaign designed by women for women to strengthen the Afro-descendant identity. Ilé will conduct anti-racism workshops throughout Puerto Rico for 90 women. Workshops will focus on ways to shift racist ideologies, ancestral history, and on how to promote women's healing and leadership. Trainings will help women rise above stigma and discrimination and develop confidence regarding their racial identity.
These women will also learn strategies to recognize and correct racist behavior and language among family and community members. The final outcome is that these women, trained with leadership skills, will forge ahead, create transformative visions for their communities to eradicate racism and sexism, and drive a movement of women to catalyze social change. Training workshops will last for three months in three different communities throughout Puerto Rico: Barranquitas (center of the island), Mayagüez (west part of the island), and San Juan (Metro area in the northeast part of the island).
Additionally, Ilé will reach hundreds of women and girls through public theatrical performances and a public fashion show. The show will include participants from the organization's trainings presenting African and Afro-Boricua fashion; speaking about African history, culture, philosophy, and religion; and listening to African music. The fashion show will celebrate the participants not just for their beauty, but for their leadership roles in their community and family.