1 year impact report
"Over the course of making [the film], I gained valuable insight on the role of gender in democratic participation today—insight which has bearing for all parts of the world."
Impact for girls & women
This number is based on the project subjects/interviewees and crew (freelancers and staff).
Estimated girls & women affected
80
Broader impact
This is the number of formal and informal project advisors, subjects/interviewees, crew (freelancers and staff), and individual donors.
Estimated community members affected
288
Despite violent pushback, Arab women stand strong
A year ago, Egypt faced yet another major transition. Massive protests forced President Morsi to step down on July 3, 2013, one year after he assumed power. Former Commander-in-Chief el-Sisi became Egypt's Prime Minister and then its 6th President. Still, women's rights remain a battlefield—gender-based attacks are used to discourage women's participation, undermine their efforts, and discredit the entire revolution. One sign of hope comes from Tunisia, where the 2014 constitution codified women's rights, indicating the revolution's potential for success. Encouraged, women fighting for rights in the region forge on.
Despite global coverage of the uprisings, the significance of women's role there has not been fully reported, nor has the pushback against them been thoroughly examined. We intend to change this through our compelling, candid, and far-reaching multimedia initiative featuring Arab women who refuse to be silenced. Egyptian human rights activist Hend has emerged as our documentary's principal protagonist, and we continue to document her dramatic story as she awaits sentencing in a military court. Our online short films feature women who have each carved out different ways to participate politically, even when formal opportunities are not available. With three fourths of editing complete, we are confident that THE TRIALS OF SPRING multimedia project will engage, inspire, and lend vital visibility to the Arab women continuing to fight for human rights and freedom for all.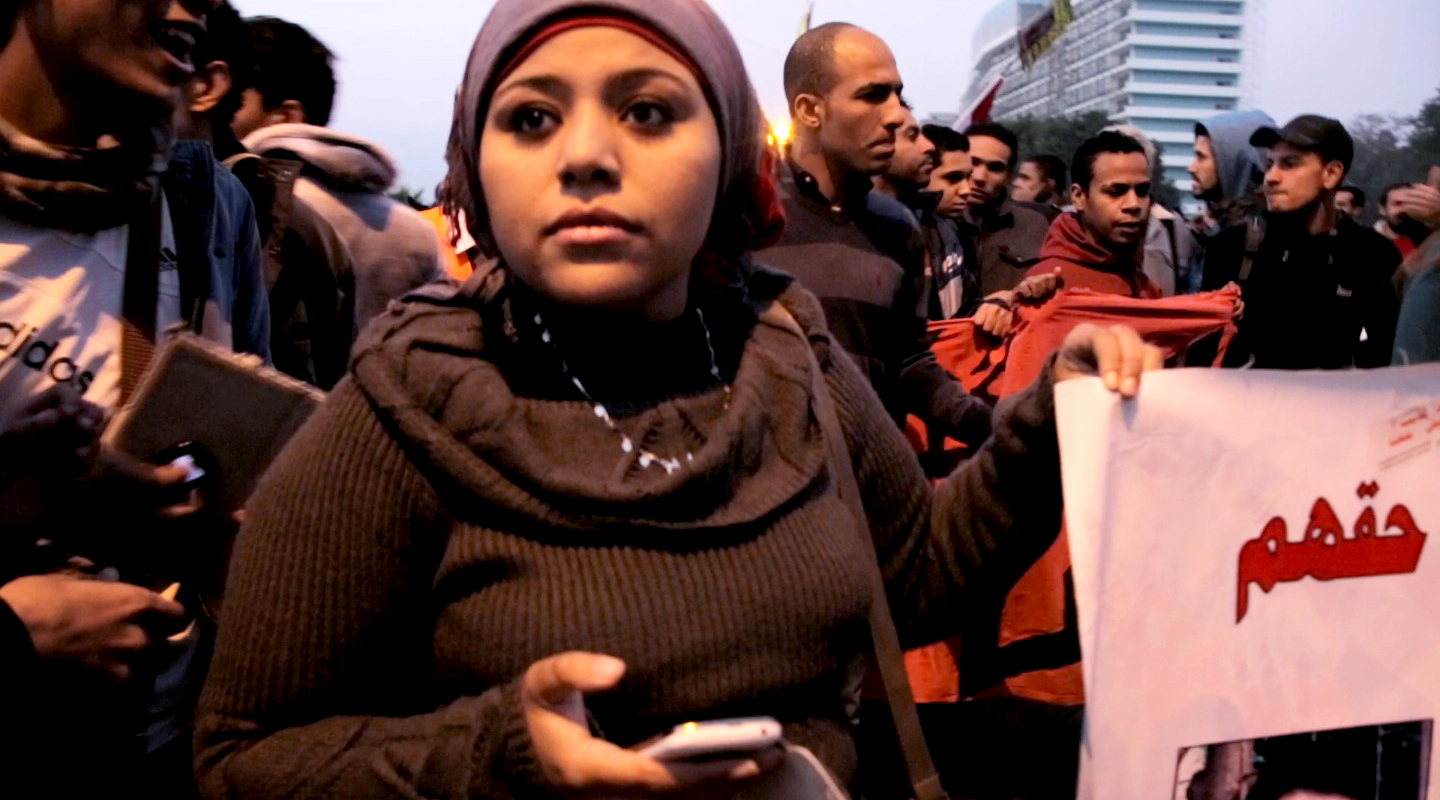 Get personal
"Years ago I was profoundly moved when Hillary Clinton declared in Beijing, 'Let's face it once and for all, women's rights are human rights.' When I witnessed the Arab uprisings and met women in the MENA region, I was reminded of this. Over the course of making THE TRIALS OF SPRING, I gained valuable insight on the role of gender in democratic participation today—insight which has bearing for all parts of the world." - Gini Reticker, director and executive producer
Risks and challenges
With documentaries, reality often foils careful planning. While we had planned to explore the role women had played in the uprisings, a dramatic and important present-day story unfolded before us that merited a new approach. Now our film focuses on a young Egyptian woman turned fearless human rights activist, facing an immanent military trial. Her story speaks to the many forms of struggle women in the region endure. Transitioning from a broad look-back to a more singular vérité film required more production and post, and a strong local crew. Our online initiative also refocused on providing a platform where women from the region can share their stories. We are confident these changes give the project a broader reach and deeper impact.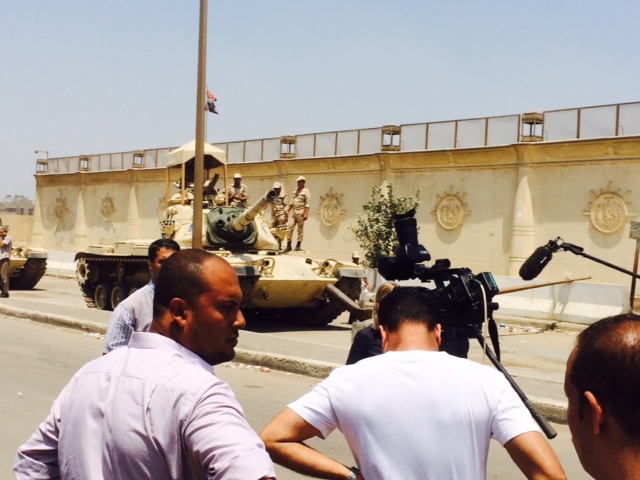 What we've learned
As situations on the ground shifted overnight, the value of a strong local crew and advisors became increasingly clear. We were fortunate to have been connected early on with some of the leading independent filmmakers and journalists in the region. We also learned the value of staying with a singular story—unlike reporters who came and went, our ability to capture the long tail of our characters' lives as details unfolded give the film a unique and vital perspective. We knew we were working in a volatile region, and security issues forced us to alter our production plans on several occasions. Fortunately, we budgeted a contingency for such situations. We did underestimate the time it would take to transcribe and translate all the material.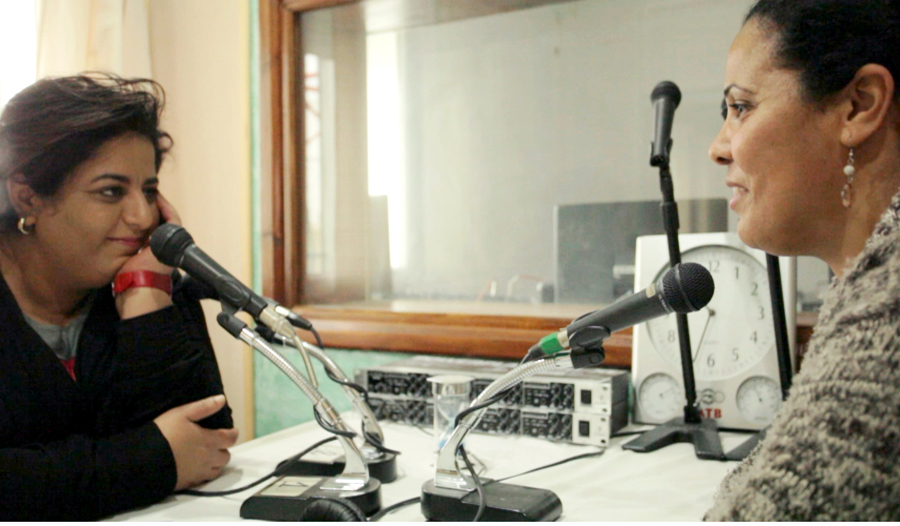 Next steps
We are currently editing the documentary, anticipating a 2015-16 release. We continue to work closely with ITVS and now IFP Spotlight on Docs and the Gucci Tribeca Doc Fund as well. The Norwegian Ministry of Foreign Affairs came on as a major funder. We are working with the design team MediaStorm to complete the first phase of our online initiative in time to launch at CGI 2014. We are laying plans for our outreach, education, and distribution campaigns and have raised 80% of the project budget.
Budget
The $50,000 dollars that we raised through Catapult in July 2013 went directly towards production for our first shoots in Egypt and Tunisia (Fall 2013), covering crew, gear, local travel, and accommodation costs. As we transitioned the film to a vérité focused storyline, our production and post schedule needed to be extended. We wound up bringing on extra editorial support and plan to continue filming with Hend in Egypt until her sentence is handed down. However, this new approach means that we will require less archival imagery, which will result in significant line-item savings. Overall, our entire project budget increased by approximately 10% from early projections.
Line Items

Projected budget

Amount spent so far

Crew (Fall 2013 Egypt and Tunisia shoot)

Gear and Travel (Fall 2013 Egypt and Tunisia shoot)

$38,500

$11,500

$39,009

$10,991
More information
We have built an impressive Advisory Council for the film and are in the process of building our media and organizational partnerships to ensure the project reaches its intended audiences worldwide in significant and useful ways.
Further reading
Executive Producer Zainab Salbi delivered the 2013 Gruber Distinguished Lecture in Women's Rights at Yale Law School on October 21, 2013.
In March 2014, the project was previewed and featured at George Washington University's Institute for Public Diplomacy and Global Communication and the Institute for Middle East Studies Women's History Month panel discussion examining the complex question of how women have fared since the promising beginning of the Arab Spring three years ago.
The project was also announced by the Tribeca Film Institute as one of the 2014 Gucci Tribeca Documentary Fund grantees.
90 Day Report
Captured on camera: With the goals of the revolutions still unmet, women in Egypt and Tunisia refuse defeat
posted Dec 13, 2013 by Rati Bishnoi
In July, we received the amazing news that AWAKENING was funded. At the same time, we were grappling with real political and social upheaval in Egypt. On July 3rd, then-president Mohammed Morsi had been ousted from office by the military; in response, the situation there deteriorated to what some described as the reconstitution of the old regime on steroids. More than a thousand people were killed, churches were torched, and journalists reporting on these issues were also targeted and in some cases, killed.
We pivoted.
We postponed our original plans to film our interviews in an Egyptian studio, but intent on capturing this moment in history, hired Cairo-based cinematographers to shoot scenes with our protagonists (including some incredible ones with activist and torture survivor Hend Nafea). We also embarked on pre-production in Tunisia, and in September, sent our US team to film with women in Tunis and Gafsa - the city believed by many to be the birthplace of the Arab uprisings.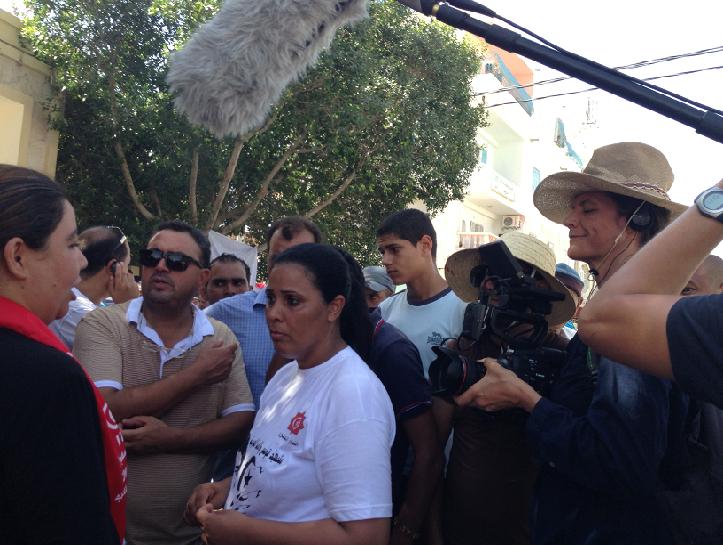 Risks and challenges
The craft of documentary filmmaking is balancing the uncertainty of unfolding events with efforts to manage them enough to make production successful; the Morsi ouster–with the violence, and hindrances to every aspect of everyday life that followed–made our original production plans impossible to execute. We looked to our characters and saw their own resiliency; we had to keep moving forward.
We hired local filmmaking talent and changed our production approach to reflect the unfolding reality. At the same time, we moved up our Tunisia shoot dates.This re-direction–resulting in near-simultaneous shoots in Egypt and Tunisia both–tested our mettle as filmmakers. In the end, we know that all these pivots will result in a stronger film.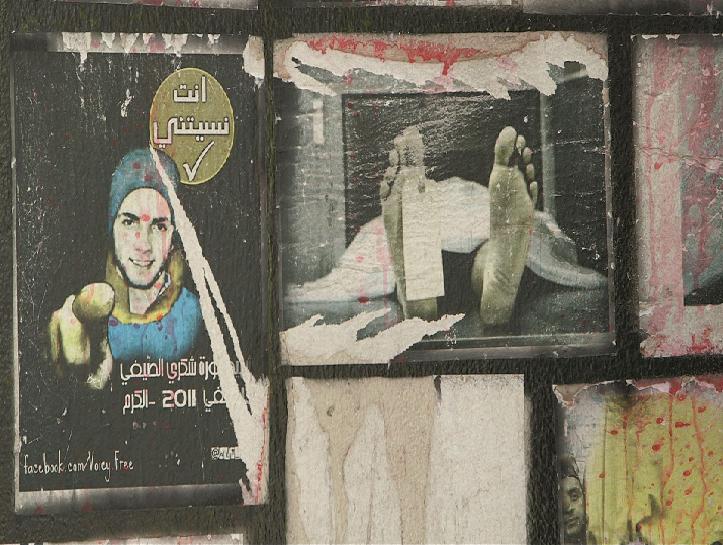 Up Close
In Tunisia, we interviewed activist Ghazala Mhmadi, a key player in the 2009 Gafsa uprisings that lead to the 2011 ouster of Ben Ali. We also filmed her at a Gafsa demonstration where protesters demanded a new, transitional government. Director Gini Reticker was struck by the demonstration. "It perfectly reflected the mood of many Tunisians: defiant; wanting the demands of the revolution met; and fully aware that a continued, organized presence in the street is necessary to make them happen."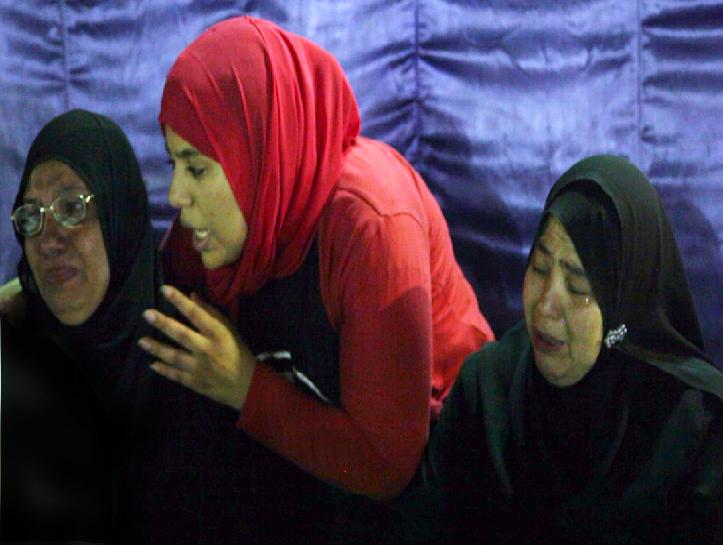 Next steps
We will begin editing in Nov. 2013, and the process of working with our footage will further inform our production efforts, now scheduled to continue through March 2014. Also, our robust AWAKENING website–the first piece in our multi-media campaign–will launch, in Jan. 2014, with original content that will be continually expanded. Our interactive mobile app and outreach campaign, set to launch alongside the film's broadcast in Jan. 2015, will further enhance the impact of the film.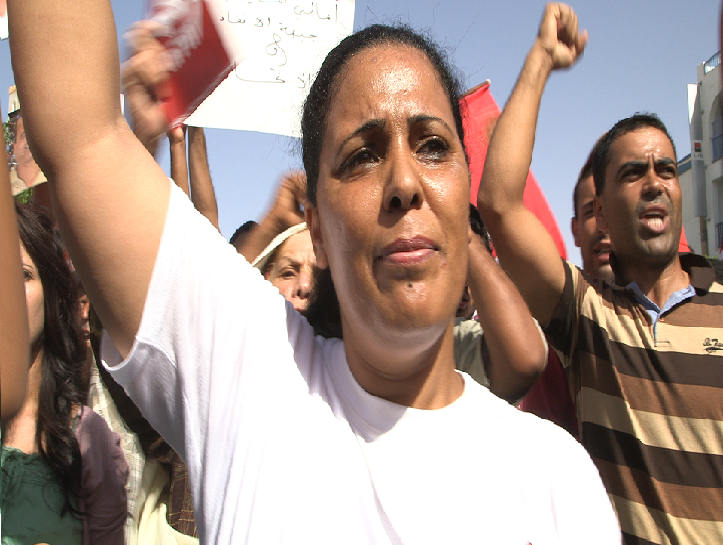 Budget
The $50,000 dollars that we raised went towards the production efforts described above, and helped us pay for our shoots in Egypt and Tunisia. The breakdown of that $50,000 expenditure is as follows:
Line Items
Original budget
Amount spent so far

Egypt

Shoots Cinematographer

Sound Operator

Local Producer

Field Equipment

Tunisia

Shoot Director

Cinematographer

Sound Operator

Local Producer

Field Producer

$7125

$300

$1875

$743

$7491

$9500

$2000

$3500

$6000
Further reading
This article (http://tiny.cc/s5fo5w) not only underscores the role of women as peacebuilders, but highlights the PBS series Women, War and Peace, which was executive produced by Gini Reticker and ZAG Line Pictures' partner in AWAKENING, Fork Films. The article also gives a special nod to Pray the Devil Back to Hell, one of the films from the series that Reticker directed and that has had more than 500 screenings in 20 languages, in 32 countries.
Women in Tunisia, Egypt and Libya are fighting to stop military strongmen and religious fundamentalists from hijacking the Arab Spring.
Why we care: In the 2011 Arab uprisings, women stood shoulder to shoulder with men as they fought together to overthrow the region's brutal dictatorships. Now many forces are attempting to silence their voices.
How we're solving this: Producing a feature-length documentary film called Awakening, to reveal the key role women played in the revolutions.
Two years ago the dream of liberty and economic justice filled the hearts of men and women across the Arab world. In Tunisia, Egypt and Libya, people rose up and threw out the dictators who had ruled their lives for decades. Today, their future lies on a razor's edge.
Women who took to the streets for universal justice are alarmed to find themselves at the center a struggle that will shape the region: Women are facing flagrant attempts to push them back into their homes and out of the public sphere, not just by legislation but also by way of escalating public sexual assaults aimed at silencing voices.
Having tasted the possibility of their "Arab Spring," men and women across the region say they will not turn back. The future they create will determine the fate of democracy and, therefore, peace across the region and around the world. Women's rights have become the red line.
Their success will impact all of us. As go the women, so goes the world.
Award-winning filmmakers Abigail E. Disney and Gini Reticker have joined the celebrated author and founder of Women for Women International, Zainab Salbi, to create Awakening, a cross-platform multi-media initiative that introduces the unstoppable women who, then and now, refuse defeat for themselves or their countries.
This project will help provide critical funding to help produce the documentary, Awakening, through which we'll meet the women who became the symbol of resistance that inspired the Tunisian uprisings; the Egyptian women whose demands for economic justice fueled the growing cauldron of discontent; and the Libyan women who were brave enough to demonstrate against the brutal dictator Muammar Qaddafi.
This project will help us follow their journeys, from their fear and courage in confronting the dictatorships, to their euphoria when the regimes toppled, to their concern at seeing current attempts to strip them of their rights.
But Awakening doesn't stop there. As the struggles of our characters and women in the Middle East and North Africa continue to unfold in the months and years to come, an interactive app and web site will provide platforms for their individual stories to be told, as well as that of the broader and emergent pan-Arab women's movement.
The shoot will take place across one month in three countries and funding raised here will help us cover the costs of hiring a crew, setting up a studio, purchasing shooting equipment, and traveling to locations.
Share your email with us here and we'll keep you posted about Awakening's progress!
Catapult may be required to share donor names, addresses and gift amounts with the production company Fork Films, PBS and/or ITVS, as Awakening has been identified for possible PBS broadcast as part of an ITVS initiative. PBS is required by law to make available to members of the public upon request the full list of contributors to broadcast productions, along with contributors' addresses and gift amounts. Please be advised that your generous support of Awakening may be disclosed accordingly.