1 year impact report
With your support, we assisted four hospitals using FoneAstra, providing important training to the technical staff, and developing an implementation document to provide guidance.
Impact for girls & women
We did not track the gender of recipients of donor milk for this project, however 86 women donated breast milk during this period.
Estimated girls & women affected
Countless
Broader impact
We were not able to track the total number of community members affected by this program.
Estimated community members affected
Countless
Saving newborn lives through strengthening human milk banking in South Africa
One year ago, you chose to support human milk banking in South Africa. Donor human milk is the best nutrition and protection for infants who don't have access to their own mothers' milk, including pre-term or low-birthweight infants whose mothers are sick or have died. These babies are often in a neonatal intensive care units and at high risk of complications that could result in death. Providing breast milk is the best protection for them. Ensuring that human milk banks exist so that donor human milk is available is critical.
Although several human milk banks already existed in South Africa, these were designed for larger hospitals. Smaller hospitals or those with small neonatal wards did not have a way to support a milk bank. PATH and the University of Washington, together with the Human Milk Banking Association of South Africa, are using FoneAstra, a mobile phone–based pasteurization monitoring system to ensure a safe, simple and low-cost heat treatment of donor milk. This simple device enables small human milk banks to operate quickly and efficiently.
We used the funds from Catapult to expand our work making FoneAstra available for human milk banks. With your support, we assisted four hospitals using FoneAstra, providing important training to the technical staff, and developing an implementation document to provide guidance and training for other milk banks around the world.
Get personal
"I have met with several doctors who care for the very sick babies. One doctor stood out. She had set up FoneAstra on a bench in their ward because she was passionate that giving babies donor milk would save lives. She said she had seen firsthand the huge differences in how quickly these fragile babies improve when they are fed donor milk. It was her mission to encourage all other hospitals to set up a small milk bank – a simple way to save babies." - Kiersten Israel-Ballard, PATH Project Manager
Risks and challenges
Government support is needed to ensure the sustainability of human milk banks. A lack of support could put milk banking programs at risk. In the initial launch of this project, we found milk banks to be effective, but they would require additional support from the government. One facility wasn't able to continue. Our team is now working closely with the government to ensure milk banks are aligned with government priorities.
Many human milk banks do not have enough donor milk. Awareness campaigns are needed to support breastfeeding in the community so that donors exist to provide donor milk. Our activities now focus on providing these awareness campaigns to alleviate risk of lack of donor milk.
What we've learned
Small human milk banks are needed, but we learned that they are not the only answer. They will operate more effectively if they are part of a network which would allow for communication channels and enhanced quality control. Larger milk banks at larger hospitals could serve as reference facilities with large-scale pasteurizers; small milk banks could operate at small facilities with small-scale pasteurizers like our FoneAstra device. Setting up independent milk banks is not as effective or sustainable. We also needed more emphasis on breastfeeding promotion and awareness so breast milk donors will be available in the community; a foundation of breastfeeding support throughout the network area is needed.
Next steps
This project continues to grow! Your support allowed key staff to provide technical assistance for implementation and training. The next phase will be expanding the FoneAstra device to more facilities as part of a network. This is in close alignment with the government and will focus on a comprehensive approach, including breastfeeding promotion and kangaroo mother care. This next phase is called "The Mother-Baby Friendly Initiative Plus" and will be under way through 2015.
Budget
PATH was able to engage a global expert on Human Milk Banking and a clinical dietitian with international nutrition expertise to support key activities for the scale up of the human milk banking project in South Africa, so we substituted consultant hours for staff time to gain the expertise on the project. Travel costs were lower than expected so we dedicated those funds to direct technical assistance and expertise.
Line Items

Projected budget

Amount spent so far

Personnel

Consultants

Travel

Other

Overhead

Total

$14,790

$6,000

$15,100

$2,869

$11,241

$50,000

$10,480.78

$16,293.06

$8,868.33

$3,120.83

$11,132.93

$49,895.93
Further reading
This work was mentioned in PATH's blog for World Breastfeeding Week on August 1, 2014: http://www.path.org/blog/2014/08/milkbanking-breastfeeding-week-2014/
This work was also highlighted at PATH's Breakfast for Global Health event in May 2014: http://www.path.org/blog/2014/05/sophy-mabasa/
Strengthening Human Milk Banking: A Global Implementation Framework is found on PATH's website: http://www.path.org/publications/detail.php?i=2433
90 Day Report
Using a cell phone-enabled system to make donor breast milk safe for vulnerable babies
posted Nov 25, 2013 by Rati Bishnoi
Progress
We have been making enhancements to our cell-phone based FoneAstra milk pasteurization monitoring system. This device helps to monitor pasteurization of donor breast milk in human milk banks in South Africa. Following an initial pilot, we received suggestions from staff on how to make it even better. So the team at UW CSE and ShiftLabs are improving the device to make it even more affordable and easier to use. With Catapult funding, our team has supported four human milk banks already using FoneAstra to ensure the device is working correctly and the staff are properly trained. Additionally, we are improving the system in preparation to launch more human milk banks in South Africa in the coming months. This will include training staff to support all mothers - improving breastfeeding rates in the community, and increasing potential breast milk donors in the community. Training will also include safe collection and processing of breast milk.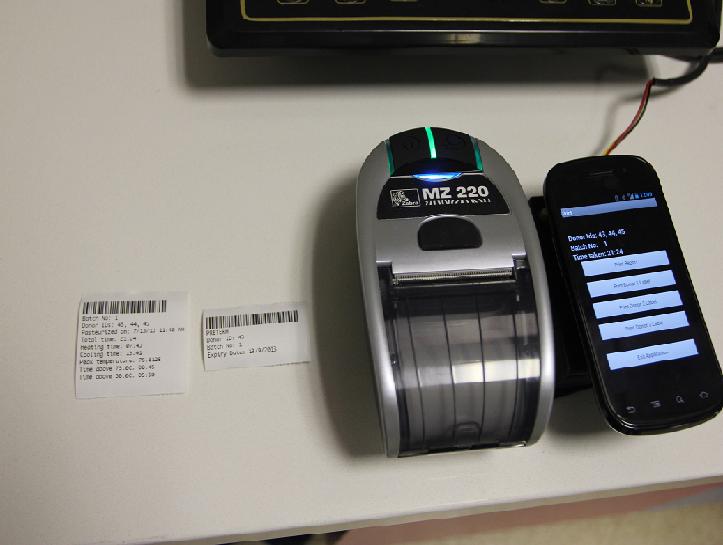 Risks and challenges
A key risk is identifying enough donors to provide sufficient milk. To address this we are carefully designing a program to provide training to staff on how to encourage and support all mothers to exclusively breastfeed. This will build a foundation of breast milk donors. The major challenge we have faced to date, is ensuring the final design of FoneAstra is appropriate and meets our goal of low cost and simple. This has required significant time with our engineers and technical staff. We are on track and are working together to ensure a final FoneAstra system is ready for scale-up around South Africa.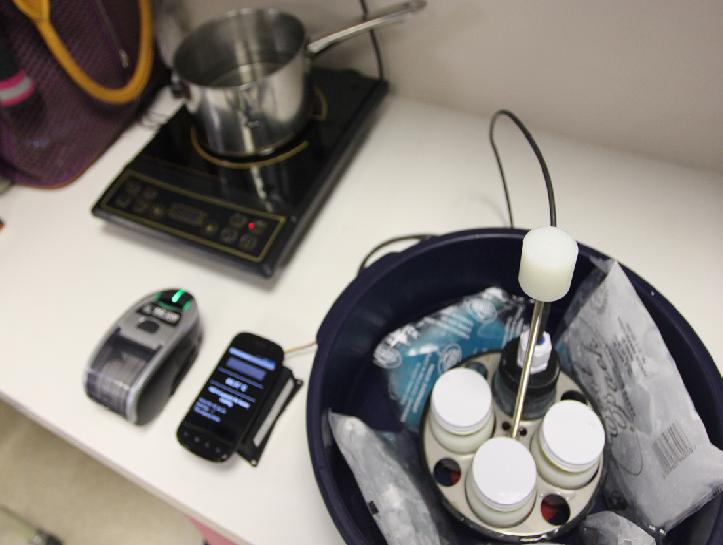 Up Close
In a hospital with a new milk bank, we spoke with the doctor in charge of caring for vulnerable infants, who said that they had wanted to feed breast milk to babies that didn't have access to their mother's milk, because they knew it would lead to healthier outcomes. But before FoneAstra, they had no way to provide it. With FoneAstra, they set up a milk bank and could provide safe donor milk. This doctor was so thankful for a simple system. She emphasized that every hospital should have one!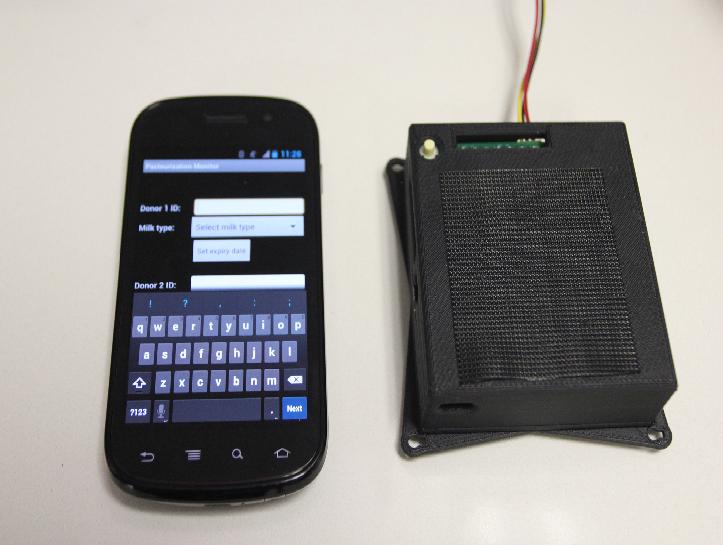 Next steps
Our plan includes completing the final FoneAstra device, funding the local partner technical staff so they can train and provide assistance, and launching new human milk banks in several hospitals. To do this, our team will be meeting with doctors and government officials to advocate for human milk banking and to carefully select hospitals for the new milk banks. It is critical to choose carefully so quality control systems are in place and donor milk is a priority for newborn care.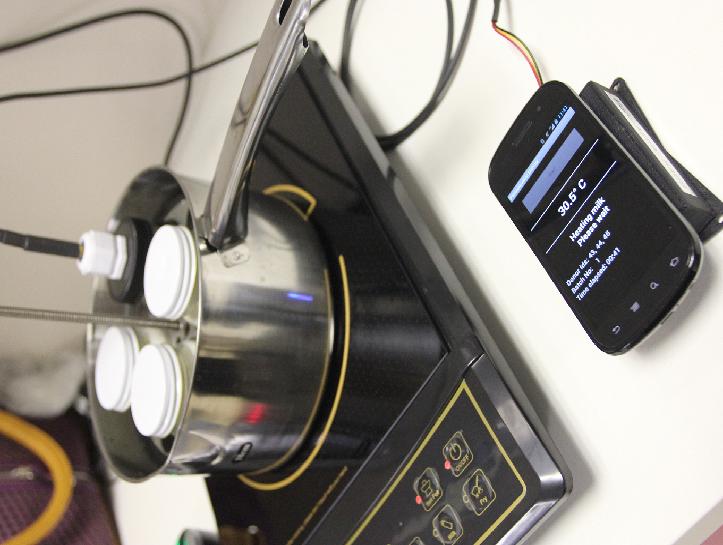 Budget
PATH expense data indicates the project is on track to meet objectives within the award period
Line Items
Original budget
Amount spent so far

Personnel

Consultants

Travel

Other Project Costs

Overhead

$14,790

$6,000

$15,100

$2,869

$11,241

$3,048

$580

$2,200

$485
A lifesaving low-cost intervention to save newborn babies using mobile phones and donated breast milk.
Why we care: The need for donor milk across South Africa is substantial due to the devastating impact of the HIV epidemic
How we're solving this: Answering the call of hospitals to establish milk banks and mobile phone-based monitoring
Each year, more than 3.3 million newborns die within their first month of life. PATH is working to change that by enhancing a lifesaving intervention for vulnerable infants: donated breast milk. We've developed a unique, low-cost system that uses mobile phones to manage safe pasteurization of breast milk. Your donation can help ensure that infants in South Africa get the safe breast milk they need to thrive.
The nourishment from breast milk can mean the difference between life and death, especially for babies who are premature, very small, severely malnourished, born to HIV-positive mothers, or orphaned. The need for donor milk across South Africa is substantial due to the devastating impact of the HIV epidemic, and hospitals are requesting the urgent expansion of this simple, inexpensive system to support new babies. Heat pasteurization kills potential pathogens in donated milk, such as HIV and hepatitis, while retaining the milk's nutritional and immunological benefits. It is a critical but expensive step in human milk banking. Commercial-grade pasteurizers can cost up to $60,000, preventing many hospitals from establishing a milk bank.
PATH and our partners created a low-tech system that allows health care providers in neonatal units to monitor the pasteurization process in real-time on their mobile phones, ensuring that the milk is heated safely and consistently every time even when commercial-grade equipment is not available. In collaboration with the University of Washington and the Human Milk Banking Association of South Africa, this system has been established in four neonatal intensive care units over the last year. The easy-to-use system has significantly improved health workers' ability to monitor pasteurization temperatures and provide safe donor milk to the vulnerable infants in their ward.
Your gift will go to scaling up low-tech milk banks and phone-based monitoring at additional public hospitals in resource-limited regions of South Africa. It will also enable us to train staff on human milk banking procedures, ensuring they can provide safe milk to babies who need it.
Globally, as many as 10 to 15 percent of vulnerable infants are in need of donated breast milk—they are unable to suckle or their mothers are ill or have died. Human milk banks are a crucial resource for saving these young lives. Experts in product development, nutrition, and neonatal health are working together to expand the availability of safe, simplified, and low-cost human milk banking systems and reach vulnerable infants. Join us in improving the health and survival of South Africa's babies.