One Year Impact Report
Over 1,000 pregnant women have stayed at the birth waiting homes and subsequently gave birth safely
Impact For Girls & Women
Number of women receiving training and support as birth waiting home hosts
Estimated girls & women affected
28
Broader Impact
Number of women who have stayed at birth waiting homes and have been referred for safe deliveries at health facilities so far
Estimated girls & women affected
1,072
Better access to safe births
One year ago, you chose to help improve access to safe childbirth for women in Northern Bombali, Sierra Leone, through the establishment of birth waiting homes. In this rural region, many women have to travel long distances to reach a health facility, meaning large numbers of them give birth at home without skilled attendance. Through this project, local women living near facilities have allocated spare rooms in their houses to become "birth waiting homes" that provide a place to stay for pregnant women having to travel long distances to access services.
As described in our last report, each home has been given furniture, and women have been trained to offer support and refer women to facilities when the time comes. Since then, the homes have been up and running and are proving popular. On average, women stay for four nights. While they are there, the hosts will help them cook their own food and use picture books to talk to the women about safe pregnancy and motherhood. When they are close to birthing, the host will ensure that they can get to the nearby facility. The project has been providing incentive payments to the hosts and providing them with supplies – like linen, soap, and cooking utensils – as they are required.
So far, over 1,000 pregnant women have stayed at the homes and subsequently given birth safely. The region has many young mothers: 29% of visitors have been under 19, with 61% being under 25.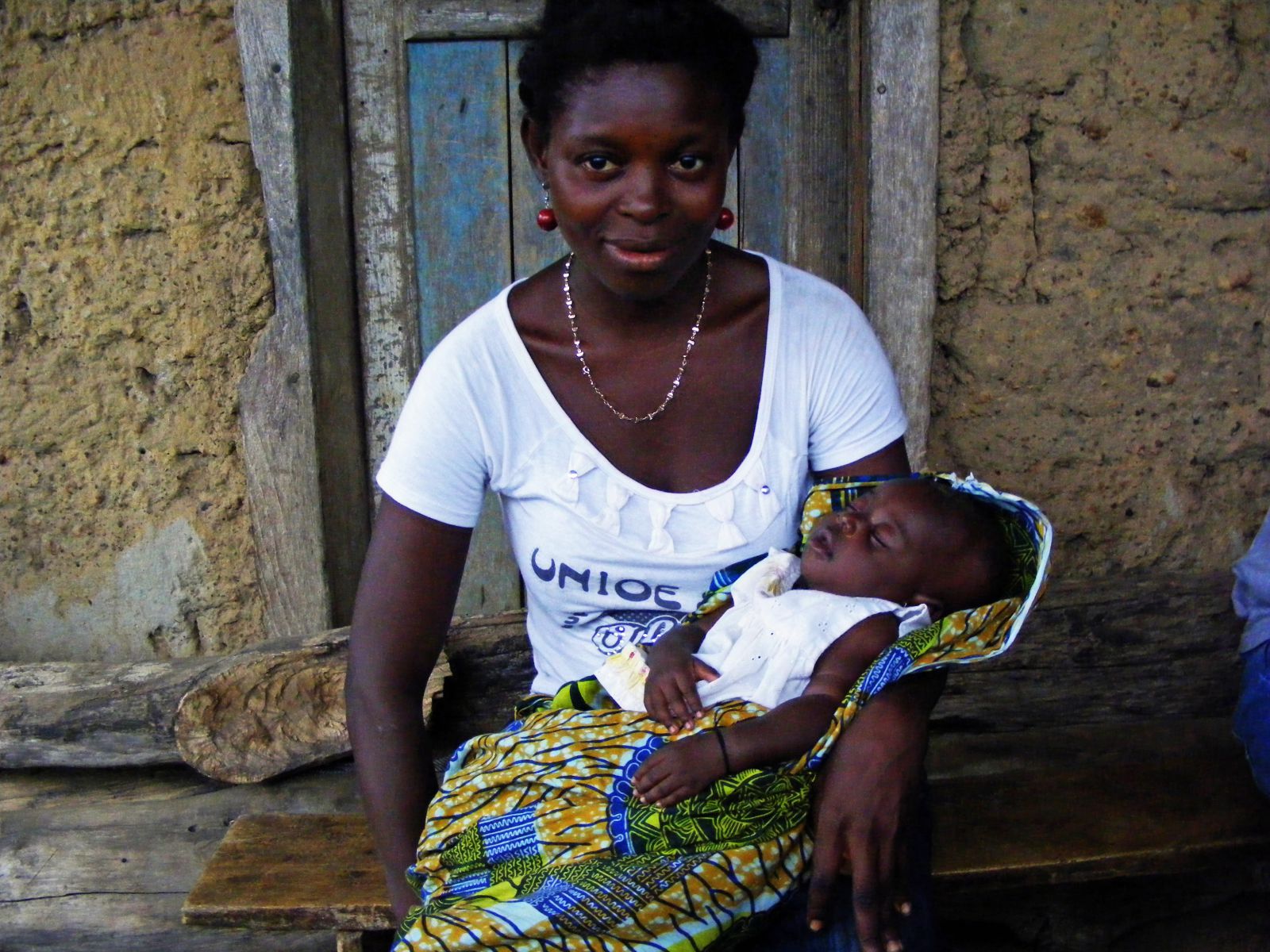 Get personal
Mary Turay used to be a traditional birth attendant, and local women would turn to her when near birth. Following training, she has stopped delivering babies herself and her house has become a birth waiting home. "My house is in front of the health post, but women used to come to me for delivery because they are used to delivering with traditional birth attendants. Since I have completed the training, I'm taking pregnant women to deliver at the health post instead."
Risks and challenges
Every year, Sierra Leone experiences a rainy season which makes long journeys difficult. Therefore, in August when the rains were heaviest, we saw a decrease in women using the birth waiting homes. Thankfully this decrease was only marginal, so high numbers of women were still accessing safe deliveries. There is little we can do to change the weather; however, we have provided local Maternal Health Promoters, who we've trained to refer women to birth waiting homes. with waterproof gear to make their work easier.
What we've learnt
Overall, the homes have been successful and hosts have followed their training well. However, as health awareness in the area is low, Health Poverty Action is currently working with communities in the area to raise awareness of the importance of using health facilities, rather than untrained traditional birth attendants. This will help to increase the number of women using the homes and experiencing safe childbirth.
Next steps
Due to the huge impact we're having so far, we'll continue to support the birth waiting homes with supplies where needed. Hosts will also soon receive refresher training to strengthen the original training given last year. We've also provided training for health workers in the area and will soon begin work to refurbish each of the 28 health facilities to ensure better conditions for safe births.
Budget
As a new health facility recently opened, we decided to set up another birth waiting home nearby. therefore the number increased from our original target of 27 to 28, while staying on budget.
Line Items

Projected budget

Amount spent so far

Supplies and equipment for 28 birth waiting homes

Training for 28 hosts

Training materials

Support payments for hosts

$2,916

$1,327

$179

$858

$2,916

$1,327

$179

$858
Further reading
Thank you so much for supporting safe births for women in Sierra Leone! Please check out our website to learn more about our work improving the health of communities across Africa, Asia and Latin America, and how you can get involved. You can also find us on Twitter @healthpoverty.
90 Day Report
The birth waiting homes are up and running!
posted August 26, 2013 by Isabel Garcia
Progress
To select the location of birth waiting homes we began by working with the local health authorities to draw up criteria for women to become hosts. Health Poverty Action field officers then held meetings with community members to decide on local women who would become a birth waiting home host. The most important things were that their house must be close to a health facility, with a room to accommodate women and that they would be able and willing to provide support.
Once suitable women were found who volunteered to act as hosts, training was conducted so that they would be able to:
Give advice to women on keeping themselves and their family clean.
Provide support and encouragement during labour and recognise danger signs.
Accompany women to their nearest health facility when labour commences.
Give advice on maternal and newborn care after birth.
Give advice and support women on breastfeeding and family planning.
Ensure the home is clean and the furnishings looked after.
Some of the women did not speak the national language, Krio, so they separated into groups with trainers who could better communicate with them. Hosts were also provided with picture books for their own reference and to help communicate health messages with women they accommodate.
All birth waiting homes are now up and running and furniture has been purchased to provide each home with a bed, table and chairs as well as linen and items for washing and cooking. Replacements will be provided when needed.
They have already proven popular - so popular in fact that some women started using them before all the new furniture was even in place! So far women are travelling from up to 10 miles away and staying an average of 3 \u00bd days at a time. We expect the number using the homes to increase significantly over the next few months as word gets around. To help this we have also been training local women as 'Maternal Health Promoters' to encourage pregnant women to use health facilities and birth waiting homes.
Budget

Line Items
Projected budget
Amount spent so far
Supplies and equipment for 27 birth waiting homes

Training for27 hosts

Training materials

Support payments for hosts

Total

$2,916

$1,327

$179

$858

$5,280

$2,356

$1,327

$179

$215

$4,077
Accommodation and care for women about to give birth in rural Sierra Leone will save many lives.
Why we care: Mothers in labor face the daunting prospect of traveling long distances over difficult terrain.
How we're solving this: Community-based referral centers provide welcome and supportive birth waiting homes for mothers to be.
Sierra Leone is a dangerous place for a mother-to-be. The number of women dying due to complications in childbirth is among the highest on the planet. What should be a time of hope and joy is all too often a time of worry and, sometimes, tragedy.
Northern Bombali is one of the most remote areas of Sierra Leone. Here nearly a third of women find themselves over five miles from the nearest health facility.
The daunting prospect of traveling these long distances, over difficult terrain, while in the late stages of pregnancy, means many are unable to make the journey. If they do manage to reach them, they find health centres that are small and unable to allow women to stay for very long. This means that the majority of rural women, with nowhere nearby to stay, do not travel to health facilities and instead give birth in unsafe conditions, putting both the mother and child at risk.
With your support, we will establish 27 birth waiting homes close to health centres across the region. These will provide welcoming and supportive environments for pregnant women to stay at, and where they can then be referred to nearby health facilities. This will enable women who live furthest from health facilities to get the care and attention that they may otherwise have not been able to receive.
Suitable homes will be identified by local communities and rooms supplied with beds, linen, tables, washing equipment and clean clothes. A woman in each home will be trained as a 'host' to provide supportive care to women and to identify common signs of danger during pregnancy. Hosts will work together with local women and health workers to form a community-based referral network between the community, waiting homes and health centres.
This is an effective community-based way to ensure more pregnant women in rural areas are able to access essential health services at such a vital time.
Please support this project and help ensure that around 650 women from the remotest parts of Sierra Leone are able to give birth safely in the coming year.
Budget breakdown:
Supplies and equipment for 27 birth waiting homes includes beds, table, linen, buckets, cups and washing items

Training for 27 hosts includes transport, refreshments and accommodation

Training materials includes flipcharts, marker pens, manuals and certificates