1 year impact report
Cricket builds the self-esteem that disabled women need to have fulfilling careers and relationships.
Impact for girls & women
28 blind women cricketers, 10 girls resuming their studies, 3 employed as massagers, 1 as a schoolteacher, 1 as telephone receptionist, 1 girl got a computer, 1 girl is now employed in family planning, 7 girls have new chances at marriage.
Estimated girls & women affected
52
Broader impact
We gathered over 1,000 non-disabled persons to support our girls.
Estimated community members affectedspan>
1,000+
Cricket gives visibility to blind women
A year ago you supported our work to offer cricket to blind women and girls in Nepal. We planned to hold a tournament to support the players as well as a sexual awareness conference since blind players are at risk for harassment. Disabled women face double discrimination: for being a woman and for being disabled. Both tournaments held for local blind women cricket teams rewarded the players for their determination and reinforced their self-confidence. By gathering over 1,000 non-disabled persons in solidarity, we proved to these women that they are not invisible. After the first tournament drew politicians and local leaders, we held another to expand the players' voices and continue improving the status of disabled women in society. They have stopped defining themselves by their disability and now call themselves "cricket players."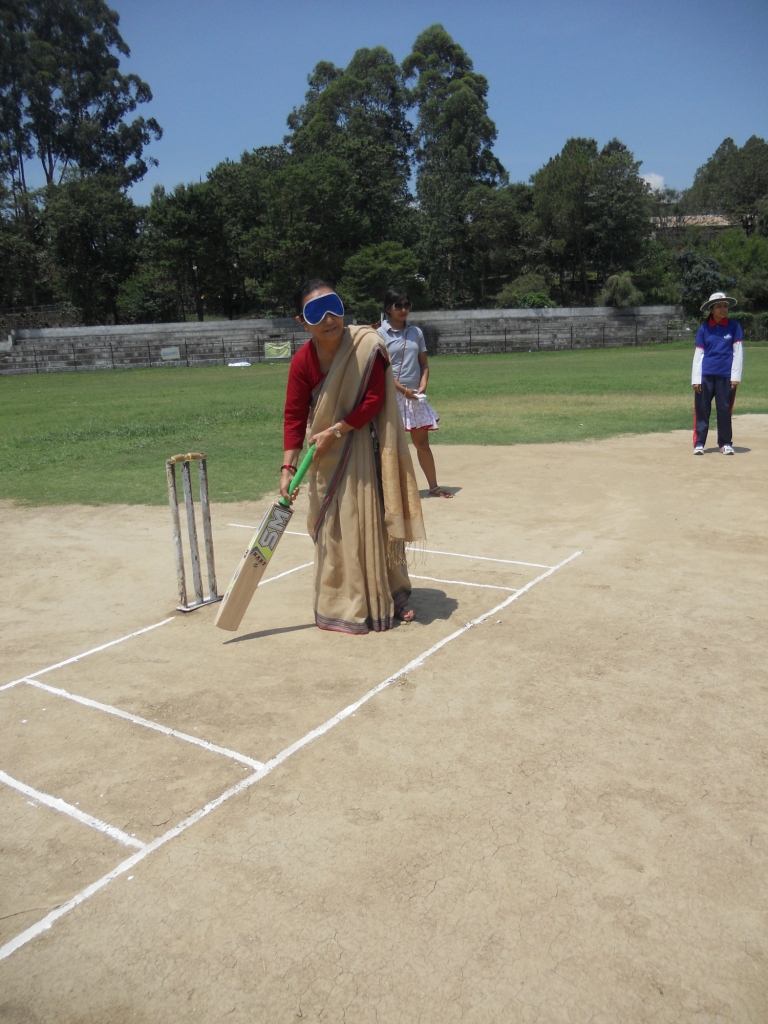 Cricket builds the self-esteem that disabled women need to have fulfilling careers and relationships, helping to end the societal perceptions that view them as unlucky.
Get personal
Society now sees these women as more than their disability. Miss Kamala Dhakali's low vision once held her back in school, society and her family. The chance to play cricket helped her to seize her potential. Her determination and self-confidence led to being chosen to play for the boy's team in a national blind cricket tournament. According to Kamala, "it is because of Cricket, I have brightness in my [dark] life."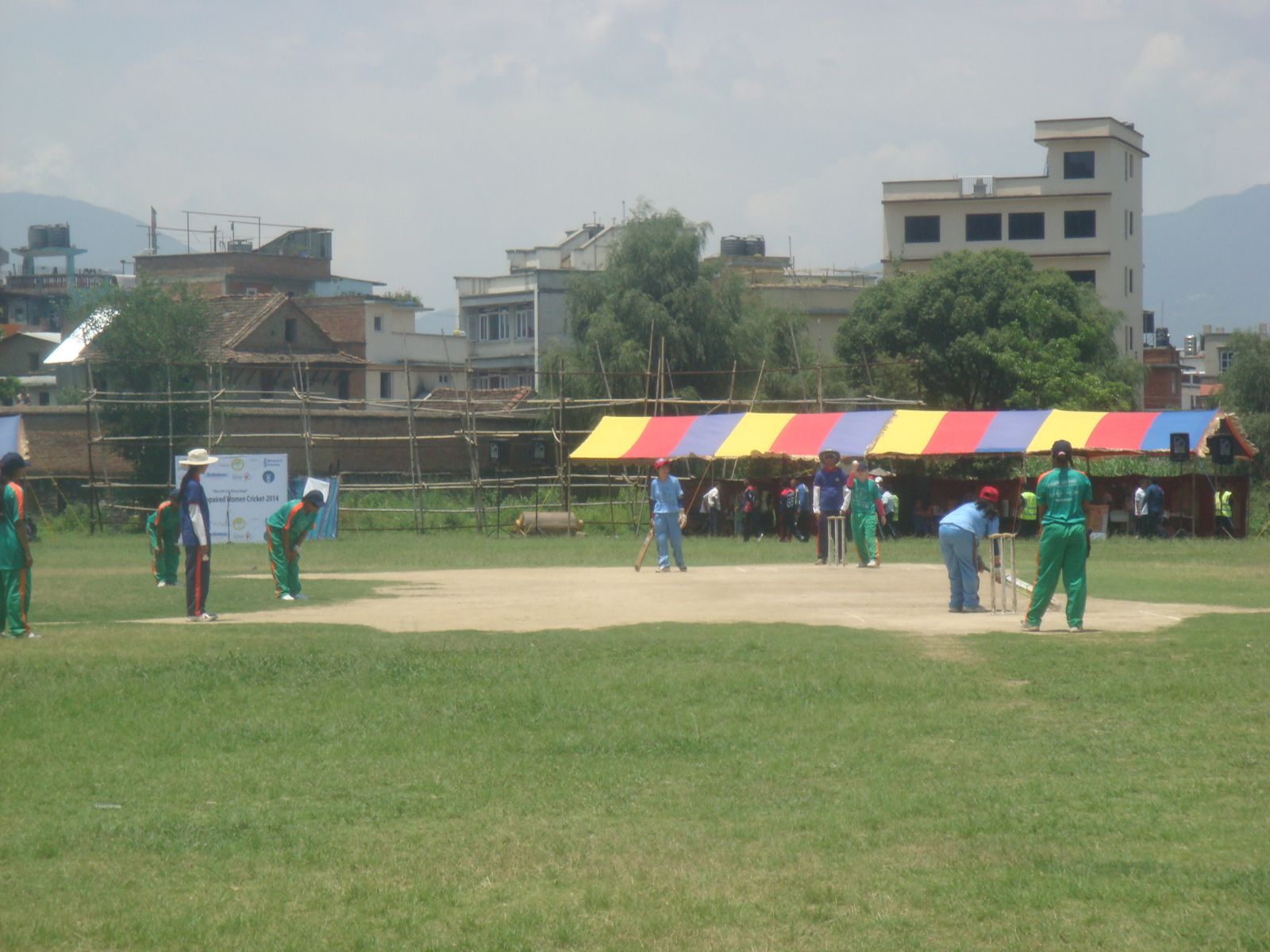 Risks and challenges
Economic and weather conditions proved a challenge for travel for participants We still need public support, credibility from cricket organizations, and more positive response from parents. We started from scratch at convincing parents, teachers, and blind children to support us.
What we've learned
If we were to start this project again we'd include "cricket for mental health" because many of the blind girls and women have been suffering from mental illness ranging from depression and anxiety to frustration. An interactive seminar could be conducted to highlight the importance of cricket in healing mental illness. We'd address the lack of investment in sports facilities for blind and disabled women by advocating for more government funding and professionalizing disabled women's sports.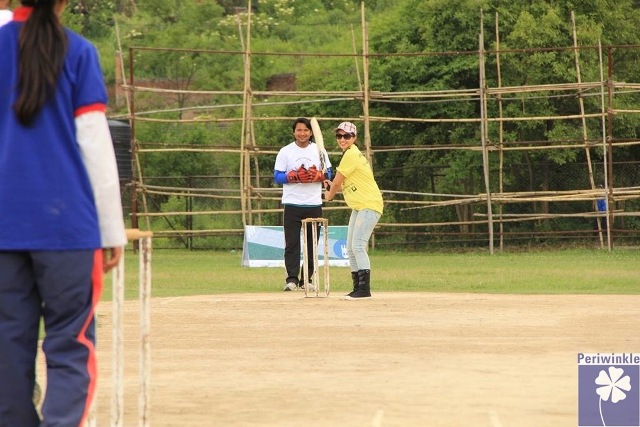 Next steps
We will be holding a sexual awareness conference in May 2014.
Budget
Since the tournament was so popular, we chose to have another tournament instead of the sexual awareness campaign and moved that to the next year.
Line Items

Projected budget

Amount spent so far

Cricket training, tournaments, equipment

Sexual violence seminars, 50

Advocacy/awareness campaigns and materials

Staff salaries

Transportation

Communication

Administration

$3,800

$2,000

$1,400

$1,400

$500

$400

$500

$3,800

$2,000

$1,400

$1,400

$500

$400

$500
90 Day Report
Competing to end violence and change perceptions of blind women
posted Nov 8, 2013 by Catapult Intern
Progress
While the main purpose of the grant funds raised for this project was is to support blind women Cricket Committee in their Organizational activities, however a portion will also be used in organizing conferences on eliminating sexual violence against blind women cricketers. Secondly, as usual, the approved grants will also we will be used in organizing blind women cricket tournaments to promote blind women's competency.
In a context of Nepal, blind women are sometimes seen as not being able to contribute to society, organizing this tournament will help to change common perceptions. The tournament will incorporate more than forty 40 players and be conducted in the heart of Kathmandu with influential personalities, women human right activists, representatives from Disabled Peoples peoples Organizations, policy makers and leaders.
Risks and challenges
Blind women cricketers have experienced many cases of sexual abuse and exploitation while they are in the cricket ground. Blind women cricketers have been often been faced sexually molestation by the male players and coaches in the name of coaching or playing together. As they cannot see they are always more prone to get sexually exploited. We have designed a project to build awareness for blind women cricketers about the potential places and persons of sexual exploitation, how to protect themselves and seek help in case of emergency.
Up Close
BCA did not respond to this question as it was not part of the previously agreed upon reporting requirements.
Next steps
Upcoming activities:
We will host a conference on sexual abuse and exploitation against blind women cricketers in . Venue: Pokhara in, Date: December 2013
We will host a Blind Women cricket Tournament in : Venue: Kathmandu on Date: March, 2014
"Cricket has transformed these girls. The way they interact with people and the confidence they have now is remarkable." – Pawan Ghimire*
Why we care: Blind girls in Nepal experience discrimination, isolation, and violence due to their disability, leaving them with few opportunities or choices in life.
How we're solving this: Sport offers blind girls something they have never had before: community, dignity, confidence, leadership skills, and a voice to claim equal rights.
Nepal's Ministry of Education estimated that 0.1 percent of blind girls attend school and a fraction of those girls play sports. Women in Nepal are already viewed as second-class citizens, and blind girls and women are even further marginalized.
Blindness is traditionally viewed as a terminal condition and a curse, resulting in banishing of blind people from communities. Blind children are often hidden from sight and secluded to the home for the rest of their life without the opportunity to gain an education. Girls living with blindness are also extremely vulnerable to sexual abuse and domestic violence.
The Blind Cricket Association is changing harmful stereotypes for people living with disabilities. It organized the world's first national blind women's cricket team in 2007 and has gained increased momentum: There are now five regional cricket teams and 100 women and girl players. This year, the Blind Cricket Association will reach 120 girls and young women between the ages of 10 to 30 through cricket training and educational seminars on sexual violence.
The Blind Cricket Association will also organize advocacy campaigns in Kathmandu and hold media conferences to increase public awareness. The organization will also meet with community leaders, women human rights activists, and government officials to ensure governmental protections for women living with disabilities.
"My family, especially my sister told me to get involved in cricket. She inspired me to play. My neighbors and relatives also encouraged me. When I started playing cricket, people's attitude towards me changed." (Sunita Ghamire, participant on the women's blind cricket team)
As a result of this project, blind girls in Nepal will:
Gain leadership and teamwork skills
Learn how to prevent and speak out against sexual violence
Heal from psychosocial trauma
Rise above and speak out against societal discrimination
Demand equal rights for women as well as people living with disabilities
*Pawan Ghimire started Nepal's first blind cricket team in 2006