1 year impact report
"I rebelled against backward customs in my village. I don't practice what I preach,then how will I bring change in society?After attending Breakthrough's trainings,women have become aware & are taking stand against sex selection. There is change,it's slow but it's there. We must try to change patriarchal mindsets.If we in this generation are not able to change it, then there will never be an end to it. More women in the world makes it a better place for women "Shanti" (local health worker) - Haryana
Impact for girls & women
Through youth training & school intervention with the help of enrollment data, attendance sheets
Estimated girls & women affected
9,567
Broader impact
Through social media outreach, digital platforms like Facebook, Twitter, Instagram, website, IVRS through Mission Hazaar campaign
Estimated community members affected
4,167,106
Valuing your daughter: The change Haryana needs to see
With support received from Catapult,we conducted 8 rounds of teacher training with 300+ participants. We trained 14300 students through school intervention program till Mar 2015 & received 2200 new enrollments.We completed 6 sessions with 150 schools on human rights,listening skills & leadership skills & slogan writing during the reporting period. In the overall program however, we launched our Mission Hazaar campaign, aimed at making women more visible in public places. We brought together community mobilisation, media, technology & culture to encourage people to speak up against GBSS & GBD through:
1. Walkathon(1500 people,13 schools,1 college& 22 organisations):where 1000s of girls demanded mobility & education rights

2. Youth festivals: 5000 students challenged norms & stereotypes & participated through street theater, magic shows, dance performances & competitions

3. Interactive Voice Response System - by calling & sharing their experiences

4. Video games - by playing Mission Hazaar game taking you to 5 states with low sex ratio & find missing women

5. Bike Rally from Delhi to Rohtak where men & women bikers celebrated ‪mobility‬. Led by women bikers,110 bikes covered 80 kms. Chief guests were women farmers, bus drivers, conductors & sports people who fought discrimination & shared stories & struggles

6. 2 PSAs were adopted by Ministry of Women & Child Development & disseminated across 100 districts. Our communication protocol, messages & pictures were used by them & helped attain wider reach & scale

Get personal

"I rebelled against backward customs in my village. I don't practice what I preach, then how will I bring change in society?After attending Breakthrough's trainings, women have become aware & are taking stand against sex selection. There is change, it's slow but it's there. We must try to change patriarchal mindsets. If we in this generation are not able to change it, then there will never be an end to it. More women in the world makes it a better place for women "Shanti" (local health worker) - Haryana

Risks and challenges

• Winter & summer vacations in schools leads to loss of time for implementation of project. There is greater absenteeism & drop-outs post their return

• Due to change in central & state Govt, our work was hindered & timelines majorly shifted. Since we work a lot with Govt bodies, we had to re-establish ties with new ministries leading to our regular work timelines delaying

• Dates for our next major activity of running a video van across all districts has seen glitches due to Panchayat elections which are also due at the same time

• It's still difficult to make inroads into certain schools (around 5%) as they are not warming up to the issue of gender-discrimination that we work on & see us as 'possible threat' to societal culture & norm

What we've learned

Overwhelming response Mission Hazaar received added exponentially to the reach & impact of our work. Collaborating with Govt. made our efforts fruitful & gain wider acceptance & recognition. Stories from schools where students & teachers are shattering gender norms, stereotypes & making VAW unacceptable in their lives is a huge success parameter. As future learning, we will definitely want to plan our activities more in advance to avoid any glitches & keep ourselves prepared for contingencies. For our next activity, our work with schools & community heads will see more robust mobilisation & for any support from the Govt. We will plan much in advance. Our hiring process is underway & our teams will be better prepared to reach & impact a much wider audience.

Next steps

• Next on-ground activity is due in Sept 2015 to run a video van across 4 districts for 20 days to raise awareness among local communities.Children, youth & community at large will be exposed to issues we work on & their relevance in their lives through magic shows, street theatre, puppets shows & games

• Our regular sessions on gender & life-skills encouraged students to organize a signature campaign to demand safer & more accessible educational institutions. With more than 15,000 signatures, the students and school authorities plan to approach the newly elected Panchayat (village leaders) to demand action in the coming month. • Hiring of 4 new field staff is in the pipeline & an exposure trip for team to our other intervention states

Budget

Out of the $17000 budget, Breakthrough has been on track on its three budgets heads of training, capacity building and travel and have utilised $16993.47 in the past year. Our trainings in schools are slightly over compared to the original budgeted amount, but the other two heads are well within the budgeted amount. Our capacity building of teams is an ongoing process along with hiring of new staff for future work in all four districts under the larger programme.

Line Items

Projected budget

Amount spent so far

Meeting/Training/Theater Workshop/p>

Staff Capacity

Travel

Total

$12,000

$3,000

$2,000.

$17,000

$12,589.72

$2,571.43

$1,832.32

$16,993.47

More information

http://www.iamin.in/en/new-delhi/news/where-are-daughters-india-53589 http://www.thehindu.com/todays-paper/tp-features/tp-metroplus/of-girls-and-bikes/article6917849.ece http://www.hindustantimes.com/chandigarh/bikers-rally-against-female-foeticide/article1-1319551.aspx http://timesofindia.indiatimes.com/city/chandigarh/Gender-bias-Survey-shows-mirror-to-Haryana/articleshow/46337332.cms http://www.thestatesman.com/news/delhi/mission-hazaar-bikers-rally-for-women-s-right-to-mobility/49443.html
90 Day Report
Come celebrate the birth of your daughters!
November 16, 2014
Progress
For the past three months we have been working towards creating an enabling environment of gender equality and rights for young people across the two intervention districts of Sonipat and Panipat in Haryana. Since August 2014, we have reached out to 75 schools and held 270 sessions on gender based discrimination and lifeskills. We reached out to approximately 3,500 students by forming 'Youth Clubs' in government schools in partnership with the Government of Haryana. These youth clubs called Taaron ki Toli (TkT), have become an inspirational platform for school children between the ages of ten and fourteen where we enable young people to take action for gender equality, both, in their lives and communities. Orientation trainings on Breakthrough's work and the issue of gender based discrimination have also been conducted with school principals and teachers from all participating schools. The next round of teacher training is due to start in November 2014.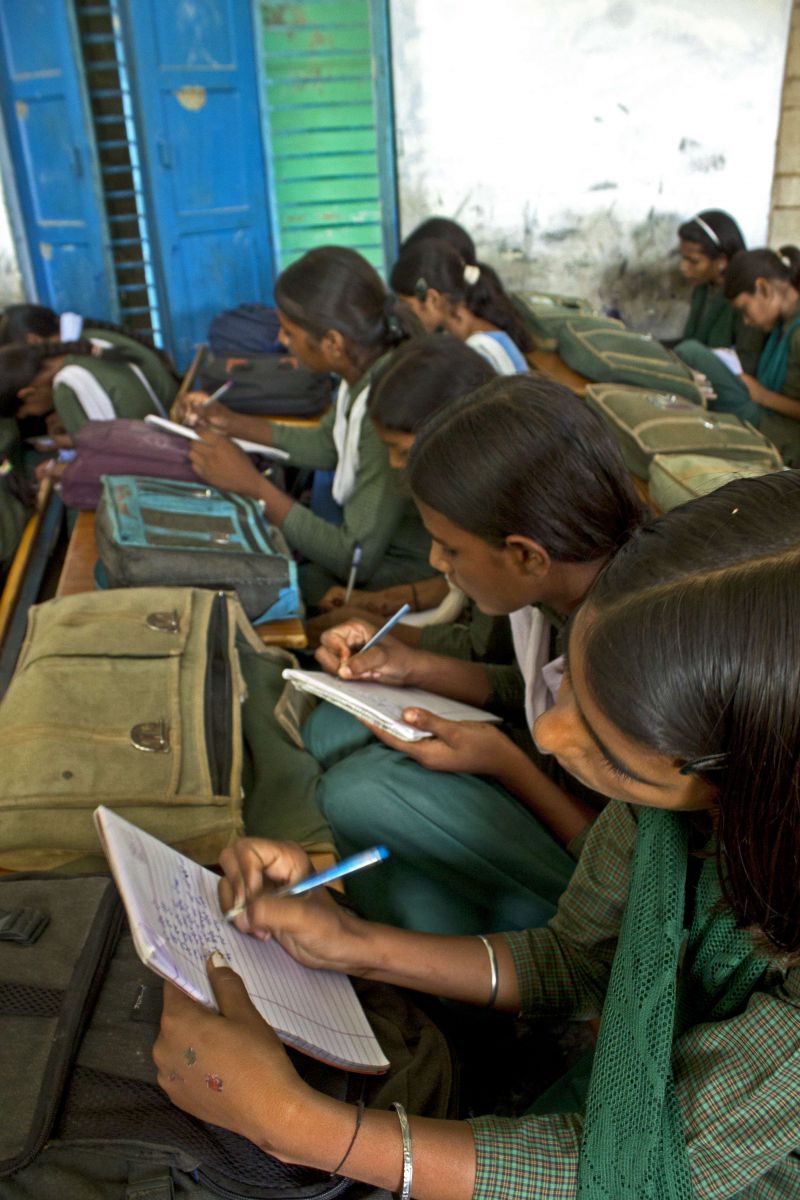 Risks and challenges
Implementation challenges:
The month of October had two major festivals which led to schools remaining closed for considerable number of days, hampering the flow of trainings and student attendance
Also in October we had state elections in Haryana leading to schools remaining shut and community mobilization being disrupted due to political campaigning and security issues. There was excessive loss of time and further postponing of our sessions.
The ground staff was overworked due to large volume of students in each classroom. The two participating districts have the largest number of students, with 250 students per class, leading to shorter attention spans and distractions during sessions. With only two district coordinators to manage 17 schools and they were overburdened at times.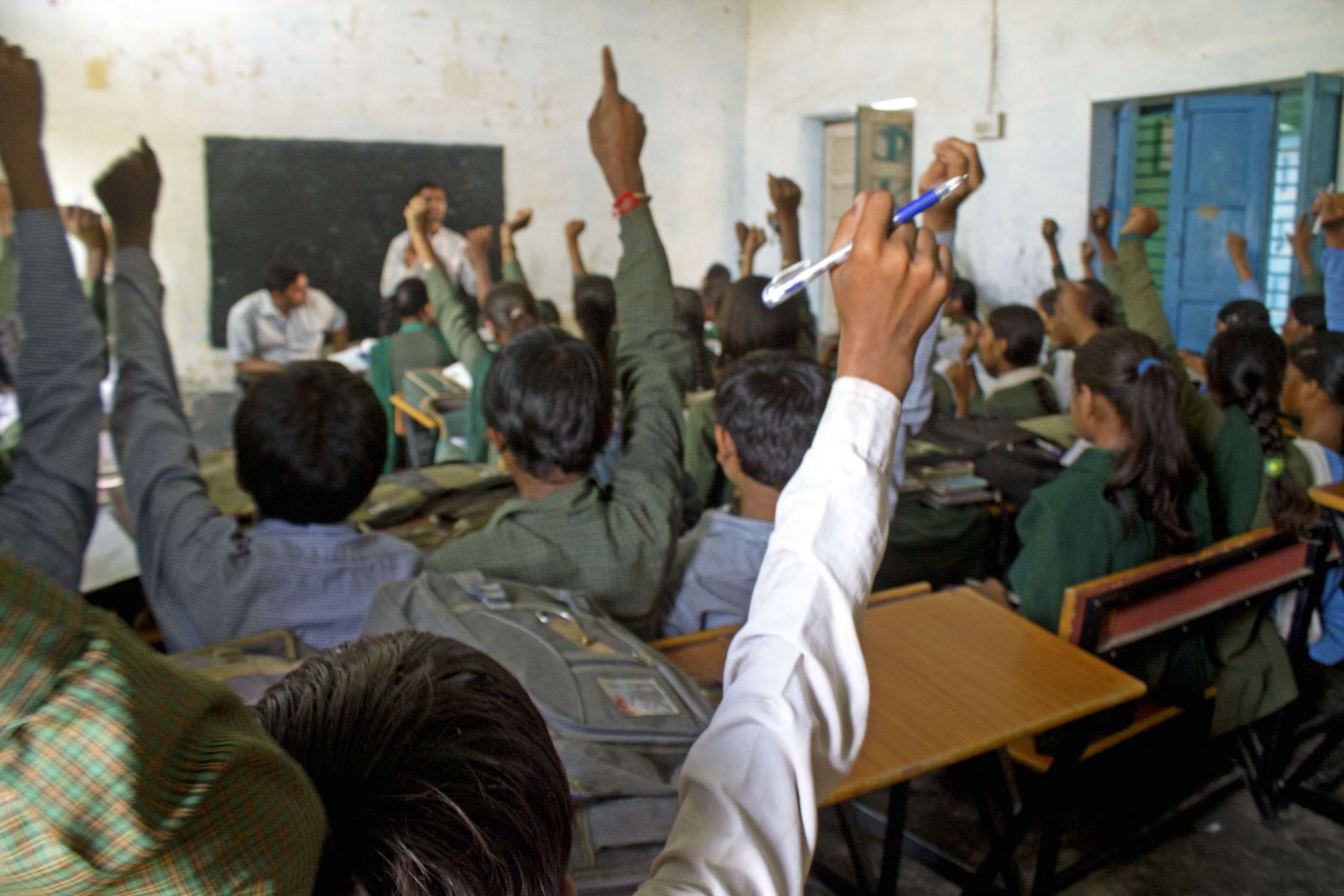 Get personal
Pankaj, a consultant with Breakthrough experienced a fundamental change after joining us and learning about gender. Pankaj's wife was previously never allowed to work outside the house and faced restrictions on her mobility. While working with us and attending training sessions, Pankaj not only understood gender norms and discriminations faced by women, but also realized how he was restricting his wife from exercising her rights. She was enrolled into college and encouraged to complete her education soon after.
Next steps
The next round of teacher trainings will be held in November 2014 on completion of which they will be certified.
Mission 1,000 - our campaign on Gender Biased Sex Selection will be officially launched in December 2014. The campaign will be concluded in February with a bike rally and display of a 'community report card'. The report card will highlight the issue of restricted mobility in the community and the data collection for the report card will take place during the entire campaign.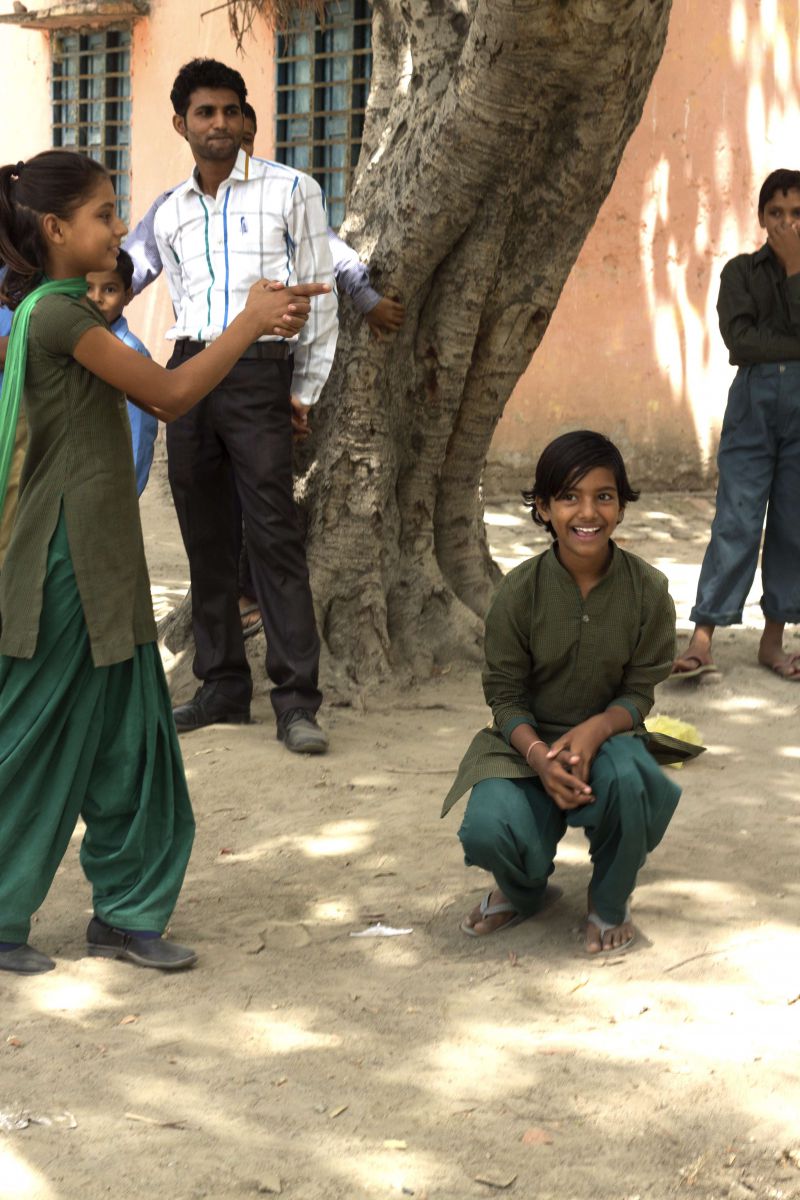 Budget
The funds for the proposed activities are being utilized as per plan. Since the duration of the project has only been 90 days we have not spent a very significant amount from the budget. We are on track with the budget and will provide a detailed utilization report along with our final report to Catapult.
Further reading
Blogs:
http://www.breakthrough.tv/heres-happens-give-girls-much-freedom/
http://www.breakthrough.tv/born-north-east-india-working-haryana/
http://www.breakthrough.tv/badal-raha-hai-gumandi/
http://www.breakthrough.tv/constant-reminders-restrictions-women-move-around/
In Haryana, India there are 830 girls for every 1,000 boys – an imbalance due to the discrimination of girls before birth.
Why we care: This low sex ratio is a stark representation of the low value and status of girls and high son-preference that denies girls a place in society.
How we're solving this: Through an India-based campaign, we're calling on students, families, and communities, in Haryana and beyond, to make Gender-Biased Sex Selection unacceptable.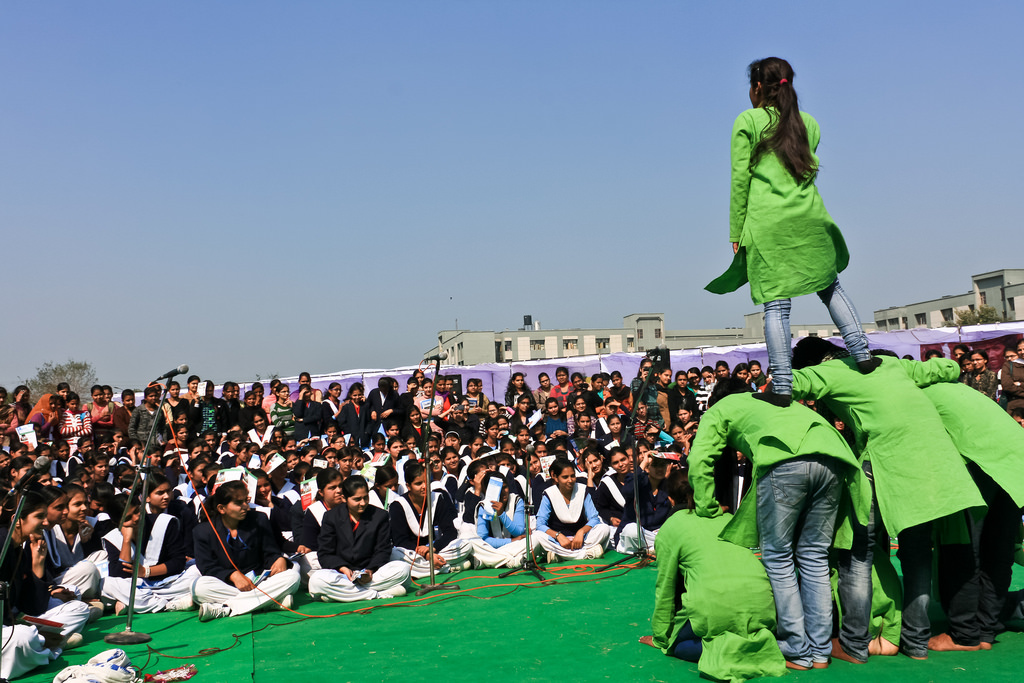 Breakthrough's school-based intervention programme targets young people early so they can become agents of change as they become adolescents and create a snowball effect in their communities. With your support, we'll train teachers to use innovative, fun, and interactive curriculum to create awareness on gender discrimination for 11 to 17 year olds, across 75 government schools in two districts of Haryana. Youth Clubs will be set up in schools to create safe spaces for children to talk about the issue.
In India, girls are being rejected even before they're born. This practice of Gender-Biased Sex Selection - the illegal misuse of various medical technologies to determine the sex of a fetus and ensure a male child - is a profound human rights violation and a clear expression of preference for sons. This practice denies girls a place in society.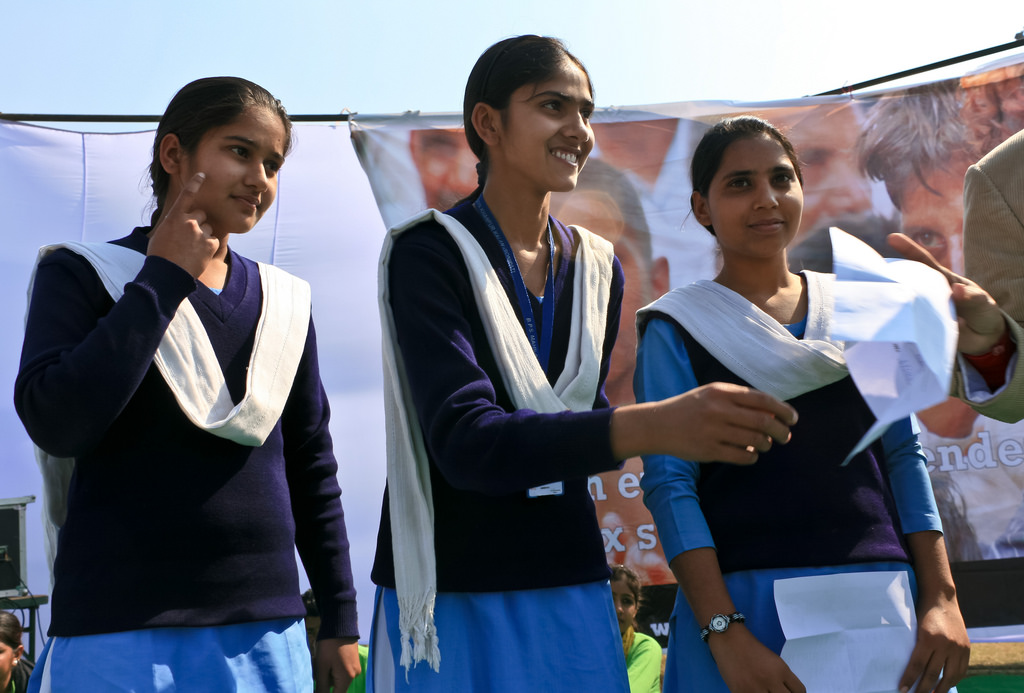 Breakthrough is creating transformative interventions, from interactive theater to long-term leadership trainings, to empower new leaders to challenge their communities to value the rights and lives of daughters. In our work, we partner with the Indian Ministry of Women and Child Development and National Mission for Empowerment of Women to create rigorously researched and tested message protocols to challenge this son-preference mentality. This is a four-year project, and the costs described here are partial costs for intervention in two districts over a period of one year.
We recognize the risk of the newly elected governments not pursuing the current partnership we have with the present government. In that case, we're prepared to renegotiate with the new members of government to continue the program within schools. In addition, we'll also liaise with teachers and principals who might not want to continue working with us considering the change of government and emphasize the importance the curriculum within the schools.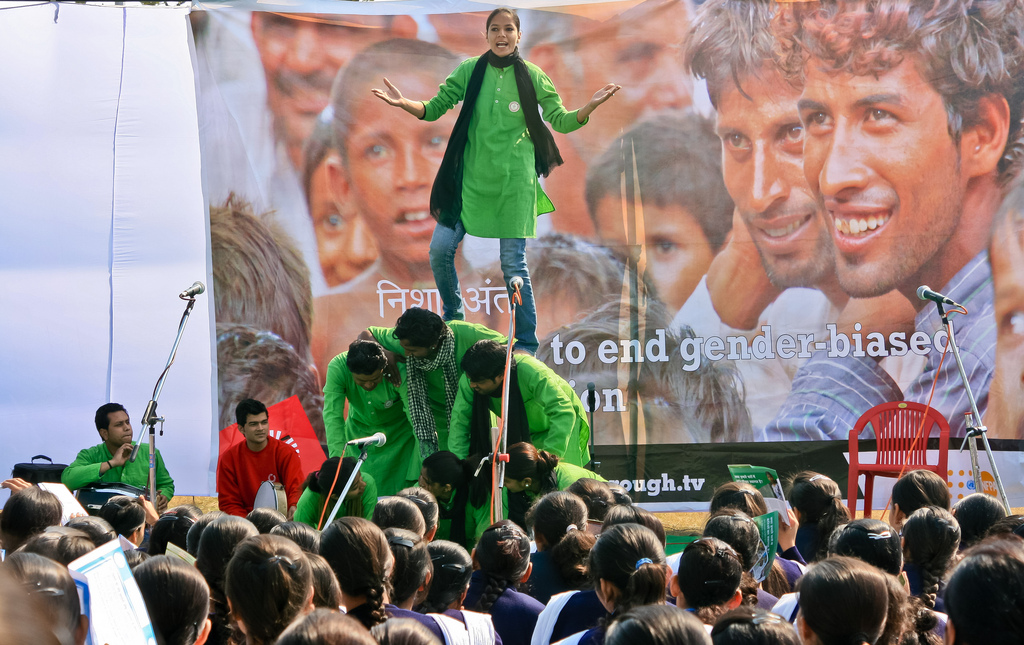 Our goal is to demolish the underlying pillars of gender based discrimination that uphold the practice of sex-selective abortion. To measure the effectiveness of our program, we plan to carry out a randomised control trial attached with the programme that will evaluate the impact of the intervention over four years.
"I have five sisters. Our parents gave us a life. This world is for girls as well. Please let them prosper," said a young woman, speaking out after seeing Breakthrough's street theater challenging gender-biased sex selection.
Help us change this harmful social norm and transform the lives of the 5,364 girls currently enrolled in the two districts of Haryana state.