90 Day Report
658 girls gained leadership and life skills!
posted on March 20, 2014 by Isabel Garcia
Progress
This is the final update, there is no one-year progress report.
Thanks to your generosity, we've been busy coordinating mentoring groups. We've produced 1,021 copies of Branded Life Skills for Adolescent Girls training manual and 48 copies of the training curriculum for facilitators. Phase 1 training activities have begun in 8 of the 12 schools mapped out for this pilot program, which benefited a total of 658 girls! Additionally, we've established mentoring groups known as WEAN 3Bs Groups in each of the 8 schools. The Groups have democratically elected their 12-member Executive Council Officers, and the Officers of the different Committees. Further training on complimentary skills and mentoring activities by facilitators and coordinators are held weekly in each of the schools to ensure that the girls internalize their new skills as well as cultivate the necessary leadership capabilities. We're ready to undertake phase 1 training activities in the remaining 4 schools within the first 2 weeks of schools' resumption in January 2014. The training materials for the remaining schools are also ready.
Risks and challenges
The biggest challenge is funding, which requires engaging more facilitators and mentors and teachers. We lack the funding to have the reach and scale we need to implement programs that reach out to stakeholders such as parents, young men, political party leaders, religious leaders, and traditional rulers. Additionally, it was difficult to ensure that schools were following the merit-based selection criteria for girls participating in the pilot program and to avoid favoritism among administration and management.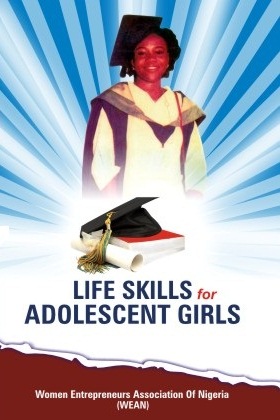 Up Close
The group did not respond to this question as it was not included in the originally agreed upon reporting requirements.
Next steps
The next step is to implement the complementary programs to sustain the WEAN 3Bs Groups already established in the schools and to extend the program to all the states. Our goal is to train 1,000 girls in each session to have about 1,000 members in each of the 36 states and Abuja.
Budget
As at 13 December 2013, when we concluded the phase 1 training activities for Christ the King College (CKC) Aba WEAN 3Bs Group members, the cash balance on the fund stood at $1,936.00
| | | |
| --- | --- | --- |
| Line Items | Original budget | Amount spent so far |
| Total cost of training activities | $14,233 | $1,936 |
Even though primary school enrollment for girls has increased in Nigeria, many barriers to continuing education across adolescence remain.
Why we care: Adolescent girls in Nigeria are dropping out of school at high rates due to sexual violence, pregnancy and cultural attitudes that claim girls cannot succeed.
How we're solving this: Forming mentorship clubs for young women and equipping them with skills to build their confidence, communication, and leadership.
Many adolescent girls feel insecure and are afraid to stand up for themselves due to cultural attitudes that perceive women as inferior to men. Even though rates of enrollment in primary school for girls have increased in Nigeria, when girls reach adolescence they face so many barriers to continuing their education that they become much more likely to drop out of school than boys. Down the road, fewer women have formal leadership experiences and do not have the required academic background to hold local and national policy positions where they may enact positive change.
Women Entrepreneurs Association of Nigeria helps adolescent girls build the confidence they need to become transformational leaders. Through WEAN's intensive life skills trainings, young women discover their hidden talents, recognize their own potential and how to achieve their goals.
WEAN partners with four national women's rights organizations to provide the best trainers that lead interactive multi-media discussions with teenage girls; facilitate small breakout group activities, and conduct role play scenarios to practice communication strategies to defend their rights and learn how to say "no" to negative peer pressure.
Upon training completion, young women will come away with 13 ready-to-use attributes, including self-esteem, communication and negotiation skills to use with peers, teachers, and family members when discussing decisions about their personal life and academic and career trajectories. WEAN and partners will also establish mentoring clubs to provide ongoing support for the young women, tracking the changes that participants have implemented in their daily lives. Motivation will be at its highest during WEAN's annual competition, which recognizes young women who have shown exceptional progress in applying their new life skills.
What will change for young women participants? They will have:
Coping mechanisms to lead healthy, balanced, and productive lives.
Smart study habits and improved grades in school.
Increased knowledge on current legislation protecting women's rights.
Leadership skills and academic excellence to pursue public policy opportunities.
Motivated and supportive peers and role models, enabling young women to get the mentorship they need to become leaders and agents of change.