1 year impact report
"We talked to many Syrian women: some had been jailed, beaten, many had lost family members."
Impact for girls & Women
The number of women and girls who had direct contact with our team and had their voices and opinions circulated nationally and internationally in news media.
Estimated girls & women affected
28
Broader impact
Women's eNews recognizes that it cannot measure the true number of people indirectly affected but we feel these numbers speak to the basic reach of our work. This number was reached by adding the number of Women's eNews subscribers, the number of page views of the stories published in this series, and the number of video views for each posted video. However, the number of people indirectly affected by this project extends far past that number.
Estimated community members affected
54,000+
Loss, Hope and Trauma: reporting on a refugee crisis
One year ago you made a commitment, along with 100 other supporters compassionate about women's rights, to amplify the voices of Syrian women and girls displaced by war and living as refugees in Jordan. When we were last in touch, our reporters had just arrived in Jordan to begin their reporting. They visited the largest refugee camp in the area, interviewing residents and documenting living and working conditions and how they specifically affect women and girls. But that was just the start.
Our reporting team grew by four more people: Cousins Maher Abdallatef and Radwan Abdellatef, both refugees from Syria, Shafika Mattar, a journalist, and Mayss al-Zoubi, a Syrian human rights activist, along with our reporters Dominique Soguel, Hajer Naili, and Touline Habake, created seven videos, and eight articles published in English and Arabic. You can read the full series HERE. The article, "Syrian Women Exit Jordan in Search of Missing Men", demonstrated Women's eNews' ability to tell stories missed by other organizations. We were the only media crews allowed access into the military controlled border area to film and interview guards and refugees. Very few other organizations focused on the issue of women and children travelling back into Syria, despite the danger, to find husbands and male family members who were not allowed to enter refugee camps in Jordan.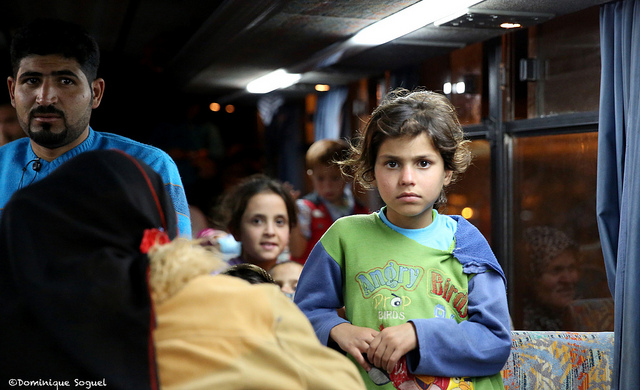 Get personal
"It was a unique experience witnessing first-hand the conditions of life of the Syrian refugees in Jordan. The hardest moment was certainly the night we entered the military base bordering the Syrian border. Refugees were returning to Syria by bus in the middle of the night. We could hear the sounds of shelling across the border. Many women were traveling alone with their children to reunite with their husbands who had stayed in Syria. It was challenging at times but worth it." – Hajer Naili, a reporter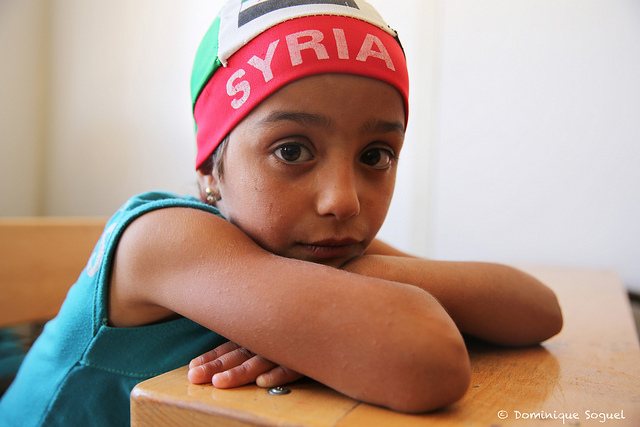 Risks and challenges
One of the biggest challenges was to gain the trust of the refugees we interviewed. They had seen so many reporters coming, asking questions, filming, taking photos, and they were tired. "Nothing has changed with your stories," they kept telling us. We had to convince them that we needed to keep reporting so the world knew what was happening. We went back to Zaatari four times over a month which made a big difference. Unlike many reporters on tight schedules and short deadlines, we had the ability to dig deep into our stories. It also eased our work with the Jordanian authorities running the camp. They eventually opened up and allowed us access to a military base neighboring Syria to witness the arrival and departures of Syrian refugees.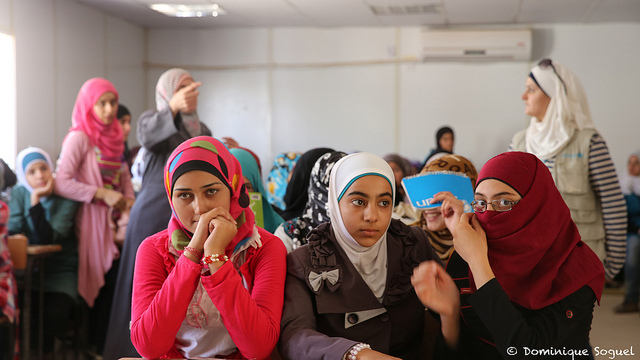 What we've learned
We talked to many Syrian women: some had been jailed, beaten, many had lost family members. Maintaining their safety was our biggest concern. We have some footage from these conversations that we will likely never be able to use because of this. We always warned women being interviewed about the possible consequences of showing their face, so some would cover their face others spoke at the time without worry. Many women later asked us not to use the footage. If we were to do this project again we would look for more ways to make this content available without risking the safety of the women involved. That way the women retain their ability to speak out safely, and we would still be able to create change by making the information available.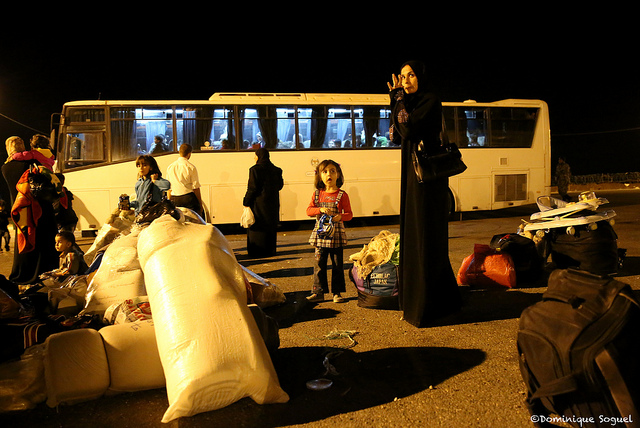 Next steps
Women's eNews is continuing to focus on creating change by raising women's voices through investigative reporting worldwide. We are currently working on two new Catapult campaigns investigating how economic pressures trap women in dangerous, violent relationships - Why didn't she just leave? - and the dramatic shifts in access to equal rights for women in France - Amplify French women's voices.
Budget
We encountered a certain number of technical issues caused by some of our post-production equipment not working properly. We not only lost a lot of time struggling with post-production issues but this also inflated our budget to cover costs for additional post production work and new equipment to manage a lot of video material. We also decided, due to time constraints and staff availability to cut the formal safety training. We made sure that our team - some of whom had reported from war zones before - was prepared for any outcomes through thorough preparations and interviews with other journalists and human rights stakeholders. We also increased the size of the reporting team – adding two male fixers and two female fixers which added additional expenses under the "fixer" line item but created a bigger, safer team. Additionally, we did not need visa's for the team but we had to pay certain costs to bring passports and security ID's up to date which we have combine in this line item. We also created a new line item for medical supplies and vaccinations that were required prior to entering the refugee camps.
Line Items

Projected budget

Amount spent so far

Salary for three reporters

Video and audio equipment

Safety training

Flights and shelter

Driver/Fixer in Jordan

Visas for three reporters

Medical/Vaccinations

$6,480

$1,000

$1,800

$3,200

$1,800

$720

$0

$6,550

$3259.61

$0

$1,972.68

$3,300

$257.85

$427.70
Further reading
Our project was not written about extensively by other organizations but it became an internal source for journalists and human rights activists who contacted us privately to improve their own work and understanding of the issues Syrian women and girls were facing. Three examples: A journalist from Jordan contacted Women's eNews to follow up on the story of Halaa, one of the women who appeared in our videos on the lives of Syrian women in Jordan. In addition, staff from the women's rights department of a global human rights organization contacted Women's eNews to learn about the things we saw and heard when covering the status of Syrian women and girls refugees in Jordan. Lastly, a refugee aid worker active inside of Syria reached out to look for opportunities to write knowing we were an organization that valued information on Syrian women's lives. These examples show that the project you funded had real impact where it was supposed to. Women's eNews' reporting showed the importance of the lives of Syrian women and girls, catalyzing further media coverage and influencing the work of thought leaders, policy makers and rights activists.
90 Day Report
posted Oct 28, 2013 by Isabel Garcia
Progress
We are pleased to report our team of three female, Arabic-speaking reporters arrived in Jordan to begin their unprecedented work on this project on Wednesday, September 11. Simply put: they would not be there without you.
Since July 16th, when Women's eNews successfully completed the full funding goal for our project via Catapult, the entire Women's eNews team has been working towards this point. The three key members of the project were in constant contact in person, via phone, email and Skype outlining every facet of the project from the moment of arrival until their departure.
Over the past month, staff has undergone oral history training with experts from two colleges, as well as a journalist who worked in Rwanda; connected with health experts from Physicians for Human Rights about their recent work in Syrian refugee camps in Jordan; and talked with journalists in the region about their experiences in preparation of the difficult task at hand, particularly in light of current happenings in the region.
As we enter October our team have logged hours of footage and interviews, spoken with many Syrian women refugees and listened to little girls dreams of the future. Our first report was published online in September: http://womensenews.org/story/war/130928/refugee-school-girls-in-jordan-sing-lyrics-loss
Please watch this video: http://www.youtube.com/watch?v=1veHKI-izn0&feature=share&list=UU_vEMmrw0vaGi3DiNLKQVfA
Risks and challenges
Women's eNews has an Arabic sister site (www.awomensenews.org) that is run from the Middle East; we are proud of our reporting to and from the women of the region. Therefore, when we decided that it was critical to send additional members of our team to the Middle East specifically to amplify the voices of Syrian women now living as refugees, we knew it would not be an easy task.
The risks for those living and working in the camps are incalculable. We weighed these factors carefully as we made our decision to proceed with the project, after an initial delay in timing in respectful observance of Ramadan.
Then, as everyone is acutely aware, in recent weeks the situation in Syria worsened. There have been daily talks of military strikes on Syria following a chemical warfare attack in August. The number of refugees fleeing Syria continues to grow each day. It would be a gross understatement to say that everyone at Women's eNews did not consider the risks involved in sending a team of female reporters to the largest refugee camp in Jordan, bordering Syria, under current conditions.
After much discussion, troubleshooting, and planning, the team decided to proceed on schedule. Now, as our team prepare to leave we are glad we stood by our commitment as journalists, to the female Syrian refugees, and to our supporting donor partners.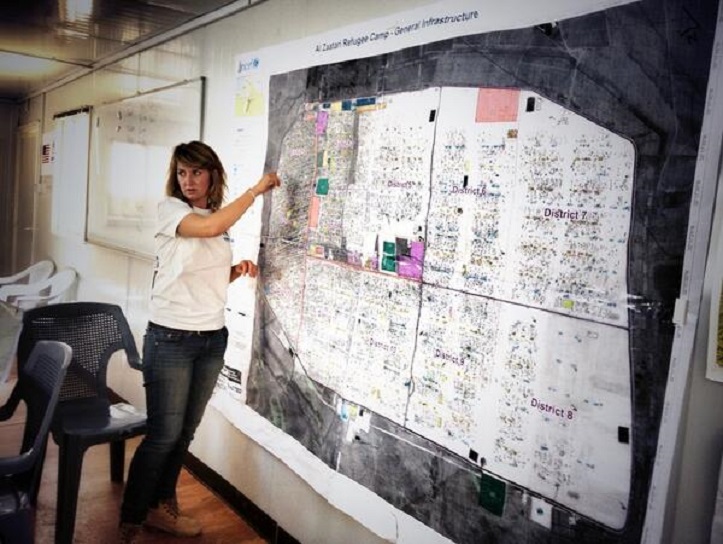 Up Close
Women's eNews has been deeply invested in keeping women in the headlines and the bylines for 13 years. We are extremely proud of the focus of this particular project, and each member of the Collateral Damage Syria reporting team is also personally connected to the region and to the mission of elevating women's voices through the accounts of those experiencing the conflict and its aftermath firsthand. We will have more messages to share from them soon.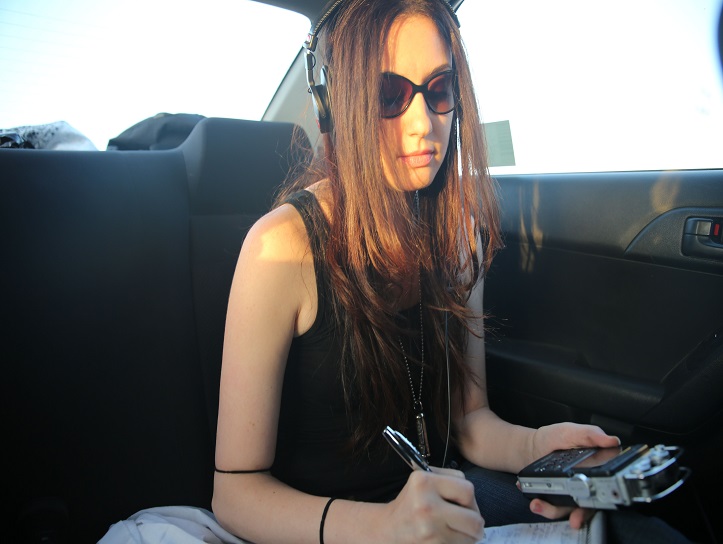 Next steps
There is much more to come from our team, and we eagerly anticipate the opportunity to share the rich stories and histories the women in the region have to tell. Your support of our work made this possible. We will continue to update our readership on the progress of the project via our social media accounts on Facebook, Twitter, Tumblr (wensyria.tumblr.com), and Instagram.
Help give Syrian women and girl refugees a voice in the international media.
Why we care: Women and girls make up 75% of the 1.4 million people fleeing war in Syria and are increasingly at risk of sexual assault and trafficking without a platform to demand change and expose threats.
How we're solving this: For change to happen in any country—especially one experiencing massive disruption and conflict—women's voices must be heard; this special reporting project will provide a platform for Syrian women to tell their stories so that they can design their path to change and peace.
Our reporters will travel to refugee camps in Jordan across a one-month period to speak to Syrian women and report on the unique health and safety risks they face and the work they are doing to combat them. As well as being experienced journalists with sensitivity to women's voices, our reporters speak fluent Arabic and have a deep investment in supporting women to shape their future in the Middle East.
This special reporting project will raise the stories of change and action alongside recording the abuses of women and children. We will do something that few news organizations manage to do: give women a true platform and true access to change. This project will help cover the salaries, transportation, equipment, visas, and other needs of three reporters.
Women's eNews has already helped spread important information about the condition of girls and women in Syria. A recent Human Rights Watch report on sexual violence in Syria was covered by Women's eNews Arabic site editor Dominique Soguel and gained greater exposure across many news organizations and agencies as a result.
No other news organization has the global focus and sensitivity to women's voices that Women's eNews has. No other news organization could create the impact that Women's eNews will, through our reporting. Women's eNews creates impact by:
Helping set up the news agenda for conventional media;
Impacts opinion leaders and policymakers;
Serving as a resource and catalyst for rights organizations and activists;
Uncovering injustices, drawing attention to issues, disseminating information, and empowering readers.
Women's eNews has helped to sensitize other news agencies to women's issues that conventional media tend to ignore. We have a lot of work still to do but as one Women's eNews reader–herself a former reporter and foreign correspondent–has said, "Women's eNews has made…dismissive treatment more or less impossible now by creating a steady drumbeat of compelling and well-researched news items about women's situation that editors cannot ignore or dismiss as isolated cases."
Support journalism that puts women in the picture. Donate today.