1 year impact report
With this team in place, the past year has been dedicated to gaining a stronger understanding of the different contexts that enable the sex trade flourishes in African countries, particularly in trafficking hubs like South Africa, Nigeria, and Ethiopia.
Impact for girls & women
The women and girls who would benefit from any changes in the law or governmental policies that protect them against sex trafficking and/or provide support services for trafficked women and girls is immeasurable
Estimated girls & women affected
?
Broader impact
The number of people who would benefit from changes in the law or governmental policies that prevent sex trafficking and/or provide support services for trafficked women and girls is immeasurable
Estimated community members affected
?
Bringing partners together to fight trafficking in Africa!
"It's been a year since you helped us expand our campaign to combat sex trafficking into Africa. Since anti-trafficking expert Esohe joined Equality Now to lead the charge, she has worked hard to develop a strategy to tackle the epidemic trafficking and commercial sexual exploitation of women and girls. To support Esohe's efforts, we have also brought on board a new Program Officer, Sofia Rajab-Leteipan.

With this team in place, the past year has been dedicated to:
• Gaining a stronger understanding of the different contexts that enable the sex trade flourishes in African countries, particularly in trafficking hubs like South Africa, Nigeria, and Ethiopia
• Conducting a mapping of organizations working on the issue as well as supporting survivors of sex trafficking, including how best Equality Now could support them in their work
• Building key networks and inroads with potential partners (both state and non-state) to launch our trafficking work

Equality Now plans to initiate discussions among women's rights groups in Africa on the issues of sex trafficking. Over the course of the next three years, we will convene women's rights groups, facilitate discussions to encourage them to take these issues up as part of their agenda, facilitate international advocacy on their issues and help bring financial and technical resources to bear to support ongoing collaboration."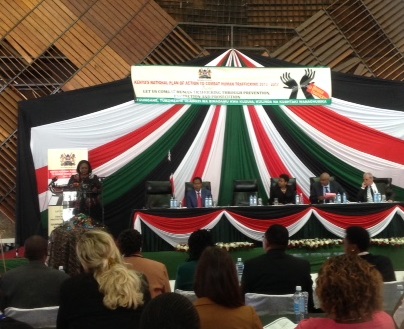 Get personal
"Equality Now has made significant strides to engage key State and Non-State Actors to better understand the nature of civil society interventions on human trafficking, challenges, gaps as well as key priorities and opportunities for engagement which include prevention efforts, awareness raising, victim protection, law enforcement co-operation, training and exchange of information." -Sofia Rajab-Leteipan, Trafficking Program Officer
Risks and challenges
Because Equality Now aims to make long-term, systemic change, oftentimes the quantifiable impact manifests over an extended period of time. Ultimately, however, when the change does occur, the lives of thousands and even millions of women and girls will improve for the better, in that country and often beyond.
What we've learned
The voices of survivors of sex trafficking need to be at the heart of everything as we further develop our plans and strategies to combat trafficking in Africa. From their experiences as victims of commercial sexual exploitation to their work as activists to make a difference in how women and girls still in the sex trade are treated are vital to helping the general public and lawmakers better understand what is really happening in their countries and communities and how best to address them. As we begin to work with partners to strengthen anti-trafficking laws and policies in Africa, we need to continue to elevate their voices to ensure that victims are adequately supported and not treated like criminals.
Next steps
To jumpstart the Africa campaign, Equality Now is currently planning its first convening of partners in September. During the two-day meeting in Nairobi, Kenya, we will develop a concrete plan of action for the group as a whole and for regional blocs, including a set of common objectives, key conclusions and recommendations, and joint advocacy strategies.
Budget
We used your donations to support the Africa trafficking staff and their research and network building efforts.
90 Day Report
Thanks for helping us bring on an anti-trafficking expert!
October 27, 2014
Progress
Thank you to all our Catapult supporters for enabling us to bring on a new team member! We are proud to announce that we have hired noted anti-trafficking expert Esohe Aghatise to lead our global anti-sex trafficking program and expand our efforts to combat sex trafficking in Africa. Esohe is an international expert on sex trafficking and is also a lawyer and a PhD holder. She founded Associazione Iroko Onlus, which provides services to Nigerian trafficking victims in Italy, serves as a member of the Board of Coalition Against Trafficking in Women, and was appointed as a United Nations Expert on Trafficking in 2002. Esohe was recognized as a "Hero in the Fight Against Modern Day Slavery" by the US State Department and was also awarded a Service to the Nation Prize by the Nigerian Government.
Risks and challenges
While there is growing public awareness around the human rights violations of female genital mutilation (FGM), child marriage, and rape, demonstrating the growing commitment of African governments to tackle these issues, there remains silence around the issue of sex trafficking. Governments are not responding to this staunch commercial sexual exploitation. Esohe and our team in Nairobi will seek to mobilize grassroots organizations to advocate to governments across Africa to put an end to this widespread form of violence against women and girls.
Get personal
"It has always been my passion to get involved in the fight for women's rights and in ensuring a safer world for all women and girls. Equality Now is one of those organizations that always inspired me, by the dedication and result oriented efficiency of its staff and members. I am very excited to be a part of the awesome experience that is Equality Now, working together to make the world a better place for all women!" – Esohe Aghatise
Next steps
In the coming months, Esohe will be working with Equality Now's Africa Regional Office to conduct research on the countries that do not have laws on sex trafficking and map out a strategy to tackle the problem on the African continent.
Further reading
Here are some articles Esohe has written about the issue of sex trafficking:
http://www.thisdaylive.com/articles/curbing-international-prostitution-in-edo/187788/
http://www.state.gov/j/tip/rls/tiprpt/2007/82801.htm
http://www.france24.com/en/20081120-nigerian-prostitution-ring-broken-italy-italy/
Strengthen the anti-trafficking advocacy project by hiring a Trafficking Program Officer
Why we care: African women and children are being trafficked into the violent commercial sex industry in ever increasing numbers – domestically and internationally.
How we're solving this: By advocating for the implementation of strong anti-trafficking legislation and fostering collaboration amongst activists and organizations working to end sex trafficking and exploitation in sub-Saharan Africa.
According to reports from our local partners, efforts to end sex trafficking of women and girls in sub-Saharan Africa have largely taken a backseat to dealing with other types of violence there. This is despite the fact that "trafficking of girls and women, very often under conditions of violence and deprivation, can also be connected to the high prevalence of overall violence in public and private spheres against women in Africa." (UNICEF 2005) Some women are abducted, some are deceived by offers of legitimate work, and some are sold by their own poverty-stricken families or are themselves driven by poverty, isolation and/or abuse into the lure of traffickers who prey upon their desperation and vulnerability. Traffickers employ manipulation, coercion and deception to ensnare women and make it extraordinarily difficult for them to escape. Regardless of their route into commercial sexual exploitation, women can become trapped in a world of violence, debt bondage, abuse and isolation.
Though, reportedly, one in four African countries is implementing a national project targeting trafficking in human beings (UNICEF 2005), unfortunately many are not operational, poorly designed or unsustainable. Therefore, Equality Now would like to hire a staff person to apply the knowledge and skills we have employed in our global anti-trafficking efforts in order to help address these ineffective efforts. Based in our Nairobi Office, the Trafficking Program Officer would collaborate with other African NGOs, activists and organizations working to end sex trafficking to create and implement effective strategies to help put an end to this grave human rights abuse of women and girls. Primary tasks would include:
Conduct a mapping of the continent to uncover which countries do not have a law on sex trafficking or who are in the process of developing a law in order to target those countries for legal advocacy efforts.
Based on findings from the mapping, hold meetings with applicable policy-makers, i.e. Ministers of Women and Justice, law reform commissions, human rights bodies, etc., to lobby for the adoption of laws that would criminalize the trafficking and buying of sex while decriminalizing prostituted women and girls and providing them with rehabilitative and other services. Official written submissions to policy-makers would also be made to urge countries to invest in measures to protect women and children, and provide the tools for law enforcement agents and immigration officers to recognize and address cases of sex trafficking.
Bringing together activists and NGOs working to end trafficking in the targeted countries in order to facilitate idea-sharing, identify strategic partners and engage in collaborative activism.
Write news articles, pitch stories and conduct social media campaigns to elevate the seriousness of this human rights abuse among the general public and policy makers.
Please help us implement effective strategies to end sex trafficking in sub-Saharan Africa by supporting our project today. Thank you.