1 year impact report
Throughout this past year, we've changed the course of 100 Haitian girls' lives!
Impact for girls & women
One of the Haiti Adolescent Girls Network's safe space groups with PROFAMIL worked with 60 adolescent girls and the other safe space group FAMSA worked with 40 girls.
Estimated girls & women affected
100
Broader Impact
A point of emphasis that mentors make with girls is that they share their new-found knowledge with at least five friends. If all 100 girls share knowledge with a minimum of five girlfriends, 500 girls will be indirectly affected.
Estimated community members affected
500
Changing the course of girls' lives!
Thanks to Catapult and its generous donors, we were able to fund programming for two safe space groups for vulnerable adolescent girls ages 10 – 19. In particular, these groups worked with 100 girls who are either young mothers out of school, violence surivovors, disabled, or a combination of these. Each week they had the opportunity to meet with their peer mentors to discuss topics that are pertinent to their lives and well-being.
Mentors were trained in the fields of sexual and reproductive health, financial literacy, gender based violence, and leadership self-esteem. Since girls have fewer opportunities (compared to boys) to make new friends and interact with mentors, this targeted programming is necessary. These strong networks of young women have not only helped to change girls' views of themselves, but also encouraged their presence in the community, challenged power structures, and lend a strong female voice to decision making at the community level.
Get personal
Regine was born with one leg. Being a part of the safe space group has given her the opportunity to be a part of a dance group. Regine is a role model to other girls in her safe space group who were born with all of their limbs, but lost a limb as a result of the 2010 earthquake. "You can still follow your dreams, even when you are missing a limb. Being in the safe space group has given me the opportunity to see that I can help others who don't yet know that a life with one less leg is possible."
Risks and challenges
A major challenge for participants is the weather. Because some girls walk a long distance, it is often difficult for them to attend group when it rains. As rain can be extremely heavy in Haiti and often causes mud slides due to the lack of forestation, walking in such conditions is difficult and dangerous. As a result, girls can be left behind in lessons, which has become a challenge during the rainy season. To respond to this, we are working on a way in to deliver material that will give our girls free time built into their schedule to work with their mentors on missed lessons.
What we've learned
One of the areas where we have been most successful is in the creation of sexual and reproductive health content that is specific to the Haitian context. Mentors were successfully trained and content is being delivered. However, we were not prepared for the number of girls who came forward and shared their sexual abuse stories. Mentors were not adequately trained on how to properly respond. To remedy this, we partnered with the World Young Women's Christian Association (YWCA) - Haiti and Gheskio - to further train our mentors and prepare them to respond to victims of abuse. In the future, we'll make sure that prior to content delivery, mentors had adequate training for all scenarios.
Next steps
Safe spaces will remain open for girls but financial backing and support are still needed in order for the groups to be able to have successful programming. This July, the Haiti Adolescent Girls Network will be holding a three-day training and conference for the year ahead. Both FAMSA and PROFAMIL have been invited to attend and be a part of the larger network made up of 17 organizations that are all implementing safe space programming.
Budget
The Network was unable to complete a video to document the project by the time of this report, but we have identified a group that can produce the video and will be completing it within the next one - two months.
Line Items

Projected budget

Amount spent so far

Mentor Stipends

Meeting and Material Costs Technical

Assistance and Evaluation

Video Editing

12000

3000

5000

2500

12000

500

5000

0
90 Day Report
Promote education and skills for girls and women
Progress
Thanks to you, the Haiti Adolescent Girls Network identified two organizations in need of support to continue providing safe spaces for girls. While the Network, a collective of organizations that began in 2010 in response to the earthquake, originally sought funds just for Profamil, it identified another organization, FAMSA, that was struggling financially, but poised to reach more girls with this much needed programming. This approach allowed your funding to have an even greater impact, since now both organizations will benefit from the programmatic coaching also included in this project.
The Haiti Adolescent Girls Network continues to work with 17 local Haitian grassroots organizations that are committed to working with vulnerable girls. We provided additional funding for mentor stipends to two dynamic organizations who couldn't have otherwise continued to implement girls' groups. The funds from the project will cover at least 4 mentors for each organizations, and benefit at least 50 girls total through weekly programming during the year.
PROFAMIL and FAMSA were chosen because of their geographic location and the specific girls that they work with in their weekly groups (ages 10-19 and out of school). Due to the nature of financial transactions with Haiti, funds have just been distributed, and this project is just getting started. We look forward to providing an update in a couple of months!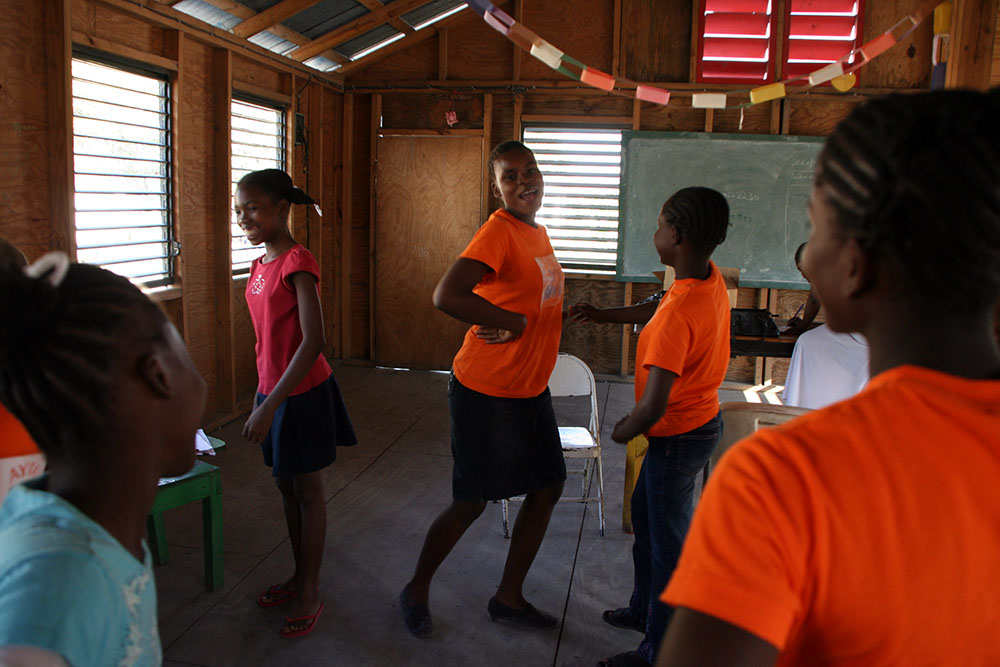 Risks and challenges
As mentioned, our biggest challenge so far is getting the funds in place to start programming, but we are confident we will have much more to report shortly.
Up Close
While the groups supported by your funding are just starting, we wanted to share a story from current participant. Victoria, who is 14 years old and is currently out of school. She was honored to find out that she would be part of the Espas Pa Mwen group. Victoria never felt ashamed that she was out of school or that her family was not able to cover her school fees.
Victoria states in her short time in the group, the financial literacy workshops provided her with information that she uses in her life. Since starting the program, she has started to save her money! She never had a savings plan and thought this was out of reach. Victoria, would love to return to school and plans to save a portion of her school fees so that she can return back to school.
Victoria, believes that every girl in Haiti should have an Espas Pa Mwen program in their area and thanks the Espas Pa Mwen group for giving her the confidence to hold her head high.
Next steps
Implementing partners typically host at least 25 girls for at least 15 consecutive 1½ hour sessions. The two implementing partners will get coaching from the Network coordinators on how to show their success and what information they should collect to do so.
The Network will introduce grant recipients and other small Haitian NGOs to sexual and reproductive health and rights training for girls, and train staff from the two organizations in other core content for girls (gender-based violence and financial literacy). The Network will conduct a survey for at least 10% of the girls in the program to measure the impact of the Espas Pa Mwen groups.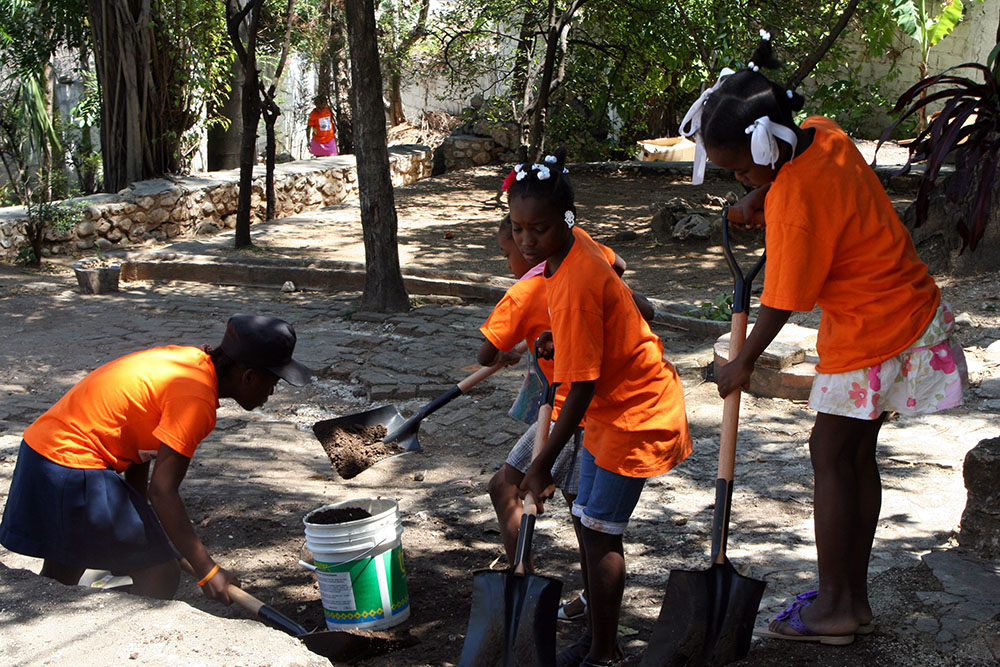 Budget
Due to the logistical difficulties of working in Haiti, getting funding to our partners on the ground has been slower than anticipated. However, meetings and technical assistance to these partners has continued with counterpart funding that IPPF/WHR.
Line Items

Projected budget

Amount spent so far

Mentor Stipends

Meetings and Materials Costs Technical Assistance and Evaluation

Video Editing

$12,000

$3,000

$5,000

$22,500

$6,000 (Mentor Stipends)
Other
The Haiti Adolescent Girls Network is currently chaired by the International Planned Parenthood Federation Western Hemisphere Region (IPPF/WHR), based in New York, NY. One part time, coordinator is based in New York to provide program support to the Network. Our local partner in Haiti is the YWCA Haiti and this is where the Haiti Based Haiti Adolescent Girls Network Coordinator is based. The Haiti-based coordinator, ensures that girl groups are functioning and provides programmatic support in country to those currently running Espas Pa Mwen groups in their organizations.
Additional resources
http://www.ippfwhr.org/en/blog/ester%E2%80%99s-wish-safety-girls-haiti http://www.ippfwhr.org/en/blog/safe-spaces-adolescent-girls-haiti http://www.ippfwhr.org/en/blog/changing-haiti-one-girl-time
50 Haitian girls will have a safe space to learn and lead in their communities.
Why we care: Girls in Haiti face enormous health, safety, and economic challenges.
How we're solving this: We provide 50 girls in 3 cities with a safe space to spend time with their friends, learn about their rights, and obtain the support of trusted adults.
"Because we are young they think we are little kids. But we represent the future of the country. We have the right to speak and express our feelings."
Fifteen-year-old Ester speaks with genuine emotion when she describes the impact the Haiti Adolescent Girls Network has had on her life. Like many girls living in Port-au-Prince, Ester survived the 2010 earthquake and seeks a way to create a better future for herself and her community. Unlike her peers, Ester is fortunate to still be permitted to attend school. Her dream is to become a doctor one day.

Haiti is the poorest country in Latin America and the Caribbean, with nearly half of all households living in extreme poverty on less than $1 per day. The lives of adolescent girls often lack structured activities, such as school or sports. They are highly vulnerable to violence, sometimes even in their own homes, and have high rates of unplanned pregnancy and contracting HIV.

The Haiti Adolescent Girls Network is committed to protecting and empowering vulnerable girls, so they may safely navigate the volatile post-earthquake environment and break the cycle of poverty. It provides girls with a safe space in their communities to spend time with their peers, learn about their rights, and obtain the support of trusted adults.

Since Ester began attending Espas Pa Mwen (Our Space) at Profamil, our local partner in Haiti and one of twenty Haiti Adolescent Girls Network sites, she has gained assets that no one can take away – knowledge about sexual and reproductive health, skills to prevent violence, a commitment to youth and women's rights, and most importantly, friendships with other girls her age.

"This is the only place I ever feel safe," Ester explains. "I can relax and make friends here. I learn things here that I could never learn anywhere else."

Your support is enough to fund 3 Espas Pa Mwen sites at Profamil's locations in Port-au-Prince, Croix de Bouquets, and Jacmel. The program will provide 50 girls with a year of weekly, girl-only meetings, where they will learn health and life skills while building a network of trusted peers and adults who will help them successful navigate life's challenges.

"I want the program to grow," says Ester, "so that more girls can have the chance to learn what I did in this wonderful program."

Will you help make Ester's dream a reality?