1 year impact report
"The state of Chihuahua has seen more maternal deaths last year and this year, but in the communities where One Heart World-Wide has been working, there have been no maternal deaths."
Impact for girls & women
This number reflects the estimated number of pregnancies in the Guachochi and Batopilas municipalities over the last year.
Estimated girls & women affected
1,500
Broader impact
This is the rough number of girls and women of childbearing age in the Guachochi and Batopilas municipalities who can be reached by Community Health Volunteers.
Estimated community members affected
15,000
Making lives and saving lives!
We have purchased 400 blood pressure cuffs thanks to your generous support! Nearly 300 Community Health Volunteers who will be using them have already been trained on basic prenatal care and identifying signs of emergencies, including signs of preeclampsia with the cuffs. The volunteers will be given backpacks full of supplies including thermometers, blood pressure cuffs, stethoscopes, gloves, gauze, and instructional flipcharts. The supplies and training will allow them to serve the expectant mothers of their remote communities.
The life-saving blood pressure cuffs will soon be used to detect high blood pressure in pregnant women in Chihuahua, preventing serious and fatal pregnancy complications due to preeclampsia. We have encountered some challenges with the importation of the cuffs, but we are hopeful that they will be in use by November.
Recently One Heart World-Wide (OHW) turned its effective, sustainable, and fully functioning regional program over to a local foundation, Fundacion Vida Digna (FVD). One Heart has worked hard with the Foundation's staff to ensure a successful transition so women and their families will continue to receive high-quality care. We have transferred all regional program assets to Fundacion Vida Digna, who have hired staff from our program and will continue to use the Network of Safety model to serve the community. We are thrilled that the program will continue to thrive within the community.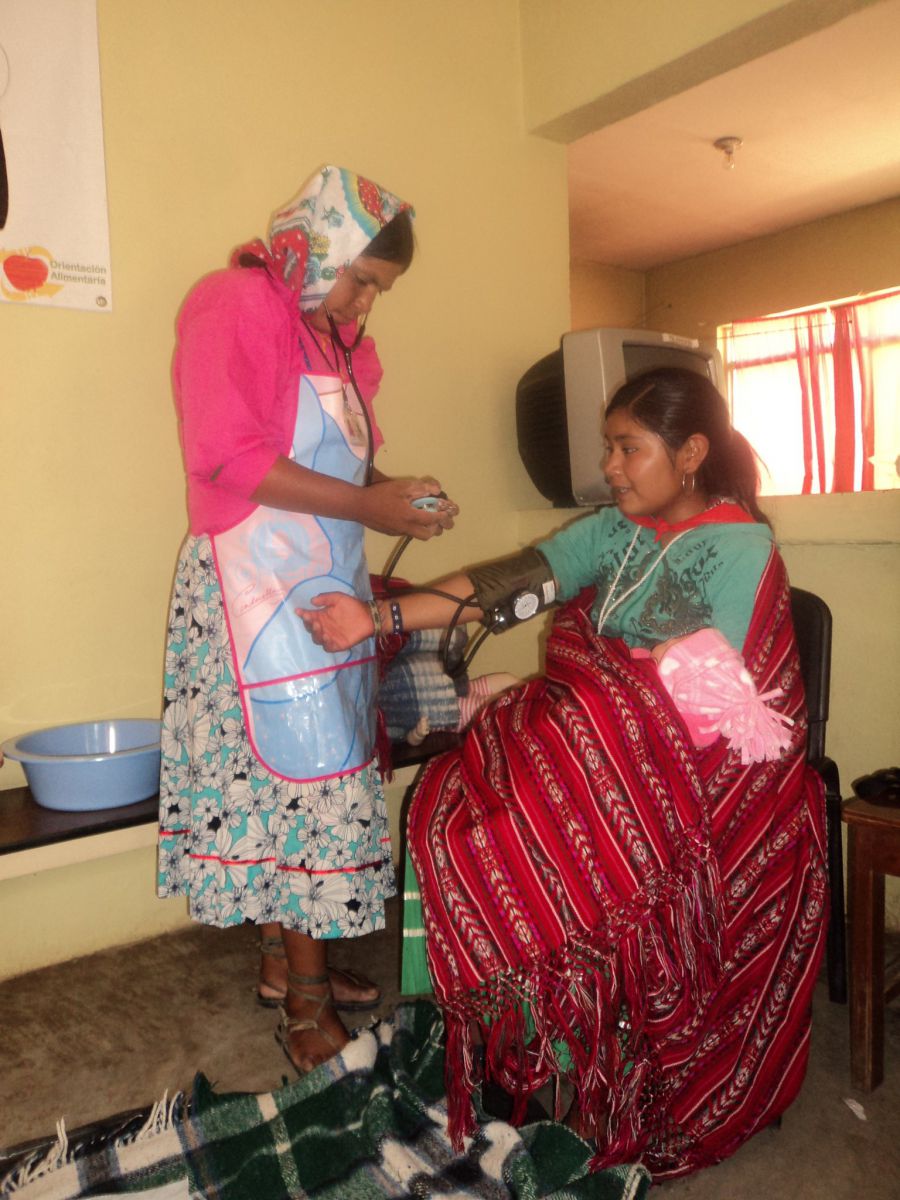 Get personal
"The state of Chihuahua has seen more maternal deaths last year and this year, but in the communities where One Heart World-Wide has been working, there have been no maternal deaths." –Chihuahua Midwife Program Manager
Risks and challenges
Officials with the Mexican Ministry of Health with whom we had been working and developing rapport were replaced earlier this year. This replacement proved to be a setback, inhibiting our ability to import supplies in a timely manner.
Our staff just returned from a trip to Chihuahua this July, where we were able to secure and resubmit all of the necessary documentation to import the 400 blood pressure monitors. However, going through the bureaucratic system still takes time and patience. We are optimistic that the monitors will be ready for use by community volunteers by November.
What we've learned
We have learned patience, above all! Working within foreign bureaucracies takes a lot of patience, especially in terms of transporting supplies internationally. We are excited about the transition of services over to the Fundacion Vida Digna, who will have an easier time securing supplies for the program and will continue the program from within the community.
Next steps
We hope to import the blood pressure monitors to the Fundacion Vida Digna by November. The foundation will continue to provide much-needed maternal healthcare services using the Network of Safety model.
Budget
While we had planned to buy 230 blood pressure monitors for around $35 each, we were able to find a new supplier through which we were able to purchase monitors at the discounted rate of $11.25 a piece! This means we were able to buy 400 instead of 230 in order to outfit a larger group of volunteers with blood pressure cuffs to carry with them into the communities.
| | | |
| --- | --- | --- |
| Line Items | Projected budget | Amount spent so far |
| 400 Blood Pressure Cuffs | $8,050 | $8,050 |
90 Day Report
Volunteer training and equipment distribution
posted Oct 24, 2013 by Rati Bishnoi
Progress
In August, 250 volunteer outreach providers were trained from the municipalities of Guachochi and Batopilas. Volunteer trainings cover a variety of topics, including the Network of Safety model, healthy pregnancies, prenatal care and its importance, newborn care, how to identify warning signs and possible complications during pregnancy, delivery, and puerperium and how to handle them, and the use of volunteer equipment. All trained volunteer outreach providers receive a volunteer backpack that contains equipment to help them monitor pregnant women in their communities. Typically, this includes a thermometer, blood pressure cuff, and headlamp, as well as flip charts that help the volunteers to recognize warning signs and proper actions to take when they arise. While we were able to purchase the necessary blood pressure cuffs in time for the training, they were still in the process of importation, and will need to be distributed at a later date.
Risks and challenges
The process of getting equipment from one country to another can sometimes take quite a while as there are often detailed processes for importation. Despite the help of our partners with the state health services in Chihuahua (SES) and the local government entity for family development (DIF), importation can be a lengthy process. Because of this, we were unable to distribute blood pressure monitors to each of the 250 volunteers who participated during our August trainings. They did, however, receive their volunteer backpacks with other vital tools used for outreach, as well as training on the use of blood pressure monitors, which they will be able to put into action as soon as the blood pressure monitors are imported and distributed.
Up Close
A volunteer at a recent training said: she was really surprised by how much she and the other volunteers can do with the tools we're providing them. They always thought providing health care was limited to doctors and experienced healers, but now they are a better link between the health services and the pregnant women or babies. They can make more accurate references about the conditions of the women and newborns, as well as suggest more timely and appropriate transfers to the health centers.
Next steps
The first 300 blood pressure monitors will be distributed to community health volunteers that have been already trained by One Heart. These volunteers provide outreach to women in Guachochi, Batopilas and the surrounding communities. Having these monitors in remote communities will help detect early signs of preeclampsia and other conditions related to high blood pressure. With early detection, pregnant women at risk for complications can get to a health facility to receive the care they need.
Budget
While we had planned to buy 230 blood pressure monitors for around $35 each, we were able to find a new supplier through which we were able to purchase monitors at the discounted rate of just about $11.25 a piece! This means we were able to buy 400 instead of 230 in order to outfit a larger group of volunteers with blood pressure cuffs to carry with them into the communities. We still have some funding left, which will be very useful for next year's trainees!
More information
We have received feedback recently from health care providers who say that they have received a lot of patients who were very accurately referred to them by OHM volunteers. They said that we're doing a great job of preparing women for their visits to the health posts/units. They can tell when women are referred by OHM volunteers because they often arrive at the facilities with someone to support them, they are less afraid, and more aware of and open to providers' recommended treatment plans.
Help provide blood pressure cuffs to help detect high blood pressure in expectant mothers living in the rural areas of Chihuahua, Mexico.
Why we care: Preeclampsia or high blood pressure and excess protein in the urine after 20 weeks of pregnancy is complication that can lead to serious or fatal complications for pregnant women and their babies.
How we are solving this: Detecting early signs of preeclampsia in pregnant women by providing blood pressure cuffs, and training, to community health volunteers to track the women's blood pressure.
As part of the Network of Safety model originally developed in Tibet, One Heart provides basic life-saving skills to volunteers in rural communities. Community health volunteers are trained in the use of blood pressure cuffs, an important tool to carry when providing monthly prenatal visits for pregnant women in their communities. This simple equipment is extremely helpful in the screening of high blood pressure, which if not treated, can lead to serious complications during the women's pregnancy, such as preeclampsia. Early detection helps volunteers decide when to evacuate women to health care facilities for the treatment and management of this condition.
In addition, early detection is one of the most economically efficient ways to prevent serious complications and death during pregnancy and childbirth. While women are already in the midst of experiencing life-threatening complications, countless lives are lost while trying to transport patients over rough terrain and long distances.
Help us equip our new volunteers with their own blood pressure cuffs. Your contribution will help increase early detection and will ultimately save lives!