1 year impact report
"I will not marry until I complete my education. I want to stand on my feet and support myself and will set an example for my siblings who too will seek education to be self dependent."
Impact for girls & women
This number is based on a head count of participants from each intervention district.
Estimated girls & women affected
103,812
Broader impact
We assume that girls who undergo training will share what they learn with their immediate families, and an average family size is four people.
Estimated community members affected
400,000
Nation against early marriage
One year ago you chose to support youth leaders to take a stand against early marriage in India. We have continued to work with the communities, and especially with youth, to create a cadre of leaders who will take a stand against early marriage.
In the Indian district of Silli in Ranchi, 15-year-old Tabbu has just transformed the lives of her two elder sisters. She has convinced her parents not to marry them off before the legal age of 18. After arguments, negotiations, and dialogue - instead of arranging weddings - Tabbu's father has enrolled his two elder daughters in computer and tailoring classes respectively. He has also agreed to hold off their marriages until they are 18 and are ready for it.
Tabbu's confidence to oppose the early marriages of her sisters was inspired by a youth training program in her school run by Breakthrough, which engages adolescents through forum theater. The play revolves around 11 year old Chanda, who is deprived an education due to existing exploitative gender norms and practices. She is instead being pushed to marry and halts at a critical juncture. Tabbu performed the role of Chanda in her school and took part in the discussions that followed. The programme gave her the courage to approach her cycle-mechanic father and to share her new awareness, information, and knowledge with him.
Large groups of community members, including men, women, boys and girls have undergone this interactive training.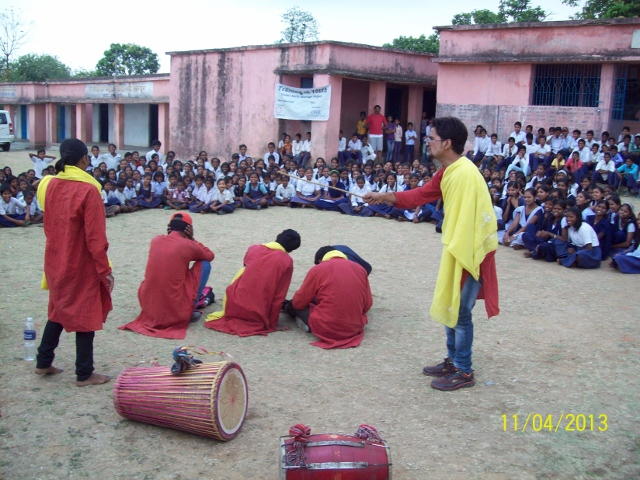 Get personal
"It is truly insightful to see how women and girls who are otherwise shy, transform when they step into Chanda's role on stage. The change in their body language and thought process is the impact that we wish to see and sustain." – Chandranath Mishra, Manager, Breakthrough
"I will not marry until I complete my education. I want to stand on my feet and support myself and will set an example for my siblings who too will seek education to be self dependent." – Meena Lakra, Youth Participant
Risks and challenges
Some challenges faced with the theatre methodology included:
Getting the right team together and retaining them, which was critical in engaging the communities.
Lack of infrastructure in the geographical region challenged the team in reaching out to some remote communities and eliciting responses from women.
The safety of the travelling theatre team was a concern, as some of the villages are Naxal (guerrilla groups) prone.
Looking for avenues to involve girls who are already married while in school to be leaders and challenge life beyond marriage – including, the right to education, mobility, early pregnancy prevention, and domestic violence.
What we've learned
To design a program a solid methodology and access to already available services.
The importance of engaging communities with a holistic understanding of the issue of early marriage by covering the social, political, gender, and human rights angles, so that participants can internalize it and add their voices to find a solution. A follow-up mechanism needs to be developed for sustained engagement.
To provide neutral and safe platforms for people to speak up. This was was evident from the large number of empowered women, young girls, and boys who stepped up for the first time to take a public stand.
Next steps
Breakthrough will deepen its engagements with youth by creating 200 catalysts - who are truly changing perceptions and behaviors of those around them through direct action. These catalysts will be equipped with campaign tools to engage more people. The campaigns will be digital, as well as physical, and will also be connected to community mobilization activities.
Budget
| | | |
| --- | --- | --- |
| Line Items | Projected budget | Amount spent so far |
| Developing Youth Leaders to challenge early marriage | $24,055.97 | $24,055.88 |
More information
Breakthrough partnered with Graamvaani to disseminate social messages around early marriage and engage listeners with interesting and interactive mobile based radio programs. The program reached out to people in 17 districts of Jharkhand, received more than 150,000 voice calls and text messages, with more than 35,000 unique callers and more than 500 contributions on early marriage in four months.
http://voice.gramvaani.org/vapp/mnews/10/show/detail/63351/
Further reading
Newspaper Reports
http://www.business-standard.com/article/current-affairs/singed-by-the-sacred-matrimonial-fire-113101900619_1.html
http://www.business-standard.com/article/pti-stories/campaign-against-early-girl-marriage-targets-fathers-men-113102100687_1.html
http://www.livemint.com/Politics/1pubZ04QKROI4vuTU866CM/Child-marriages-parents-bow-to-social-pressure.html
http://www.theguardian.com/global-development-professionals-network/2013/nov/06/india-child-marriage-bihar
Blogs
http://awwproject.org/2013/09/ending-child-marriage/
http://www.girlsnotbrides.org/make-an-impact-vote-to-help-end-early-marriage-in-india/
90 Day Report
Nation against early marriage
Progress
Breakthrough has been building capacities of youth in Bihar and Jharkhand, India to create awareness of the negative effects of early marriage and conduct community mobilisation initiatives that address the root causes of early marriage as a human rights violation. A specific training methodology on the issue of early marriage has been developed and is based on 'Theatre of the Oppressed.' Theatre of the Oppressed uses active audience participation and ownership so that the audience provides multiple community based solutions to the problem to resist and/or delay early marriage.
Trainings using the Theatre of the Oppressed methodology have been conducted with youth and other community groups. The play named "Chanda Pukare" was performed from the point of view of a young girl Chanda, who was being forced into early marriage. At a critical juncture in the performance, the play was halted and the audience asked for possible suggestions on what they would do if they were Chanda. This was done to encourage the audience to step into the shoes of the protagonists to try and experience the challenges which young girls face in a patriarchal society. There was eager participation from the audience who threw out suggestions based on their perception of societal norms and how they could be changed. Innovative solutions on the issue of early marriage were suggested with many empathizing with the oppressed (Chanda) and the oppressor (family).
Breakthrough has also worked with youth groups in Namkum block of Ranchi district using sports as a vehicle of driving social change. The objective of this activity was two-pronged:
To break the notion of women and girls not being allowed to occupy public spaces post-puberty as it is important to have equal representation from women in public places traditionally occupied by men.
Enable girls to have a space for self-expression and increased confidence.
An all girls football tournament was organized on March 8, 2013. The event was inaugurated by the village Sarpanch (Head), a woman herself and was attended by local government officials. The entire community participated and sporting events were held for both women and girls of the village. The event was witnessed by over 1,000 spectators. The highlights of the day were football tournament between 4 all girls teams, jalebi race for self-help group women. Group exercises were also organised for self-help group members during which the problem of early marriage was discussed briefly and they were then asked to prepare an action plan to stop early marriage.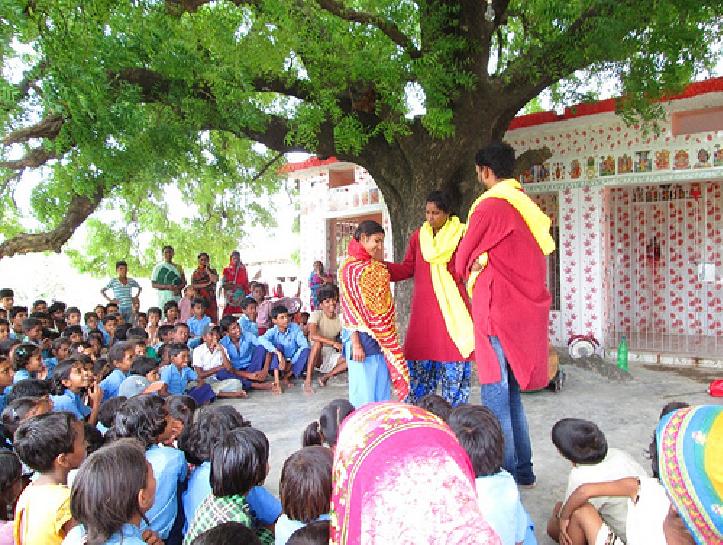 Training Analysis:
Till the end of the reporting period, Breakthrough has conducted 165 youth to create awareness on the negative effects of early marriage.
| | | |
| --- | --- | --- |
| | Youth | Youth |
| Location | Trainings | Participants |
| Ranchi | 70 | 15,889 |
| Hazaribagh | 40 | 7,260 |
| Gaya | 55 | 12,728 |
| Total | 165 | 35,877 |
Exit interviews were conducted after each training session to measure the change in knowledge, and attitudes of community to address early marriage. The impact on practice will take a longer time. A post training analysis was conducted and it was evident that there is clarity in understanding of the messages that were being communicated through the training methodology.
Knowledge:
88.9% of the youth strongly believed that marriage before the age of 18 had a negative impact on the health
A significantly high number at 89.8% of youth agreed that the Breakthrough intervention will be effective in raising awareness on the negative effects of early marriage
91.8% of the youth are committed to taking action against child marriage in their community while motivating other community members for the same.
Attitude:
As a significantly high percentage of the respondents at 96.7% believed that girls should receive the same education as boys signifies an attitudinal shift towards education of girls.
A similar trend is seen in the perception and attitude towards career for girls with 93.9% asking for equal career for girls.
It is interesting to note that while for most of the parameters young men and women are committed to saying NO to the practice of early marriage, on the question if a girl or boy is ready (emotionally and physically) to take up the responsibilities of marriage before the ages of 18 or 21 years, only 39.5% of participants responded in the positive. This is an interesting finding as it was clear that most people perceived that girls and boys before the legal ages of 18 and 21 respectively are physically and emotionally ready to shoulder the responsibilities of marriage. This finding will be further probed to strengthen the training to build cognition of the lack of marriage readiness before the legal age.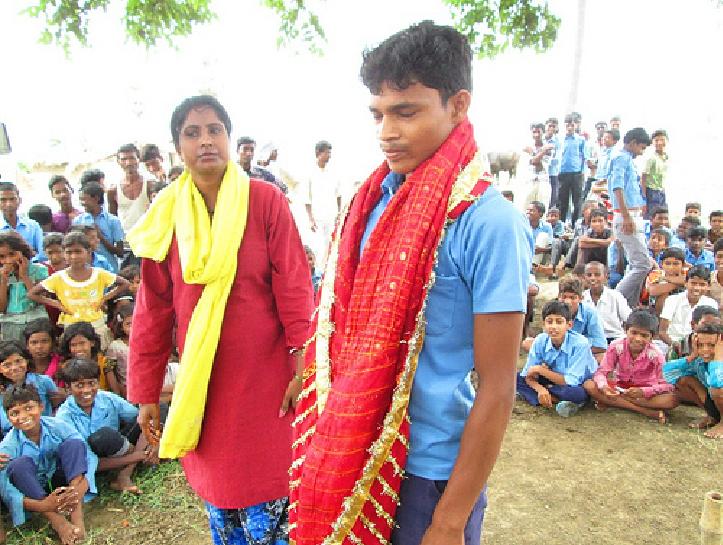 Risks and challenges
The training using the Theatre of the Oppressed has been a success and has tackled critical issues of early marriage intersecting with the gender, sexuality and rights perspective. Public discussions were held post the performance. There have been cases of girls coming up to the facilitators and sharing their own stories of forced marriages. We fear there may be a backlash given the present scenario that lacks enabling infrastructure and environment and the non-implementation of the Child Marriage Act.

In order to mitigate this problem, we are working towards creating community support by working with local opinion leaders like Panchayati Raj Institution heads, teacher, Anganwadi Workers (frontline health workers)W, District Magistrate, Child Development Protection Officer for providing local support.

Watch a school girl from Ranchi explain why she is against early marriage.

Next steps:
Creating youth leadership development
Dissemination plan for mass media products
Ramp up the video van (community mobilization) movement
Take the early marriage project to other Indian states.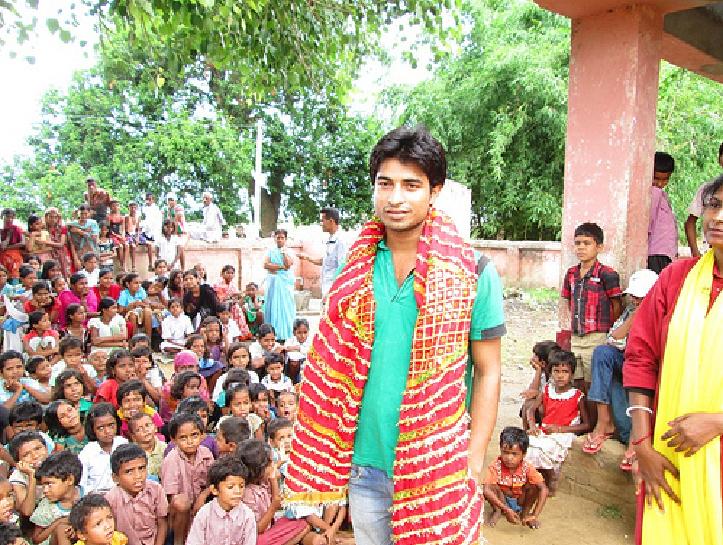 More information:
Breakthrough has launched a campaign on early marriage and is using its proven 360-degree multi-media strategy including integration of media, leadership trainings and community mobilisation activities for the project in Gaya district of Bihar and Ranchi and Hazaribagh districts of Jharkhand. The nation wide media campaign "Nation against Early Marriage" was launched on August 29, 2013 in Ranchi by Smt. Annapurna Devi, Hon'ble Minister of Social Welfare, Women & Child Development, Government of Jharkhand in the presence of Chairperson, State Commission for Women, Director, NRHM, Principal Secretary, WCD, Jharkhand, Breakthrough staff other dignitaries and media.
We have created a number of IEC products in the form of eye-catching flyers, booklets and other easy to use merchandise for mass distribution in the community. The mid-media products reflect the messaging and are aimed at reinforcing mass media messages at the community level on the issue of early marriage. Hoardings and wall paintings were put up during the community mobilization activities for message reinforcement and to create an awareness of the campaign.
Breakthrough has partnered with Graamvaani for the campaign and is one of our first forays into the mobile radio segment. Graamvaani uses mobile phone powered radios to disseminate social messages and engage listeners with interesting and interactive programs. In the first month, the programme featuring early marriage has had more than 8400 listeners calling in from 14 districts of Jharkhand and also from towns in Delhi, Gujarat and UP.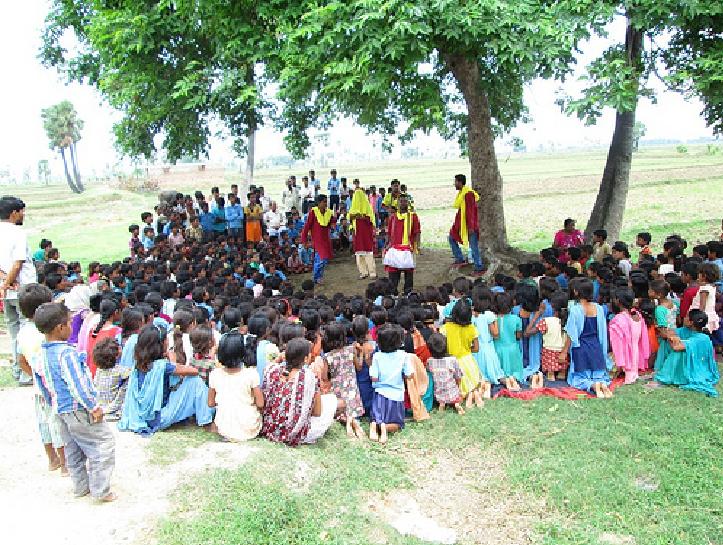 Further reading:
http://awwproject.org/2013/09/ending-child-marriage/
http://www.girlsnotbrides.org/make-an-impact-vote-to-help-end-early-marriage-in-india/
http://www.breakthrough.tv/earlymarriage/blog/
Videos:
Breakthrough trains youth to address the underlying causes of early marriage.
Why we care: Early marriage is a complex issue with many dimensions, and it requires a broad-based approach to combat this problem.
How we're solving this: Helping youth become leaders and advocates

A shy young man from a middle class background stays away from social interactions and does not engage with issues of any kind. His experience of change within himself was followed swiftly by his experience of himself as catalysing change for others.
Anuj belongs to a middle class family. He has a post-graduate degree in population studies and rural development and an "O" level computer certificate. He started working soon after completing his studies. His elder brother and sister are also studying as well as working part time to sustain the family financially.
Anuj explains that he has always been a shy person. He would hesitate to talk to people and was unable to hold or initiate a conversation with any degree of comfort. In September 2007, he heard about Breakthrough training in his college. Initially he was not comfortable about taking part but he was encouraged by his friend and his brothers to participate.
On the first day of training, Anuj was quiet and introverted but on the second day he changed; suddenly he opened up and confidently participated in all the activities.
He speaks of how he has started analyzing social norms from a different perspective. He is more confident dealing with issues and expressing his opinion on various things. With the urge to make a difference becoming stronger in him, he even went to the neighbouring villages and spread awareness about superstitions related to untouchables, the caste system and other such problems that are a part of the fabric of life in many such areas.
He has started working for Breakthrough as a volunteer. He manages this with his day job. He is particularly interested in working on issues like domestic violence as he has come across many cases of domestic violence and now helps those affected or vulnerable to deal with their situation. His sense of pride and agency is increasing with every experience of catalyzing change.
Anuj's story shows that there is often a finely nuanced impact of interventions such as the Breakthrough trainings. For Anuj, there was at a point where a small but critical shift in personal capacity cleared the way for determined and sustained action with the aim of contributing towards social change.
Breakthrough seeks to train young people, including men and boys like Anuj, to address the underlying challenges of violation of women's and girls' rights by highlighting the impact of an early marriage on the lives of girls and women.
Using our successful and practiced methodology and approach, Breakthrough is piloting a new campaign on early marriage and sexual and reproductive health rights in three districts of Bihar and Jharkhand. The demographics in these areas are high in cases of early marriage and other related issues. Breakthrough will be launching the campaign in early 2013. This project is a two year project.
Breakthrough uses media campaigns, community mobilisation and leadership development to change individual hearts and minds and usher in a culture of human rights. The BT model assumes that social and behavior change is possible if there is dialogue at all levels and between all stakeholders in a community. In areas where the Bell Bajao!! campaign has been effective and community-based and government organizations were engaged, this change was recorded. The most significant change technique used to track behavior change has captured individual and collective action, both in resistance to violence and non-acceptance of violence with a special focus on recording action taken by women.
Early marriage is a complex issue with many dimensions, and it requires a broad-based approach to combat this problem. Holistic engagement – through both media and community mobilization – helps to build a critical mass of individuals and groups who will no longer tolerate such actions. While it may be impossible to reach and convince everyone in a community, if enough people support the issue, the social climate can gradually shift from one which tolerates to one that rejects Early Marriage.
Breakthrough's objectives in this project will building and strengthening the awareness of young people through leadership trainings around implications of early marriage.
Conduct capacity building workshops and training sessions with youth from NGOs
Breakthrough combines its mainstream communication and messaging strategy with leadership facilitation. It trains youth from disadvantaged backgrounds and communities to convey knowledge, share ideas and to reshape individual and community attitudes. The more intensive work done on the ground brings in new partners and gives depth to the media messages. Breakthrough's advocacy training program will strengthen the ability of youth to become effective change agents in their own domains and enable individuals to act as advocates who will create awareness on the negative factors of early marriage and advocate for a better status for girls and women.
Breakthrough will work closely with local stakeholders such as civil society groups and non-profits and other groups with extensive knowledge of local culture, and who are well-known and trusted by the community to identify youth who can be Rights Advocates. Participant trainees will be equipped to reach out to a larger section of the community to foster dialogue and discussion around the issue of early marriage and the factors that influence it.
Breakthrough will regularly monitor the workshops and conduct follow-up sessions to upgrade participant skills and knowledge based on their experience and feedback from the field. This will also allow us to form a core group who deal with the issue around early marriage going forward.