90 Day Report
Progress
This is the final update, there is no one-year progress report.
Following initial research, we have now appointed a researcher to do more in-depth research into what information and features teenagers living with cancer would require from the app. We have incorporated this project into a larger project looking at our indirect reach i.e. non face to face. We aim to have the research completed and recommendations made by the end of Q4 2015. Once the findings have been considered we will then create a business case for development of our indirect services.
Risks and challenges
Given the number of beauty apps available, we have had to take more time than envisaged in developing our offering, ensuring we provide something that is useful and targeted to teenagers living with cancer.
Up Close
LGFB helped me feel like my old self again. It gave me a terrific boost in confidence." LGFB Beneficiary.
Next steps
We will review the findings from our more detailed research once made available by the end of the year. Once reviewed a business case will be developed to take the appropriate indirect routes forward.
Budget
We have now used the budget made available through the grant.
Through the development and provision of a free app aimed at teenagers living with cancer, we can greatly increase our reach and support.
Why we care: There is very little online support available for teenagers suffering from low self-esteem as a result of the visible side effects from their cancer treatment.
How we're solving this: By creating a tutorial app that enables teenagers undergoing cancer treatment to develop their skills in make-up and general appearance. We need your help to manage the project, develop the app, and have a successful launch. We aim to reach the thousand plus teenagers living with cancer today in the United Kingdom.
An average of 2,234 teenagers per year in the United Kingdom were diagnosed with cancer between 2009 and 2011, 48% of those were girls. Incident rates of cancer in teenagers in the UK have increased by around a fifth since 1995. Appearance changes for teenagers living with cancer can have a huge effect in creating low self-esteem and lack of confidence. As a consequence they find it harder to cope with their treatment and fight the cancer than adults in the same situation.
Following the design of a potential app by university students as part of their final thesis, we plan to appoint an online agency to take the design and build a tutorial app aimed at teenagers living with cancer. Our goals for the project are:
To launch the free app early in 2015
To increase our targeted reach and support for teenage cancer patients
To provide increased online support specifically aimed at teenagers living with cancer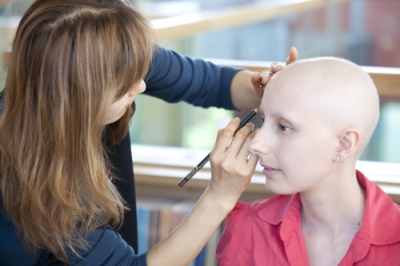 We currently provide free skincare and make-up workshops for teenagers in hospitals and cancer centres. We work in partnership with other teenage cancer charities such as the Teenage Cancer Trust, Teens Unite, and CLIC Sargent. Our charity partners regularly refer their patients to our workshops. We currently provide no online support specifically aimed at teenage cancer patients. Our charity partners will help promote this new online support facility and with your help we will build and launch the app.
Development and provision of this app will enable us to provide much needed online support. We hope that the app will assist in raising awareness of our teenage workshops and increase the numbers who attend. At each workshop we record how the attendee heard of us, enabling us to monitor response.
Although we anticipate certain challenges such as: our ability to create awareness of the product; lack of involvement from our partners; and competition from similar apps on the market, we will do our best to reach all teenagers in need of this support.