1 year impact report
The five composting latrines funded by Catapult supporters are now in full swing!
Impact for girls & women
This number is derived from the average of 3 to 5 women per household
Estimated girls & women affected
15
Broader impact
Two additional families benefit per latrine (average of 3 women/family)
Estimated community members affected
30
Closing the loop and transforming the poop
In use for roughly six months, the five composting latrines funded by Catapult supporters are now in full swing. Each latrine has two compartments, and soon, the first compartment will be filled, capped, and left to compost while the other is put into use. In the time it takes to fill the second compartment, the first will have composted into a "humanure" to be used by families as a soil amendment - great for fruit trees and certain cash crops. This is the closed loop that many of us in the world of ecological sanitation strive to be part of, and for those without basic sewage services, it's a huge step up from an unsanitary pit latrine.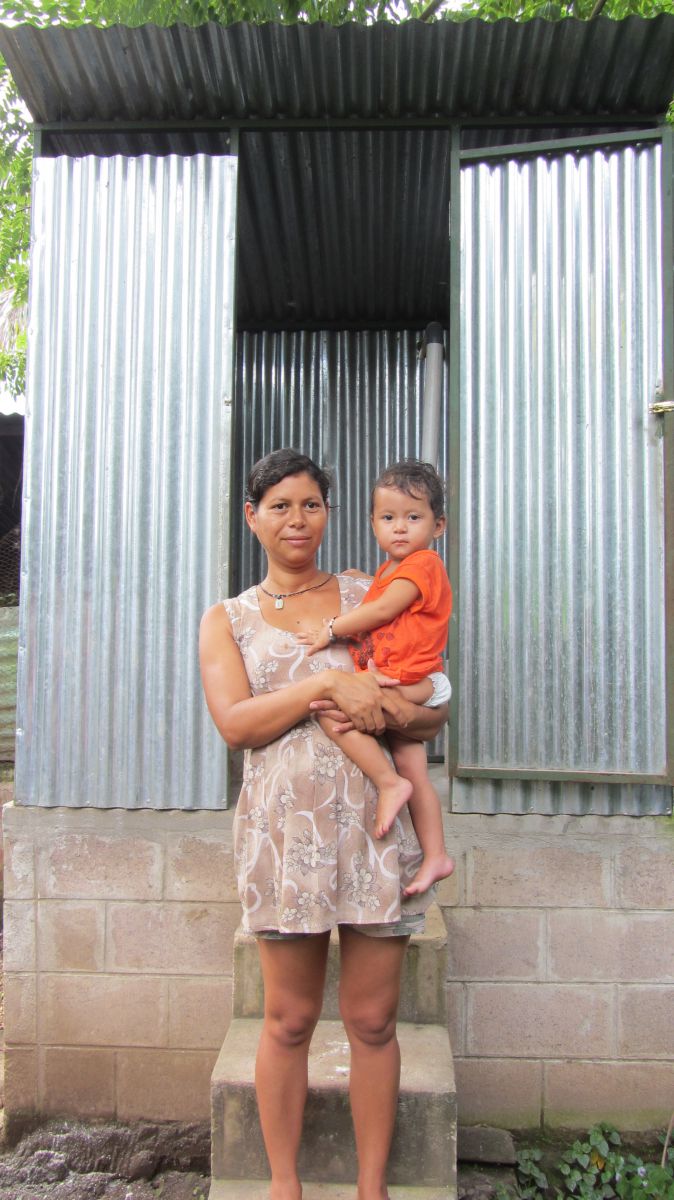 Get personal
"It is gratifying that our work in El Salvador through Trees, Water & People leaves a trail of impact in communities and even public and private institutions and service organizations who use our support to develop projects that benefit the target population of their programs." - Armando Hernandez, Project Director (translated by Sebastian Africano)
Risks and challenges
For anyone, the prospect of storing and then handling your family's sewage is conceptually daunting. This is likely the biggest hump to get over when implementing a composting latrine project - getting people comfortable with managing poop. This is where appropriate design comes in - if a composting latrine is well designed, you shouldn't smell anything, you shouldn't see flies, and you should find nothing resembling anything but soil when you crack it open one year after first use. Getting people to that first "aha" moment is crucial in getting them to cross that conceptual hump and use their latrine year after year.
What we've learned
Visiting and monitoring a composting latrine program, or any ecological sanitation program, requires you to enter and speak composed and comfortably to families about some of their most personal household activities. It's always educational, and it's a great exercise in humility and in finding commonality with people who live in a completely different reality than you do. The important message to convey is that you're there to learn and help rather than judge, and more often than not, families are welcoming and interested in hearing and discussing your observations. Sincere communication and education across cultural and societal lines are so important in our work.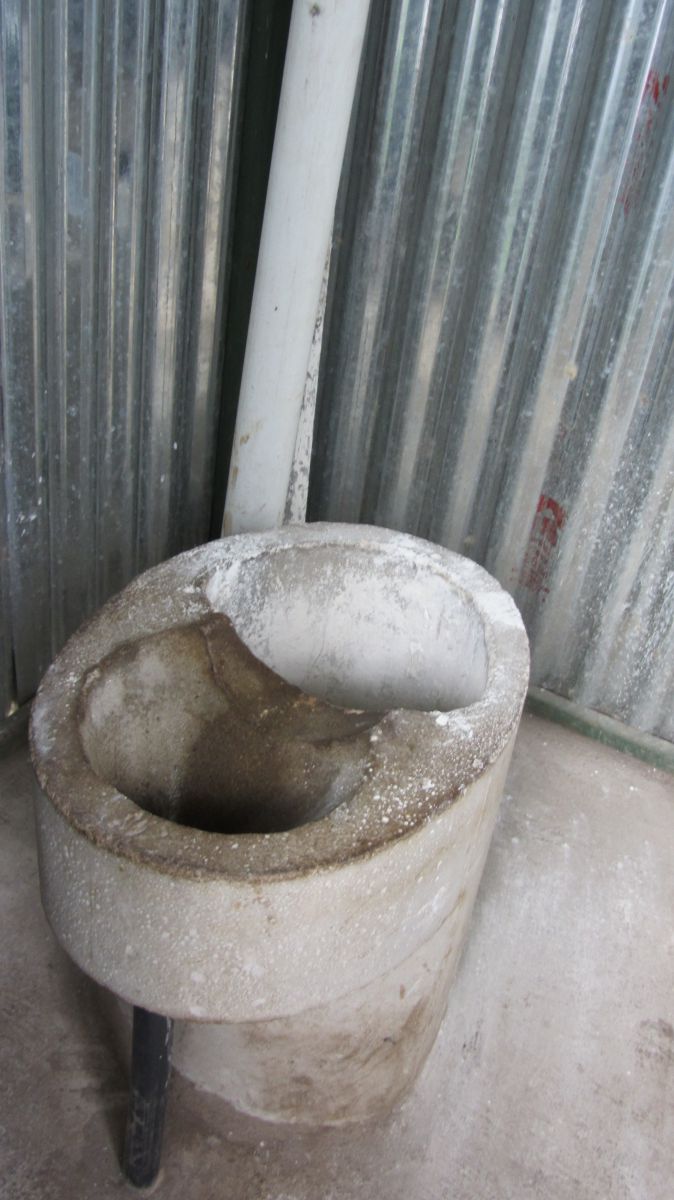 Next steps
There is a great need for sanitation services in rural El Salvador. Working with our partners on the ground, we will continue to look for the funds needed to build more composting pit latrines for communities in need. In addition to our fundraising efforts, we will continue to monitor and evaluate the latrines that have already been constructed.
Budget
Line Items

Projected budget

Amount spent so far

5 Dry Composting Latrines

Transport

Labor

AAP Management

Overhead

Total

$1,655

$100

$250

$620

$475

$3,100

$1,580

$300

$615

$605

0

$3,100
Further reading
http://treeswaterpeople.org/programs/dry_composting_latrines/dry_composting_latrines.html
90 Day Report
Cleaner Communities through Composting Latrines
Progress
Five families - a total of 20 individuals - received a new dry composting latrine from Trees, Water & People (TWP) in El Porvenir, El Salvador, thanks to a generous grant of $3,100 from Catapult supporters.
Eliminating common pit latrines means cleaner groundwater and a more hygienic conditions in the home, leading to a lower disease burden in these communities. The latrines were built in collaboration with the beneficiaries, which provided rock for the foundation, cement mortar and sweat equity during the construction of the latrine.
Furthermore, the local municipality donated the pre-fabricated concrete slab floor and the molded concrete toilet seat, while TWP provided the cement blocks, the wooden frame for the structure of the bathroom, the metal sheet for the walls and roof, and the vent pipes. Funds were also used to hire skilled laborer, to supervise the construction, and to train families in use and maintenance of the latrine.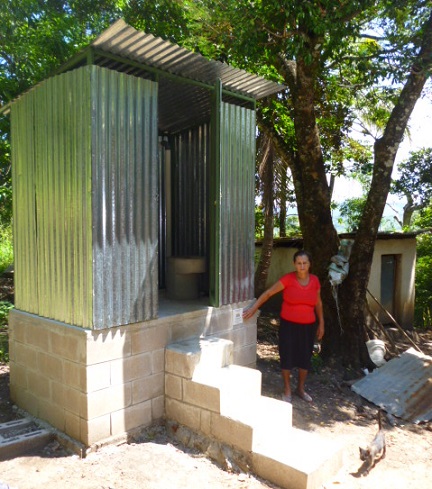 Risks and challenges
Having managed international development projects for over 15 years in Central America and the Caribbean, Trees, Water & People is no stranger to risk and challenges in our work. However, our unique methodology of requiring a community cost-share and sweat equity from beneficiaries increases investment and involvement from all stakeholders, and thus increases our odds of implementing projects with lasting benefits.
In this project, the families, which are in a marginal sector of El Porvenir, El Salvador, and who do not have access to basic services, organized themselves to meet the agreed upon cost share requirement, and were motivated by the opportunity of the subsidized materials.
The biggest risk in this case, mitigated by experience and close supervision by Trees, Water, and People implementers, is building the structure in compliance with El Salvador's Health Ministry standards for composting latrines.
Due to the community's organization and cooperation, the project was completed before deadline, all families are 100% switched over to their new latrine, and the pit latrines have been filled for the last time.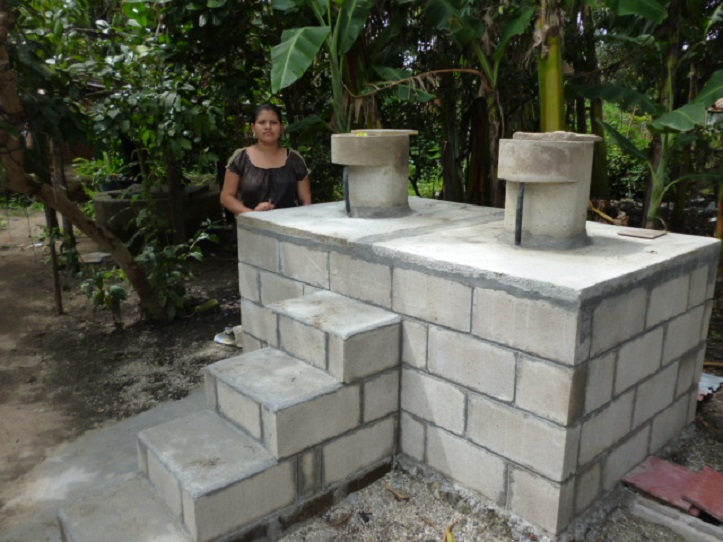 Up Close
I had a chance to visit a prior installation of 10 dry composting latrines in this region of El Salvador, and the testimonies and tangible signs of change were palpable.
This region is tropical and volcanic, with regular seismic activity, episodes of torrential rains and a high water table. During big rain events, the ground gets completely saturated, and all pit latrines are flooded, leaching excrement and pathogens onto open land, into agricultural fields, and into drinking water supplies.
The structures that conceal the conventional latrines are typically a few torn bedsheets, shower curtains or cardboard, and people are often ashamed to show them to you. In contrast, all latrines I saw were kept very tidy and odor free, and people were extremely proud to show them off. From looking at the images attached to this report, you can see why this is such an important change to people's lives.
Next steps
The five latrines that we set out to build with Catapult funds have been completed and are in full use. We are continuing to coordinate with the municipality about additional households we could serve with the same methodology, and are actively looking for donors to support Trees, Water, and People's portion.
Budget
Line Items
Projected budget
Amount spent so far

5 Dry Composting

Transport

Labor

AAP

Management overhead

Total

$1,655

$100

$250

$620

$475

$31,000

$1,580

$300

$615

$605

$3,100
Innovative solution helps avoid contamination of soils and water supplies, reduces disease, parasites and dysentery.
Why we care: Shallow pit latrines pose a serious threat to family and environmental health.
How we're solving this: Building dry composting latrines.
One of the primary causes of surface and groundwater contamination in El Salvador is the deposit of human waste in shallow pit latrines. These makeshift toilets frequently leach into groundwater or overflow and pool on ground surfaces, which poses a serious threat to family and environmental health. However, since they are inexpensive and necessary, pit latrines are prevalent in peri-urban and rural areas.
Trees, Water & People and our partners, Arboles y agua para el Pueblo (AAP), build improved dry composting latrines that consist of two containers for the deposit of fecal matter, with a separator for urine. The latrine is designed so that an average family of five members fills one container in approximately six months. When one side is full, the other side is used, allowing the full side to dry for another six months before it is cleaned out. The fecal matter is left to decompose so that it converts to "biofertilizer", at the end of six months this mixture will be dry and can be removed and integrated into field soil or used as natural fruit tree fertilizer.
These facilities will help local residents avoid contamination of their precious soils and water supplies, thereby reducing the prevalence and incidence of gastrointestinal diseases, parasites and dysentery. These new and innovative dry composting latrines will be constructed for those either lacking latrines or those currently using inferior latrines which are contaminating their local environment