1 year impact report
"Students are important and valuable partners in advocacy efforts. They are our future doctors, midwives, nurses, policy makers, and leaders."
Impact for girls & women
This is the estimated number of girls and women who participated in student visits.
Estimated girls & women affected
1,537
Broader impact
This is the total number of students who participated in student visits.
Estimated community members affected
2,174
Students speak out for moms
Last year, you supported White Ribbon Alliance Tanzania to continue working to promote midwifery with secondary school students. With your support, White Ribbon Alliance Tanzania partnered with the most popular youth television show in Tanzania and visited four schools to educate students about the importance of maternal health care. We encouraged students to join efforts to advocate to the government to uphold their commitments to improving maternal and newborn health. With your support, 2,174 students petitioned the government to deliver on its commitment. In addition, Skonga TV produced a television show that was aired multiple times on East African Television.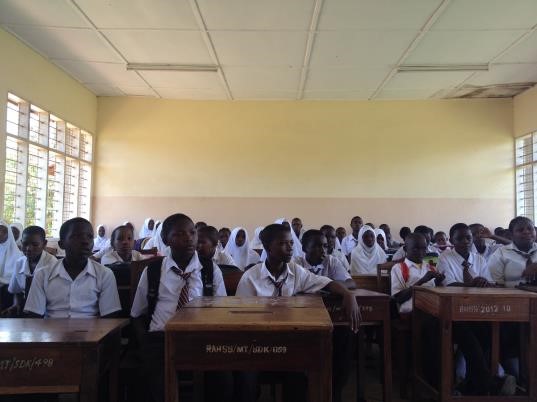 Get personal
"Students are important and valuable partners in advocacy efforts. They are our future doctors, midwives, nurses, policy makers, and leaders, and it is important that they understand why maternal health must be a priority." – David Lyamuya, White Ribbon Alliance Tanzania
Risks and challenges
Continued engagement of students can be challenging. It is important to build leaders within the student body to continue to engage students.
What we've learned
Television stations can be extremely valuable partners and enabled us to reach a wider audience.
Next steps
White Ribbon Alliance will continue to work with students and maintain youth clubs. White Ribbon Alliance Tanzania also plans to form new clubs at the college and university level.
Budget
Line Items

Projected budget

Amount spent so far

Transportation

Community and student meetings

Materials for students

$960

$3,990

$1,050

$960

$3,990

$1,050
Further reading
The student outreach was part of White Ribbon Alliance's broader efforts to hold the Government of Tanzania accountable to its commitment to provide emergency obstetric and newborn care. For more information about this campaign, see our project page.
90 Day Report
Be Accountable so that Mothers Can Survive Childbirth
posted Jan 6, 2014 by Isabel Garcia
"It is great that White Ribbon can empower Tanzanian youth to be engaged citizens in their communities. We have seen youth drive change in the past, and we think that they are a critical part of the solution. "
-Rose Mlay, WRA Tanzania Coordinator
Progress
This year, WRA Tanzania (WRATZ) has launched a new campaign, Be Accountable so that Mothers Can Survive Childbirth, calling on the Government to uphold its commitment to ensure that 50% of health centers in the country provide life-saving comprehensive emergency obstetric and newborn care (CEmONC). Since the beginning of the project, WRATZ has planned to build on previous relationships with schools and student groups to inform students of the importance of CEmONC in saving the lives of mothers and encourage students to join WRATZ's efforts to push the Government to fulfil its commitment.
Risks and challenges
The challenge in this project is to continue to engage students after the initial visits. To address this challenge, WRATZ will continue to communicate with established student groups.
Next steps
WRATZ Representative to visit schools to educate students about the importance of CEmONC in saving the lives of mothers and encourage them to take a stand on this issue;
Students join WRATZ in gaining petition signatures to demonstrate public support for the Government delivering on its commitment;
Students with access to social media join WRATZ in disseminating messages and calls to action.
Midwifery isn't seen as a respected career choice in Tanzania and even if it was, science isn't taught to girls so they can't choose it as a career.
Why we care: Midwives save lives. Yet two thirds of women in the poorest, least developed countries give birth without one.
How we're solving this: Working with schools to promote teaching science and midwifery as a career and advocating at the national level for policies to support midwives.
White Ribbon Alliance Tanzania is campaigning for science to be taught to girls at school, as well as working with schools to promote midwifery as a profession by engaging faculty, meeting with students and establishing youth groups.
A total number of 20 faculty members are involved in the process, working with 100 students in monthly meetings throughout the year.
Going out to the schools makes a difference building health and science education futures for a new generation of young women. $6,000 will pay for the White Ribbon Alliance to talk to school pupils and their parents in the country's most remote districts, so that more girls are encouraged to become midwives and more women in Tanzania are able to choose to have the life-saving skills of a midwife during childbirth.
We are also working with the Ministry of Health and Ministry of Finance to advocate for better pay and conditions so that midwives don't have to care single-handedly for dozens of women at a time – and for only a pittance. We do that through public hearings and through dialogue with members of the Parliamentary Group for Safe Motherhood. These meetings occur twice a year and involve 30 people. Although the group has managed to secure a number of commitments, there have been no pay increases since the start of these hearings.
After visits from WRA Tanzania, 83% of students reported having a change in their career plans and aspire to join midwifery training schools after their secondary education. WRA Tanzania has been doing this work in schools for over 2 years.
White Ribbon Alliance Tanzania
White Ribbon Alliance Tanzania, led by its brilliant and committed National Coordinator Rose Mlay, is working to enact the Safe Motherhood Act and to increase enrollment of students in nurse and midwife training. The alliance aims to continue a dialogue with communities about safe motherhood, involving men, women, girls, and boys.