1 year impact report
In August 2014, EngenderHealth partnered with the government of Jharkhand, India, to conduct an awareness campaign for adolescent reproductive and sexual health (Gumla District). While we met our project objectives, we did so under budget, which allowed us to replicate the effort in Bihar (Katihar District). We are grateful to the donors for your generosity in making this happen.
Impact for girls & women
A total of 3,031 girls registered at an adolescent-friendly health clinic and received at least one service. Collectively, an estimated 7,200 girls were reached through adolescent health-themed street plays, received adolescent health information at a community health center, and participated in campaign week quiz and drawing competitions, role-play activities, and rally. Approximately 330 women (parents) completed walk-throughs of health facilities and 22 participated in focus discussion groups.
Estimated girls & women affected
10,500
Broader impact
An estimated 19,000 people received adolescent health messages and/or services during campaign week. About 23,500 people were reached through street plays by two local theater groups (8 blocks per group) in villages across all blocks of Katihar district. Pre-campaign preparations and activities included training for 1,500 ASHAs/ANMs, 16 Medical Officers, and 16 Block Managers on adolescent health issues. In addition to the 44,000, about 300,000 households were reached with adolescent health information via newspaper circulation.
Estimated community members affected
44,000
Empowering adolescents for health (Bihar, India)
In August 2014, EngenderHealth partnered with the government of Jharkhand, India, to conduct an awareness campaign for adolescent reproductive and sexual health (Gumla District). While we met our project objectives, we did so under budget, which allowed us to replicate the effort in Bihar (Katihar District). We are grateful to the donors for your generosity in making this happen.
1. Pre-campaign: EngenderHealth convened a meeting of district health managers, ASHA/ANMs, medical officers, and NGOs to engage them in the campaign. We printed/disseminated IEC materials to all 16 blocks of Katihar.
2. Campaign week: Activities included facility walk-throughs, street plays, competitions, rallies, education sessions, and service provision at a participating health centre.
3. Post-campaign: Activities included collating reports and data from the campaign.
Key achievements:
• As a result of EngenderHealth's advocacy efforts, the Government of Bihar permitted the inclusion of safe abortion and family planning in IEC materials for the campaign.
• New adolescent-friendly health centres were established in four blocks (Falka, Amdabad, Kadwa, Hasanganj).
• The pre-campaign meeting helped orient service providers on the importance of engaging adolescent boys.
• 4,150 adolescents registered at an adolescent-friendly health centre to receive services; 3,982 received campaign messages, information, and/or health services.
• A newspaper ad run by EngenderHealth reached 300,000 households.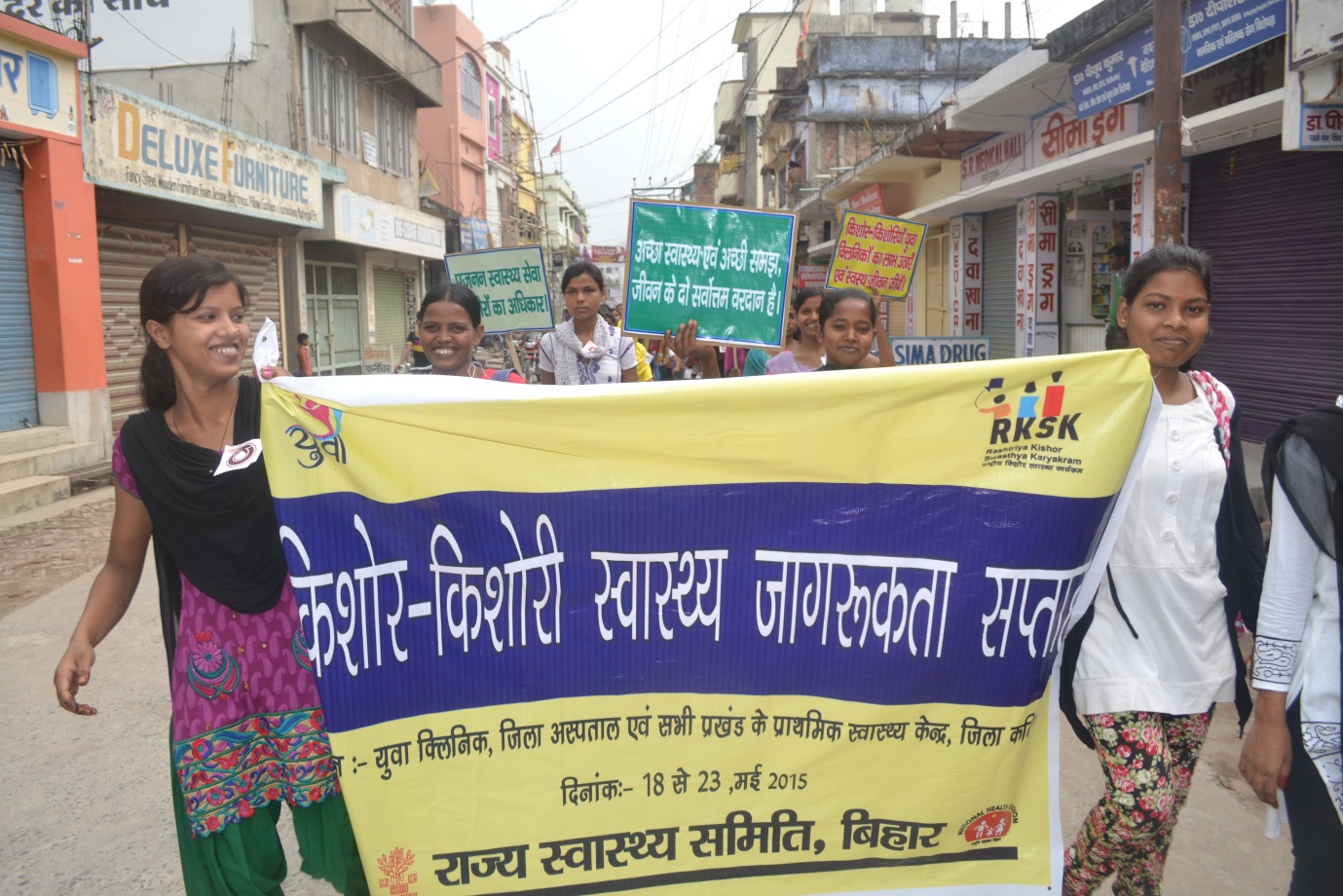 Get personal
• "The campaign week provided a good opportunity to educate adolescents and their parents about adolescents' unique health needs. This will help create greater and lasting impact for our community."-Ahilya Devi, ASHA, Kursela
• I was skeptical about the competitions, but there was huge participation in the drawing and quiz competitions. This gave a unique opportunity to make adolescents aware of the adolescent-friendly health clinics and services." -Anwar Alam, Block Health Manager, Blarampur"
Risks and challenges
• Due to an unforeseen strike among teachers in Bihar State, group education sessions planned for in-school youth during campaign week could not be undertaken. As a result, all group education sessions were held in anganwadi clinics and reached both in- and out-of-school youth."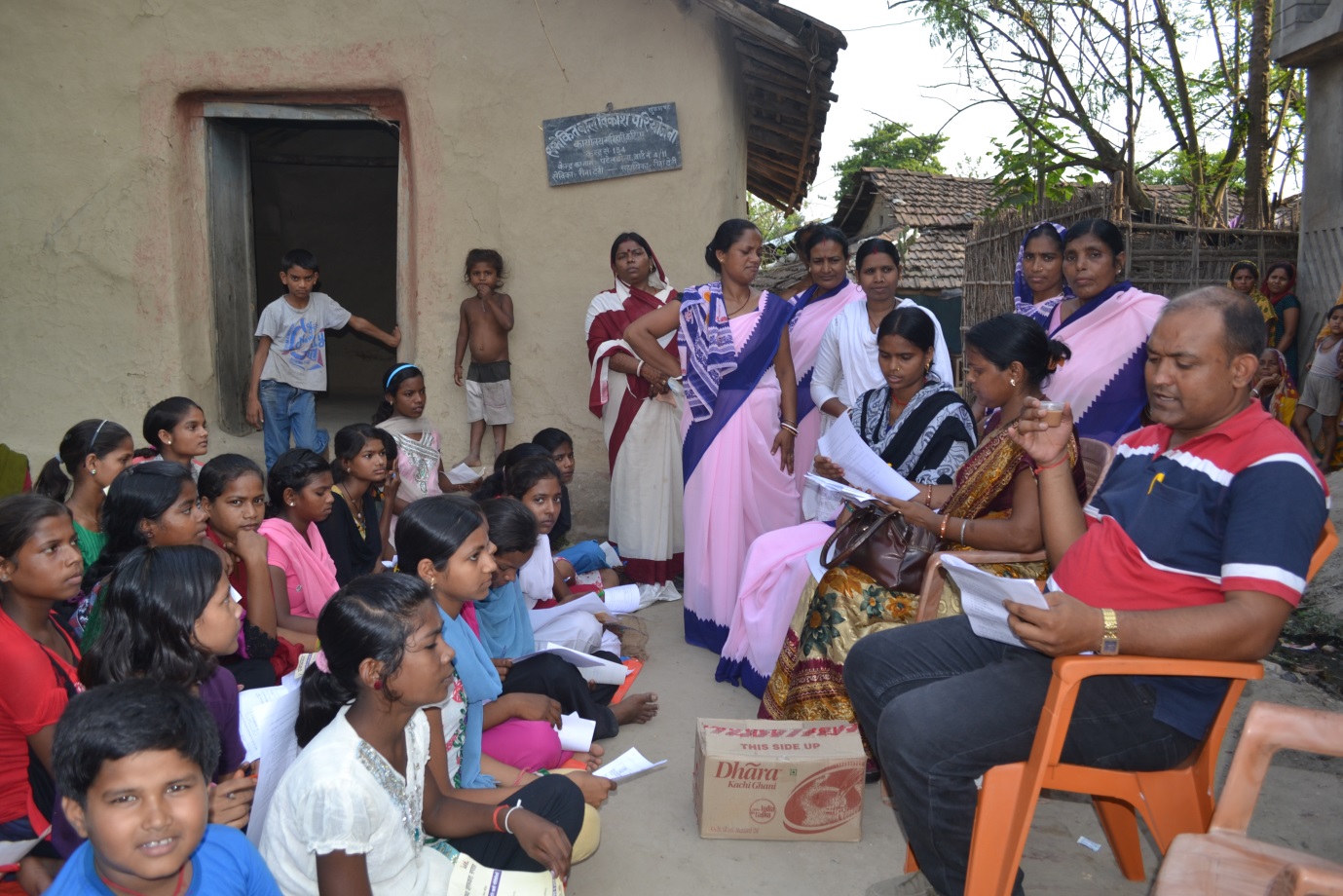 What we've learned
We would:
• Increase the campaign duration to conduct more group educational sessions.
• Develop a standardized approach to fostering increased involvement among PRI representatives and religious leaders.
• Engage the district's developmental departments and staff to mobilize adolescents to seek services.
• Limit the number of intervention areas/blocks targeted based on the capacity of supporting NGO staff to conduct monitoring visits.
• Limit the number of campaign activities conducted to maximize the quality/scope of interventions.
• Rural areas of Katihar have a large population of out-of-school Muslim immigrants who should be specifically engaged through group education sessions conducted at madrasas in their local language."
Next steps
EngenderHealth is in the process of developing a campaign newsletter.
Budget
We have fully spent all of the funds we received through Catapult to promote sexual and reproductive health of Indian adolescents. We were able to exceed our project objectives by executing a successful awareness campaign week not only in Jharkhand state, but in neighboring Bihar. We are so grateful to Catapult and to all of the funders of this project for enabling us to reach thousands of women, girls, men, and boys toward better sexual and reproductive health and well-being.
Line Items

Projected budget

Amount spent so far

Staff - Salaries & Benefits

Activities

Travel

Indirect Costs

$6,618

$31,194

$4,000

$8,333

$50,145

$17,569

$22,558

$1,804

$8,214

$50,145
More information
Based on interviews with adolescents, we also learned that knowledge gained from the campaign centered primarily on family planning, the consequences of early marriage, teenage pregnancy, and nutrition. Key barriers to good SRH are distance to health centres, unsuitable hours, and a lack of privacy. Health issues identified by adolescents as most pressing were menstruation, anemia, malnutrition, and early marriage. Most adolescents prefer to discuss SRH issues with their friends, not parents.
Further reading
The rally held on the first day of the campaign was covered by a local news channel and the Prabhat and Hindustan Times newspapers. The Hindustan Times wrote about EngenderHealth's efforts to empower adolescents to ensure their sexual and reproductive health.
90 Day Report
The right of every adolescent
posted Nov 8, 2013 by Catapult Intern
Progress
In conjunction with Jharkhand state officials, ARSH team members selected 11 blocks of the Gumla district to pilot the ARSH awareness week. Staff also selected the campaign theme of the week which will be: "Sexual and Reproductive Health information, access, and choice – the right of every adolescent."
The ARSH awareness week dates are still being finalized with the state, but will likely take place November/December 2013. A number of project activities for the ARSH awareness week have been selected and planning has begun. These activities include:
Facility walk through – Adolescents will be taken through health facilities to demonstrate the range of services available and speak with ARSH-trained medical staff.
Education sessions in schools
Street theater sessions in villages
Adolescent rally
Competitions around themes of adolescent health, rights, and choice
Education materials will be designed and developed for distribution.

Risks and challenges
No challenges have been identified at this time.
Next steps
A campaign working group will be selected, made up of a medical officer in charge, ARSH trained frontline worker, medical officer, Sahiya, adolescent champion from the community and a EngenderHealth staff member. This group will work on the development of the ARSH campaign and also manage its implementation. The project will continue to finalize activities for the ARSH week.
Budget
As of September 30, no project funds have been spent. Project funds will be spent during the months of November, December, and January during project implementation and follow up.
In Jharkhand, India, 63% of adolescent girls are married before 18 and at least one in four 15-19-year-olds is a mother.
Why we care: Most young women in Jharkhand have never had the opportunity to learn even the basics about reproductive and sexual health.
How we're solving this: Improving the availability, access and use of quality health services, including family planning, for adolescents.
Since 2008, EngenderHealth has implemented the TARUNYA, Adolescent Reproductive and Sexual Health (ARSH) project to improve the availability, access and use of quality of health services for young people in India. The TARUNYA, ARSH project began in Jharkhand and is now providing similar technical assistance to the state of Bihar.
The TARUNYA, ARSH project has three interconnected components:
Increasing the availability of and access to quality ARSH services
Training community volunteers how to approach and communicate with adolescents, their parents and other community members about reproductive and sexual health
Advocating for policies that provide adolescents with quality reproductive and sexual services, targeted at this specific age group
We would like your support to hold a pilot "ARSH Awareness Campaign" that will be conducted in seven regions of one district in Jharkhand. Campaign activities include:
An opening event
Clinic walkthroughs
Separate educational sessions for adolescents and adults
Communication materials
Competition/quiz on health and ARSH issues with prizes for winners
A street theater production presented by a local acting group
Radio messages on ARSH
Posters, balloons, invitations to visit community health centers
Orientations, health talks, and walkthroughs at the community health centers
Champions in providing ARSH services and educating adolescents and community members about health issues will receive prizes
District health authorities, state health department's representatives, community volunteers and members of the Village Health and Sanitation Committee will participate in the events, such as clinic walkthroughs and educational sessions. The goal is to educate them to create health policies that are supportive of adolescent reproductive and sexual health.
Documentation of the event, such as a photographer and videographer
We will monitor the dynamics in the number of adolescent clients who use ARSH services after the ARSH awareness campaign to assess the impact of the activities on adolescents. If we determine that the activities are effective at increasing demand, we will replicate this pilot in other districts throughout Jharkhand and Bihar.