1 year impact report
"I never thought that one day I would become a reporter. I always knew reporters were adults and not children, because we don't have the skills. But, now I know that given the opportunity, we are able!"
Impact for girls & women
This is the number of women, who were able to engage in emerging media, reached in the Iringa, Mbeya, and Dar Es Salaam wards of the Temeke District in Tanzania.
Estimated girls & women affected
3,550
Broader impact
Countless others were affected by the radio shows produced by the Young Reporters Network. Programs produced and aired are accessible to the public.
Estimated community members affected
3,550+
Empowering girls and youth through media: Young Reporters Network
In the last year, UNICEF has expanded the Young Reporters Network in Tanzania, which acts as the voice of Tanzanian children on community and national media. The multi-media programs involve the participation of children in the development, production, and presentation of the programs - to ensure that their right to participation is fulfilled. The Network also offers the children an opportunity to express themselves on issues that interest, concern, and affect them.
We've partnered with community radio and television stations to establish a Young Reporters Network in the country. Over the last year, the program has developed the capacity of young people to be advocates of child rights; to learn new skills in producing multi-media programs; and increase their active participation in the production of children's programs. The Network currently has youth groups in Dar es Salaam, Ifakara, Moshi, Arusha, Pemba, Zanzibar, Kasulu, Mwanza, and Kahama. The young reporters include children who live on the streets, in refugee camps, who are infected or affected by HIV/AIDS, and also children facing stigma, discrimination, hunger, and violence. Reporters also include children who are members of the Children's Council in one of the poorest areas of Dar es Salaam. The young reporters produce 30-60 minute programs which are broadcast on community radio and television stations to help raise awareness about child rights issues.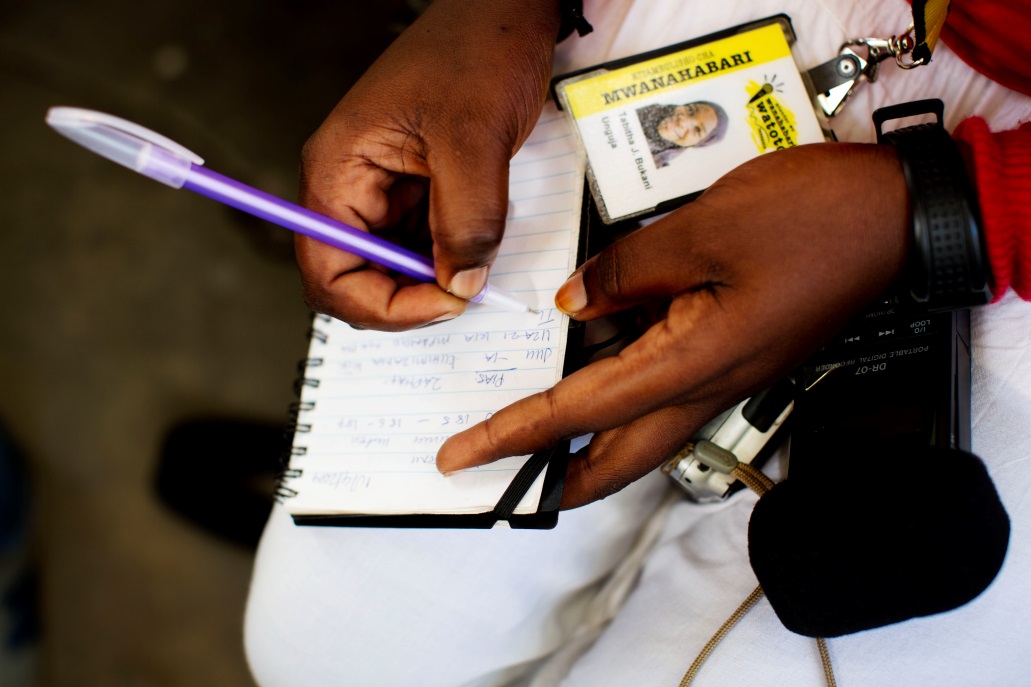 Get personal
I never thought that one day I would become a reporter. I always knew reporters were adults and not children, because we don't have the skills. But now I know that given the opportunity, we are able!" - Wastara, 14, Dar es Salaam.
What we've learned
This initiative has been a great success, so much so that a contingent of young reporters recently reported from an international conference on maternal and child health in Johannesburg, South Africa. The girls participating in this program are not only empowering themselves, they're dispelling myths about HIV/AIDS and educating their peers through social and emerging media.
Next steps
This program will continue with the support of UNICEF and local organizations committed to helping girls survive and thrive.
Budget
Line Items

Projected budget

Amount spent so far

Social media intern

Maintenance for 1 website 100 social media workshops

Radio educational programs for 20 Girls

Clubs 1,000

SMS messages

Administrative Costs

Total

$3,221

$534

$3,000

$12,200

$3,428

$2,617

$25,000

$3,221

$534

$3,000

$12,200

$3,428

$2,617

$25,000
90 day report
You are helping to give girls in Tanzania a voice and access to live-saving information!
posted Nov 20, 2013 by Sue Lee
"It is important to have children programs on radio or TV. They advocate issues that concern children and they also make these issues known to the rest of the community. These issues include discrimination, education and knowing their basic rights. The programs also help children not just to explain issues affecting them but also for them to build skills in expressing themselves and being heard. When the community listens to the radio their awareness is raised."
-Celina, Radio and TV Presenter
Progress
UNICEF, in collaboration with Together for Girls, is working give girls a safe way to connect and educate themselves about their rights, sexuality, AIDS and violence. Because you selected this project, we have been able to spend the past 90 days laying the groundwork for interventions that will utilize social media and interactive technology to enable girls and young women girls to educate and empower themselves, and each other. We have begun planning for:
Facilitation of 100 social media workshops;
The support of twenty youth-to-youth Girl Clubs where girls can receive peer education and information on their rights and sexuality;
Sending 1,000 behavior change SMS messages promoting health and positive behaviors; and
Set-up a radio program for girls. Once fully implemented, these activities will empower 3,550, adolescent girls and young women in the Iringa, Mbeya, and Dar Es Salaam wards of the Temeke District in Tanzania.
Risks and challenges
Working with emerging media entails technical hurdles, especially when expanding to new markets. Additionally, cultural challenges may deter young girls who have not previously interacted around sexuality, AIDS and other hot-button issues from participating. However, a main tenet of the program is ensuring girls are made to feel safe through the provision of female mentored forums and safe spaces in which to engage in discussions and peer-learning. UNICEF's commitment to equity and long standing relationships with communities throughout the country makes it a trusted partner, such that people are willing to engage in meaningful conversations at the ground level to create new gender norms in society.
Next steps
As the project moves from planning to implementation, workshops, websites, blogs, and radio programs will come online. Looking forward, this project has the capacity to directly impact young women and girls, empowering them through education and technology. Working in collaboration with Together for Girls, UNICEF is creating a community of girls and women engaging in important dialogues around sexual violence, physical violence, and HIV/AIDS, informing and protecting participants.
In Tanzania, girls face three critical challenges affecting the trajectory of their lives: HIV/AIDS, unwanted pregnancy and violence.
Why we care: In Tanzania, girls are 2-4 times more likely to have HIV than boys, about 38% report unwanted sexual experience, and 70% of children experience physical violence.
How we're solving this: We will empower 3,550 girls through an online space to share their voices, and provide educational and development programs through radio and SMS.
The program will focus on adolescent girls and young women in the Iringa, Mbeya, and Dar Es Salaam wards of the Temeke District in Tanzania. It will build girls' agency, which means empowering girls and reducing the vulnerability of HIV/AIDS, pregnancy and violence through youth-to-youth peer education, capacity building, and effective referrals. This is part of the Together for Girls initiative which is a model that builds on and leverages existing programs and platforms wherever possible to integrate the issues of HIV/AIDS, violence against children and sexual violence into social welfare, health, education, and justice programs.
The program has three components:
100 social media workshops featuring a website and blog,
support for 20 youth-to-youth Girls Clubs, and
social media and SMS technology.
Through this program, 100 social media workshops will be held where a website and blog will provide a space where young women and girls will be able to share their voices, stories, and testimonies. 20 female-mentored safe spaces for girls will be supported where girls will be able to receive peer education and information on their rights and sexuality. These girls will be able to learn, discuss, and contribute to radio programs through a hotline or online. A cell phone airing company will also be involved to develop and distribute 1,000 behavior change messages to promote healthy and positive behaviors among girls and young women.
Administrative costs for this project include salaries, rent, supplies, and evaluations.