1 year impact report
"I can see more clearly from where and how my self-image was created. And now I understand how important it is to accept myself as I am, my disability, and to not limit myself."
Impact for girls & women
This number is based on our 10 participants and 2 trainers involved in the training
Estimated girls & women affected
12
Broader impact
This data is still being collected, and will be added to the project as soon as possible.
Estimated community members affected
?
Disabled women transcend limits
Since you decided to support us a year ago, women with disabilities were inspired to see their strength and ability upon looking in the mirror. We ensured that women participants' voices were heard in all stages of planning from organizing to facilitating. Our workshops focused on self-image, disability, and self-esteem. Participants learned to improve their self-image by analyzing the influence society has on them, learning how to respond to societal challenges, and examining how supportive friends and family can help them build a better self. We adjusted our mission from removing institutional barriers to changing the attitudes of women with disabilities to encourage self-confidence. Through our workshops, women with disabilities changed their self-perceptions from limited to limitless.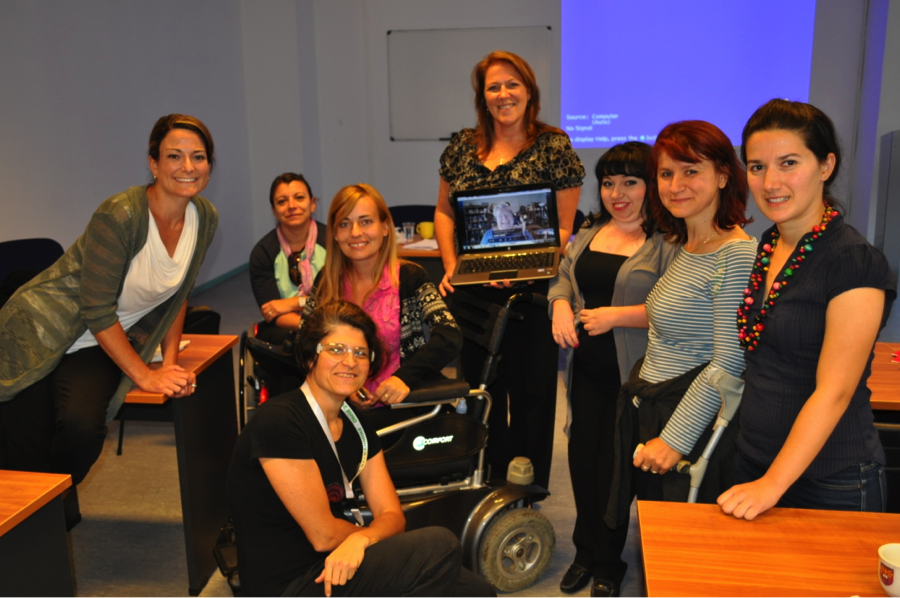 Get personal
Women built self-esteem by learning how to stand up for themselves and how to create an accessible society where all can achieve human rights. One participant highlighted how she benefited from the workshops, "I can see more clearly from where and how my self-image was created. And now I understand how important it is to accept myself as I am, my disability, and to not limit myself."
Risks and challenges
We found that accessibility for people with physical disabilities is a problem in Macedonia. We organized individual transportation to meet the needs of each participant.
What we've learned
We would like to publish some of the scripts and materials in brochure form to provide help to groups who want to do similar projects in the future.
Budget
Line Items

Projected budget

Amount spent so far

Workshop trainings

Training materials

Travel

Staff coordination

Administration

Total

$2,200

$120

$950

$2,170

$3,148

$8,588

$2,200

$120

$950

$2,170

$3,148

$8,588
90 Day Report
Organizing workshops despite transportation challenges
posted Oct 30, 2013 by Rati Bishnoi
Progress
The team of Mobility Challenge has been working on the following activities for conducting the project "Empowerment for women living with disabilities":
Organizing Committee Established for conducting the project (Members of the Committee: Jagoda Risteska, Jasmina Risteska, Biljana Manevska, Svetlana Zivkovic from Mobility Challenge and Margaret Nosek from Center for Research on Women with Disabilities);
Collaborating with the partner organization, Center for Research on Women with Disabilities (CROWD) from Texas for developing Self Esteem Program for Women with Disabilities in Macedonia. During October 2013, the team will be trained by CROWD to be able to facilitate the whole 7 week program.
We also conducted a work meeting with a group of women with disabilities from Macedonia to introduce the following program and determine the main issues and aspects of their lives that should be focused on during the program.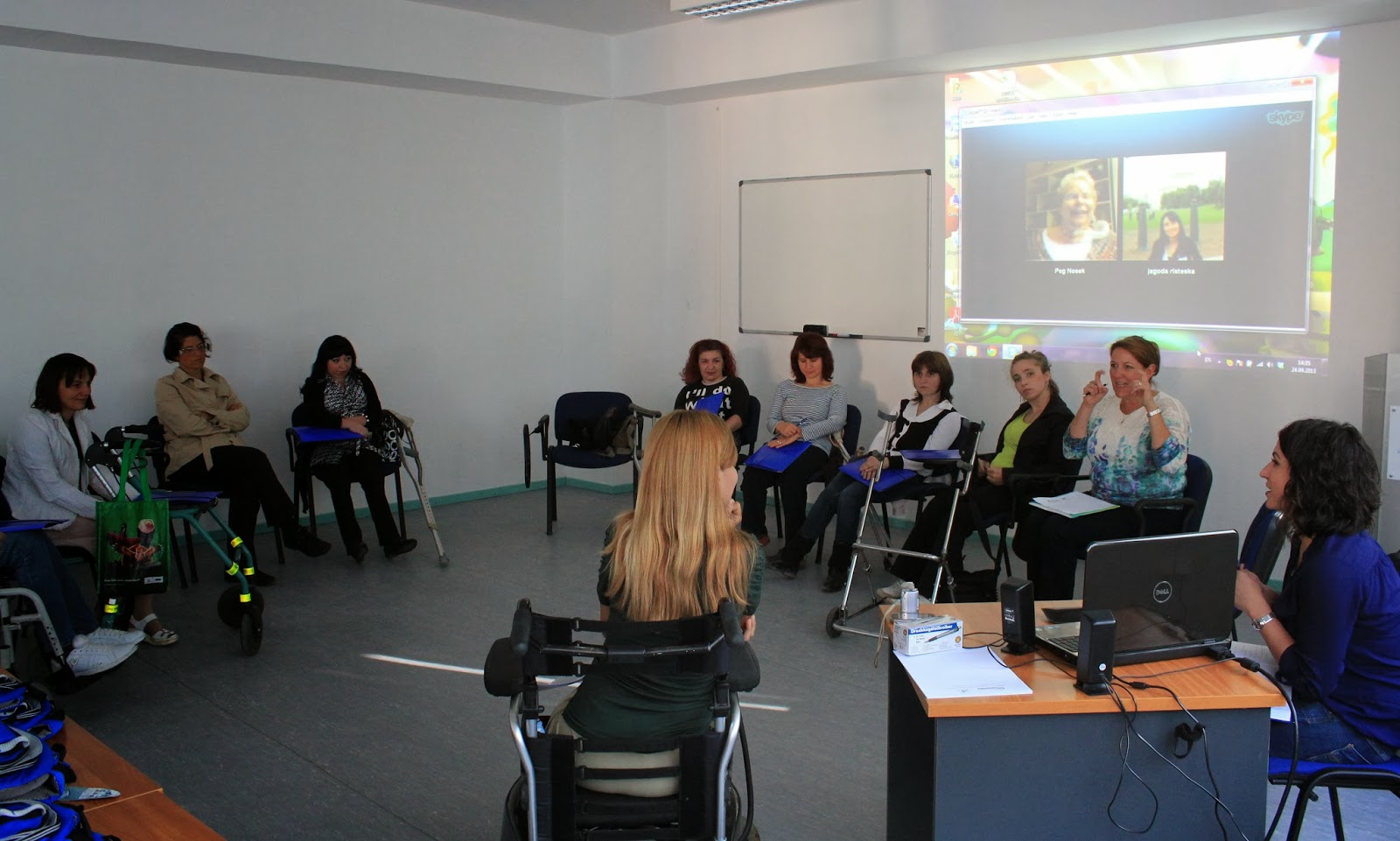 Risks and challenges
Unfortunately public transport in Macedonia is not accessible for people with disabilities. We are expecting to organize transport for bigger groups of women with disabilities during the whole program of 7 weeks to be a challenge for us.
Up Close
"Whole program is a great idea and looking forward to it. I never had a chance to be part of group that focuses directly on women with disabilities and her issues." – quote of women with physical disability from Skopje.
"Please organize more activities like this. Sometimes is so important just to come together and share our own experiences and see we are not alone in it."- quote of woman with polio myelitis.
Next steps
Next steps are:
Training part of our team to facilitate the program (this training will be conducted in October, 2013);
Selecting participants who will attend complete Self Esteem Enhancement program. Participants will be women with physical disabilities of all age, from whole territory of R Macedonia. This group will include 10-12 women. Program will be implemented in period April- May, 2014, in Skopje and will last for 7 weeks. - Preparing materials for each session.
"Disability is a condition – not something that defines a whole life." - Jagoda Risteska, CEO of MC-Mobility Challenge
Why we care: Discrimination against women living with disabilities in Macedonia leads to their low self-esteem and social exclusion.
How we're solving this: Personal empowerment workshops raise women's awareness of their rights and the fact that disability is a condition, rather than an identity.
Due to physical and social barriers. many women with disabilities in Macedonia cannot access schools, hospitals, and public transportation. Without an education, they cannot gain meaningful employment. Additionally, prejudice from family members and social stigma results in low self-esteem, isolation, mistreatment, and social exclusion. It is difficult to address the challenges that women living with disabilities face since officials in Macedonia have no statistics on the exact number of people living with disabilities and no system for collecting relevant information.
Founded in 2009, by a group of nine women living with and without disabilities, MC-Mobility Challenge works to promote the rights and social integration of all people living with disabilities, regardless of their background. This year, Mobility Challenge will provide women's rights and leadership development workshops in the capital city of Skopje to 20 women from marginalized Albanian, Turkish, and Bosnian ethnic communities.
Businesswomen and mothers living with disabilities will provide support and mentorship to women participants, showing that it is possible to overcome stereotypes, to lead companies, and build thriving families. Participants will work with a certified coach on personal and professional empowerment by setting goals, building self-esteem, and improving their communication skills.
By challenging their perspective on their own disabilities, participants will come to embrace their innate right to participate in every aspect of community life. The benefits participants receive through this training will hopefully spread to their families, workplaces, and communities, ensuring greater inclusion of all people living with disabilities.