90 Day Report
From Aghanistan to the United Nations - Zarmina flies the flag for girls education
Progress
This is the final update, there is no one-year progress report.
On July 12, A World at School organised the first ever youth takeover of the United Nations. Over 500 teenage activists came together as Malala Yousefzai addressed the UN on her 16th birthday to work on a call to action to world leaders for access to education for all children. Catapult funding allowed Zarmina Rasouli, a young girl from Afghanistan and champion for girls education in her own country, to be a part of this momentous day and its call for global change. Zarmina, after being denied an education under Taliban rule, fought hard to continue her own studies and has worked with Action Aid on "child enabling committees" which work to convince Afghan families to send their children especially girls to school. With her experience and passion, Zarmina was a powerful advocate. Her visit emphasised the need to campaign for girls education in difficult and dangerous conditions and helped create a powerful momentum for greater access to education for young girls globally.
Risks and challenges
There are thousands of young people and in particular girls around the world who are right now fighting for their right to an education and powerful role models in their towns and villages. We would have loved to have taken many so it was so hard to decide who should go! There were a few operational difficulties along the way. It was the first time Zarmina had travelled outside her country so arranging everyday things for us like passports and visas did take time. At the top of the priority list though had to be ensuring Zarmina's safety at all times especially after she returned, but working together with our great NGO partners we were able to overcome all difficulties and ensure Zarmina had a fantastic once in a lifetime experience.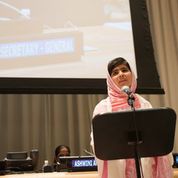 Up Close
Zarmina was 14 when the Taliban invaded her town and had to stop going to school. Luckily her parents let her study from home until it was safe to go back. Zarmina is now graduating with an accounting degree and has used her experience to champion girls education within Afghanistan. For Zarmina the experience to travel to the youth takeover not only contributed to a powerful call to action, but will also go back with her to Afghanistan where she will be an inspiring role model to others.
Next steps
A World at School will continue to work with Zarmina and the growing number of young people eager to see every child in the world have a chance to go to school and learn.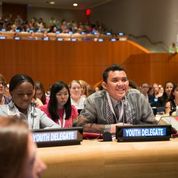 Budget
The budget for the project was $8664.54 which was fully utilised for travel, accommodation and other related expenditure in being able to secure travel to the UN for Zarmina and her Action Aid chaperone.
Further reading
There was wide an extensive coverage of Malala Day and the youth takeover of the UN, across national and international media and social media. There is more information on Zarmina and her story here .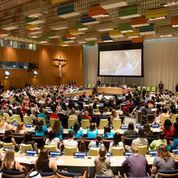 On July 12, 2013, over 600 young people are taking over the United Nations in New York for an education Youth Summit in honor of Malala's 16th birthday. Support two young women from Afghanistan to attend.
Why we care: In 2000, world leaders at the UN committed to getting every child in school by 2015. They signed the contract, now they need to deliver the goods.
How we're solving this: Providing travel scholarships to two young women from Afghanistan, where only 13% of girls complete primary school, to participate in a UN Youth Summit focusing on getting all children safely into school.
Secretary General Ban Ki Moon has agreed to a Youth Summit to be held on the date of Malala Yousafzai's 16th birthday, July 12, 2013, with her wholehearted approval. The focus of the Summit will be for young people from around the world to set out what they know needs to be done to get children learning.
Your funds will go to cover the full travel scholarships for two young women and their chaperones to ensure the most marginalized girls and young women from the furthest corners of the world can also find a seat at the top table to share their experiences and recommendations for international action.
A World At School, a digital mobilisation campaign supported by the UN and the World Bank, will work with partners from UN agencies, governments, businesses and charities to enable children and youth from around the world to take part in the day.
This day will act as a new catalyst for youth to lead the campaign to get all children into school and learning. Events will also take place around the world, to show solidarity with Malala and her commitment to education. In the lead up to the event youth and children from around the world will be asked to feed into an official UN outcome document, which will be endorsed by the UN Secretary General, and circulated, to all UN Member States.
The document will set out what a new global youth mandate to solve the education emergency. The process to the day and the document will provide a strong foundation for new global youth movement and a strong mandate for youth to return to their countries and call on their governments to live up to the demands of this global movement.
This unique opportunity is only the beginning of the campaign to get all children into school and learning. It is critical that girls and women from Afghanistan are given a voice in this critical moment for the education of all children.
Photo Credit: UN Photo/Rick Bajornas