1 year impact report
At our workshops, sex workers developed the skills and confidence to protect themselves against harassment by clients and policemen.
Impact for girls & Women
This is the number of girls and women who attended the workshop or were trained in self-defense.
Estimated girls & women affected
201
Broader impact
This data is still being collected, and will be added to the project as soon as possible.
Estimated community members affected
?
Sex workers claim their rights
Thanks to your support, female sex workers regained control of their futures during our two-day workshop, offering a safe space to learn self-defense and advocate for their rights. Participants engaged in deep discussions and shared strategies to work together against harmful laws and customs. Guest speakers offered opportunities for professional skill-building, such as financial literacy and networking. Media training ensured that each woman has the tools to chisel away the social stigma she faces in daily life.
We facilitated community discussions to address major challenges such as police violence and risk of arrest. Women spoke out fiercely in favor of decriminalization of sex work to create a more safe and respectful work environment. Also, women shared stories of social stigma and lamented about the vulnerability of their children to trafficking. Discussions highlighted the brutal effects of trafficking on many young girls, such as risk of illiteracy, early pregnancy, disease, and death. We harnessed the collective strength of the sex workers as we created advocacy strategies to ensure that they can walk down the street, heads held high without the fear of violence.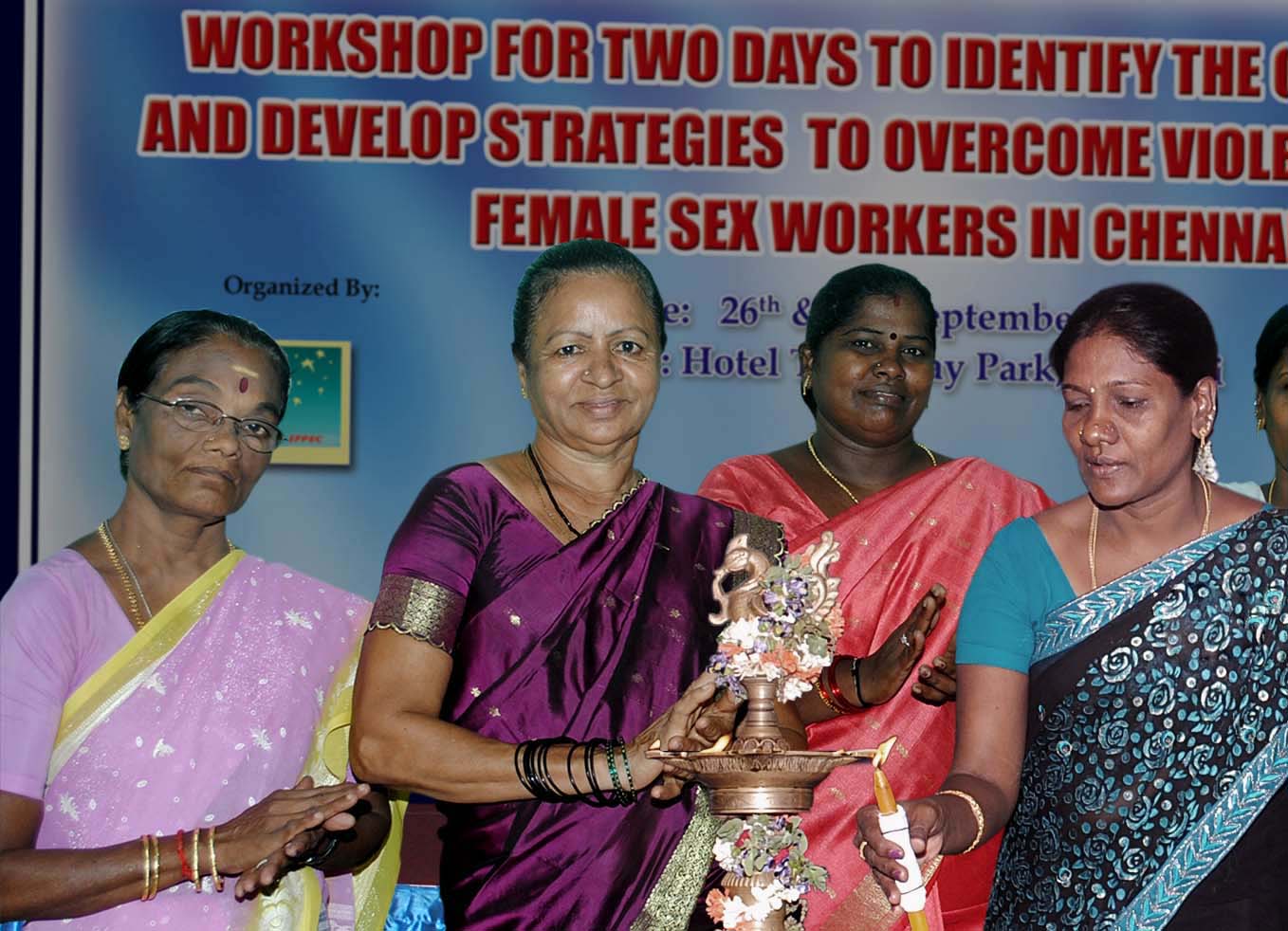 Get personal
At our workshops, sex workers developed the skills and confidence to protect themselves against harassment by clients and policemen - "The sex worker community was strengthened, empowered and collectivized to access their human rights." They also learned about the group's role in rescuing 17 girls from trafficking.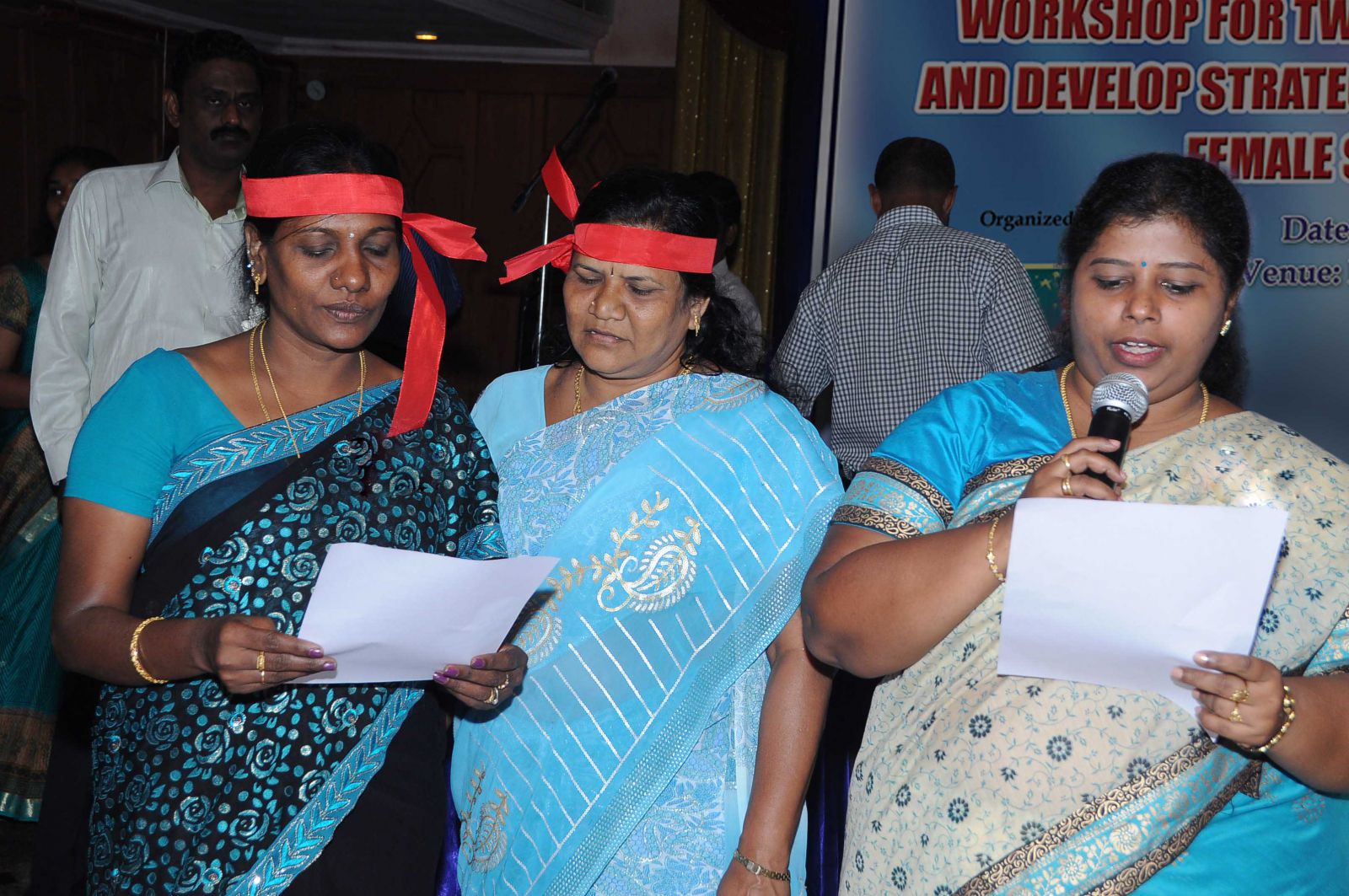 Risks and challenges
Police brutality and arrest are major risks for female sex workers and their families. Head of the cooperative, B Baby, reports that many cases of abuse go unnoticed and unregistered "as policeman refuse to accept us as humans." She points out that sex workers in Chennai have "no place they can call their own," a space safe from harassment. Members of the collective believe a red-light district would improve their safety and security as well as increase prevention of trafficking and sexually transmitted infections.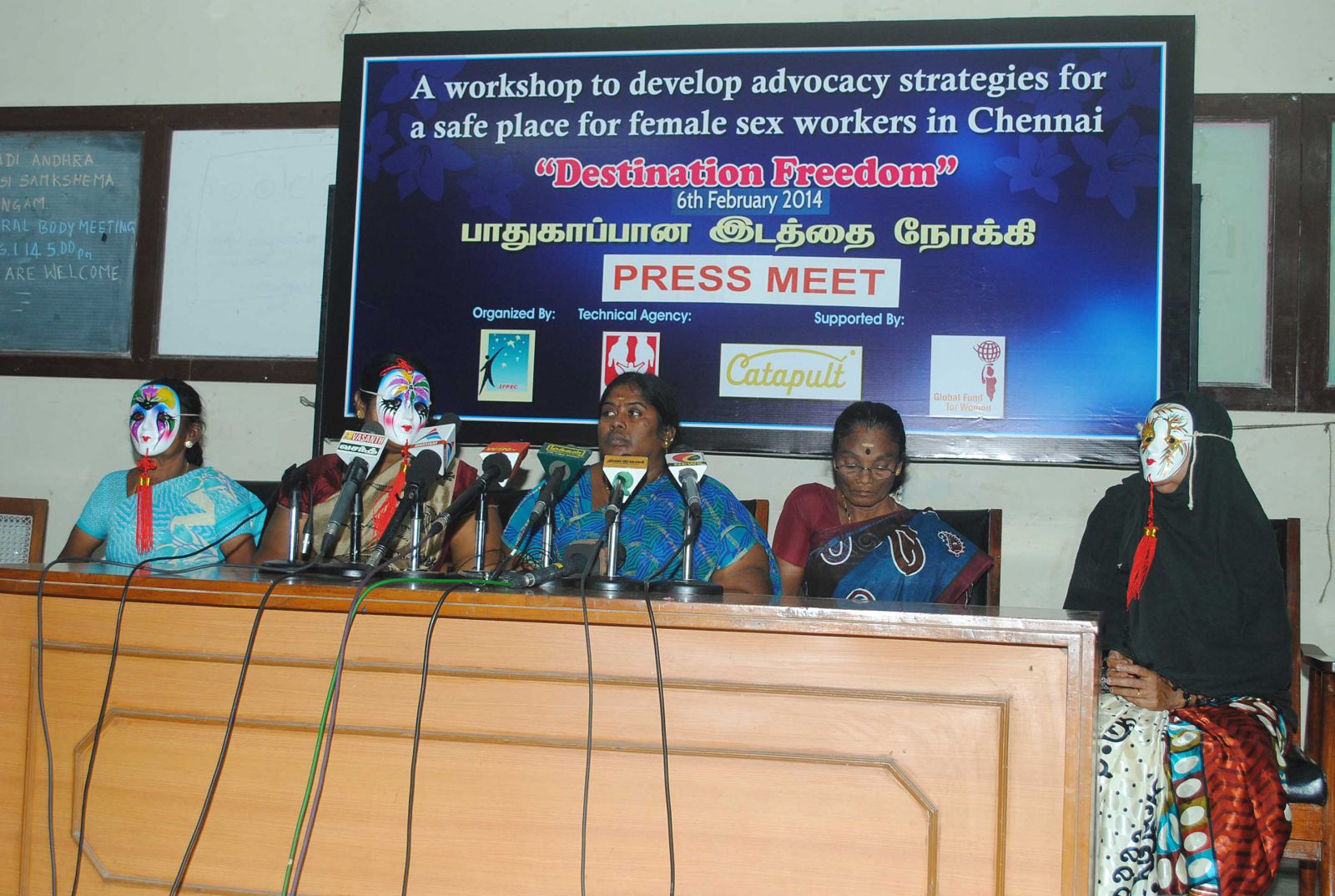 What we've learned
We wished that we could have included more of the female sex worker community in the planning of the workshops. We also wish we had planned a long-term media advocacy program.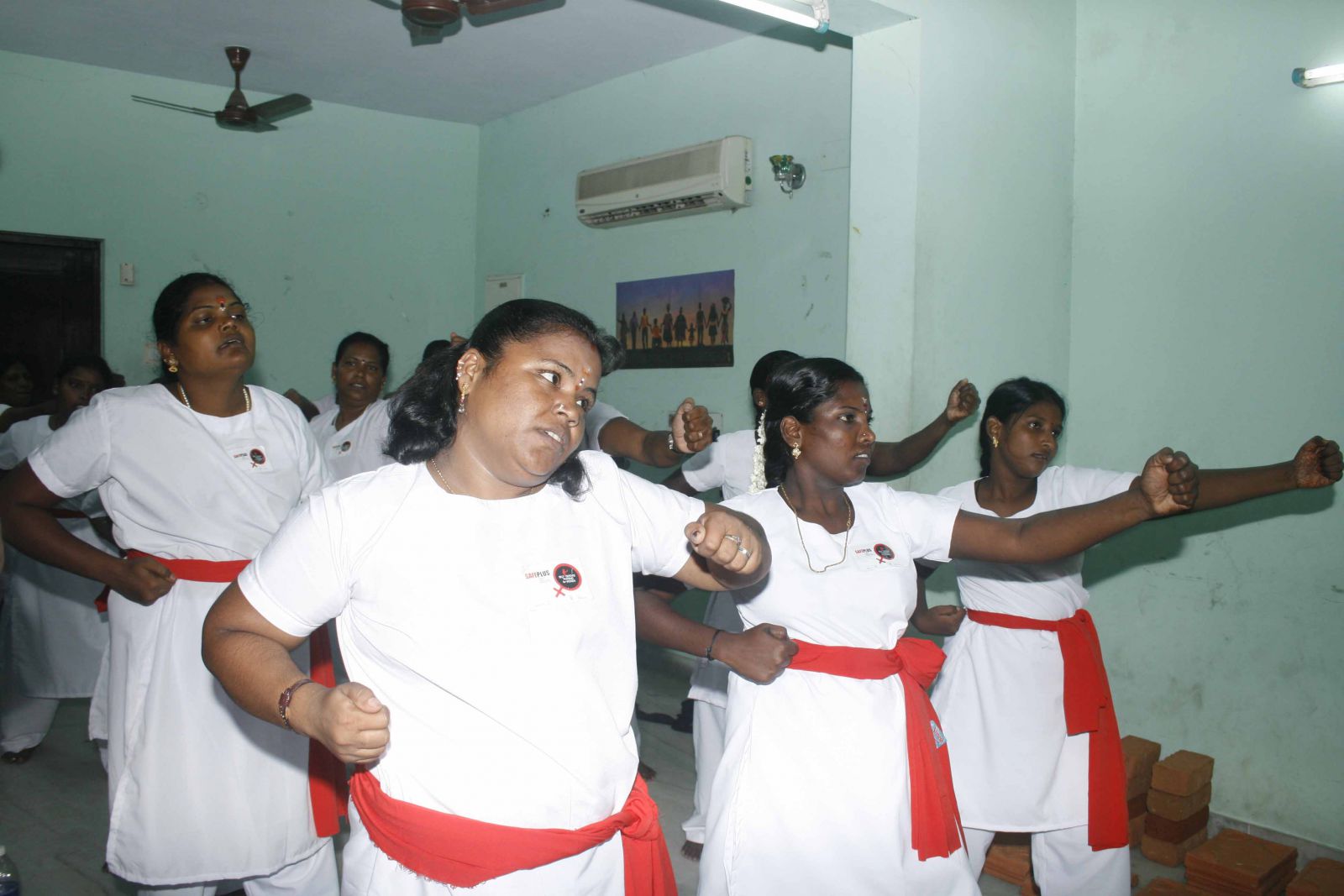 Budget
Line Items

Projected budget

Amount spent so far

Workshop, 2 days, 100 participants

Training, 15 days, 75 participants

Media advocacy, 3 trainings, 20 participants

$5,455

$8,182

$1,910

$5,455

$8,182

$1,910
Further reading
http://timesofindia.indiatimes.com/city/chennai/In-letter-to-Jayalalithaa-sex-workers-seek-red-light-area-in-Chennai/articleshow/25196784.cms
90 Day Report
Identifying challenges and strategies to overcome violence in Chennai
posted Jan 6, 2014 by Isabel Garcia
On September 26 and 27 2013, Indira Female Peer Educators Collective (IFPEC) conducted a workshop for two days to identify the challenges and develop strategies to overcome violence against female sex workers in Chennai.
Up Close
"This is the first time and coming out so open about the problem faced in my life. Next time I believe we surely will progress towards strengthening our organization to promote human rights of Female Sex workers in Chennai."
- Ms. S.Jenny, Member – IFPEC

"IFPEC had intervened and solved several human rights violation incidents in Chennai. My dream is to ensure Chennai [is] without violence against female sex workers. When we will achieve it? Together we can."
- Ms.M.Esther Shanthi, Member - IFPEC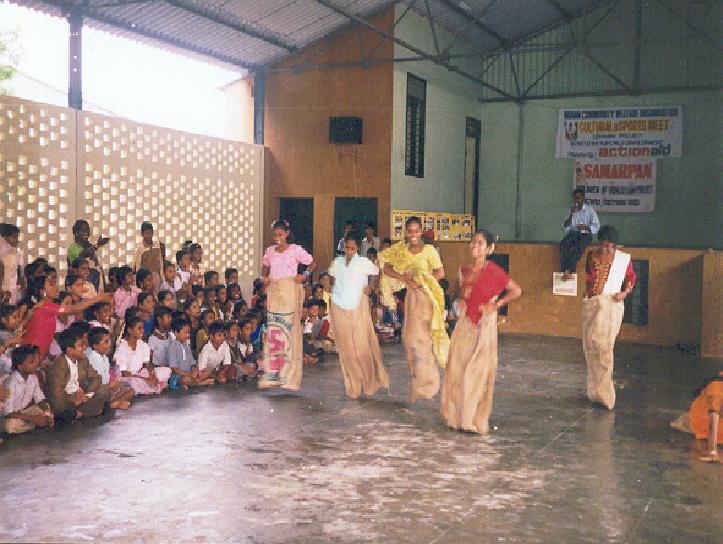 Next steps
This proposed project is planned to be completed by Dec. 31, 2013. The following activities are planned to complete our project:
Completing a Self Defense Karate Training Program for Female Sex Workers with award distribution function.
Advocacy with the following stake holders: Media (Print, Live and Electronic Media); Policy Makers; Politicians; Law Enforcement Agency officials.
Budget
Additional amount received from the exchange rate was included for the workshop. It was planned for Rs.4,00,000 and expenditure incurred was Rs.4,55,000.
In Chennai, India, female sex workers are subjected to daily violence, stigma, and discrimination.
Why we care: Women in the sex industry face exploitation, violence and abuse, and discrimination that prevent them from realizing their rights.
How we're solving this: Training sex workers in self-defense, while pressuring government officials to pass and uphold legislation criminalizing violence against sex workers.
Societal stigma prevents sex workers from accessing essential health services, education, and information about their rights. These women are demanding what every worker around the world should be entitled to: a violence-free work environment.
Indira Female Peer Educators Collective (IFPEC) ensures that sex workers have equal treatment under the law in Chennai, and prevents the trafficking of young girls and women for sexual exploitation. To date, IFPEC has trained 100 children of sex workers on how to prevent trafficking, or entering sex work themselves. IFPEC assists women to gain strength, knowledge, and skills to claim their rights and ultimately change their lives.
IFPEC will provide self-defense karate classes running every two-weeks throughout the year and violence prevention workshops to a total of over 1,000 female sex workers in Chennai and surrounding neighborhoods. IFPEC will also train 60 female sex workers to organize media advocacy campaigns to educate the public on the challenges that sex workers face, and therefore reducing public stigma surrounding sex work. Sex workers will advocate for legal protections including, pensions to sex workers over the age of 40, issuance of national ID cards, birth, and death certificates for themselves and their children, and zero tolerance for police violence targeted at sex workers. Additionally, during a two-day violence prevention workshop, sex workers from the most violence-prone areas of Chennai will develop strategies to prevent, and manage threatening situations.
As a result of this project, female sex workers will
organize and manage advocacy campaigns to end violence against sex workers and girls;
spread information to their peers about existing laws that protect sex workers' rights;
publish positive stories of strong women who have overcome poverty and violence;
protect and defend themselves and their rights; and
transform negative stereotypes about sex workers.