1 year impact report
Our program gives women the strength to break the silence!
Impact for girls & women
43 cases of gender based violence found; 16 were investigated, 7 were followed up, and 3 received judicial support.
Estimated girls & women affected
43
Broader impact
https://www.catapult.org/project/exposing-domestic-violence-crisis-armenia
Estimated community members affected
?
Making domestic violence visible
Thanks to your support, we provided rapid response units to deal with domestic violence cases. Journalists wrote articles to bring awareness to cases, while we offered judicial support to women who wanted to take their partners to court. The media coverage made the domestic violence trials a priority for the public. Members of the prominent women's rights organization, Coalition to Stop Violence Against Women, joined us at the court hearings to show solidarity.
We also participated in protests and campaigns in order to ensure that no woman's story is silenced. Together with Rapid Response, we refocused the media on the story of women whose suffering was covered up by the police. We united with Coalition to Stop Violence Against Women on marches to raise awareness of famous Armenian feminists and women's rights. Additionally, we held an event, "Solve a conflict, save the family," focused on the importance of conflict resolution in building strong families. Spectators were educated on the Domestic Violence Law and effective techniques in eliminating violence and solving family conflicts. We encouraged women to be protagonists of their own stories.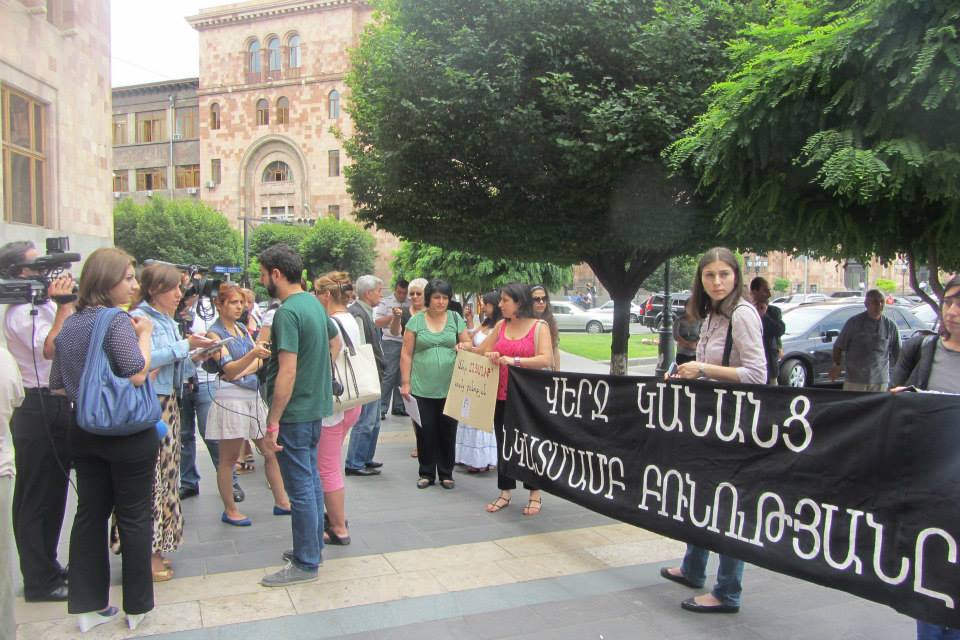 Get personal
Our program gives women the strength to break the silence. Syuzanna was fifteen when she saw her father stab her mother to death. Despite being left with an abusive father and a five-year-old brother, her involvement in the organization helped her recover. She obtained psychological care and social counseling which gave her the confidence to return to school. Now she works with our organization to help other domestic violence victims.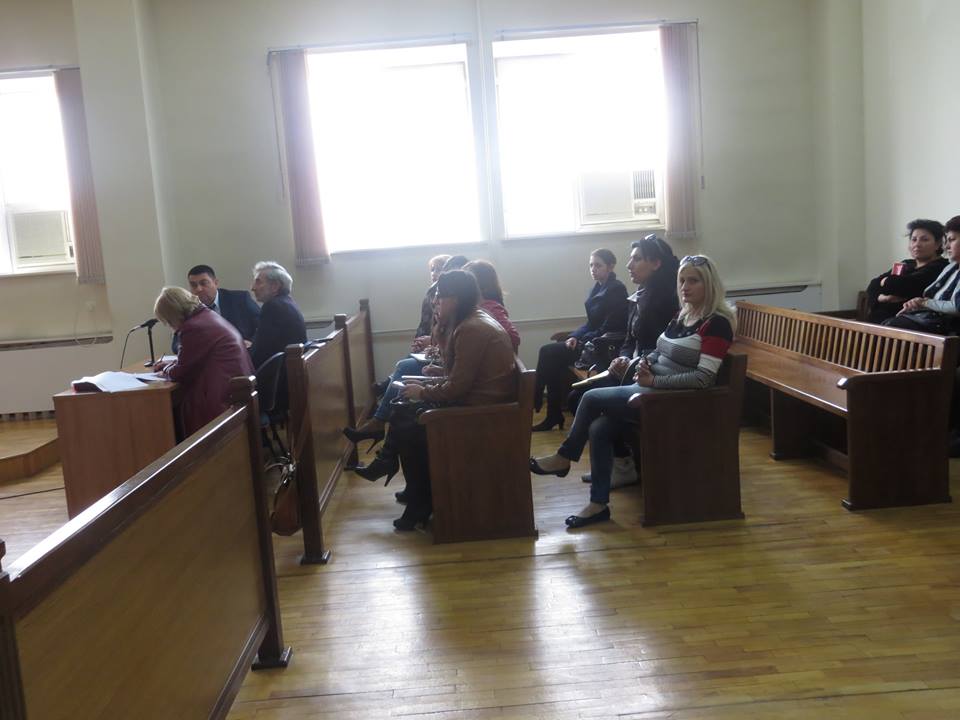 Risks and challenges
Domestic violence is a taboo subject and so people prefer to ignore it rather than speak up or ask for help. Many women believe they deserve to be beaten and often refuse communication with our organization. The Armenian government vetoed a law on domestic violence - according to current law, if the violence doesn't cause a serious injury, the abuser pays a fine, but can continue living with his wife. The police often convince women not to write complaints or to retract previously written complaints. In the past year, we've faced opposition from ultra-nationalist groups to build barriers for women's rights organizations. They manipulate society by convincing them that women's rights will destroy Armenian families.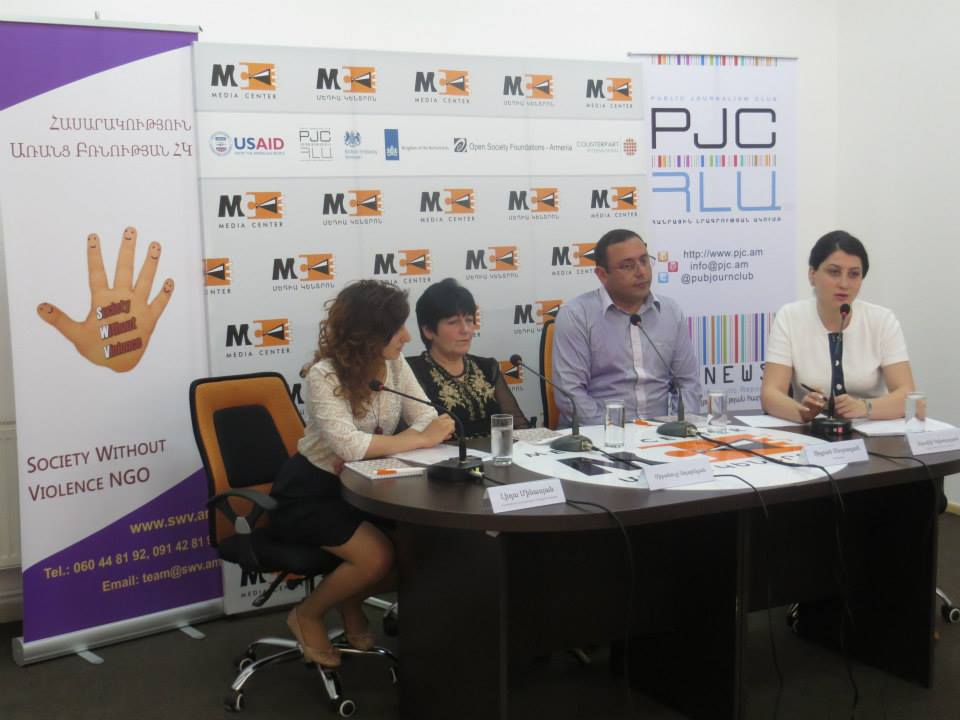 What we've learned
We learned that it was key for rapid response units to have a psychologist on the team, and will work on implmenting this to our strategy.
Budget
Line Items

Projected budget

Amount spent so far

Video Camera

Tranportation

Legal service

Journalist

$500

$420

$6,000

$2,100

$500

$420

$6,000

$2,100
Further reading
Two cases:
http://swv.am/index.php/en/rapide-response-unit222/45-lusine-davtyan-musaler-village-armavir-region#.U8V3x_mSw00
http://swv.am/index.php/en/rapide-response-unit222/44-siranush-aghabekyan-vanadzor-city-lori-region#.U8V4QvmSw00/
90 Day Report
Safety of women's rights defenders in Armenia under threat

Since our last update in October 2013, the situation in Armenia for women's rights is worsening and extremism is growing. Women's rights activists are not protected and are experiencing violence and attacks.
We would like to share news of an incident that happened on April 15, 2014, when our group was attacked-
Society Without Violence organized a round table event to discuss integrating gender into social science curriculums and to promote the recommendations of our organization. A number of neo-nationalist extremist groups got information about the event and came to protest. The extremists started to verbally attack our staff and the participants; there were even some attempts to use physical force.
Hotel Security attempted to control the situation but police had to be called. Fortunately the police were supportive, the event was broken up, and no one was physically harmed. Unfriendly mass media were also tipped off and later reported that Society Without Violence had initiated the attacks. Some state representatives and Members of Parliament blamed our group for not allowing the extremists to join the gathering.
This sad news shows the obstacles the group faces in carrying out their daily work and why your support is so important to us, as we work to bring exposure to the domestic violence crisis in Armenia.
posted Oct 30, 2013 by Rati Bishnoi
During the reporting period, we investigated one new case, which was about a mother of 2 children, who was killed by her husband. We investigated and gave public coverage to this case. Currently our Rapid Response Unit (RRU) group provides the family of the victim with jurdicial support. During this period we also continue the follow-up on our recent cases of RRU. We have attended 3 trials on Diana Nahapetyan's case, whose husband killed her in front of her 2 girls; we are providing support to her family and media coverage to the case. RRU deals with another case, where the husband doesn't let his wife to take care of their 1-year old girl as a result of post-natal stress. RRU raised public awareness on the case, as well as support in having the forensic-psychological examination for the woman. Finally, we continue to provide pro bono legal aid on the case of Tatevik Nikoghosyan, whose husband stabbed her for 20 times and caused her serious injuries.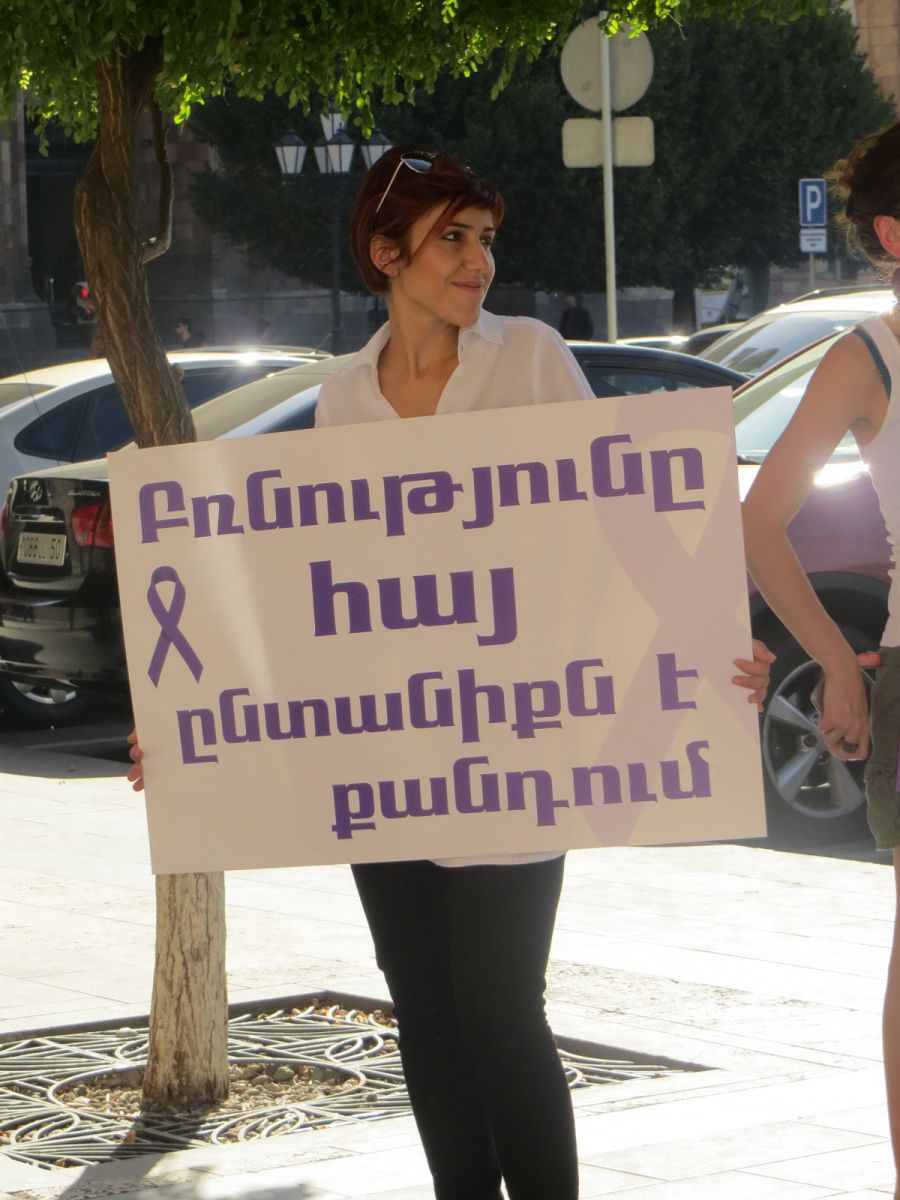 Risks and challenges
One of the challenges is that in all our cases there is a common attempt to declare the perpetrators not-guilty by reason of insanity and, thus, avoid punishment. However, our lawyer is very experienced professional with a solid background who immediately anticipates such risks and does her best to prevent such outcomes. The RRU gives media coverage and publicity to all the cases, thus eliminating the possibility of bribery and the concealment of facts. Currently, some extremist groups are spreading false information and lies about what women's organizations are doing in Armenia. They disturb our activities, spread hate messages and threaten us, which is of course having a negative impact on our work and makes us feel insecure and unsafe.
Up Close
15 year old girl, whose father killed her mother, "And I closed my 5-years old brother's eyes, so he won't see our mom dying on the couch all in blood and stabbed by our father…You guys should be angels coming to help us, I didn't know there are any organizations to give their support and help.''
Next steps
We will follow-up the current cases and investigate new domestic violence cases at the same time. RRU received a wide public interest not only in capital city but out of it. We will continue to do our RRU activities to the best of our commitment and dedication which are aimed at the decrease of domestic violence level in Armenia.
Budget
So far, Society Without Violence used 1300$ from the total grant budget. The money was used for transportation to the regions where domestic violence cases occurred as well as to the court trials, for investigative journalist and attorney's fees and for the acquisition of a new camera.
"Step by step, we are changing the prevailing attitude towards violence against women." – staff member, Anna Arutshyan
Open the eyes of the public and government officials to the plight of millions of Armenian women.
Why we care: In Armenia, violence affects millions of women: one in three report physical abuse and over a half of women report psychological or emotional abuse.
How we're solving this: Sending mobile teams of lawyers and journalists to remote areas to report domestic abuse, provide free legal advice, and monitor court cases.
Twenty-year-old Zaruhi Petrosyan was brutally beaten by her husband and mother-in-law and died on October 1st, 2010. In the eyes of the public, she is now just a statistic. The Armenian government has a very poor record on combating widespread violence against women – in fact, it denies it – and is one of the very few countries in Europe without legislation criminalizing domestic violence. Without legal protections, women are denied justice.
Society Without Violence (SWV) is breaking the silence about domestic violence. This year SWV will create a Rapid Response Unit (RRU), comprised of women human rights defenders, to make domestic violence a national priority. In addition to providing on-site support in remote villages, the unit will also observe news, TV talk shows and reality shows to report instances of harmful stereotyping of women and gender discrimination. By organizing public events and press conferences, and publishing articles the unit will shed light on the domestic violence crisis and demand official action.
SWV strives for the following results:
Change the attitude surrounding domestic violence by exposing the crisis and publicizing the cases documented by the RRU on a dedicated SWV website: www.rru.swv.am.
Increase the number of domestic violence cases brought to court by providing pro bono legal assistance and publishing the numbers of court-prosecuted cases.
Change stereotypes of women's roles by monitoring media content for six months and organizing public and media events that promote women's rights and dignity.
No woman deserves to be humiliated, offended, or harassed at home or in public. As long as domestic violence is deemed acceptable, the debilitating statistics will continue to increase. The RRU team will ensure that cases do not go unreported and receive public attention and just prosecution.