1 year impact report
Leveraging additional funds, we were able to use Catapult funding to support the team over three months, as opposed to just one month.
Impact for girls & women
This is the calculated number of clients impacted through this project.
Estimated girls & women affected
1,083
Broader impact
This is the number of people who received family planning information through awareness conducted by the outreach team and funded by you!
Estimated community members affected
1,302
Hope for Port Moresby's women
Through your generous contributions, we have been able to deliver family planning services to underserved women in the National Capital District and Central Provinces of Papua New Guinea. These services were delivered through an urban clinic and a clinical outreach team, which provided services to these areas through partnership with government and faith based health facilities.
Get personal
Joyce Cephas, one of our peer educators, said: "I had the desire to work for Marie Stopes because I saw that other organizations conducted only awareness, but Marie Stopes went one more step by also providing the service, and Marie Stopes also went out to rural communities to meet with disadvantaged women to give this service at little to no cost. I am proud that my peer educator awareness … has not been wasted, because I am seeing more women coming for contraceptives."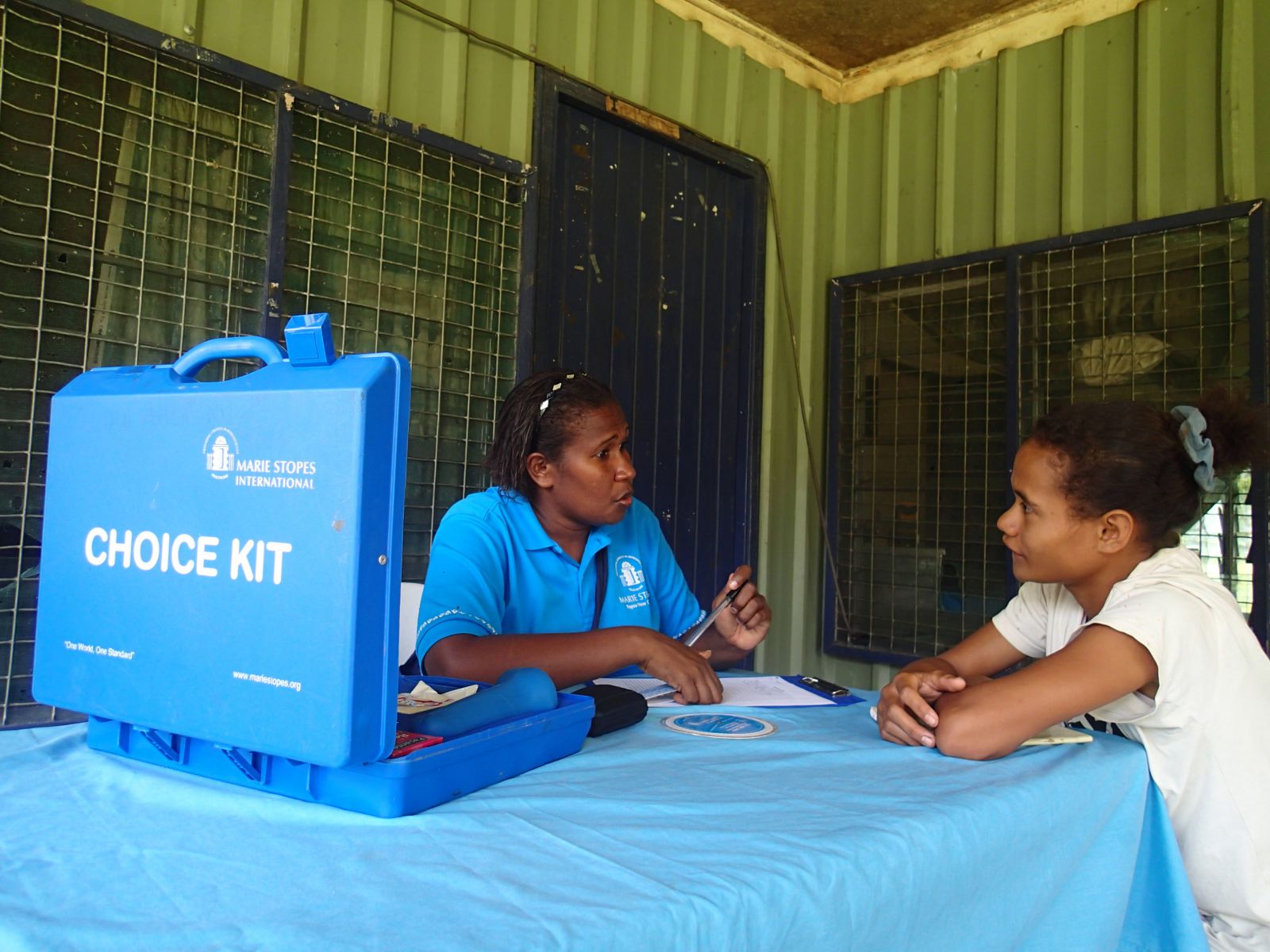 Risks and challenges
Papua New Guinea suffers from an acute shortage of health workers, particularly those with skills in family planning and reproductive health. During the last two months of the implementation period, there was an acute staff shortage, which has now been remedied. Port Moresby suffers from a number of security challenges, including regular armed hold ups, tribal fights, and civil unrest. These disturbances affected service delivery on several occasions during the implementation period.
What we've learned
We have made several improvements in the approach that we use to implement our activities, including running outreach visits to business houses and workplaces to target low income groups. These changes have resulted in a substantial improvement in service numbers over the past year in comparison to previous years.
Next steps
We will continue these activities with support from the Papua New Guinea Department of National Planning, demonstrating a positive and important example of national ownership and partnership around non-governmental organization activities.
Budget
The budget was spent in its entirety over three months in 2014. Several line items, such as training and promotion, did not draw upon Catapult funding and were instead co-financed by support from other donors.
Line Items

Projected budget

Amount spent so far

Outreach operations

Equipment & supplies

Salaries for six staff members

Training

Health education

Monitoring & evaluation

$3,692.00

$1,689.07

$4,101.60

$258.93

$303.20

$155.20

$3,976.26

$1,924.38

$4,126.93

$0.00

$0.00

$173.92
90 Day Report
Outreach and family planning save lives in Papua New Guinea
Progress
As noted in the proposal, the generous funding provided through Catapult will fund outreach services in the central region of Papua New Guinea over a period of 30 days. To most effectively use this vital funding through Catapult, and to leverage additional funds, Marie Stopes Papua New Guinea (MSPNG) will utilize the allocated funding to implement this project in 2014.
Risks and challenges
Security: Port Moresby and the surrounding areas suffer from poor security; therefore, the Marie Stopes Papua New Guinea team faces threats of carjacking and robbery. Changes in the security situation can impact the number of clients who access services. Consequently, Marie Stopes Papua New Guinea supports the team through a security policy.
Skills and Attitudes: Training in family planning (FP) is often entirely absent from health worker trainings. Through awareness-raising, , Marie Stopes Papua New Guinea seeks to improve provider knowledge regarding FP.
Misconceptions: While misconceptions about Family Planning can be addressed through counseling, many women are afraid to come to clinics, due to these concerns. To counteract these barriers, , Marie Stopes Papua New Guinea is improving its marketing to make this information more accessible.
Up Close
We will include these stories in our next project report, once project implementation is fully underway.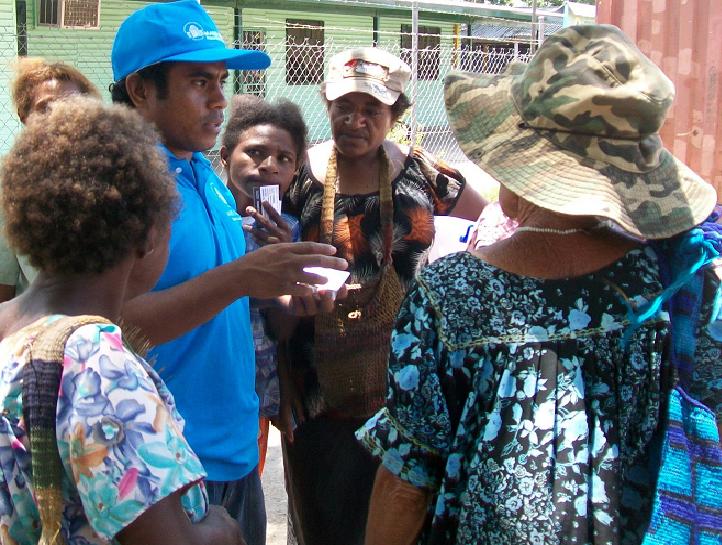 Next steps
In early 2014, the Catapult funds will support Marie Stopes Papua New Guinea to provide mobile outreach through boats, cars, and planes for 30 days; we anticipate reaching a total of 300 women in 10 villages in the central region of Papua New Guinea. During these 30 days, the outreach team will bring essential contraceptive supplies and other medical equipment directly to individuals throughout the region to provide high-quality family planning services free of cost to those who are most in need.
Budget
No funding has been spent to date; the funding will be spent in its entirety in 2014.
For every 213 babies born in Papua New Guinea, one woman will die in childbirth—increasing access to reproductive health care will end this tragedy.
Why we care: In Papua New Guinea, 9 out of 10 people live in remote, rural settings with limited awareness of or access to lifesaving sexual and reproductive health care services.
How we're solving this: Marie Stopes Papua New Guinea conducts mobile outreach - by boat, car and plane – to deliver vital family planning services to those who need them.
Papua New Guinea's (PNG) health indicators are among the worst in the Asia Pacific region. For every maternal death, an additional 30 women or girls suffer from some form of injury, infection or disability. Teenage pregnancy rates are high, which is troublesome given that the leading cause of death for girls and women aged 15 to 24 are pregnancy-related complications. Extreme poverty is widespread in PNG and 87% of the population live in rural and typically isolated areas.
With $10,200, Marie Stopes Papua New Guinea can provide mobile outreach for 30 days, reaching 300 women in 10 villages. We bring services directly to clients. Our outreach teams travel with contraceptive supplies and other medical equipment to deliver high-quality family planning services free of cost to those who need it most.
Central Province, where the capital Port Moresby is located, will be the focus of this project because the lack of opportunities in rural regions has driven young people toward Port Moresby in search of employment. Women living in Port Moresby or around the capital often lack jobs and social support and are at high risk of unwanted pregnancy and STIs. Government health services are struggling to cope with increased demand due to a lack of skilled health workers and erratic supply of medical goods. This means that lifesaving contraceptives and maternal health care services are frequently of poor quality or not available at all. Especially for young women, pregnancy and inadequate health services can be a death sentence.
This project will cover:
Outreach operations- Fuel, vehicle maintenance, accommodations for clinical staff, security, overnight storage and boat rental.
Equipment & supplies- Family planning commodities, medical supplies and equipment.
Salaries- Two nurses, one outreach driver, one outreach coordinator, a project coordinator and a clinical service manager. All are PNG citizens.
Training- For staff to ensure clinical quality.
Health education- Health education materials including posters and pamphlets.
Monitoring & evaluation- A supervisory visit to an outreach site and the management of data collection.
Marie Stopes Papua New Guinea is one of the only dedicated sexual and reproductive health organizations working on the ground in Papua New Guinea. Marie Stopes has been working in PNG for over six years and established its Port Moresby clinic, which will act as the base for this outreach project, in 2006. The services that Marie Stopes Papua New Guinea provided during 2012 are estimated to have averted 10,882 unintended pregnancies. Our local doctors, nurses, midwives and health educators provide important family planning services so that women can have children by choice, not chance.