1 year impact report
"I started in MdM attending training courses on FGM prevention. Afterwards I was trained as peer educator. At the beginning that wasn't easy. When implementing mediation services at hospitals, I felt responsible for eliminating this practice. It also helped me discover new things about each woman. We supported women through providing information that most of them ignored. They appreciated the service and participated in the workshops" -Nana
Impact for girls & women
20 women attended the FGM prevention courses in Zaragoza, 18 women attended the FGM prevention courses in Huesca, 86 women received mediation services at different hospitals in Zaragoza and 4 women received mediation services at the hospital of Huesca. Moreover, over the last 3 years, 63 women who suffered FG cutting were trained in FGM prevention, they are members of different associations in Navarra: Mixed African Associations and the Association of African Women "Flor de Africa".
Estimated girls & women affected
161
Broader impact
In Aragón (Zaragoza & Huesca), indirectly affected people are those family units we work with, which are large families with an average of five members; therefore we have a total number of 572 people. In Navarra, the project aims all those women and men from countries or areas where FGM is a regular practice and that currently are living in Navarra. The 1st of January there were 5,567 people from Sub Saharan Africa living as legal residents in Navarra.
Estimated community members affected
6139
Fight Female Genital Mutilation in Spain
In Aragón, we've run FGM prevention workshops addressing families at risk, mainly mothers of families. We also conducted individualized social interventions addressing people from countries at risk. Mediation services were offered at hospitals in Zaragoza with women who have just given birth. Our teams also ran trainings for healthcare professionals.
In Navarra, we implemented workshops, debates and training courses addressing population at risk. We organized different trainings on sexual education and through these, we approached our target population and carried out debates and training courses focused on FGM.
In Aragón, our healthcare professionals worked with a population coming from countries where FGM is practiced (mostly women). In Navarra, we worked with our target risk population, helped by social organizations, the public administration and African associations.
We are very happy of the great outcomes and impact we've been able to achieve:
In Aragón, we observed an active participation of the target population through training women as intercultural peer educators who, later on, joined the project. This helped a lot of women changing their mind about FGM practices.
In Navarra, we observed a high number of attendees in our training on FGM prevention and discussion groups involving African men and women to discuss myths and cultural keys to prevent and eradicate mutilation.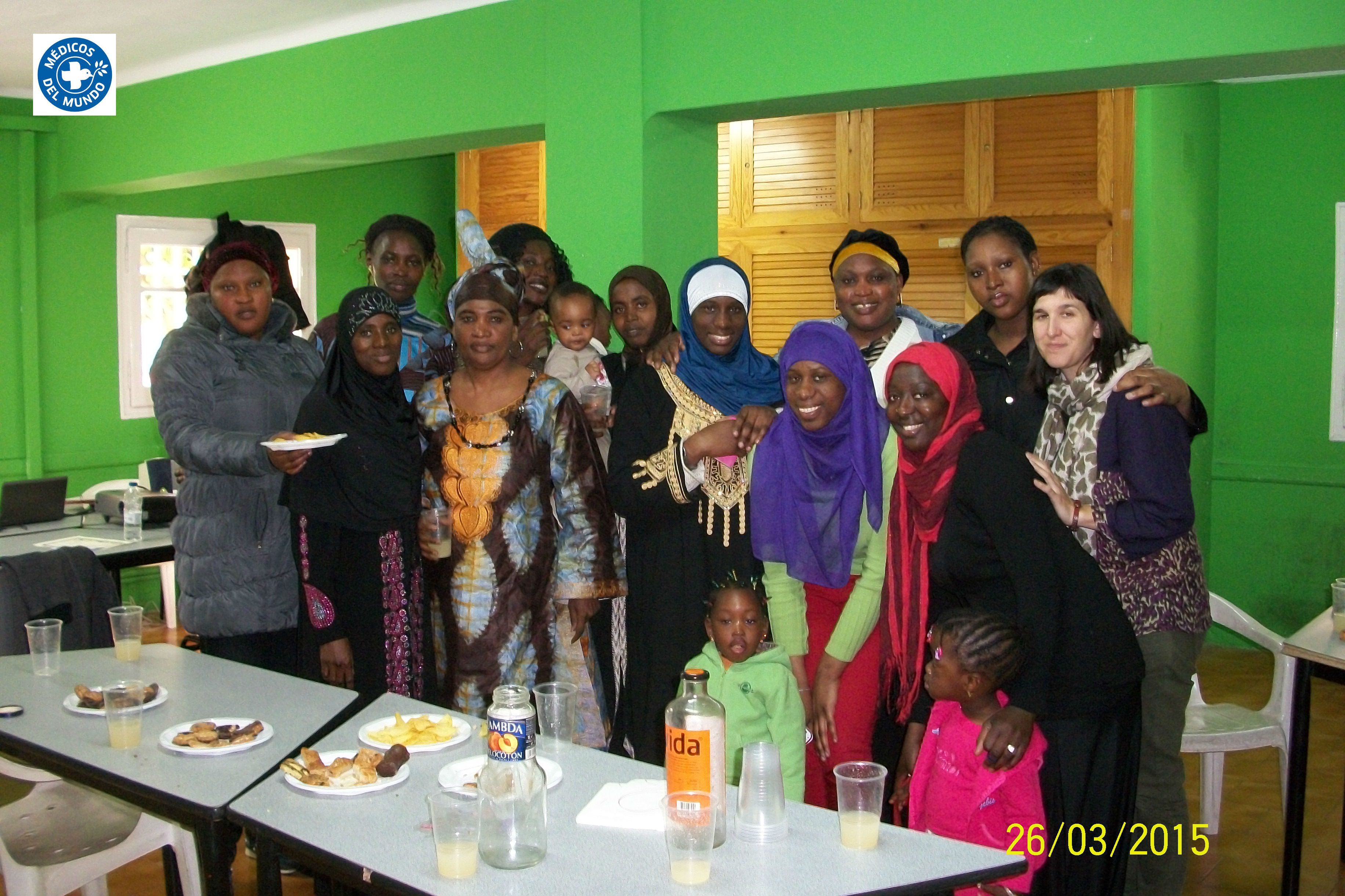 Get personal
Nana's Testimony: intercultural peer educator in Zaragoza. "I started in MdM attending training courses on FGM prevention. Afterwards I was trained as peer educator. At the beginning that wasn't easy. When implementing mediation services at hospitals, I felt responsible for eliminating this practice. It also helped me discover new things about each woman. We supported women through providing information that most of them ignored. They appreciated the service and participated in the workshops".
Risks and challenges
Aragón (Zaragoza & Huesca): One of the main challenges of this project was to engage men both in mediation services and make sure they attend workshops. It is necessary to get them involved. It is important working with adolescents as well, and to do so they have to gain their parent's trust in order to allow their attendance to our workshops.
Navarra: When we started the project it was hard working on FGM. Some members of African groups in Navarra were reluctant. They thought that peer educators were crazy because they talked about their traditions and culture. Thanks to our experience, we started training these groups on sexual and reproductive education. When we gained their trust, then we started working on FGM.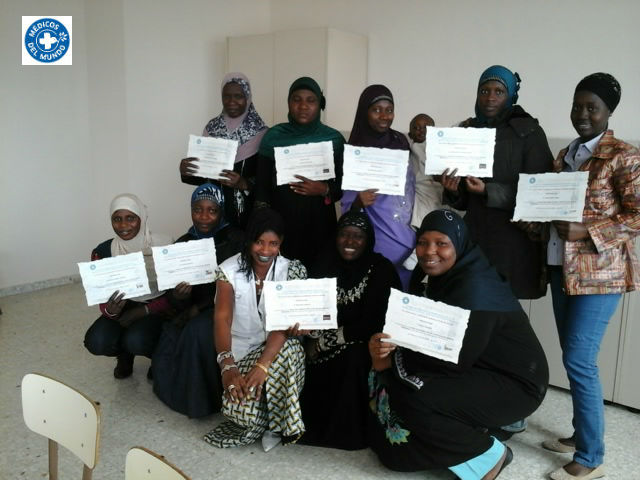 What we've learned
he involvement of peer educators improved the project. The results are substantially better and we find it important that they become active members and play a leading role when implementing the project.]
Next steps
This is a long term project. In order to fight FGM, we chose a preventive methodology which requires time and implementing different actions, networking with governments so they become active members.
Budget
We are on track and used all the budget (see below).
Line Items

Projected budget

Amount spent so far

Scholarships and travel costs for attendees in Pamplona

Peer educators fees in Zaragoza ($5,000) and Huesca ($500)

Personnel costs in Huesca

Instructor fees in Pamplona

Coffee breaks in Pamplona

Total

$4500

$5500

$4500

$400

$100

$15,000

$4500

$5500

$4500

$400

$100

$15,000
More information
Aragón: here are some media clips featuring our work in Zaragoza and Huesca, which would help understand the project:
http://www.diariodelaltoaragon.es/NoticiasDetalle.aspx?Id=916202
http://mdmaragon.blogspot.com.es/2015/02/tolerancia-cero-con-la-normalizacion.html
http://mdmaragon.blogspot.com.es/2015/02/6-febr-dia-internacional-contra-la.html
Further reading
http://www.eldiario.es/norte/navarra/ultima_hora/riesgo-sufrir-mutilacion-genital-Navarra_0_355914987.html
http://www.eldiario.es/norte/navarra/ultima_hora/tradicion-clandestina-sexualidad-mutilada_0_352765660.html
http://www.noticiasdenavarra.com/2015/02/07/sociedad/navarra/en-regiones-de-africa-ven-normal-que-las-ninas-mueran-en-la-ablacion
90 Day Report
Fight Female Genital Mutilation in Spain
Progress
Since the beginning of September, our work has mainly included PREPARATORY ACTIVITIES in Pamplona, Zaragoza and Huesca: 1) 3 meetings took place with volunteers to decide the outlines of the workshops: 1 in each of the 3 locations; 2) 6 intercultural mediators met to prepare the upcoming workshops, coordinate dates and contents; 3) The internal protocols on how to contact hospitals and health professionals were reviewed. At the same time some DIRECT INTERVENTION ACTIVITIES have already started: 1) 19 women took part to group workshops to prevent FGM (13 women in Pamplona, 6 women in Zaragoza and 4 women in Huesca); 2) 1 Local Association of Sub-saharan women in Pamplona attended an informative workshop to prevent FGM; 3) 8 women have been selected to participate in the FGM course for peer educators in Zaragoza; 4) 14 sanitary intervention have been carried out in coordination with the health structures; 5) 36 social interventions have been carried out (training, information,..).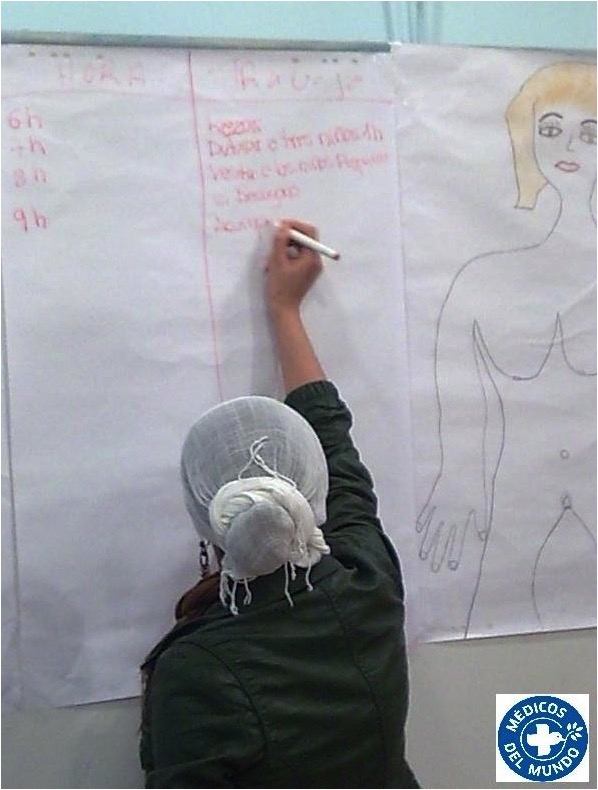 Risks and challenges
The biggest challenge of this project is its long term sustainability. The activities planned in this project will have greater impact if we can guarantee its continuity in time. We have already started working on this and we will try to diversify our funding sources after the first 12 months phase. Another determinant issue will be how to cope with the great demand of group workshops that we are receiving in the 3 locations. The project will probably have to increase the number of workshops to be carried out during the 12 months and maybe reduce the number of sessions of each courses. We will inform you in detail as this may imply an adjustment if the project's budget.
Up Close
"During the workshops… sometimes I felt that I was betraying my culture and I was being brainwashed and forced to say that this tradition (FGM) wasn't right. But I changed my mind when I received full information. I believe that if other women receive this information, they can also change their minds. I was a strong defender of mutilation in the past. It was something I felt proud of. Now I speak out against it. This made me feel a betrayer. But not now anymore. (Woman from Gambia).
Next steps
The project will put a special emphasis on empowering women through workshops (both individual & group). The demand of group workshops is increasing significantly while the demand for courses has stabilized. An accurate balance between the 2 types of intervention must be found. Liaisons with grassroots organizations and community leaders will be essential for achieving greater impact. Training & awareness among professional will be essential to complement the work of Intercultural Mediators.
Budget
Line Items

Projected budget

Amount spent so far

Scholarships for attendees to training courses/p>

Payment for intercultural mediators

Staff costs

Payment for courses trainers

Living expenses

Total

$4,500

$5,500

$4,500

$400

$100

$15000

$1125

$1375

$1125

$100

$24

$3749
Trained peer educators are key in preventing this damaging practice.
Why we care: Female Genital Mutilation affects over 100 million children and women. The practice is occurring increasingly in Spain among migrant communities from Sub-Saharan countries.
How we're solving this: By training peer educators and health professionals to give migrant communities the tools and support to end Female Genital Mutilation.
In Spain, we'll continue to work hand-in-hand with migrant communities to prevent Female Genital Mutilation in 6 provinces: Aragón, Catalonia, Navarra, Madrid, Bask Country, and the Balearic Islands.
With your support, we'll help decrease this practice by hosting courses, workshops, and awareness activities to empower 45 women and men from Sub-Saharan countries. We'll work in the cities of Zaragoza and Huesca (Aragón province) and Pamplona (Navarra province) to liaise with religious leaders and grassroots organizations - key facilitators of the prevention process.
We'll train and raise awareness among professionals working in the fields of education, social affairs, and justice. These professionals - teachers, family doctors, social workers - work closely with migrant families on a daiy basis.
Our team works with intercultural mediators, who meet with children and families. Together, they discuss psychological matters, like conflict resolution and self-esteem, and sanitary issues, providing families with access to gynecological attention. The mediators help families access the social system resources they need.
More than 6,000 girls between 4 and 10 years old are mutilated in the world each day. Together, let's help make a dent in this number.