1 year impact report
"The community trainings are critical for us. We understood that female sexual mutilation is a harmful practice, which has nothing to do with religion." –Village Chief
Impact for girls & women
Field coordinators fill out monitoring documents on a monthly basis that detail activities and numbers of people reached.
Estimated girls & women affected
6,933
Broader impact
We estimate that each person reached will spread the message to 5 new people.
Estimated community members affected
34,665
16 villages newly engaged to put an end to female sexual mutilation in Mali
It has been one year since you took a stand and donated to the project "Fight female sexual mutilation in Mali", aiming to end this harmful traditional practice within 20 villages. We work directly on the field with our Malian partner, AMSOPT. Field coordinators carried out activities aimed at changing the behavior of women and men and building a community consensus on the abandonment of female sexual mutilation. They organized 294 educational talks, 662 counseling sessions and 311 house calls. We estimate that the activities targeted a total 6,933 girls and women and 10,989 people in general.
Awareness-raising activities were also implemented through radio programs broadcasted on local radio. Experience sharing and skits helped trigger debates and reach broad audiences. On top of that, village leaders, authority officials, and leaders of women's groups were trained on female sexual mutilation and other forms of gender-based violence. Thanks to these training sessions, the community-based movement is supported and strengthened by the leaders. At the end of the year, we were proud to see their efforts rewarded: 16 villages have joined the movement of villages free of female sexual mutilation, by signing a letter renouncing the practice.
The project provided virtually free care for more than 190 women suffering from female sexual mutilation related issues and some of them became advocates for the abandonment of the practice. Thanks to the project, 54 local doctors and health professionals have been trained to better address such complications.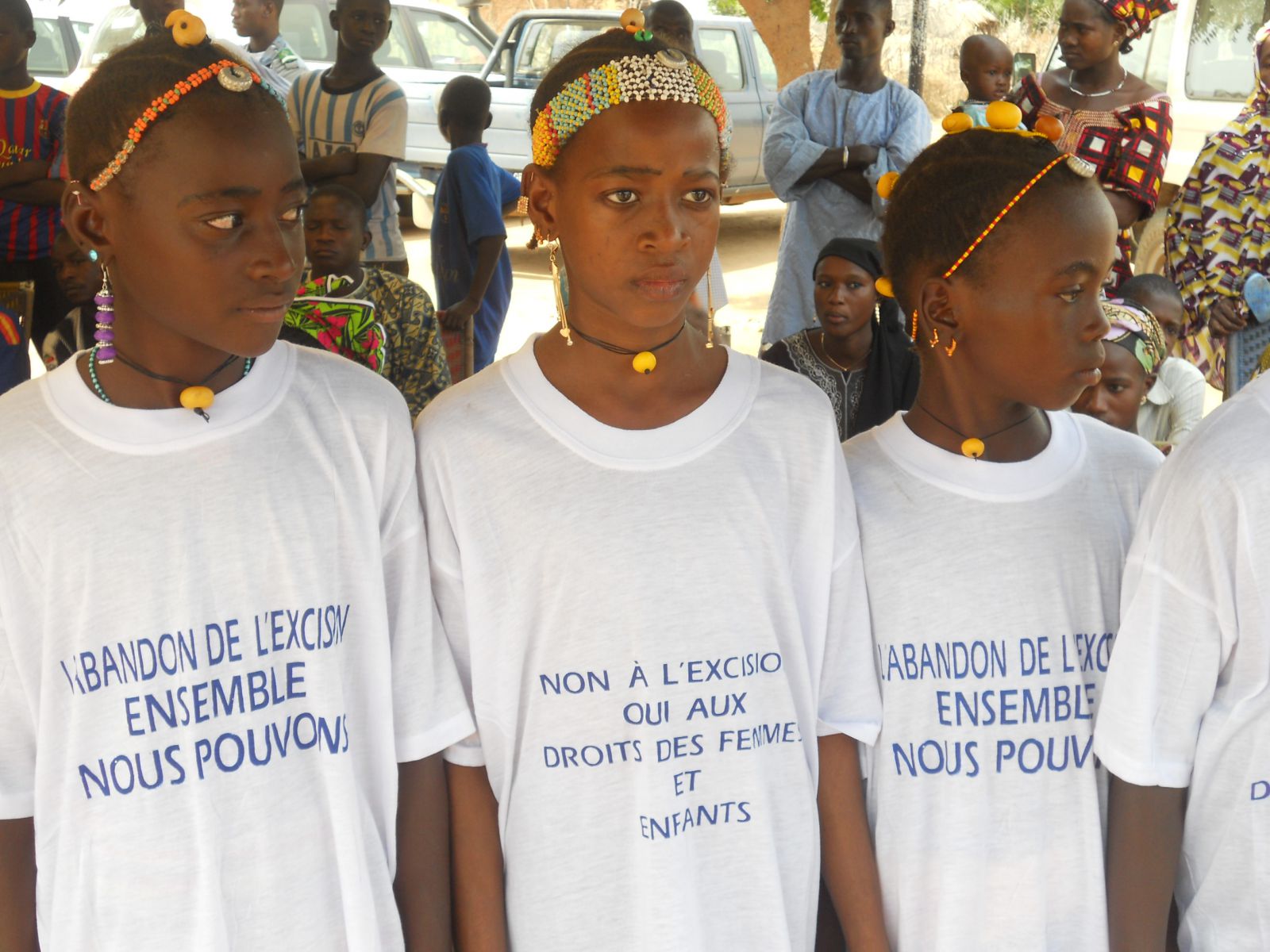 Get personal
Village chief, Mr Sidibé, stated: "The community trainings are critical for us. We understood that female sexual mutilation is a harmful practice, which has nothing to do with religion. We are committed to fight against all forms of female sexual mutilation and we will set up a monitoring committee. Everyone who contravenes our decision will pay a fine as a community-based sentence."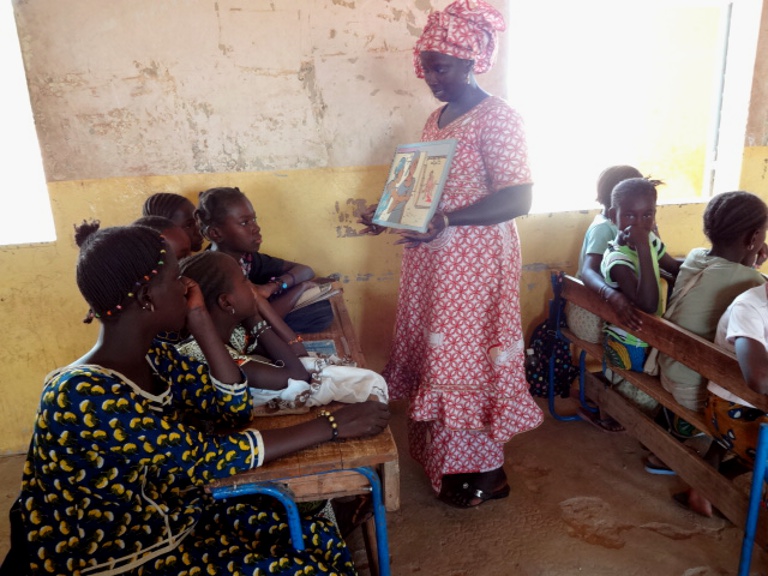 Risks and challenges
One of the main challenges was the involvement of young people in awareness-raising activities. To overcome this challenge, AMSOPT partnered with schools in order to implement educational talks with pupils age 14 to 18 and to train teachers on gender-based violence. We believe that young people will turn into advocates for their peers and their parents. On the other hand, it was sometimes challenging to involve men and gain their support. In many cases when men observed benefits from the care provided to their wife, they made the link between female sexual mutilation and health consequences. This was a good argument to convince them to join the project. Field coordinators also increased the number of house calls to reach more men.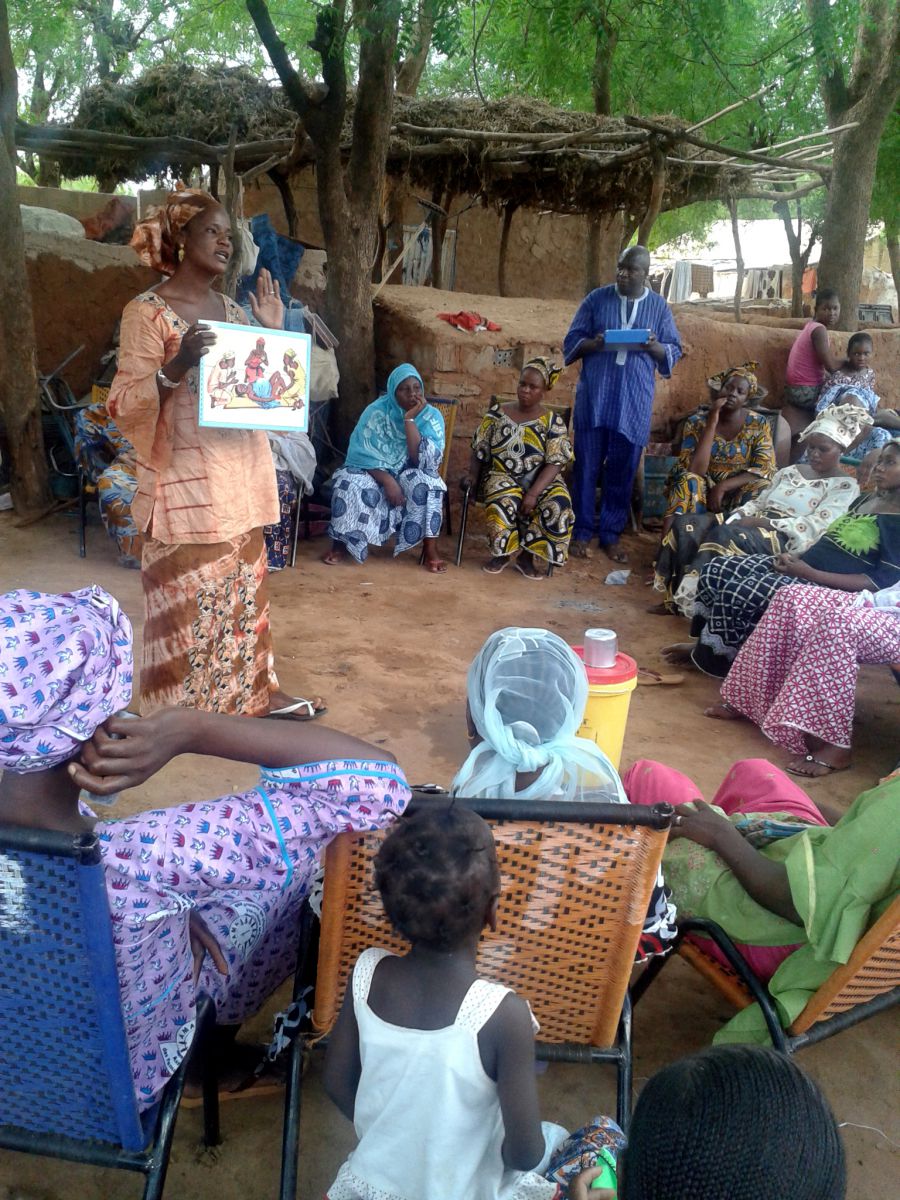 What we've learned
First of all, we have learned that it is critical to keep a holistic approach, which means talking about female sexual mutilation, but also questioning gender inequalities. That implies developing new tools to carry out talks about new topics in communities, like child and forced marriage, gender equality etc. We also concluded that it would be important to raise women's awareness when they are visiting health centers for prenatal care.
Next steps
The project will move forward by reaching new villages in the area, which encompasses 250 communities. We also want to mobilize Malian migrants living in France so that they support their families who stayed in Mali in their decision to abandon female sexual mutilation. Because migrants are very well respected and influence decisions in their community, it is critical to involve them in awareness-raising activities. To achieve this, we launched a new project on Catapult: Mobilize Malian migrants in France.
Budget
Line Items

Projected budget

Amount spent so far

Local staff

EquiPop staff

Field trips for local staff

Training

Abandonment ceremony

Monitoring and evaluation

$17,103

$20,361

$6,441

$4,412

$679

$950

$17,405

$20,535

$5,974

$4,729

$426

$877
More information
Field coordinators work globally to promote women's and children's rights. In addition to talking about female sexual mutilation, they inform communities about all other forms of violence against women, and they help parents get a birth certificate for their children, so that they can have access to basic services, such as education and health.
Further reading
In February 2014, the international francophone channel TV5 Monde wrote an article about the project, and broadcasted an interview of AMSOPT's program manager on the work done in Mali.
90 Day Report
"They promise that she won't be excised"
posted Jan 7, 2014 by Isabel Garcia
Progress
EquiPop and AMSOPT held meetings with the communities of the 20 villages in order to put an end to female sexual mutilation (FSM). First, the team project hosted informative talks with religious and traditional leaders and women's group representatives to explain the project objectives and were granted the right to work within the communities.
In each village, 4 focal people were identified by their community. Their mission is to carry out the raising awareness activities and to detect the risk of excision in the villages. A plan of action to guide the abandonment process was developed with the communities.
Then, field coordinators carried out conversations with women, men, young and the elderly with the purpose of creating a debate and reaching a consensus tying the whole community to the decision to abandon FSM. In total, we organized : - 83 debates ; - 70 counseling sessions ; - 53 house calls. We estimate that 1,378 women and 876 men were targeted by the activities.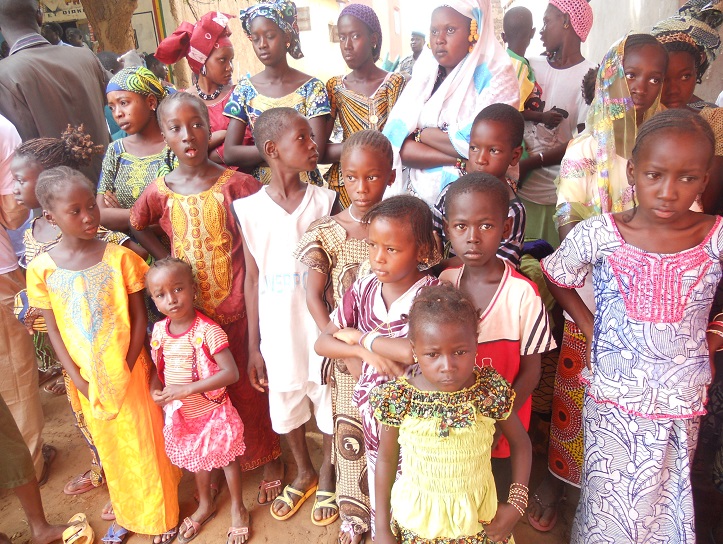 Risks and challenges
The rainy season, particularly abundant in August and September, slowed down the activities in some villages where the roads were not accessible. Riding motorcycles was dangerous for the field coordinator. Once the situation was fixed, they were really active in those villages to make up for the delay. Nevertheless, the rainy season was an opportunity to talk about hygiene and sanitation with the communities. The political situation in Mali urges us to be careful no to take risk on the field.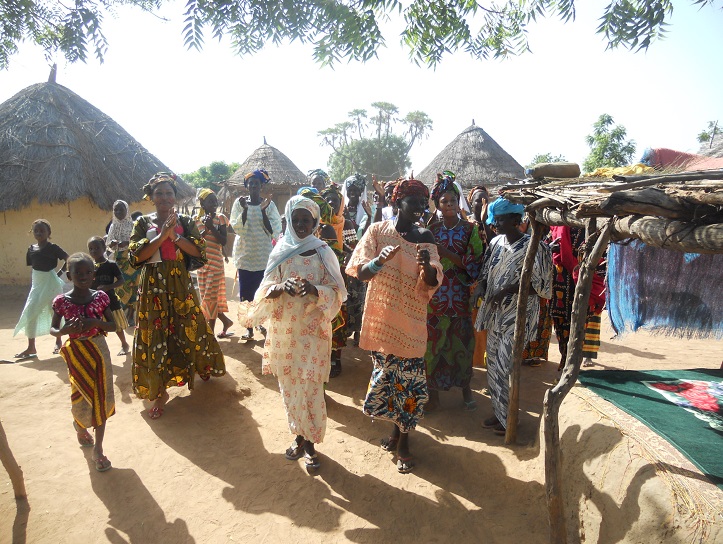 Up Close
A woman during a focus group stated, "we did not know before the arrival of the field coordinator that excision was not a Muslim practice and that it had harmful consequences on health. Debates and images allowed us to think about the abandonment of the practice."
"A baby girl is born in the village of Kanataré and their parents gave her my name. They promise that she won't be excised"- field coordinator.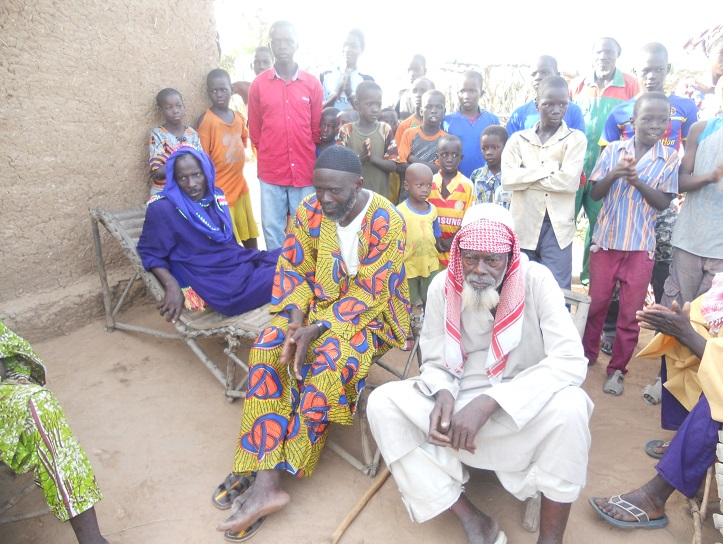 Next steps
The next activities will be the training of : - The project team ; - The relays ; - The traditional and religious leaders - The women's group representatives These trainings will aim at strengthening knowledge on FSM and giving tools to facilitate the abandonment of the practice in the villages. Raising awarness activities will be carried out by the field coordinators until the end of the project regarding the plan of action. A final ceremony will confirm the decision to abandon the practice.
Budget
Line Items
Original budget
Amount spent so far

Local Staff

Equipop staff

Field trips for local staff

Training

Abandonment ceremony

Monitoring and evaluation

Total

$17,103

$20,361

$6,441

$4,412

$679

$950

$49,946

$6,226

$5,680

$812

$0

$0

792

13,510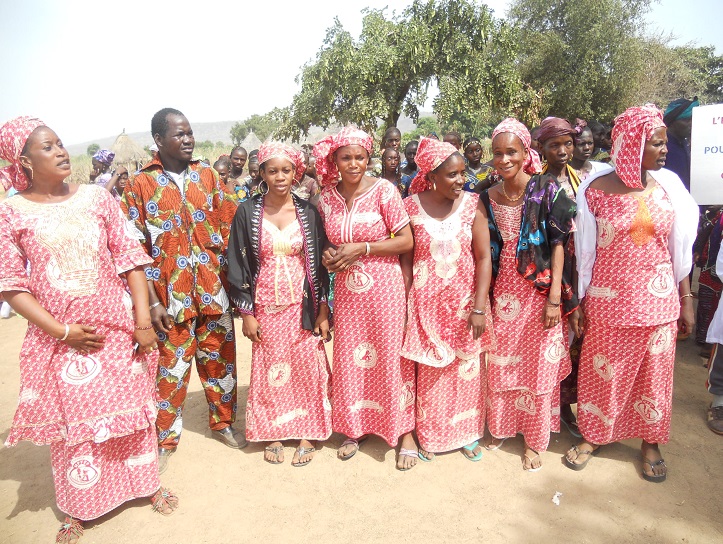 More information
In the project area, field coordinators organize meetings with doctors and health workers to sensitize them on FSM and to encourage them not to practice medicalization of excision. These doctors sometimes participate in the raising awareness activities in the villages. They explain to the communities what are the consequences of excision. Field coordinators encourage also women suffering from complications of excision to visit the health centers and to be cured.
Fighting female sexual mutilation is all about changing social norms.
Why we care: Female sexual mutilation is a major factor in the death and irreversible health, social and psychological consequences for women and girls, but also for their children.
How we're solving this: Ensuring that a woman who is not mutilated is accepted by her community.
Nearly 98% of women in the Kayes region of Mali have experienced female sexual mutilation. This practice, also called female circumcision and female genital mutilation, includes all forms of surgical removal of the female external genitalia, total or partial, and all types of other alterations made for cultural reasons or other non-therapeutic motives.
For many years, Equilibres & Populations in partnership with AMSOPT—the Malian association for abandonment of harmful traditional practices—has been perfecting a process that has now proved to be effective: 100 villages out of the 250 around Kayes have officially abandoned female sexual mutilation. To foster community support, project staff host informative talks about FSM with community and religious leaders, village chiefs, village relays and women's group representatives. This is the start of a long, sustained relationship that helps build trust and make a favorable environment for behavior change and advocacy against the practice.
In addition, the project offers virtually free care for female sexual mutiliation-related issues. This is a critical element of the project because it shows the community the obvious links between sexual mutilation and its repercussions on health--as a result strengthening the impact of advocacy against female sexual mutilation. It also offers an opportunity to train local doctors and health professionals to address female sexual mutiliation complications. This is only a beginning.
Funding for this project will help support 20 additional villages be engaged in this transformative effort. Everyday, female field coordinators, relying on their communication skills, will ride their motorbikes between villages and meet with communities. They will carry out conversations with women, but also with men, young and elderly, with the purpose of creating a debate and, eventually, of reaching a consensus tying the whole community to the decision to abandon female sexual mutilation. In order to prevent any opposition from community leaders, trainings will be carried out beforehand, involving village chiefs, religious authorities, community representatives and leaders of women's groups.
At the end of the project, an abandonment ceremony will be organized.
Putting and end to FSM not only improves women's living conditions, it also beneficiates to the whole community. Thanks to your support, across 20 villages in Kayes, not a single newborn girl will suffer from this harmful traditional practice.
---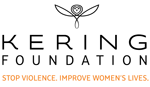 Equilibres & Populations is supported by the Kering Foundation, which combats violence against women and promotes their empowerment. Launched in January 2009, the Foundation supports community-based projects and encourages employee involvement to sustain women's causes around the world. Through four programmes, it supports local and international NGOs as well as social entrepreneurs, helps raise awareness and establishes joint projects with the Kering brands. In 2012, more than 80,000 women benefited from its support in 16 countries. *In line with PPR's change of name, the PPR Corporate Foundation for Women's Dignity and Rights will become the Kering Corporate Foundation, subject to approval at the Foundation's board meeting on 26 June 2013. http://www.keringfoundation.org @KeringForWomen
---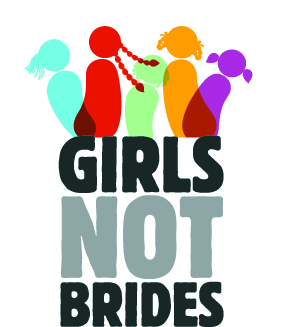 Equilibres & Populations is a member of Girls Not Brides a global partnership of more than 250 non-governmental organizations committed to end child marriage.

www.girlsnotbrides.org @GirlsNotBrides