1 year impact report
Changing perceptions, attitudes and behaviors that condone and justify violence against women
Impact for girls & women
Intentionally left blank
Estimated girls & women affected
105
Broader impact
Intentionally left blank
Estimated community members affected
400
Students participate in Gender Future Workshop
It's been one year since you took a stand and donated to fight violence against women in Italy. Thanks to your support, we have worked with 6 schools in Italy, carrying out in 7 classes the Gender future workshops! These workshops had the aim to empower students to critically analyze and constructively propose actions that support positive gender education in schools. Thanks to the work done, in addition, boys and girls learnt to respect each other and be able to develop relationships based on mutual respect. The workshops went very well, students were strongly involved and did very interesting proposals on how to eradicate violence against women and, more in general, how to overcome gender bias. Oxfam also worked to organize the final event of the project. The event took place in Florence, on 5th May. During the event, students had the possibility to present one of the proposals elaborated during the workshop to persons form various sectors relevant to the theme of the project. The guests had the chance to answer the questions done by the students and to express their point of view regarding the feasibility of the proposals.
Risks and challenges
One of the main challenges we faced was to involve schools in the project. The focus theme of gender, however, together with and the unique democratic participatory process distinguish this project from many, thus guaranteeing the involvement of all the necessary classes. Another challenge we faced was to involve guests in the final event. We started early to invite people from different background but unfortunately some of the people said no and so we needed to find someone else to invite. This process took more time that what we expected but, in the end, we manage to have a wide and interesting range of guests that could listen to students' proposals and give them the answers they were looking for.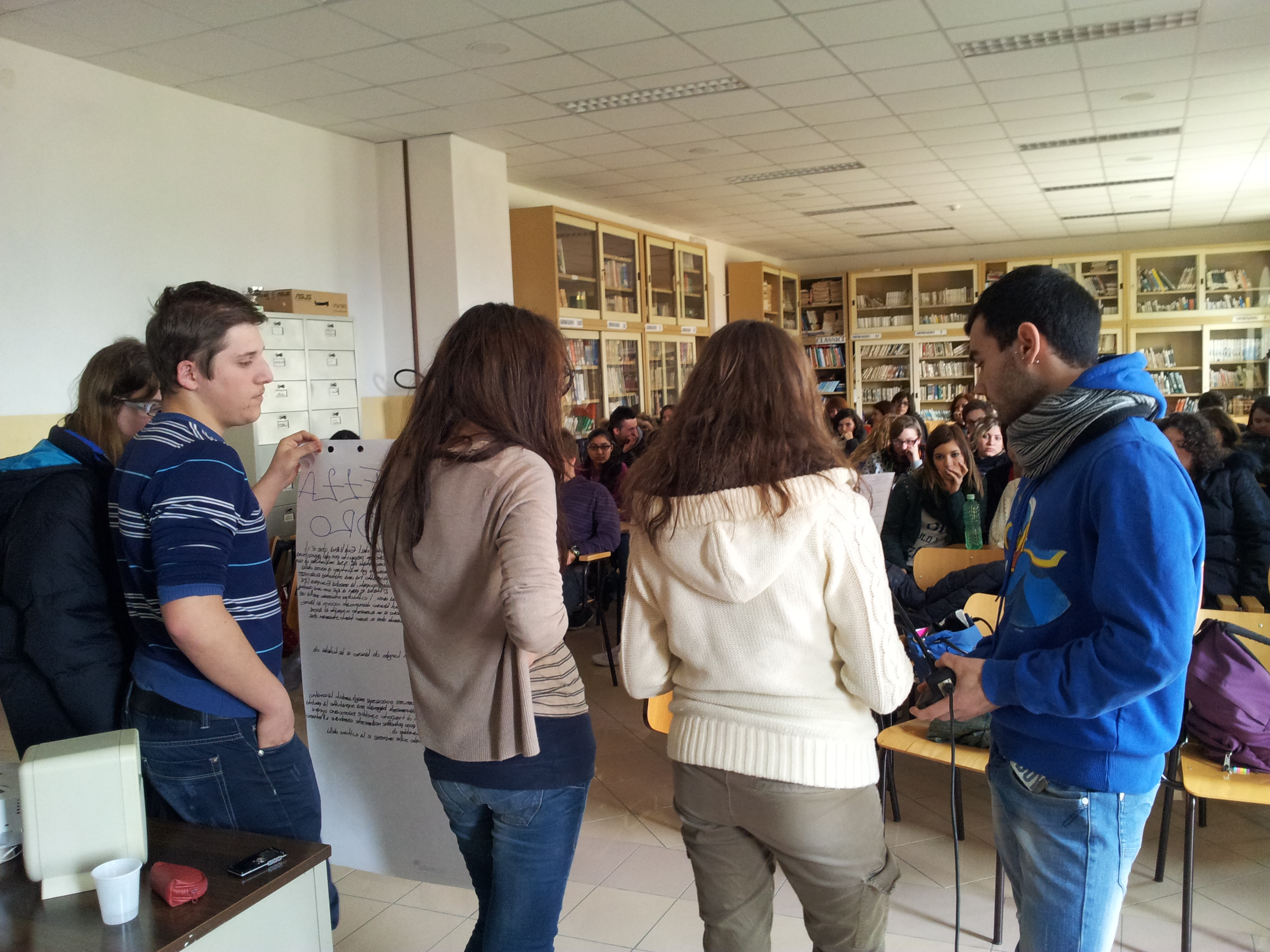 Students presenting their proposal at school.
What we've learned
One thing that we can improve is the selection process of the classes. We definitely need to start earlier to select them, possibly before the beginning of school year when they still don't have agreed the activities they will carry out during school year. Another thing we learned is that when you want to organize an event with important guests you need to send invitation as soon as possible to be sure that they will be available for the date, as their agenda is getting busy very fast.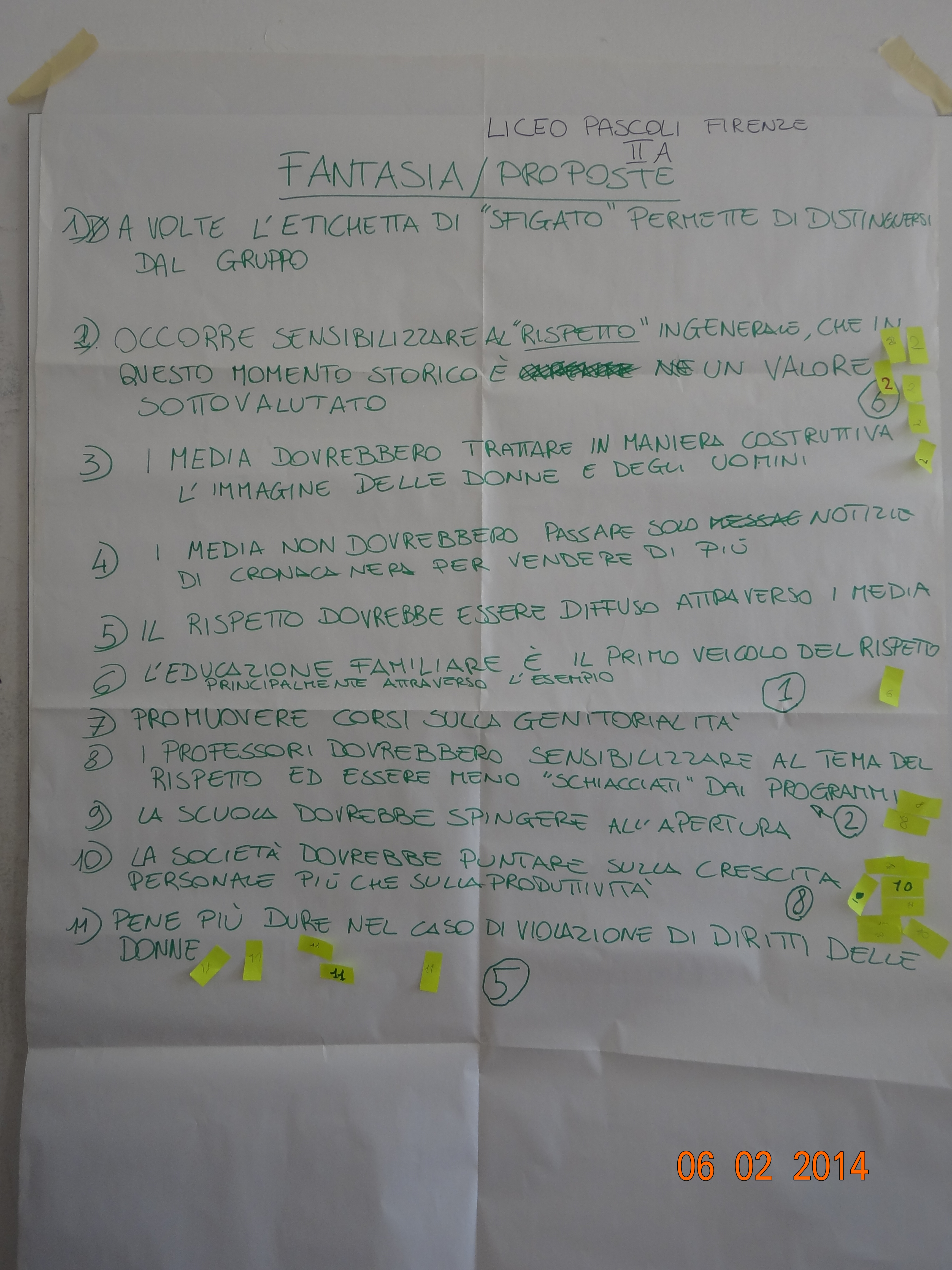 An example of the criticisms done by one classes participating in a Gender Future Workshop
Next steps
We are continuing to use the Future Workshops methodology in schools but on different subjects.
Budget
| | | |
| --- | --- | --- |
| Line Items | Projected budget | Amount spent so far |
| Gender experts for workshop | $14,792 | $14,879 |
| Transportation for meetings | $8,544 | $8,456 |
| Consumables for meetings | $1,115 | $1,115 |
| TOTAL | $24,451 | $24,450 |
No major variations of the budget occured.
Further reading
Some local newspapers wrote about the final event organized for the project and also about the workshop carried out in one of the school.
90 day impact report
Coordinating school schedules for gender education workshops
posted March 5, 2014 by Isabel Garcia
Progress
Because of your support, we're well on our way to carrying out gender education workshops in Italy! Since the beginning of the project, Oxfam Italia has contacted all the secondary schools that will be involved in the Gender Future Workshops and the final event that will take place in May 2014 in Florence. 6 schools in Tuscany have confirmed their participation with 7 classes in the provinces of Livorno, Florence, Pisa, Arezzo, and Lucca. The workshops will be carried out by an educational expert between the end of February and middle of April 2014. Oxfam Italia has held meetings with educational experts who will carry out the workshops in order to organise and plan the final event. Together with the expert Oxfam Italia has also trained two assistants who will help carry out the workshops in the schools. Both decision makers and people from different sectors (such fashion and industry), will be invited to the final event to give prominence to the work done by the students.
Risks and challenges
The main challenges we faced during this first phase was to involve schools in the project. Since schools here in Italy have already started their school year and are already have full timetables, it was not easy to schedule the workshops.
Up Close
Valentina Ciarpaglini is an assistant educator who participated in the Future Workshop training session. She's excited and said, "I can't wait to listen to students' thoughts about women's rights and to see how they will develop their ideas and proposals." p>
Next steps
In the next few months, Oxfam Italia will carry out all the workshops in the schools involved. It will also finalise the structure, location, and date of the final event. Guests to the event will be chosen so that they are willing to listen to the work students have done and be able to respond to their proposals and questions. Guests will be briefed about the event and the project.
Budget
So far, we haven't spent any money as the main focus of the project, the Gender Future Workshops and the final event, will take place between February and May 2014. We have contacted all the schools involved and fixed the workshops without yet spending anything.
| | | |
| --- | --- | --- |
| Line Items | Projected budget | Amount spent so far |
| Total cost of workshops | $24,451 | $0 |
A woman is killed every three days in Italy. This shocking phenomenon is called femicide - when a woman is killed by a man because she is a woman.
Why we care: Insecurity is growing amongst women as the phenomenon has no boundaries, and most worryingly, in 7 out of 10 cases the murderer is a man she knows well.
How we're solving this: Providing quality and effective gender sensitive education by training teachers and empowering students to make a positive change in society.
Unfortunately femicide is only the tip of the iceberg as its structural causes lie deeper, in the cultural and educational mindsets of grown-ups and young people, in the way boys and girls are educated and in the way they are able to develop their own critical thought on how images of women (and men) are conveyed in Italian society.
To overcome this horrific plague, action is needed.
This is why Oxfam Italy wants to invest in increasing the quality and the effectiveness of gender education in secondary schools (11-18 year olds) in Italy. This project will support Italian schools in becoming the place where boys and girls learn to respect each other and be able to develop relationships based on mutual respect.
The focus to increase gender-sensitive education, and emotional education in Italy within secondary schools will be carried out by increasing the capacities of Italian teachers to deliver this education and by bringing transformational, experiential change through participatory activities which directly involve young people.
The program will involve an education expert who will conceive and disseminate teaching and learning resources and inputs to a global learning community of secondary school teachers in Italy.
7 participatory workshops will be carried out in secondary schools which will allow approx 200 students and their teachers to understand better the causes of femicide. These workshops will also and above all empower students to critically analyze and constructively propose actions that support positive gender education in schools.
The workshops adapt The Future Workshop methodology, which is a participatory methodology based on listening, critical analysis, democratic dialogue and active citizenship. This method includes three phases: 0) participants' preparation, 1) criticism, 2) imagination, 3) presentation of the proposal and feasibility analysis. The combined duration of the first two phases is 10 hours.
Teachers will be provided with introductory teaching materials prior to the workshops (approx 4 hours worth of teaching activities) and will also foresee a final seminar which lasts an entire day.
The seminar will allow young people to present their proposals to decision makers who will commit to helping these young citizens make a positive change in their societies. In total, the program will be delivered, in collaboration with teachers, over a 4 month period at a minimum, although it will be strongly urged that the teachers work on these important issues throughout the school year.