One Year Impact Report
Over the past year, we've been turning pain to power!
Impact For Girls & Women
We graduated our fifth class in May, which brought us to 401 graduates. We now have 90 new women enrolled.
Estimated girls & women affected
491
Broader Impact
It is difficult to measure the broader impact. We know that when our current class graduates we will have close to 500 women who are integrated into their communities and sharing what they have learned with girls, women, men, and boys.
Estimated community members affected
10,000+
Turning pain to power
One year ago, you chose to support the healing and leadership training of women survivors of violence in Bukavu, the Democratic Republic of the Congo. We are so pleased to report that the City of Joy is thriving! In early May, the City of Joy graduated its fifth class, with 401 women having gone through the program – a momentous milestone for us! 90 are currently enrolled in our transformational experience which provides them access to:
Leadership training on health and sexuality, rights awareness, judiciary, and community activism
Specialized psychosocial care to survivors, focusing on the connections between women's sexuality, mental health, and physical health
Literacy, life skills (including comprehensive sexuality education), and vocational training
Livelihood activities through start-up funds to economically empower women
A tech center to leverage the literacy, income-generating, and media skills programing
On-site farming with tie-ins to V-World Farm that is offsite
As a result of the program, women heal from their trauma and discover new skills and concepts that they put into practice in their communities, leading to economic independence. These skills include farming techniques, running small businesses, and community leadership, among others. Additionally, women who were once rejected by their communities are thrilled to join their families and communities upon graduation, feeling fully empowered and proud.
Get personal
"I have watched with eyes filled with love and pride....we planted seeds of revolution with one clear goal: to create a network of women who will bring much needed CHANGE so that women can find the place and dignity they deserve in this society". - Christine Schuler Deschryver, City of Joy Director
Risks and challenges
The risks and challenges of running a program for survivors of violence in Eastern Democratic Republic of the Congo are many. There is the constant threat of violence due to the ongoing conflict, terrible road conditions, and an inflated war economy. Not to mention that things like electricity and internet access are sometimes out of reach. While these challenges sometimes slow us down, our 100% Congolese team meets each challenge with good humor and ingenuity. We always make things happen in the end.
What we've learnt
We found that relying on our network of partners for referrals was not as successful as we had hoped. We therefore changed the referral process so that our staff went out to the field to meet with candidates.
Next steps
The City of Joy is an ongoing project. Please visit us our website.
Budget
The full amount V-Day received from Catapult for the City of Joy went towards the program as originally intended.
Line Items

Projected budget

Amount spent so far

5 psychologists

Program supplies

Costs associated with outings

$4800 each

$6000

$1200

$24,000

$6000

$1200
Further reading
Check out our this video by GritTV!
City of Joy: Pain to Power
posted Oct 24, 2013 by Alyssa Tartaglione
Progress
City of Joy will be graduating its fourth class of 89 women the end of October, making our total number of graduates 311 to date!
We are currently preparing to bring our next class of women leaders into the program, with our staff actively meeting with potential candidates. As with past classes, the fourth class had women arriving to us in fragile states, but with determined spirits. The trauma therapy program helped to transform women's pain to power.
Programming, from comprehensive sexuality education to technology to agro-pastoral studies to the new addition of theater is helping to build community, the cornerstone of leadership. The program has had a transformational impact - emotionally, physically and intellectually. Women are leaving the City of Joy having had the opportunity to heal from their emotional wounds, live in community, recognize their leadership skills and gain valuable skills they can apply to their lives, future business and engagement in civic life.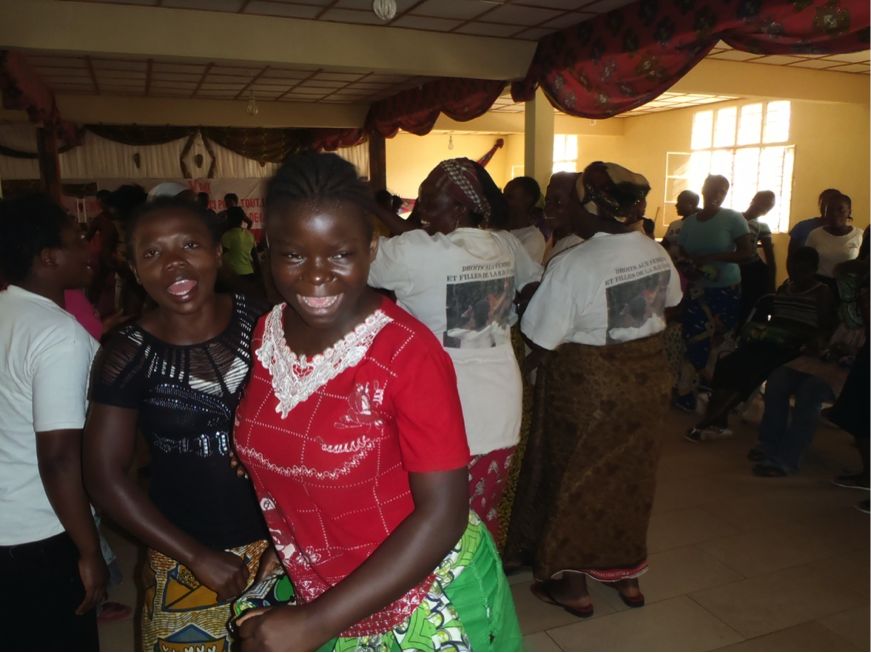 Risks and challenges
The daily challenges of war zone infrastructure on the ground were at times incredibly frustrating – from fluctuating costs of basic supplies to challenges in securing basics like water and electricity at times.
The varying backgrounds and abilities of women proved to be a challenge. We therefore created a two-track system in some classes – such as, for example, English, so that optimal learning was possible.
Get personal
Christine Schuler Deschryver, director of the City of Joy noted the impact the therapy program had on one woman: "She was able to recall all the events with the climax of the internal conflict she still has and of which after effects still surface. This attitude makes her be able to take a spring to the new process."
Next steps
We are currently preparing for our fifth class to arrive by actively recruiting candidates that show great leadership qualities.
Provide revolutionary healing, learning and leadership for women survivors of gender violence in Democratic Republic of Congo.
Why we care: In Bukavu, Democratic Republic of Congo, one of the most dangerous places to be a women or girl, women experience brutal rape and sexual violence by militias.
How we're solving this: Providing specialized psychosocial care for survivors, with focus on the connections between women's sexuality and mental health.
The City of Joy is a revolutionary community for survivors of gender violence. Developed in conjunction with women on the ground, the City of Joy is a space where survivors of gender violence—who have recovered from their physical injuries—live, learn and heal emotionally from trauma by gaining valuable life skills and receiving specialized psychosocial care and support. V-Day will use funds from this project to hire five psychologists to work with City of Joy residents.

This project will also help V-Day purchase supplies, such as stationary, literacy workbooks, beads, soap-producing items, needles and threads and other materials. In addition, the project will help fund a trip for residents to the V-World farm, where women turn pain to planting. The philosophy of the City of Joy is grounded in a deep respect for the earth and a commitment to teaching techniques that will help women to live sustainable lives. At the City of Joy and the V-World farm, women are learning techniques, such as horticulture, compositing and animal husbandry that will not only enhance their lives, but that of their larger community.

The City of Joy is a more than just a physical space: It is a concept, a decision, a movement of women's leaders, a wish for a peaceful future in the Congo where women thrive, rather than merely survive. Across the next five years, we will see 1,000 women graduate from the program. We know that from this group incredible leaders are already emerging—women who will not only shape the destiny of Congo's future, but will play a pivotal role in the global movement to end gender violence.

Photo Credit: Paula Allen for V-Day