1 year impact report
Qari Ubeduallah said, "We believe that education is crucial to reducing the incidence of early and forced marriage. This means improving access to quality education for girls, and also educating the wider community to change the social norms."
Impact for girls & women
Attendance of events, registration on attending folk songs and theaters
Estimated girls & women affected
945
Broader impact
Rough estimation, calculation on the base of directly affected people
Estimated community members affected
21070
Preventing pregnancies in early married couples
Activities:
i. 10 street Theaters
ii. 40 Counseling sessions with sexually active teens
iii. 40 Interactive meetings with teen mothers and their grand mothers
iv. 15 Community dialogue how to avoid repeated pregnancies.
v. Publication of informative material, wall papers and posters

We are working with local district govt, villager commmunities, early mothers and their families, as well as early married boys.
Major accomplishment: Some communities knew about the adverse affects of early marriage, they thought about their traditions, discussed early marriage, and they realized the issues. People knew about laws regarding early marriages. A mobilization was created in some villages where women took an active part in the discussion and shared true stories of early married couples. These stories proved useful to motivate community leaders.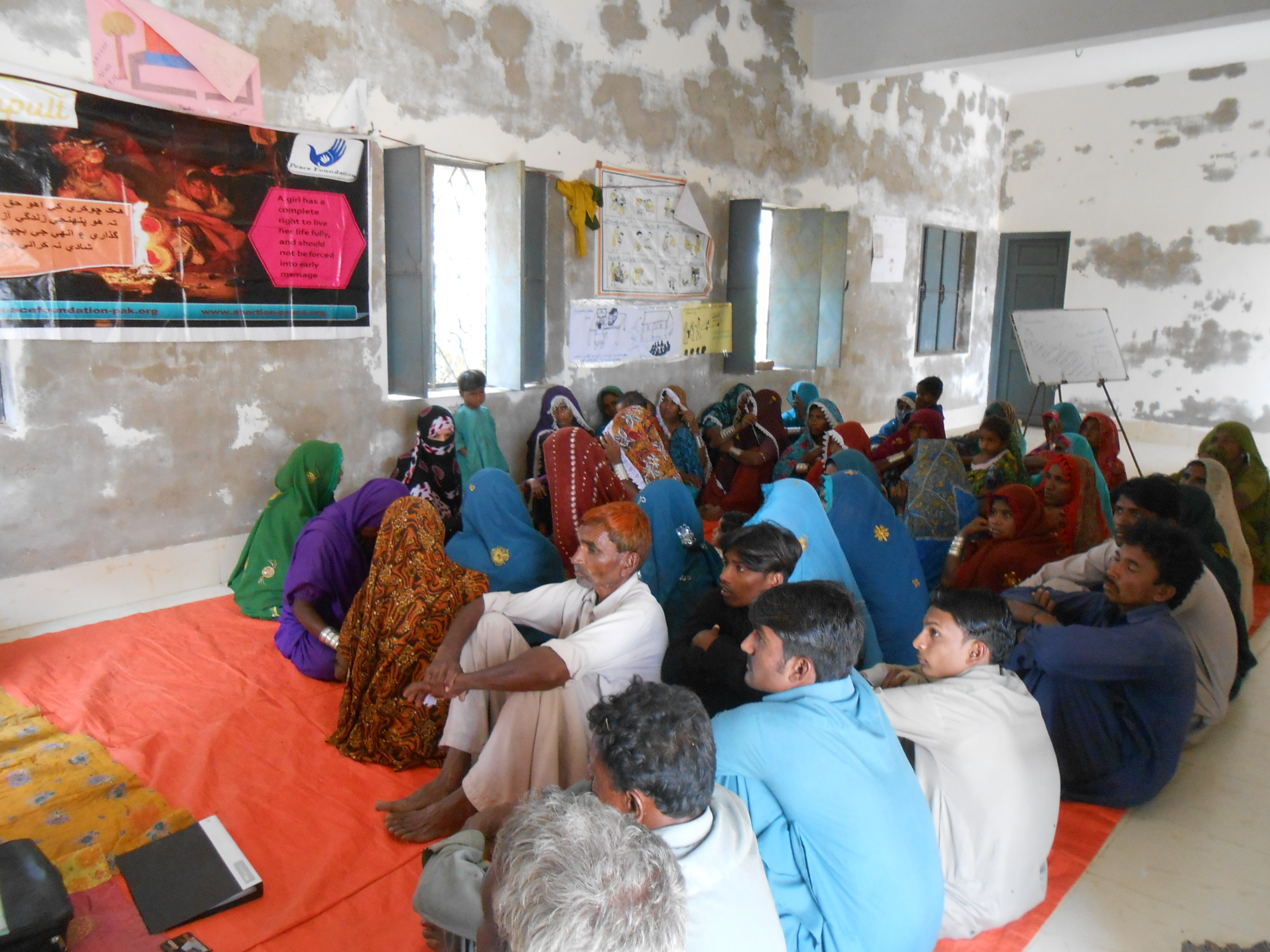 Get personal
Qari Ubeduallah said, "We believe that education is crucial to reducing the incidence of early and forced marriage. This means improving access to quality education for girls, and also educating the wider community to change the social norms." Syed Haider Naqvi said, "Women and girls often occupy a lower status in societies as a result of social and cultural traditions, attitudes, and beliefs that deny them their rights and stifle their ability to play an equal role in homes and communities."
Risks and challenges
We faced a number of different challenges. People were not ready to listen us, they had strong arguments in the favor of early marriages. People did not know about country laws or they were not abiding by the laws. Many people believe that child marriage is a familial issue. People were not ready to involve children in the discussion. Some villages did not permit us to enter their villages to discucss child marriage. Religious and social norms relating to marriage affairs were also great challenges. Non cooperation of police departments and local media were also challenges. Our team worked with full risk of life, because some people are not ready to listen to a single word against child marriage.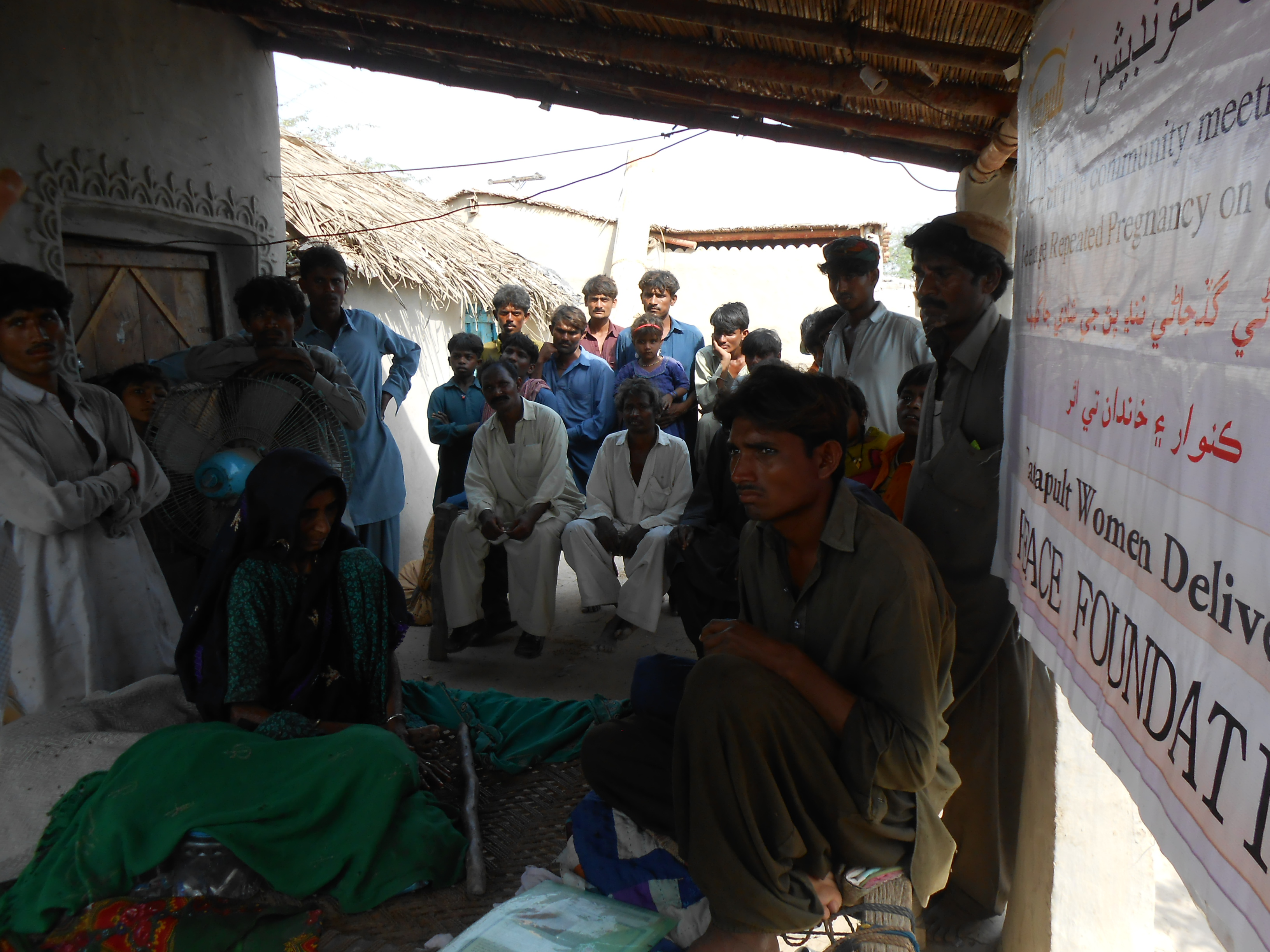 What we've learned
Community involvement proved good tool to disseminate information and create interest . People participation increased. Theater shows created discussion in the community. People enjoyed lot and realized about the consequences of early married issues. Such kind of activities created sense and clicked people. These were for short time. As the issue has been running since long, it has been absorbed in the behaviour and thought of people. So there is need to work with long running activities . Like such activities may run for five years for change.
Next steps
We will move it forward but at smaller scale . We will integrate activities for creating awareness and reducing child pregnancies with other programs. We also request donors to support us for more two years so that we can bring a visible change in our focused area.
Budget
We have saved 113 Dollars, we will conduct one workshop with religious leaders
Line Items

Projected budget

Amount spent so far

Street Theater

Folk song singer

Counseling sessions

Community dialogues

Interactive meetings

Publication Material

Administaton

Total

$2,000

$200

$3,200

$1,600

$600

$500

$3,000

$11,100

$1,800

$210

$2,880

$1,622

$575

$700

$3200

$10,987
Further reading
1. Our website: www.peacefoundation-pak.org
2. http://www.facebook.org/peacefou
Videos: 1. http://www.dailymotion.com/video/x2lpnhw_peace-foundation-early-marriges-video_news
2. http://www.dailymotion.com/video/x2lpo0f_peace-foundation-early-marriges-video_news
3. http://www.dailymotion.com/video/x27z2gn_message-of-peace-foundation-in-a-folk-game-malh_shortfilms
4. http://www.dailymotion.com/video/x27ytxr_messege-of-peace-foundation-in-a-dance-show-mela_shortfilms
90 Day Report
Help Family planning in Sindh
October 27, 2014
Progress
Early marriages are common in Sindh and as a result the teenage pregnancy rate is very high. In the past few months, we have developed written materials to go along with our community counseling sessions. We have held ten community counseling sessions, involving 232 participants, who are key players in their communities.
Marriage Act 1929 discusses the causes and effects of early marriage. To go along with this, we developed prevention groups to guide communities in resisting child marriage. We held twelve such meetings with 125 teenage mothers and 86 of their family members. A gynecologist, sociologist and general physician shared information on reproductive health matters, and more specifically about birth spacing, safe and sound pregnancy, and the role of elders during the pregnancy period.
We also developed 1,000 posters to end child marriage with the tag line "Don't spoil my future," in order to save children from early, as well as repeated, pregnancy. Last but not least, we developed content for street theaters to further spread the message.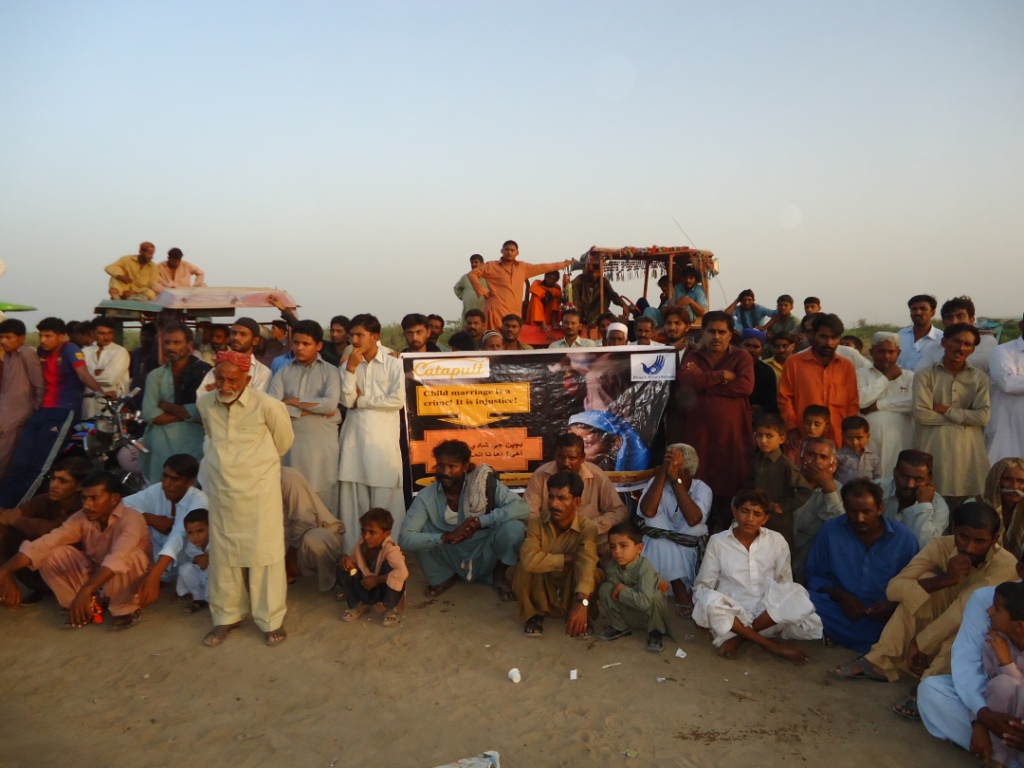 Risks and challenges
The weak legal system, unstable security of the region, snatching of girls, and robberies of our equipment were some of the challenges we experienced in Sindh. As a result, our team avoided carrying new equipment on their trips to the provinces.
Girls under the age of sixteen feel shame to share their experiences of early marriage, and they are reluctant to speak out. Also girls who are already married are restricted by their families, and are often not permitted to attend our meetings regarding safe sexual behavior and prevention of unwanted pregnancies.
People in Sindh are strict to follow traditions, and the preference always goes to male children.. The majority of the population do not use contraceptives because they think they are unethical and anti-religious. Norms dictate that the preference goes to newborn children more so than the mothers, so sometimes women's health comes in as a last priority.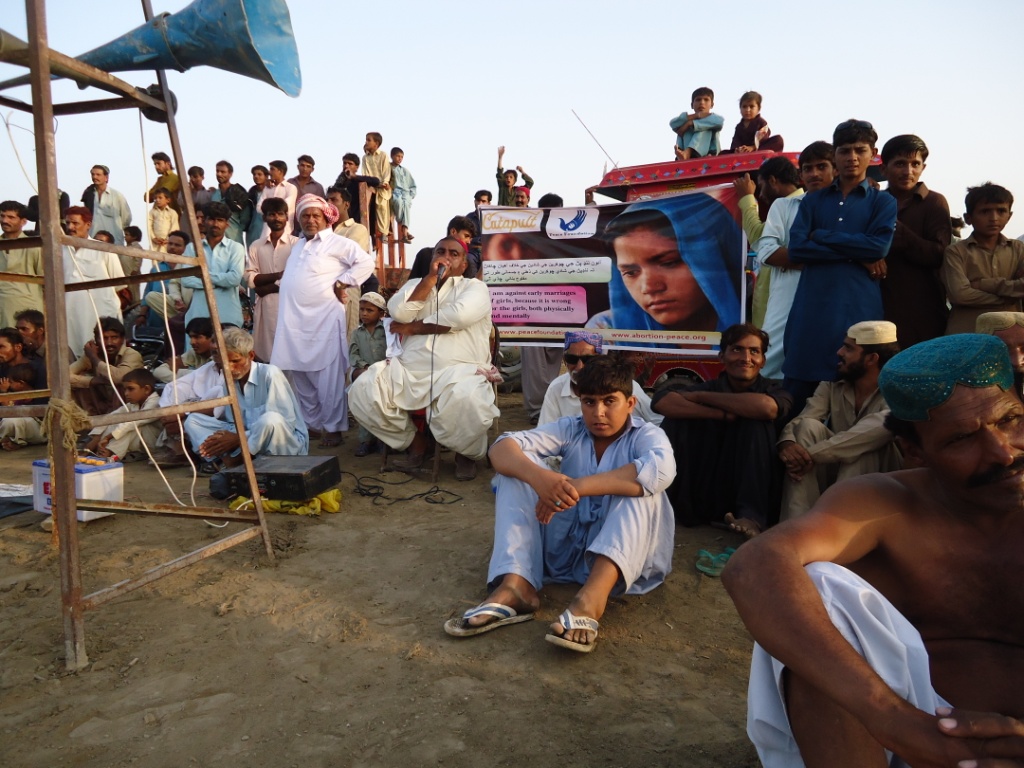 Get personal
Mr. Abdul Ghaffar Abbasi shared that most people in Sindh do not have the proper information about their legal rights. They think that their children are their property and they can do with them as they wish. Police officials also do not register child marriage cases, because they deem them as family matters.
Molivi Aziz Rehman Siyal, a religious leader, encouraged us by saying that The Peace Foundation has taken good steps to include religious leaders into the conversation. Religious leaders can change the common perceptions and help change attitudes.
Budget
We have used the funding as per the grant agreement.
Line Items

Original budget

Amount spent so far

Street Theater

Folk song singer

Counseling sessions

Community dialogues

Interactive meetings with teenage moms and grandmothers

Publication Material

Administration

$2,000

$200

$3,200

$1,600

$600

$500

$3,000

$600

$200

$800

$400

$180

0

$750
Further reading
http://civicus.org/bethechange/stories/children/help-teenage-married-couple-from-repeated-pregnancy-stry70.html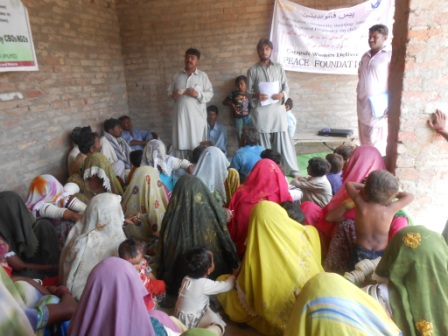 Help inform young couples in Sindh, Pakistan, of their family planning options and work with the community to reduce child marriages.
Why we care: Young mothers in Sindh, Pakistan do not have access to birth control and often suffer from pregnancy related complications.
How we are solving: Educating communities to prevent unintended pregnancies through awareness raising activities, such as community theatre, counseling, and publicity materials.
In the desert area of Sindh in Pakistan, early marriage is a common practice. In addition, young couples often face strong pressure from families to immediately bear children. Early marriage and pregnancy commonly lead teen wives to suffer complications during pregnancy and childbirth. Specifically, young mothers have an increased risk of developing pre-eclampsia, and/or eclampsia, anemia, antepartum hemorrhage and face higher risks associated with cesarean delivery.
In our area, there is a need to both educate the community about the harmful effects of early marriage as well as inform young couples of their family planning options.
This project will help us:
Produce 10 street theater shows that use folk songs and drama that discourage the practices of early marriage and teenage pregnancy.
Host 40 counseling sessions with sexually active couples. The Peace Foundation will counsel parenting teens on how to space their births through reproductive education. We have found that counseling sexually active teens is the most effective way to prevent unintended pregnancies. We will remind sexually active teens to also use condoms to prevent sexually transmitted diseases, including HIV/AIDS.
Hold 40 interactive meetings with teen mothers and their parents: Additional support services will be provided with home visits. We will advise teen mothers and their parents that births should be spaced at least two years apart to support the health of the baby, and that having more than one child during the teen years can make it difficult for teen parents to reach their educational and work goals. Addressing the parents of teen mothers will take the pressure off their daughters to produce more children than they are ready to have.
Facilitate 15 discussions with community leaders: We will go into communities and talk with community leaders, including faith-based organizations, about using effective programs that can help prevent repeat teen pregnancies. This will provide more support to young parents who want to space their births.
Publish posters and billboards about birth spacing to make communities aware of the risks associated with early marriages and teenage pregnancies.
We anticipate these activities to help 400 teenagers in our area better understand their reproductive health and family planning options. In addition, we expect community members to better understand the impacts of early marriage and, as a result, lessen the pressure placed on young couples to grow their families at a young age.
---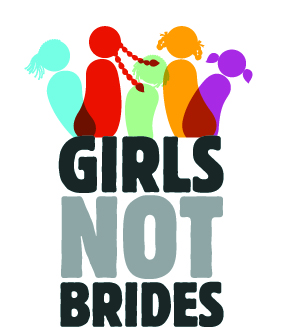 Peace Foundation is a member of Girls Not Brides, a global partnership of more than 250 non-governmental organizations committed to end child marriage. www.girlsnotbrides.org @GirlsNotBrides