1 year impact report
"My husband used to migrate to faraway places in search of work before we got this land. Now, he works along with me in this land. Land has given strength to my family."
Impact for girls & women
Landesa estimates that we were able to surpass our goal of training 30 paralegals for the project, training well over 200 paralegals in just the first six months.
Estimated girls & women affected
200
Broader impact
With each paralegal able to reach approximately 1,000 families annually, this funding has helped to increase the potential annual reach of the Barefoot Lawyers project by an estimated 200,000 families.
Estimated community members affected
200,000
A new day for rural Indian women
Over the past year Landesa has worked to train paralegals to identify and provide support for poor rural Indian women who stand to benefit from secure rights to land. The paralegals have worked with the women and their families, helping them submit the necessary paperwork to receive a title to their land. With secure rights, these women are making investments in their land and are able to access government services, helping to lift their families out of poverty.
The beginning of the year brought unprecedented challenges and opportunities when the state of Andhra Pradesh, India, formally split into two states. With the creation of a new state, Telangana, the work of our paralegals became more important than ever. Having worked with rural families for the months leading up to the creation of a new state, the paralegals were uniquely positioned to advocate on behalf of the rural poor while a new government was formed. After conducting over 1,000 interviews with poor rural families, Landesa drafted the "Peoples Land Manifesto," later adopted by local political parties who pledged to protect land rights for the rural poor.
Thanks to the support of our donors, Landesa has been able to work directly with rural women and their families, while also advocating on their behalf at the highest levels of government during the creation of a new state. Our work continues, and we are now positioned to have a big impact and create sustainable change.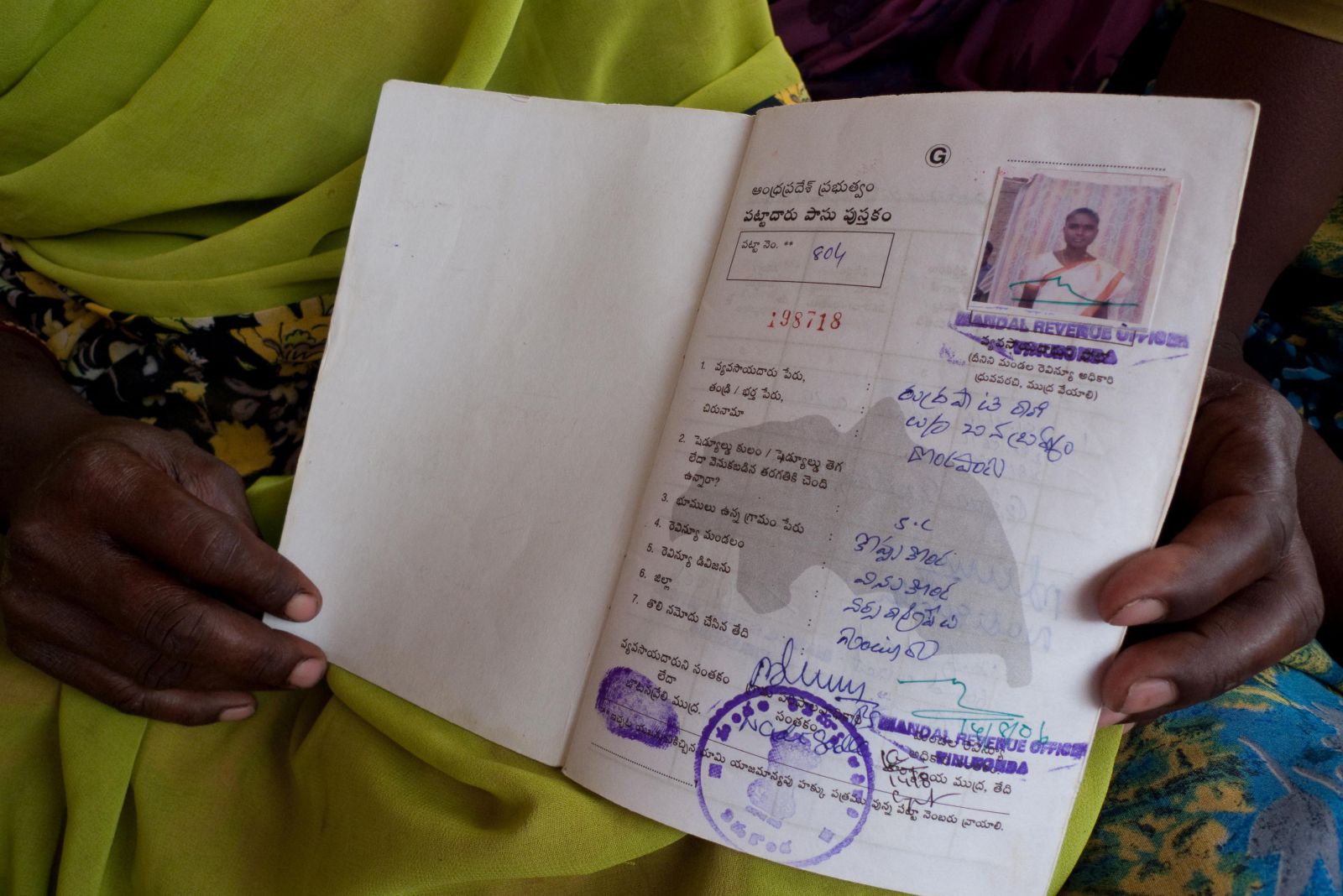 Get personal
"I heard people's strong aspiration for the Telangana state, their dream of 'Golden Telangana' and their hopes of a bright future….I'm wishing for a state where there are no landless poor and all have secure rights to land." - Sunil Kumar, Andhra Pradesh State Director
"My husband used to migrate to faraway places in search of work before we got this land. Now, he works along with me in this land. Land has given strength to my family." - Dharmarapu Pulamma
Risks and challenges
The creation of the new Indian state created some unique challenges for our project. Because our paralegals work to secure families' rights to their land through the government, any changes to the governing system requires us to change our approach. We need to refocus our efforts and adjust our model to work under a new government and new set of laws. While the creation of a new state may create new challenges, it also creates an opportunity to create broad sustainable change. By using our resources to advocate for the rural poor as the new government is built, we have the opportunity to help create land laws that are better tailored to protect the land rights of women and their families.
What we've learned
Reflecting on the past year, Landesa has learned to expected the unexpected. By responding quickly to the changing political landscapes that accompanied the creation of a new Indian state, our staff was able to work with government officials and ensure that the land rights of the rural poor were considered throughout this change.
Next steps
Landesa is thrilled that we are able to continue this project. By engaging at both levels, we are positioned to make broad, sustainable change that will impact women, their families, and entire communities for generations to come.
Budget
Landesa was able to stay on budget with the funding from our Catapult supporters! Even with the challenges that arose with the creation of a new Indian State, the funding from Catapult ensured that we were able to continue our work of advocating for the rural poor.
Line Items

Projected budget

Amount spent so far

Nine part-time staff, plus technical support from Landesa global staff

Rent, utilities and other office overhead

Monthly meetings, workshops, training

Community outreach publications, such as pamphlets

Travel

$6,300

$1,400

$1,500

$500

$300

$6,300

$1,400

$1,500

$500

$300
Further reading
For more information about Landesa's work during the creation of the new Indian state, Telangana, visit our blog.
90 Day Report
posted Nov 4, 2013 by Matt Lambert
This is part of a larger project that was just ranked in October 2013 as a "high performing and leading project" by the International Fund for Agricultural Development (IFAD). You can read more about this award here:http://bit.ly/1he6xlS
This project is in Andhra Pradesh, India where a recent cyclone has devastated the region. Our colleagues are focusing on helping the families impacted by the disaster.
Thank you again for your support and generous donations. This project is still active and doing well. We will report back to you as soon as we can.
Help 30,000 women obtain legal title to their land and as a result control over the income from their farms, increase access to government services, and improved status in their communities.
Why we care: Millions of people living in poverty in rural India—mostly women and children—depend on land to survive yet do not have legal rights to the land they rely on.
How we're solving this: Training paralegals to identify about 30,000 families who do not have title to their family land. The paralegals will help the women submit the necessary paperwork, and assist in processing claims. This is a highly leveraged program, amounting to about $3 per family.
Land is a fundamental asset and a primary source of income, security, opportunity, and status in rural India. Without land rights, women in particular remain marginalized and have lower status. With a legal land title, they are eligible for government services, have much greater access to credit, and can invest in their land to provide for their families without the risk of being thrown off the land they depend on.
Landesa will train and equip 30 paralegals who will work with village groups to identify families who do not have title to their land, or disputes over their land. These paralegals will receive training on basic land titling procedures and help poor rural women and their families effectively interface with the government bureaucracy to obtain a land title or resolve disputes over their land. Each paralegal could reach about 1,000 families annually. So with 30 paralegals we can help 30,000 families gain stability and security. Landesa is also working with local government officials to integrate the paralegals into their programs and services to reduce rural poverty on a wider scale.
An estimated 5 – 10 million rural poor families lack land titles in rural Andhra Pradesh. Landesa has been working on different paralegal and land issues in India since 1999, and has been working in Andhra Pradesh since 2004 on various aspects of paralegal activities.