SHOUHARDO program impacts the health of thousands
posted Nov 18, 2013 by Rati Bishnoi
Progress
This is the final update, there is no one-year progress report.
The overall goal of CARE's SHOUHARDO II project is to transform the lives of 370,000 poor-to-/extremely poor households in 11 of the poorest districts in Bangladesh by reducing their vulnerability to food insecurity, as well as health measures associated with this. Chime for Change funds, which have not currently been used, will support SHOUHARDO II's mother and child health and nutrition on-going efforts. The project is already making an impact as a result of these activities, as evidenced by the decline in malnutrition rates in the project area since project inception in 2010. For example: In the first 4 years of SHOUHARDO, the stunting rate among children 6 to 24 months old in the target population had fallen from 56.1 percent to 40.4 percent. That's an annual stunting reduction of 4.5 percentage points, dwarfing the 0.1 percentage point decline in Bangladesh as a whole and easily besting the 2.4 percentage point annual decline seen in the average USAID food security program.
Risks and challenges
The biggest challenge is continuing to raise- funds to support this work! CARE is making great strides in the region so will continue to fundraise against it, positively impacting the lives of more women, children and their families.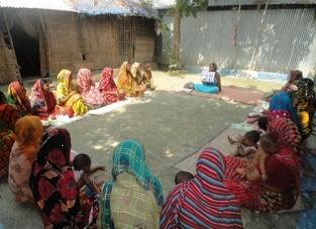 Get personal
Faheem Khan, the head of SHOUHARDO, said those results can't be underestimated. "If we are able to significantly reduce stunting, we are able to change a population for the better for the rest of their lives," he said. "The children will grow up more healthy and intelligent, enabling them to be more productive members of society. Their households are more likely to graduate out of poverty, and the positive effects are felt widely in their communities and beyond."
Next steps
SHOUHARDO is a multi-year partnership among CARE, USAID and the government of Bangladesh. CARE will report regularly on the progress.
Budget
The $10,000 raised through Chime for Change is part of a much larger effort— - the SHOUHARDO program —- in Bangladesh. While the specific $10,000 from Chime for Change has not been programmed, it will be implemented with similar results to what we have shared through progress made so far.
Help CARE provide mothers in 11 of the poorest districts in rural Bangladesh training on key health practices, as well as connect them with health counselors.
Why we care: Poor care during pregnancy and after childbirth can endanger the lives of mothers and newborns and the stability of their families.
How we're solving this: Building relationships with pregnant women and mothers through educational courtyard sessions, linking mothers and their families with health and nutrition welfare services to alleviate threatening effects of poverty on rural communities.
Mothers are trained on health and nutrition topics such as birth planning, newborn care and growth monitoring. CARE's comprehensive set of health, hygiene, nutrition and sanitation packages help families care for themselves and their children to promote healthy growth and stronger bonds in the community.
The project will help part of CARE's SHOUHARDO (pronounced shoo-HAR-doh) program in Bangladesh, which empowers women and girls by promoting female entrepreneurship, participation by mothers in their kids' schooling and by building women's community groups that develop real-world solutions to problems like child marriage and violence against women. Detailed studies show that children of women who participated in CARE's empowerment programs were growing healthier and taller than kids outside the groups.
Funded by the United States Agency for International Development (USAID), the Government of Bangladesh, and your donations, the SHOUHARDO program is an investment of approximately $130 million, and is one of the world's largest non-emergency food security programs and plays an influential role in Bangladesh's poverty alleviation efforts.