1 year impact report
"I delivered my daughter at the clinic as I know that it is safe and easy. Everything went well during delivery, and I was well taken care of by the midwives and doctors."
Impact for girls & women
Information was obtained from project records made upon service delivery.
Estimated girls & women affected
898
Broader impact
Family members and attendants of pregnant women who sought antenatal care and delivery also received health education. From project records, the estimated number of indirectly affected is about 1,300.
Estimated community members affected
1,300
Expanding care and building community in Myanmar
Since our last report, awareness of the project within the community has been strengthened through meetings with local health departments and the media. The volunteer base was expanded by a seven-day training session for 35 community volunteers, including auxiliary midwives. Training areas covered safe motherhood, family planning, male involvement in reproductive health, and more. Additionally, accurate reproductive health information has been routinely shared through quarterly outreach sessions. Within the year, there was an increase in antenatal care provided and deliveries performed at the center. Coverage of the center was expanded to seven additional townships. Through a partnership with the Township Health Department and the National AIDS Programme (NAP), pregnant mothers seeking antenatal care had access to confidential counseling and Sexually Transmitted Infection screenings. IUD insertion has also been performed in collaboration with the Myanmar Medical Association and Population Services International.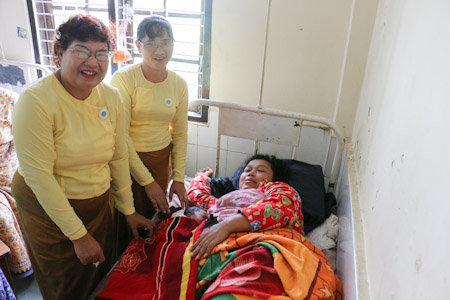 Get personal
Daw San San Maw, 38 years-old and mother of three, delivered a healthy baby at Daw Pon. This was the first time she gave birth at the clinic and there were no complications, a far cry from her last pregnancy which sadly ended in a still birth. Ma Lin Zarchi Win, a 24 year-old mother of four, recently gave birth at Daw Pon. "I delivered my daughter at the clinic as I know that it is safe and easy. Everything went well during delivery, and I was well taken care of by the midwives and doctors."
Risks and challenges
As demand from the underserved communities is increasing, sustainability of the interventions after the end of the project will be a challenge.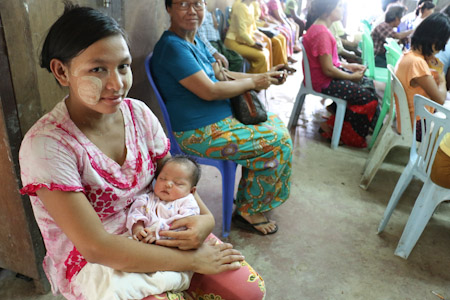 What we've learned
With your generous support, the Maternity Home enhanced its ability to engage the surrounding community. Engaging the community helped increase the utilization of the center. Monthly coordination meetings with local authorities, communities, volunteers and partners led to increased awareness and smooth implementation of the project. Outreach sessions were also conducted with local communities. Those who attended the sessions shared the message with others which has led to increased use of family planning services. Employing community volunteers also contributed to increased utilization. Due to these efforts, men are becoming more involved by participating in health education sessions and by voluntarily coming for HIV testing.
Next steps
The Myanmar Maternal and Child Welfare Association is considering mobilizing funds from other sources, including the private sector.
Budget
Line Items

Projected budget

Amount spent so far

Procurement of equipment and supplies

Cost for water tank, repairs

Referral cost for complicated cases

Distribution cost

Staff and volunteer capacity building

IEC materials for Health Education

Monitoring and Evaluation

$32,100

$10,700

$16,100

$3,200

$5,400

$5,400

$2,100

$32,100

$10,700

$16,100

$3,200

$5,400

$5,400

$2,100
Update
New beds will provide life saving postnatal care at Daw Pon
posted March 19, 2014 by Isabel Garcia
As we last shared with you, shortly after the Daw Pon Maternity Home was fully funded a generous contribution from a local donor provided the funds to repair the maternity home's water tank. With the need for the repairs taken care of, the maternity home engaged in discussions with partners on the ground on how best to reallocate those funds. They found that the immediate needs of the community would best be served by the creation of a community health education "Corner" which would provide accurate reproductive health and nutrition information. They also found a great need for assistance for the cost of referrals and nutritional support for birthing mothers. This will supply the cost of transportation to referral visits and pre-natal vitamins during their stay at the home. They will also invest in training their staff in mobilizing resources and recruitment to engage the community and local partners in the further development of the home. By providing these interventions, they hope to make the greatest impact for the community and be able to raise additional funds for the construction of the extension of the postnatal care wing.
We wanted to share the revised budget with you:
| | | |
| --- | --- | --- |
| Line Items | Original budget | Revised budget |
| Staff and Administration Costs | $ - | $9,600.00 |
| Cost of water tank repairs | $10,700.00 | $ - |
| Referral cost for complicated cases | $16,100.00 | $ - |
| Procurement of Equipment and Supplies | $32,100.00 | $29,300.00 |
| Distribution cost | $ 3,200.00 | $1,500.00 |
| IEC Materials for Health Education | $ 5,400.00 | $2,500.00 |
| Development of Community Mobilization Tools | $ - | $2,000.00 |
| Advocacy and Coordinating Meetings | $ - | $500.00 |
| staff and volunteer capacity building trainings | $ 5,400.00 | $3,680.00 |
| Community outreach mobile services | $ - | $3,820.00 |
| Client support for referral costs | $ - | $10,000.00 |
| Client support for prenatal nutritional care | $ - | $5,500.00 |
| Space for communal health education) | $ - | $4,500.00 |
| Monitoring and Evaluating | $ 2,100.00 | $2,100.00 |
90 Day Report
New beds will provide life saving postnatal care at Daw Pon
posted Nov 13, 2013 by Isabel Garcia
You provided the funding that is making it possible for UNFPA, the United Nations Population Fund, to change thousands of lives in the Yangon Region of Myanmar – the lives of pregnant women, their children, families and community members. We are delighted to inform you that the Daw Pon maternity home received the funds in August. As you may remember, the project was initially approved with $10,700 of the budget towards repairs to the maternity home's water tank. Shortly before Daw Pon received your support, a local donor contributed the funds to repair the water tank. The tank was repaired and is now fully operational. All of the remaining activities identified in the original proposal are on track to be implemented between December, 2013 and July, 2014.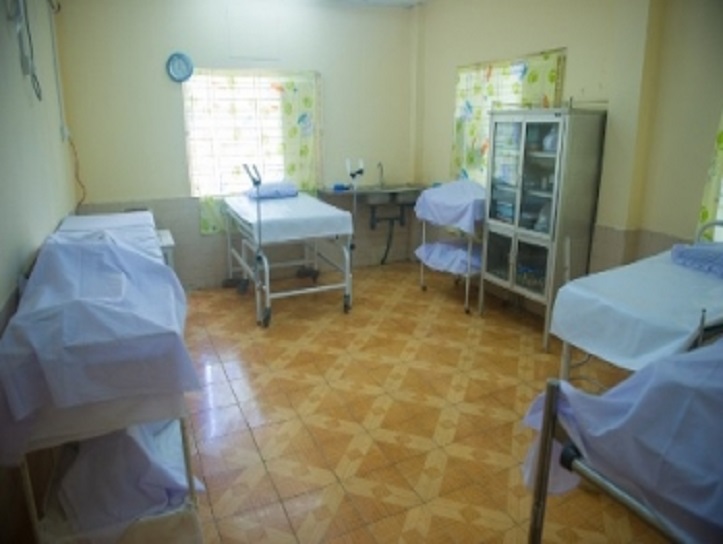 Risks and challenges
One of the greatest challenges the home faces, is a shortage of space for postnatal care. The current postnatal room, with 7 beds, is often crowded. To give more mothers access to life-saving care, UNFPA, in consultation with the Myanmar Maternal and Child Welfare Association (MMCWA), will allocate the funds for the water tank toward the construction of an extension to the postnatal care wing of the maternity home.
Postnatal care can mean the difference between life and death for both mother and child. Health care workers at Daw Pon will be able to better assess the condition of more mothers after childbirth and identify hemorrhage, hypertension, infection and other life-threatening conditions that may require urgent medical attention.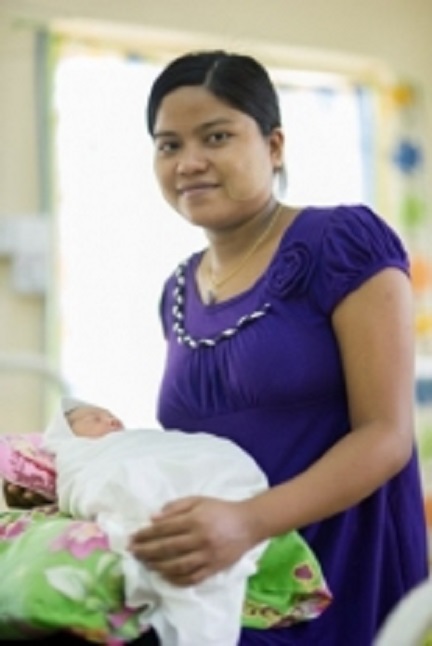 Get personal
With your support, the new wing will be furnished and equipped to accommodate an additional 15 patients. The construction is scheduled to break ground in December, with completion in February, 2014. Supplies, medicine and equipment ranging from wheelchairs to delivery beds are in the process of procurement and will be delivered before the wing is open.
Next steps
In partnership with the Yangon Region Health Department, UNFPA is in the process of hiring two trainers who will conduct a five-day technical training for 30 hospital volunteers to become community health mobilizers. With this training, they will be able to better identify and treat life-threatening complications and share information with mothers regarding infant care and family planning. The maternity home's midwives will participate in a two-day training/ skills building class.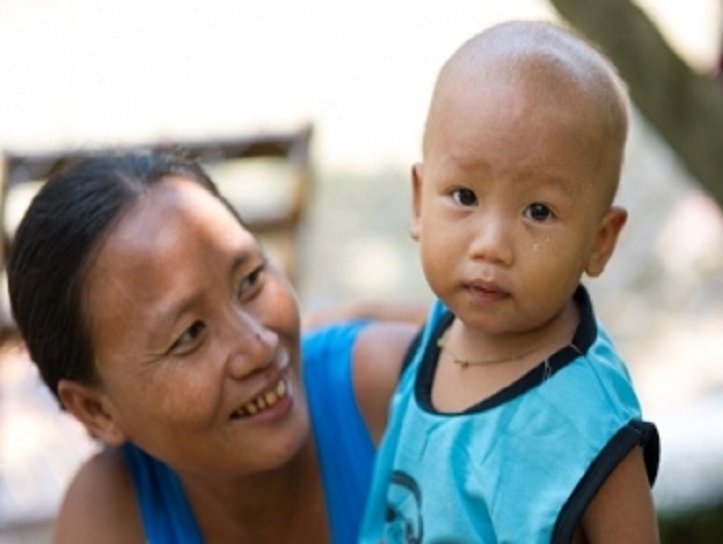 More information
We hope you share our great pride in the difference your contribution is making. We look forward to reporting on further progress early in the New Year. In the meantime, UNFPA will continue to work closely with the Myanmar Maternal and Child Welfare Association to ensure that no woman dies while giving life. When women survive, communities and families thrive.
Daw Pon maternity home in Myanmar is expanding and needs new equipment, beds and a water tank.
Why we care: Maternal deaths in Myanmar, long an impoverished and primarily rural country, are high: 200 for every 100,000 live births.
How we're solving this: By offering maternal health services and counseling, health education and child-development guidance.
Nu Nu Lwin, 32, arrived at the maternity home in Daw Pon Township in the Yangon region of Myanmar bleeding after a minor injury. She had already received medical care at the Maternal and Child Welfare Association maternity home for prenatal counseling. After the accident, she consulted with a midwife and was sent immediately to East Yangon Hospital, accompanied by the midwife and an outreach coordinator and her expenses covered.
The hospital provided her proper care, saving her life and the baby's, thanks to the foresight of the maternity home, which is an active partner of UNFPA, the United Nations Population Fund, providing not only care for mothers but also for newborns and early childhood development programs to reduce maternal and infant deaths. The maternity home also referred Nu Nu Lwin to another essential treatment -- for HIV -- and eventually contraceptives. Her fees for these services were also covered by the maternity home.
The Daw Pon maternity home opened in 2002 and is a two-story building, offering maternity services downstairs and counseling, health education and child-development guidance upstairs. It is a strong model for improving maternal and child health. Maternal deaths in Myanmar, long an impoverished and primarily rural country, are high: 200 for every 100,000 live births. Fewer than half the women of reproductive age or their partners are using contraceptives, so high fertility rates abound.
The maternity home currently provides antenatal care to an average of 65 new patients each month and 180 existing patients. The staff provides assistance for approximately 60 normal deliveries per month and refers about 5 cases of complicated pregnancies to public hospitals. In addition, the maternity home provide family planning and birth spacing services including IUCD insertion.
Improving maternal health is widely accepted as a path to ending poverty, but it is generally an area that is underfinanced in poor countries. Myanmar has far too many women like Nu Nu Lwin at risk. In Daw Pon, women need counseling at all stages of their pregnancy and post-pregnancy, including information on how to prevent diseases, birth-spacing education, HIV prevention and sexual and reproductive health. The Myanmar Health Ministry and the Maternal and Child Welfare Association aim to provide such services through the maternity homes in urban and rural settings, but UNFPA helps fill the gaps at Daw Pon.
To increase support at Daw Pon, UNFPA needs $75,000 to continue to help the maternity home save lives and enable families to thrive. Specifically, Daw Pon requires some new equipment and reproductive health commodities, two delivery beds, minor repairs, a new water tank, a budget to pay referral fees and more training for the staff and volunteers.
All women deserve the best care in pregnancy and afterward, as do their newborns and children. By helping to improve the lives of women in Myanmar, you are saving others, too, offering optimal chances for survival like this mother at Daw Pon, who just gave birth to a health boy on Sept. 10, 2012.