1 year impact report
After participating in our project, Nanuka Aptciauri went on to conduct her own workshops on leadership and gender roles for girls and school children living in the Coda Community Centre.
Impact for girls & women
This is the number of women who participated in our training sessions.
Estimated girls & women affected
30
Broader impact
This data is still being collected, and will be added to the project as soon as possible.
Estimated community members affected
?
Using technology for women's development
Since you last heard from us, we held trainings educating internally displaced girls about new media and its significance for women's development. Participants also discussed the role of modern technologies and the internet revolution in the peace building process.
The girls also created short videos and articles documenting women and girl's conditions in Georgia and the issues they face. Topics for the videos always reflected themes that were important at the time. The videos and blogs can be found on our website or www.gender.ge. Some of the topics include:
Enslaved women in the trading sector
Social responsibility
Attitude toward women
Problems with citizenship for homeless children
Media's depiction of women
Life of women in conflict zones
Sexual exploitation and human trafficking
Women in business and the discrimination they face
We also held discussions for women and internally displaced students around the theme of "Internet revolution, women, and peace". Participants discussed the role of modern technologies in peace building and gender and social media.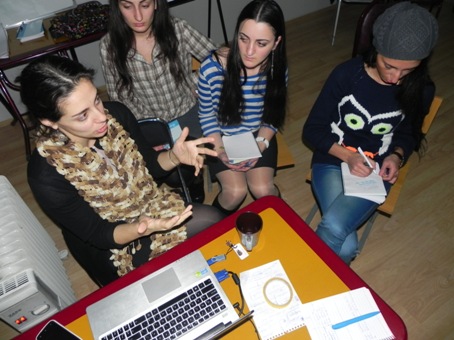 Get personal
After participating in our project, Nanuka Aptciauri went on to conduct her own workshops on leadership and gender roles for girls and school children living in the Coda Community Centre.
Risks and challenges
The main challenges were technical issues in developing our video programming. Even though we have been developing short videos, the internet TV format requires visually enhancing and dynamic details.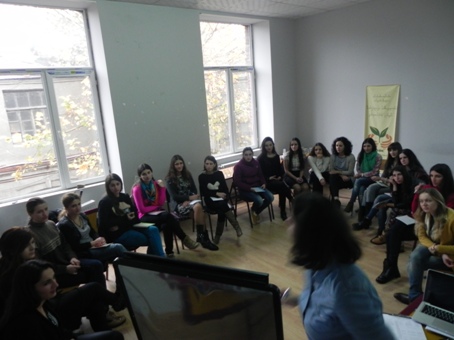 What we've learned
We learned that we need to spend more time developing our outreach. We need more publicity and advertisement at the national level, because many people are not aware of our work.
Next steps
We plan on continuing this project and are looking for ways to deepen our strategy of changing our country's perceptions towards women.
Budget
Line Items

Projected budget

Amount spent so far

Computers, software, & office space

Training for 30 participants

Staff salaries

$4,259

$4,003

$11,738

$5,862

$4,003

$10,135
Further reading
We were able to increase the number of partners that broadcast our internet TV programs. You can find some of our videos here:
http://www.mediacentri.ge/?42/regionis_ambebi/&lan=geh
http://www.liberali.ge/ge/liberali/multimedia/?tpl=37&ls-art0=10
90 Day Update
Designing and planning for web and TV
Progress
Civil Society Development Center (CSDC) received funds to implement the project "Internet Revolution and Gender Equality" on September, 2013. First activities were in preparation of starting the program. We had 8 team meetings in September and October and created trainer manual and syllabuses for the participants in October. We announced the training and created the application form. We have also selected the 30 participants, all internally displaced persons (IDP)from 4 different regions. CSDC also has a potential guest speakers list and contacts for 6 TV program. We currently are working to get the Domain for the web-portal and design web-page for Regional Internet TV Program. We have also documented one pilot TV program about women and children, who are victims of violence.
Next steps
Train 30 IDP's in Social Media and Journalism
Create 20 TV Program
Work with trained participants cover topics from different regions
organize flash mobs
Budget
The budget spent includes:
1. Salary and honoraries: $1,740
2. Technical equipment for TV programs: $1,587
Total: $3,327 of $20.000
Help develop an online web series that will educating the Georgian public about the causes and impact on society of violence against women.
Why we care: Violence against women is rampant in the country of Georgia, yet society continues to turn a blind eye to this violation of women's rights.
How we're solving this: Producing an educational web series that will break this silence, and educate both women and men about how to prevent and address gender-based violence.
According to official statistics, one out of every three women in Georgia is a victim of violence. Within the society, speaking out about violence against women remains taboo so the numbers are much higher than reported. Unfortunately, mass media and journalists typically disregard violence against women or place blame upon the victim.
Since 2010, the Civil Society Development Center (CSDC) has provided education to women and girls in Georgia about their rights and built their leadership skills and self-esteem, while simultaneously working to improve women's healthcare and increase economic independence. The CSDC primarily works with women from conflict areas, internally displaced people (IDPs), and other vulnerable groups such as unemployed mothers, victims of violence, homeless girls, and mothers of children with disabilities.
CSDC is determined to reach a wider audience this year by targeting both men and women to prevent and reduce violence against women. The CSDC will develop an online web series that will air for one year, educating the public about the causes, and impact on society of violence against women. The program will encourage women to oppose social stigmas and speak out against violence. The group will also provide information on available resources for both survivors, to overcome violence, and perpetrators, to learn not to resort to violence.
To ensure sustainable and women-led educational programming, CSDC will also train 30 young women IDPs to become Internet savvy bloggers and producers. After technology trainings, these women will produce four regional online television programs that continue to spread awareness on violence against women. Women technology professionals will mentor the young women as they broadcast live streams of television episodes. CSDC will also engage communities by organizing public discussions on issues covered in television episodes. Young women will gain lifelong professional skills, become advocates against violence against women, and engage both men and women in breaking the silence around violence against women in Georgia.