One Year Impact Report
Throughout this past year, we impacted 260 women to make healthy mamas for healthy babies!
Impact For Girls & Women
We provided prenatal care to 100 women and girls and taught 160 moms through the mother's classes. A total of 260 women and girls were impacted by our Healthy Pregnancy Program.
Estimated girls & women affected
260
Broader Impact
The 260 women and girls that we served through the Healthy Pregnancy Program (both by providing prenatal care and by teaching mother's classes) have families who are directly impacted by their healthier lives. We multiplied 260 women and girls with an average family size of five to get to 1,300. We then divided that by two to estimate the number of girls and women indirectly affected.
Estimated community members affected
650
Healthy mamas for healthy babies!
Last July, with your support, we launched our Healthy Pregnancy Program. The program provides education to women on how to have the healthiest pregnancy possible, and also offers them free prenatal vitamins and monthly check-ups. Since we launched the program, we have served 100 women at various stages of pregnancy. In addition to distributing prenatal vitamins and conducting prenatal exams, our nurses have been teaching mother's classes – weekly education sessions for the moms in the communities. We have hosted three such classes in two of our communities – Magsasaka and Aplaya. Through these classes, the moms have engaged in discussions on a variety of crucial topics including:
The changes a woman's body undergoes during pregnancy
The importance of getting consistent prenatal and postnatal care
Planning/budgeting for giving birth in a clinic
Combating nausea and other pregnancy-related issues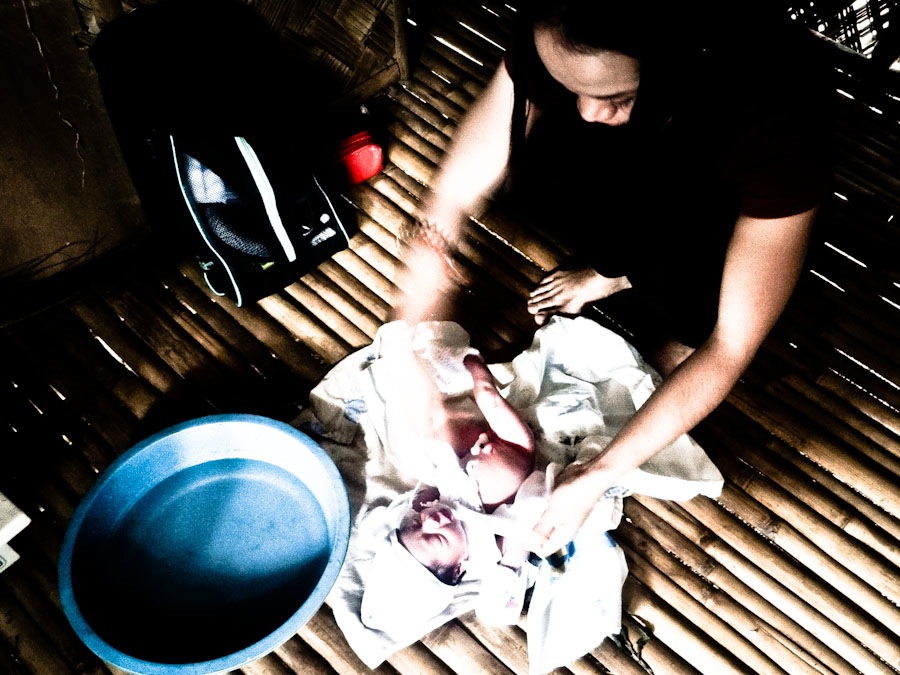 In the last year, our Healthy Pregnancy Program has equipped 160 moms with knowledge that will help them have the safest and healthiest pregnancy possible. Through the mother's classes, our nurses have also worked with the girls and women to shift harmful attitudes, such as the notion that the husband always knows what is best for the family or the reluctance of parents to talk to their kids about sex. In these ways, our Healthy Pregnancy Program has provided women and girls with the tools they need to feel empowered and prepared for motherhood.
Get personal
Recently, as the mother's class was wrapping up in Aplaya, Daisy, one of our nurses, encouraged all the moms to follow along as she led them through an original song and dance that reviewed the basics of performing a self-breast exam. As the moms danced and sang, mirroring Daisy's movements, their enthusiasm was infectious. Daisy made learning a crucial topic engaging and non-threatening, and the moms loved it!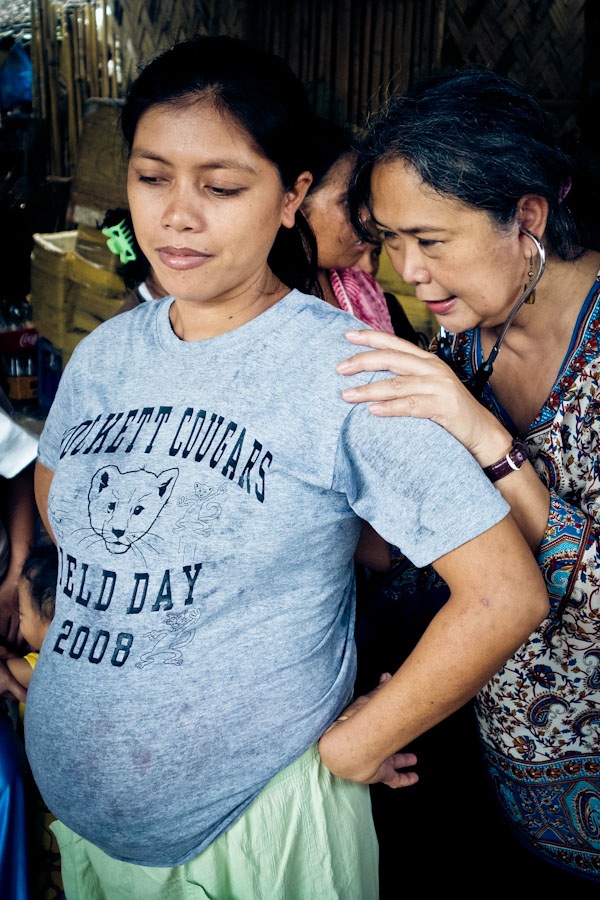 Risks and challenges
When we provide clinical services in the communities, such as conducting prenatal check-ups, we partner with the local barangay (village) health centers. Often, we are providing services that, due to lack of resources, the barangay health centers are unable to effectively provide. Also, in some cases, local barangay health workers misunderstand our services, viewing us as competitors rather than collaborators. When such misunderstandings occur, it creates tension between our clinical staff and the local barangay health workers. We are continuously working to emphasize that our presence in the communities is meant as a partnership, and that our clinical staff is there to help fill the gaps in service delivery.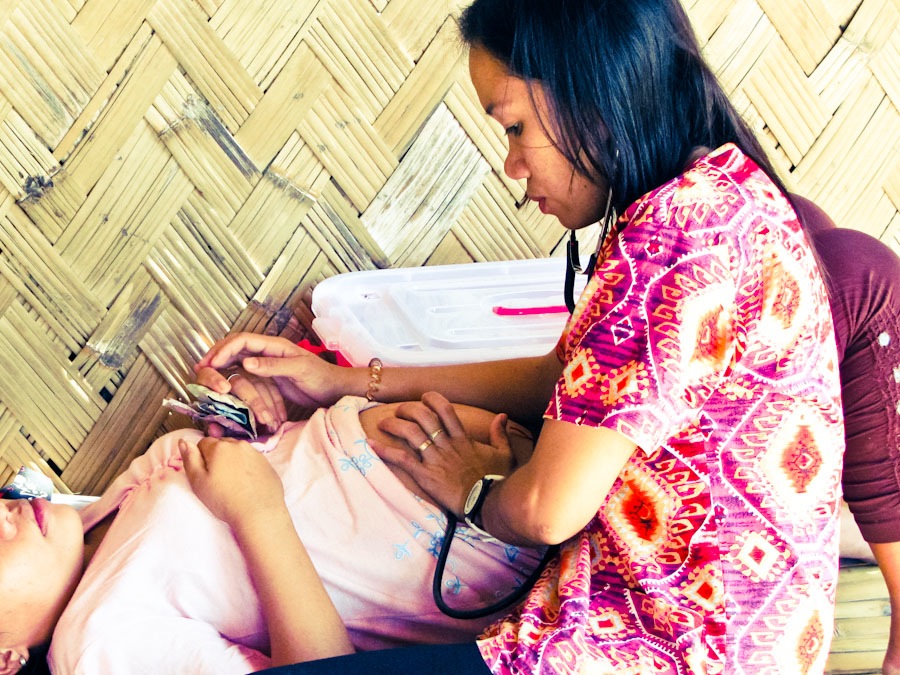 What we've learnt
Since implementing the Healthy Pregnancy Program, we have worked with some women who are currently on contraceptives, but want to have another child. When these women see a doctor, s/he would recommend that they start taking prenatal vitamins immediately. Thus, whenever we encounter a woman who is actively trying to get pregnant, we start her on prenatal vitamins at that point in time, rather than waiting until she is pregnant. This helps to ensure that the mom-to-be is getting the appropriate nutrients that are crucial for the baby in its first few weeks of formation. While there are still lots of unplanned pregnancies, when pregnancies are planned we have realized the importance of beginning prenatal care as early as possible.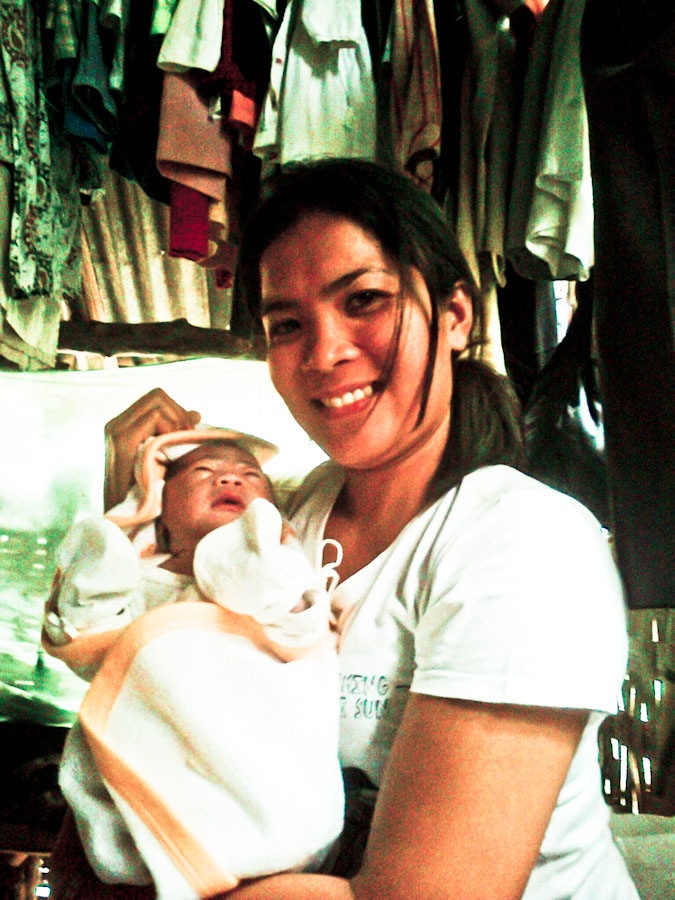 Next steps
We've partnered with a funder for the continuation of the Healthy Pregnancy Program; however, we still need to raise money for high-risk pregnant women to be able to give birth in a clinic. We're renewing our Clinics When it Counts project, which can be viewed HERE. Thank you for your continued support as we strive to ensure that the moms in our communities remain healthy during their pregnancies!
Budget
Our budget was $5,540. We spent only a little bit more than we'd envisioned. We spent more for pregnancy kits, transportation and medical supplies than planned, but spent less than projected on prenatal vitamins.
Line Items

Projected budget

Amount spent so far

Pregnancy Kits

Midwife Salary

Transportation

Medical Supplies

Prenatal Vitamins

Pregnancy Tests

Total

$30

$3,630

$400

$240

$1,190

$50

$5,540

$45.98

$3,630

$417

$271

$1,121

$68

$5,553
Healthy beginnings
posted Oct 19, 2013 by WD Admin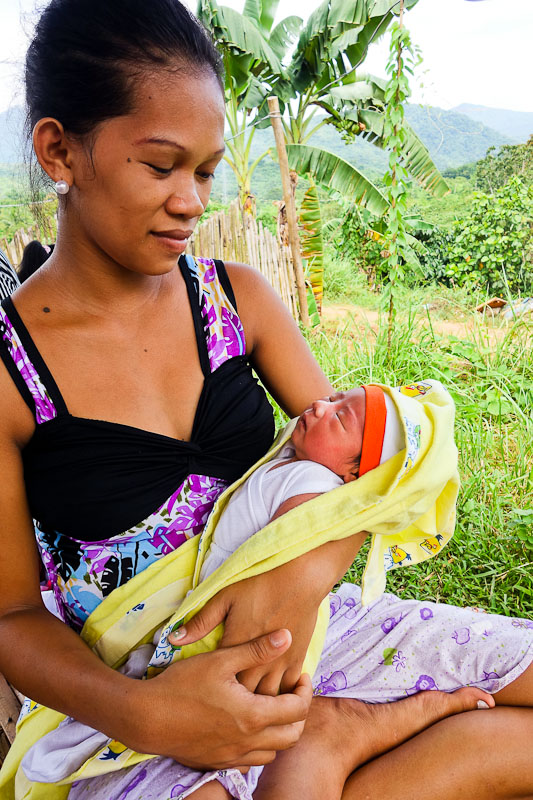 Progress
Since fully funding our project, Roots of Health has been very busy working with pregnant women and girls in our six community sites. We've been providing education:
Helping women to understand the changes their bodies are going through,
Providing helpful advice on what to eat and how to combat nausea and other pregnancy-related issues, and
Counseling them on ways to have the healthiest pregnancy possible.
We've also been providing each of our pregnant clients with monthly prenatal checkups, free supplies of prenatal vitamins, and help in planning and budgeting for where they will give birth. A donor recently gifted us with a handheld Doppler apparatus and that has been an amazing addition to our prenatal care. Our midwife and nurses use the Doppler with our pregnant clients in order to allow each of them to hear their developing baby's heartbeat. This is incredibly reassuring to expectant mothers, and to us!
In the last three months we've served 61 women and girls at various stages of pregnancy.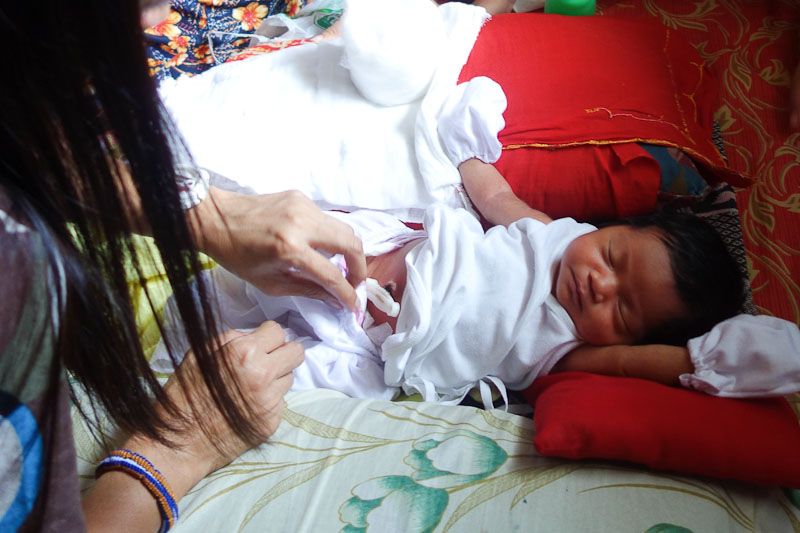 Risks and challenges
We are providing a service that the Philippines government should be providing but simply cannot due to a lack of resources. This has been a very popular program as nearly all of the women now understand how beneficial and important prenatal care is.
While many of our clients are thrilled to be expecting a baby, we've also been witness to sorrow and worry when we administer pregnancy tests that come back positive. Some women have difficulty imagining how they will cope with yet another mouth to feed and another person to care for on their meager resources.
Our more broad reproductive health education programming teaches women how to plan their pregnancies and how to use contraceptives if they do not wish to become pregnant. However, many of the women we serve in our Healthy Pregnancy outreach are first-timers to our programs and many of these pregnancies were unplanned. Abortion is illegal in the Philippines and when we do witness sadness at the news of a pregnancy all we can do is provide as much compassion and support as possible to the expectant moms and assure them that we will do everything necessary to make sure they have a healthy pregnancy.
Get personal
Recently our nurse, Deng, and a visiting nurse, Peggy Berroth, who donated our Doppler, were in our site Busngol. Peggy was training Deng in how to use the Doppler and after administering the prenatal checkup to our client, Ana, Deng lay Ana down to find the baby's heartbeat. Soon there was a crowd of kids and neighbors gathered around Ana to see what would happen next. When the sound of the baby's heartbeat was projected into the little hut, Ana started crying and there were shouts of joy and amazement from the gathered audience.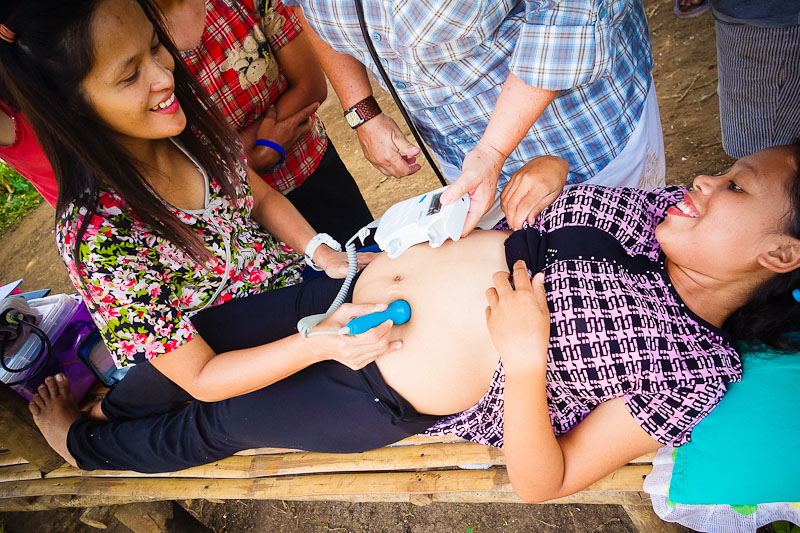 Afterwards Ana explained to us that the income she makes from her little sari-sari (convenience) store is hardly enough to support her family, and her husband has been out of work for months so the idea of another baby, her 7th, is daunting. However, she is so happy that we are providing her with free care, to know that her pregnancy is progressing well and that we will be with her throughout her pregnancy, ensuring she stays healthy.
Next steps
We will continue to provide education, prenatal care and support to each of our pregnant clients. Thank you for allowing us to help these women ensure the healthiest start possible for the lives they will be bringing into this world!
Budget:
We've spent $1,237 of our projected total budget of $5,540.
Line Items
Projected budget
Amount spent so far

Pregnancy kits

Midwife salary

Transportation

Medical supplies

Prenatal vitamins

Pregnancy tests

$30

$3,630

$400

$240

$1,190

$50

$9

$907

$100

$65

$147

$9
Educate moms to reduce maternal mortality rates.
Why we care: Currently, in the Philippines, 11 women die everyday due to preventable complications during pregnancy and childbirth.
How we're solving this: Nurses and midwives provide education to women and girls on how to have the healthiest pregnancy possible, and also provide them with checkups and vitamins.
The last time Liana was pregnant, she didn't know what prenatal care was, and never had any checkups. She didn't take prenatal vitamins or increase her food intake because she worried that the baby would grow too big, which would lead to a more difficult delivery. She didn't exercise because she thought this would harm the baby, and when she got sick she bought antibiotics without consulting a doctor, not knowing that it could harm her unborn child. When it was time to deliver, she gave birth at home in the company of a traditional healer, who pressed and pushed on her belly, endangering her and her baby's health. After birth, Liana wanted to clean herself but waited for nine days before bathing, because this is what the traditional healer instructed.
Many women in our communities have experiences similar to Liana's. Because they haven't received education on the importance of prenatal health care, they don't realize that many of their actions contribute to riskier pregnancies, potentially harming themselves and their babies. To combat this, Roots of Health has launched a Healthy Pregnancy Program. Our nurses and midwife provide education to women and girls on how to have the healthiest pregnancy possible, and also provide them with free prenatal vitamins and monthly prenatal checkups. Not only are our clients now more informed on how to have healthier pregnancies, but they also have a better understanding of the process of their baby's formation, and how various things can affect the baby's health. When it is time to deliver, our expectant mothers call on our midwife and nurses, who assist them with birth at home, or transfer them to a local clinic in cases of emergencies. Our clients in this program tend to have less traumatic deliveries, healthier, higher-birth-weight babies, and faster recovery times. These mothers are also more likely to quickly establish successful breastfeeding.
Our program is incredibly important in helping reduce maternal mortality, as currently in the Philippines 11 women die everyday due to preventable complications during pregnancy and childbirth. Please support this program to help us ensure healthier mothers and babies for all of the women in our five communities in 2013.