1 year impact report
Throughout the past year, 950 girls have attended Reproductive Health Education classes.
Impact for girls & women
This is the number of girls who attended our Reproductive Health Education classes.
Estimated girls & women affected
950
Broader impact
Each student is likely to affect 2 or 3 friends and family members.
Estimated community members affected
2,500
Graduation before Gestation!
One year ago your support helped us complete the funding of our project Keep Girls in School. Since then, we have worked hard on our curriculum and taught nearly 2,000 students! We recognized that one of the biggest roadblocks to girls finishing high school is having an unintended pregnancy. As a result we teach them to understand how pregnancies happen and how to protect themselves from getting pregnant and infections. We take into consideration societal norms of sexual behavior and talking about sex, with all the taboos attached, and consider how these associations affect students' self esteem, their relationships, and whether they choose to become sexually active.
We encourage our girls to think out their long term goals and finish high school before getting into serious, sexual relationships -- but we also listen to them, hear their stories, sympathize with their problems, and sometimes challenge their points of view. We give them a safe place to express their views, their doubts, and their fears. For many teens we are the first adults in whom they have confided, and sometimes they tell us heart-breaking stories of what is going on in their own families or among their friends. Talking things out often helps clarify situations and enables them to act!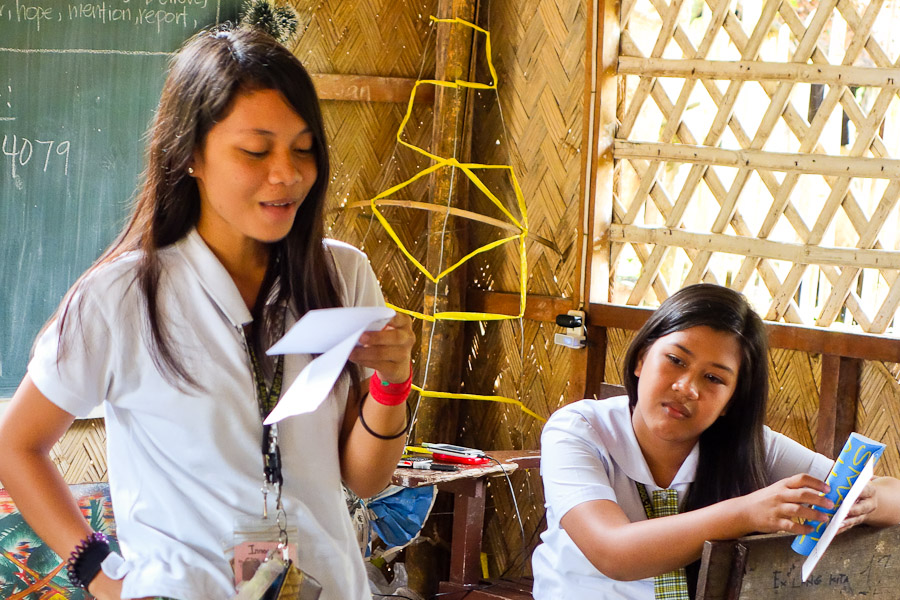 Get Personal
In one class a girl asked our teachers about abusive relationships before deciding that indeed she was involved in such a situation. Shortly after she found out that she was pregnant and began sending worrisome texts to our hotline, saying that she wanted to give up and commit suicide. With our support, she continued with school, and at the end of March graduated, 8 months pregnant, and very pleased. She had finished high school, and was ready to move forward!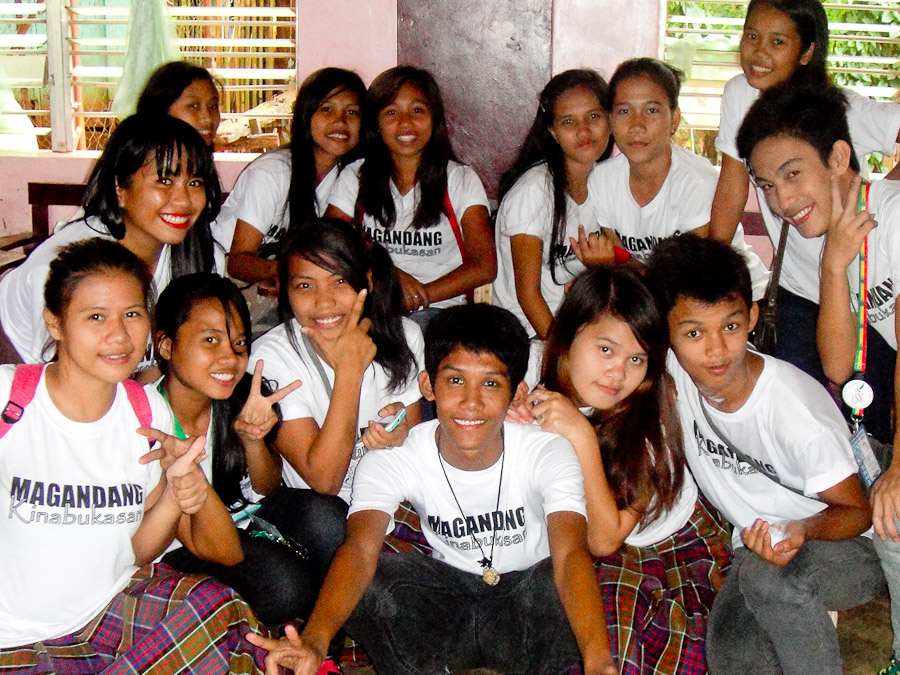 Risks and challenges
The Philippines is a predominately Catholic country and views on matters of sexual health can be very conservative. Therefore, despite the soaring rate of teenage pregnancies, it is sometimes difficult to secure the cooperation of school administrators to schedule classes on reproductive health. The school system is particularly bureaucratic, and many schools are very disorganized. When these problems are added to the taboo of discussing sex in an open manner, scheduling challenges multiply. Luckily many principals and teachers see the need for our classes and the students are very receptive to our message.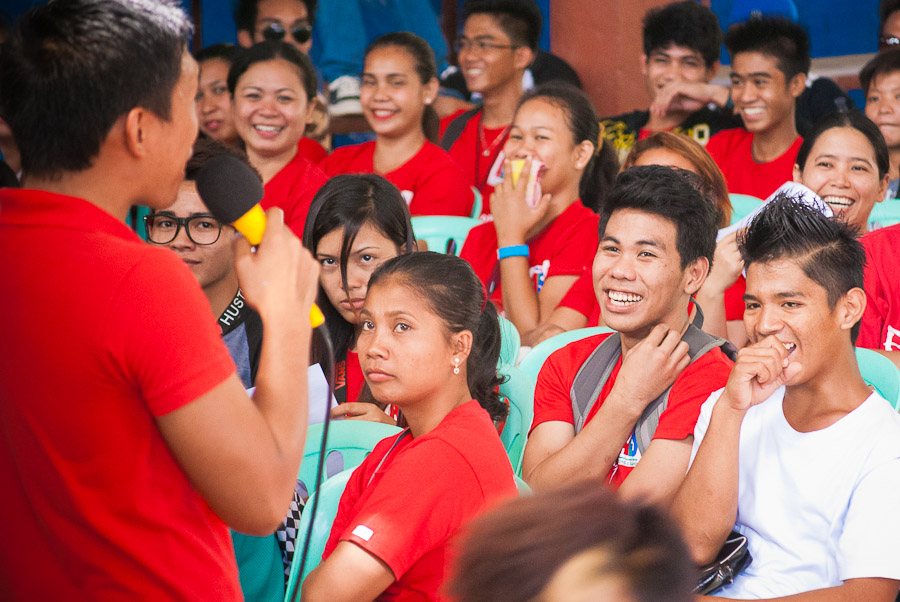 What we've learned
We have learned that within the general culture of silence on sexual matters, many young people worry about their sexual health and desperately need information and counsel. This is true on the issue of whether to engage in sex and what kind of consequences may follow, but it is also true in many other matters. Many girls do not really understand menstruation and need to know whether their own cycles are normal or not. Both boys and girls may question their own gender orientation and wonder whether they are gay and whether that is okay. They all need a safe place to talk and learn.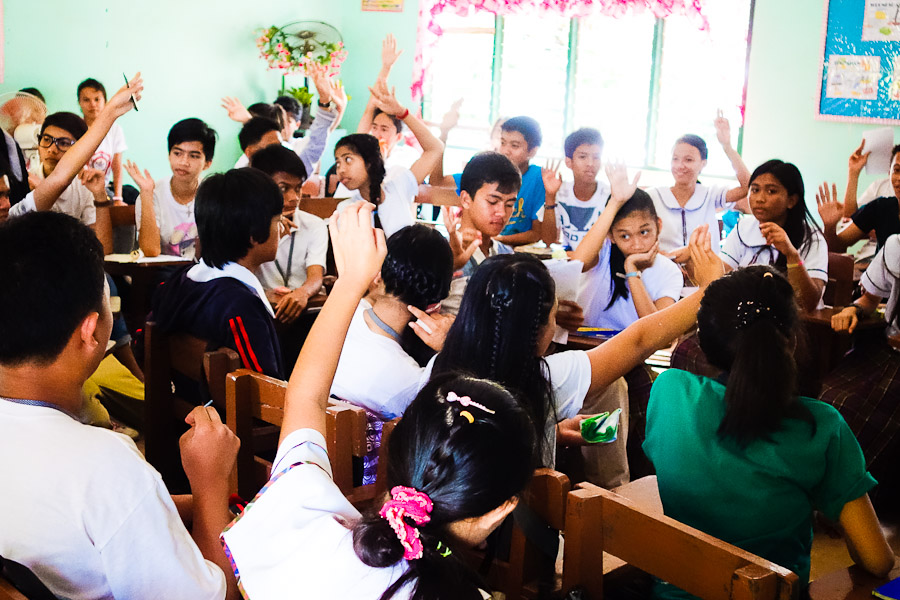 Next steps
We'll continue teaching in high schools in Puerto Princesa. We'll also encourage students to talk with each other and their families about reproductive health. Despite our efforts to prevent unplanned pregnancies, we do have young clients who become get pregnant and don't have the money to give birth safely in clinics. Please help us assist girls whose pregnancies are high-risk by supporting our project, Clinics When it Counts.
Budget
Line Items

Projected budget

Amount spent so far

Teaching Materials

Teacher Salary

Transportation

Total

$130

$2,510

$30

$2,670

$134

$2,510

$49

$2,693
Further reading
To read more about the work we do, please check out our website: http://rootsofhealth.org/
90 Day Report
posted Jan 8, 2014 by Isabel Garcia
Progress
Since fully funding our Keep Girls in School project, we've been conducting education sessions in three different high schools in Puerto Princesa.
Our programming includes four separate modules that are taught to each section of students and ranges in topics from self-esteem to goals and dreams, to identifying characteristics of healthy relationships, and discussing sexual health, including how pregnancies and sexually transmitted infections occur.
Our classes are lively and engaging and our teachers warm and approachable. Students love our discussions and ask many questions in class and after our sessions via our cell phone text hotline. They are also very candid in sharing their own experiences and their observations.
Once at the end of a class on STIs, one of our teachers asked the kids what they had learned. One boy who had seemed rather shy raised his hand and said, "We really have to think carefully before we do anything [relating to sex]" We will continue teaching in as many schools as we can in order to reach more teens.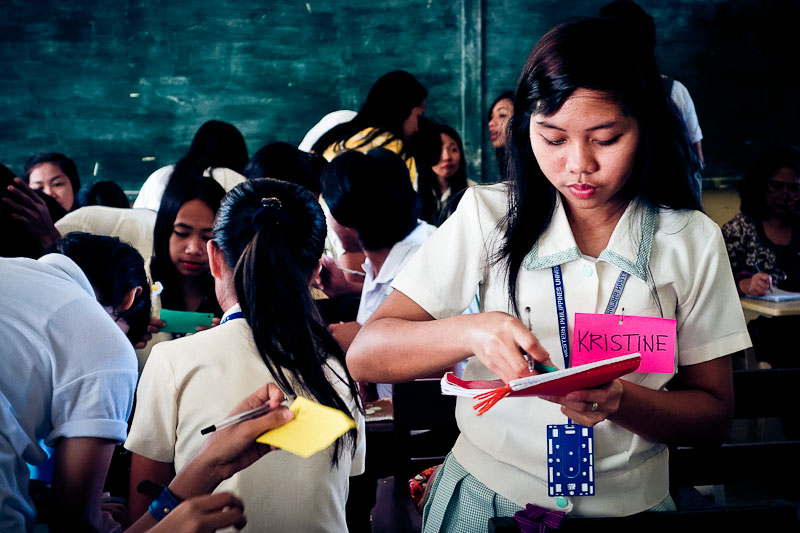 While we do encourage students to delay sexual activity, we also provide them with the information they need to protect themselves and stay healthy and in school so that their dreams have a chance. Thinking more cautiously before starting sexual relationships is an important first step!
We've already reached 507 students and are well on our way to meeting our target of educating 1,500 students by next year.
Risks and challenges
The programming we have is unique and quite unusual. Most students in Filipino public schools have never had any interactions with teachers like ours, and have never been in a safe space in which they can discuss their goals and dreams, and ask questions relating to health and relationships.
Our opening unit discusses self-esteem and our closing one covers dreams and aspirations. Both of these topics get incredibly emotional and sometimes the students tell stories that break our hearts. Many kids feel unloved and unappreciated and do not have stable or healthy home lives. Often girls and boys break down in tears as they describe how lonely they feel or how they don't like anything about themselves.
Our teachers work with them to find concrete ways to focus on the positive and start believing in themselves more. By the time we get to our closing module and discuss aspirations, the students are still very emotional but we do feel in a more positive way.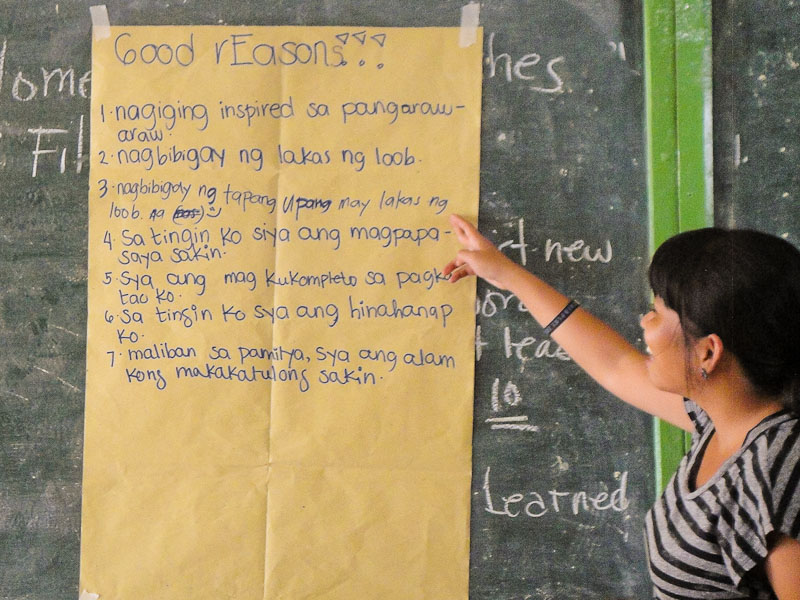 These kids want to reach everything and we are often the first people who tell them that they can. Knowing how to have healthy relationships, stay physically healthy, and stay in school is a crucial first step to achieving their dreams!
Up Close
After returning from teaching the session on self-esteem to students in a new high school, Roots of Health staffer Joyce expressed how sad it was to hear girls and boys tell such difficult stories of loneliness and low feelings of self-worth. But by the end of the class, she was heartened to see students already taking more positive views of themselves and expressing positive desires and intents for their lives. That day reminded her of why she chose to be an educator working with young people. It felt amazing to know that she was helping to make a difference in these young lives!
Next steps
We will continue to provide education and support to young people at various high schools in Puerto Princesa. Your help and support is allowing us to work with young people and help them to understand more about themselves and their health, giving them a better chance at staying in school and achieving better futures. Thank you!
Budget:
We've spent roughly a third of our funds - $920 of our $2,670 project budget.
Line Items
Projected budget
Amount spent so far

Teaching Materials

Teacher Salary

Transportation

Total

$130

$2,510

$30

$2,670

$69

$837

$14

$920
Working to help girls stay healthy and in school so that their dreams have a chance.
Why we care: Teen pregnancy rates in one small high school are 10%.
How we're solving this: Teaching the students age- appropriate lessons on self-esteem, positive relationships, fighting peer pressure, and the basics of reproductive health.
In one small high school on the outskirts of Puerto Princesa, Palawan, nearly 10% of the girls in the senior class are pregnant. Most of them are 16 years old, and most will not graduate from high school. We worked in this school and taught the students age- appropriate lessons on self-esteem, positive relationships, fighting peer pressure, and the basics of reproductive health, including how pregnancy happens, how contraception works, and how to protect themselves from sexually transmitted infections. We presented four engaging, interactive lessons to each of the school's grade levels, encouraging students to think about their lives, goals, plans and dreams. We urged them to delay sexual activity but also provided them with the information they need to protect themselves and stay healthy and in school so that their dreams have a chance.
We made an impact in that school, and we want to work in as many of the public high schools in Puerto Princesa as we can, to help engage and empower as many of the city's young people as possible. In 2013 we aim to reach 1500 students in two high schools on the outskirts of Puerto Princesa City. Public high schools in the Philippines are truly avenues of social mobility, so it is important to help girls avoid unplanned pregnancies and keep them in school so that they can have healthier and more productive futures. Help us reach these students and give them the knowledge that will help them stay in school!