1 year impact report
"I came to Sweden one year ago to live with my husband's family. I don't speak any Swedish, and I don't know where to go to receive maternal services. Meeting with other women who are in my situation and hearing a health worker explain everything was very helpful."
Impact for girls & women
This is the number of girls and women who regularly participated in monthly meetings from February 2015 to August 2015
Estimated girls & women affected
500
Broader impact
When we inform and educate women about maternal care and how best to take advantage of available health services to ensure a healthy and safe deliveries, entire families and communities are ultimately affected—physically, socially, economically and beyond. Having said that, the official number of Somali immigrants in Stockholm alone is 10,000. With hundreds of women attending our workshops in many different cities, coupled with word of mouth and transmitting this education to immediate family members and others in their community, we concluded that the number of individuals affected by our efforts numbers in the thousands.
Estimated community members affected
?
Access to Maternal Health for Diaspora Communities
One year ago, you chose to support our project to help Somali women and girls navigate the health care system in Sweden. We have come a long way, and today, over 500 Somali families have received potentially life-saving information about maternal health care and services that are available to them before, during, and after childbirth.
To accomplish the objectives we laid out in the beginning of the project, we involved a number of health workers, Somali community leaders, and youth representatives in our implementation plan. Together, we developed a series of monthly informational and interactive workshops in 3 cities across Sweden.
Most women and their husbands who participated in these workshops acknowledged that the information they had received had not been available to them before, due to having little or no knowledge of the Swedish language. Around 75% of participants had lived in Sweden for less than two years and were not able to translate materials that were commonly used and readily available to the Swedish population. White Ribbon Alliance translated a number of maternal health materials in to Arabic, and these are now being used widely within the Somali diaspora community.
Due to popular demand, these workshops will continue until the end of April 2016, and will be led by WRA-trained representatives of the Somali diaspora.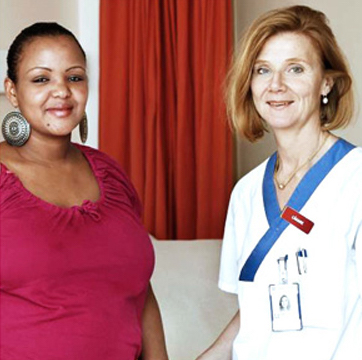 Get personal
"I came to Sweden one year ago to live with my husband's family. I don't speak any Swedish, and I don't know where to go to receive maternal services. Meeting with other women who are in my situation and hearing a health worker explain everything was very helpful."
Risks and challenges
All of the workshops participants are immigrants and asylum seekers who have fled their country. Most of the women have witnessed terrible atrocities, some have been sexually abused, and others have lost family members in the ongoing conflict, violence and unrest. None of the participants received proper counseling, and the only way families know how to cope with these tragedies is to try and forget, and move on. Therefore, it was challenging to engage the group in a discussion focused specifically on respectful maternity care, as participants would benefit from a wide range of counseling and support services given other recent and traumatic life experiences.
What we've learned
We are pleased that at the beginning of the project we involved not only pregnant women, but also their husbands/partners. This proved to be a very important and valuable strategy. From the verbal feedback that we received, we felt that this fostered better understanding and planning within the entire family about health issues.
While initially we only budgeted to include Somali women who were pregnant at the time of the workshops, we were able to expand our meetings to include other women and girls who were interested in participating and learning about health issues. We found there was generally a high level of interest amongst the diaspora group to learn more about accessing health services.
Next steps
Due to high demand, the maternal health workshops will not end in August 2015, as initially planned. White Ribbon Alliance members have worked with the leaders of the Somali community to reserve meeting space and continue the monthly meetings until April 2016. A number of community representatives have been recruited to conduct these workshops on a volunteer basis.
Budget
The support from Catapult was a great contribution towards our efforts to improve access to maternal health services for immigrant communities living in Sweden.
Line Items

Projected budget

Amount spent so far

Production of learning material]

Translation of materials

Meetings and discussion groups

Total

$5,020

$3,000

$$2,050

$10070

<

$5,020

$3,000

$$2,050

$10070

90 Day Report

Keep Somali moms healthy

November 24, 2014

Progress

This year, you supported us to continue our work with the Somali immigrant community in Sweden. Through this project we hope to educate Somali families about maternal health services that are available to them in the country. In the first ninety days of the project, our team met to plan out the workshops and meetings that need to take place over the course of the year. We also determined what kinds of materials we will need to develop and translate so that a wider group of the Somali community can have access.

Risks and challenges

Before beginning the project, we recognized that some Somali women may be apprehensive to attend healthcare classes due to cultural restrictions. We are going to overcome this barrier by approaching community leaders and helping them understand our message, before discussing it with the larger community.

Get personal

"The Somali community in Sweden has grown a lot over the past few years and in Stockholm alone it now reaches 10,000 people. As a maternal health organization, the White Ribbon Alliance wants to ensure that health workers in Sweden understand what kind of challenges women in this growing community face and how to better address them."

Next steps

Over the next few months we are going to meet with one hunderen Swedish doctors, midwives, and other health workers. We will then develop and translate a set of materials and offer maternal healthcare classes to support five hundred immigrant Somali women on their rights to access post and pre-natal care.

Budget

We are going to spend the funds that have been allocated for this project once we begin developing the communication materials and scheduling community meetings.

Help women navigate the health care system in Sweden.

Why we care: Immigrant women underutilize maternal health care, mostly due to lack of information in their own language and not having a tradition of preventive health care.

How we're solving this: By working with the Somali immigrant community to educate families about maternal health services via workshops, meetings, films, and distributing materials in their own language.

The Somali population in Sweden has increased by 300% in recent years and there are now approximately 50,000 Somalis in Sweden. Of those, 10,000 live in the Stockholm area.

We'll increase awareness and understanding about the challenges that immigrant Somali women face among 100 Swedish doctors, midwives, and other health workers over 12 months. In addition, we'll offer maternal healthcare classes to support 500 immigrant Somali women on their rights to access post and pre natal care.

We'll distribute leaflets and posters in Arabic on maternal health care to hospitals and community centers. Somali women who have been in Sweden over the long-term will host discussion groups, information meetings, and knowledge exercises in Somali dialects.

We recognize that some Somali women may be apprehensive to attend healthcare classes due to cultural restrictions or fear. Also, to overcome language barriers, we'll host discussion groups by offering Arabic translations and using pictorial diagrams.

At the end of our project, we'll conduct surveys to capture how knowledge about health care and rights has changed. We aim to increase understanding and knowledge levels by at least 10%. We'll also survey Swedish health workers to analyze whether or not they are more aware of the challenges Somali women face.