1 year impact report
"These are life and death situations, literally. I think these instructional videos will assist the litigants in knowing what's expected so that they can present the best case possible when they have their day in court."
Impact for girls & women
This is the number of women served in Jenesse Center's emergency and transitional housing, and those who came to the drop-in education center to attended our in-house Learning Everything Legal classes, since January 2014.
Estimated girls & women affected
172
Broader impact
This number represents the children of the women who have attended our in-house Learning Everything Legal classes since January 2014. These are children whose futures were made more secure because of the information their mothers received in the classes.
Estimated community members affected
345
Turning the tide: Educating and empowering self-represented survivors of domestic violence
One year ago, you took a stand for women and girl survivors of domestic violence in Los Angeles. You helped women without representation who were facing an intimidating and confusing court system. Thanks to your support, we addressed with them important legal matters, which have the ability to affect their safety and stability.
You chose to support Jenesse Center to develop Learning Everything Legal, a legal education and empowerment program which was designed to equip self-represented domestic violence survivors with all of the tools necessary to protect themselves and their children.
With your generous support, we developed and produced a professional quality training video and handbook as part of the Learning Everything Legal program. We designed the video and handbook to assist domestic violence survivors seeking to obtain restraining orders against their abusers. We chose to focus on the restraining order hearing process for this project because obtaining a restraining order is often the initial legal step for domestic violence survivors in breaking the cycle of abuse.
With your help, Jenesse Center is one of, if not the first, domestic violence intervention organizations in Los Angeles to sponsor community-wide workshops and materials focused on legal education and empowerment for domestic violence survivors. Filming took place on March 29, 2014 in the Thurgood Marshall Courtroom on the historic Susan Miller Dorsey High School campus over one continuous sixteen hour day.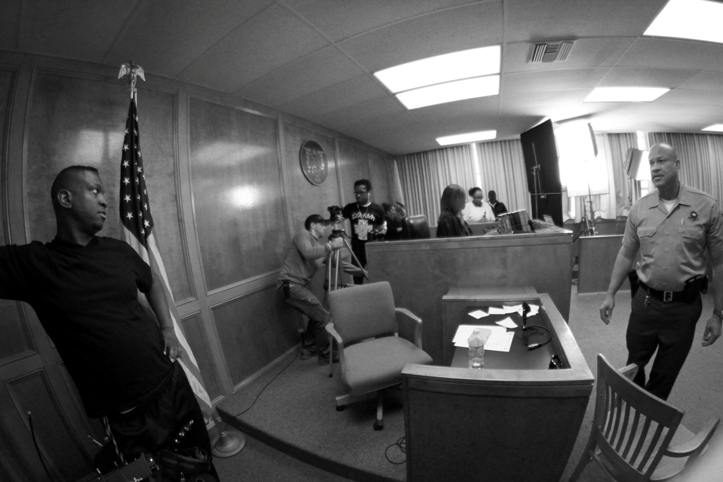 Get personal
"These are life and death situations, literally. I think these instructional videos will assist the litigants in knowing what's expected so that they can present the best case possible when they have their day in court." The Honorable Judge Patricia J. Titus.
"Without your help and all the information you provided, I would not have had the courage to attend the [restraining order] hearing." M. Valencia – "Learning Everything Legal" Class Student
Risks and challenges
The timeline for producing a professional quality video and handbook and launching a series of community-wide workshops was ambitious. Amazingly, the Learning Everything Legal training video went from concept to finalization in less than a year. We also completed the handbook in a timely fashion. However, we experienced an unanticipated delay in the video editing process. We covered thirty pages of script in one continuous, sixteen hour day of filming. The industry standard is three to four pages of script per day! The large volume of footage had to be edited down to one cohesive video in between the director's other projects. As such, we were unable to launch our first community-wide workshop before the one-year reporting deadline.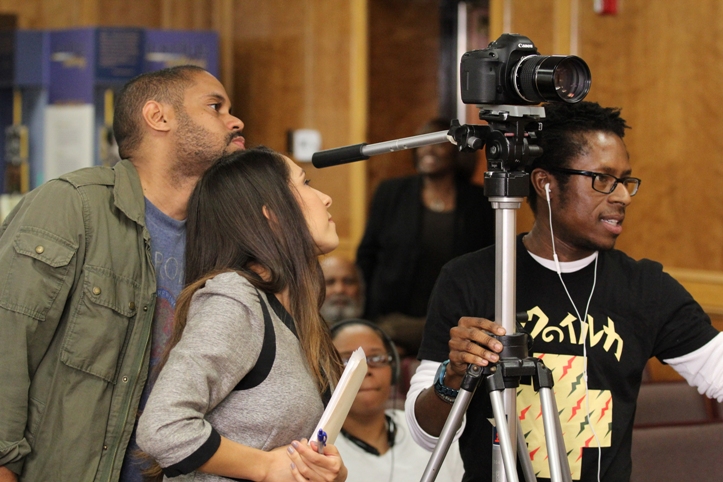 What we've learned
We learned the importance of evaluating a project from different perspectives. Originally the "Learning Everything Legal" program was to be a series of training videos and workshops. However, early on we determined that we needed a companion handbook. Producing the handbook enabled us to launch our "Learning Everything Legal" classes - to educate and empower our clients - much sooner than if we had waited until the video was completed to do so. As a standalone piece, the handbook enables us to reach a larger population of domestic violence survivors. Although we intend to produce more training videos, we've learned that we can reach and support self-represented domestic violence survivors using a variety of communication methods.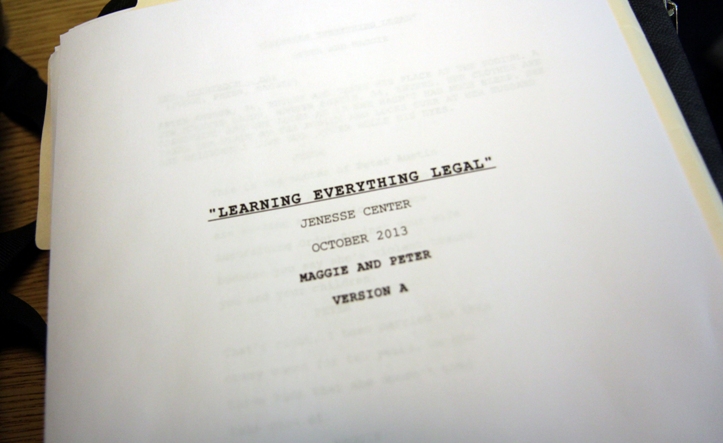 Next steps
Because of you, we produced the first in a series of professional quality training videos, handbooks, and community workshops designed to educate and empower self-represented domestic violence survivors. Future training videos will focus on family law issues that domestic violence survivors commonly face. We are actively seeking additional funding opportunities to bring these projects to scale. We will continue to support this critical population of survivors as we work to secure funding.
Budget
As previously noted, we experienced an unanticipated delay in the editing and finalization of our training video. Because of this delay, we were unable to launch our first community-wide workshops before the one-year reporting deadline. However, we anticipate the launch of our first community-wide "Learning Everything Legal" workshop before year's end. All remaining funds will be spent down by December 31, 2014.
Line Items

Projected budget

Amount spent so far

Peer to Peer Legal Advocacy Training

Mock Trial Preparation and Training and Development Workshops

Child Care Services for Workshop Participants

Transportation Stipends for Advocacy Trainees

Community Education and Research Forums

Food Services for Workshop Participants

Educational Materials (Promotional, Campaign Materials)

$7,913

$3

$2,400

$318.32

$3,000

$1,412.01

$3,292.32

$2,088

$2,227

-

$81.68

-

$907.99

$1,307.68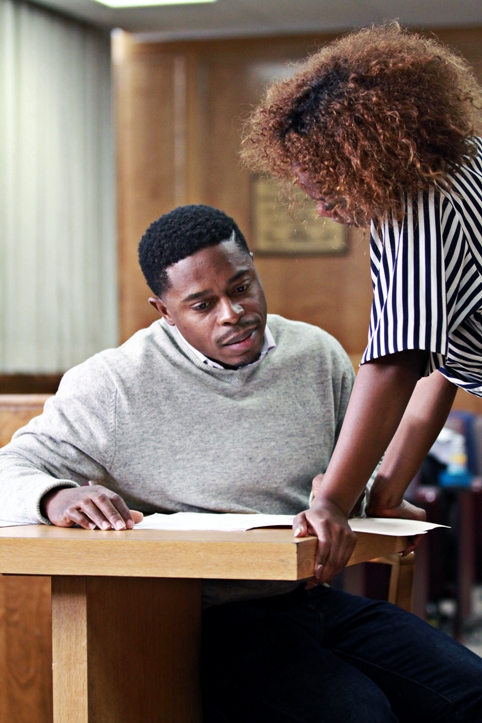 90 Day Report
Learning everything legal
posted Dec 18, 2013 by Rati Bishnoi
We want to share our success and what we have learned regarding effective legal advocacy for domestic violence survivors with the greater community through our "Learning Everything Legal: Legal "Education and Empowerment for Domestic Violence Survivors" program. Central to the program is our mock hearing training video, which will provide program participants with visual instruction regarding effective and ineffective methods of self-representation in seeking a restraining order. Our efforts have focused on developing the scripts that will be used to film the mock hearing training video. We attracted the support of a professional screenwriter and with her help, we now have four scripts which chronicle a "do" and "don't" scenario involving two sets of litigants. The scenarios, which are entertaining, yet informative and educational, will be portrayed by professional actors. An experienced film director has agreed direct our mock hearing video and we are actively recruiting actors.
Risks and challenges
Translating an idea into something that is tangible can be challenging. We experienced this with the scripts for our mock hearing training video. We had great ideas but no idea how to translate them into a usable format. In fact, our early attempts at script writing were quite humorous! We realized that if we wanted to produce a professional training video we needed professional assistance. Fortunately, a long-time supporter referred us to an experienced screenwriter with extensive screen credits. We shared our vision for the mock hearing video and, with her expertise, developed four scripts that will enable us to educate and empower domestic violence survivors in their quest to obtain the protections afforded by a restraining order.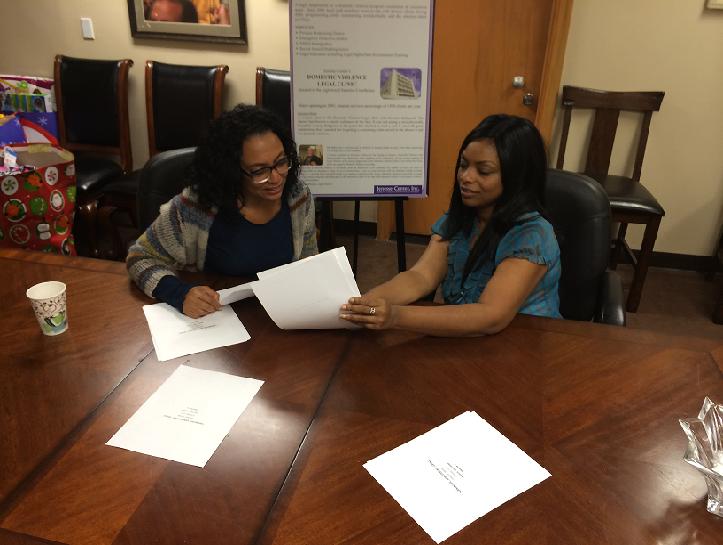 Get personal
"The Learning Everything Legal Program will enable us to share what we have learned over the last 34 years about effective legal advocacy with a population that may never enter Jenesse's walls. Our Learning Everything Legal program allows us to provide a larger community of domestic violence survivors access to the tools and resources needed to protect themselves and their children." Alyson Messenger, Jenesse Center Managing Staff Attorney
Next steps
For the immediate future, we will be focused on filming our mock hearing training video. As noted, we have secured an experienced film director to help us produce the video, and we are in the process of recruiting professional actors for the video. In addition, we are securing permission to shoot the video in an actual courtroom. We will continue to develop the collateral materials that will be used with the video. We will unveil the mock hearing video by mid-2014.
Budget
As mentioned, we secured the services of a professional screenwriter in developing the our mock hearing video scripts. Our screenwriter reduced her normal fee because she supports our Learning Everything Legal program. Her services resulted in the development of four screen-ready scripts. The $5000 fee put us over the Educational Materials line item budge of $4600. However, we remain on track overall due to pledged support for other line items of the project budget.
Line Items
Original budget
Amount spent so far

Legal Advocacy and Training

Mock Trial Workshops

Childcare Services

Transportations Stipends

Community Forums

Food Service

Education Materials

Legal Advocacy Training x 4: $10,000

Mock Trial Workshops x 4: $2,200

Childcare Services: $2,400

Transportation Stipends x 8: $400

Community Forums x 2: $3,000

Food Service x 8: $2,400

Education Materials: $4,600

Total: $25,000
Education Materials (Mock Hearing Scripts): $5000
More information
A 2002 survey by the California Judicial Council Task Force on Self-Represented Litigants found that 72% of Family Law litigants in Los Angeles County are self-represented. Self-represented domestic violence survivors often find themselves legally forced to interact with their self-represented abusers in court. Therefore, it is imperative that domestic violence survivors learn how to navigate the legal system in order to protect their legal rights and prevent further abuse.
More than one-half of domestic violence survivors in Los Angeles County, California, have to represent themselves in court against their abusers.
Why we care: Approximately 90 percent of Jenesse Center need legal services to protect themselves and their families from domestic abusers—oftentimes without the right financial services and knowledge.
How we're solving this: Helping domestic violence survivors effectively represent themselves and advocate for their legal rights in court.
Financial constraints and the lack of familiarity with how the legal system works can make victims of domestic violence feel that they have encountered yet another hurdle in the fight to make themselves and their families safe. Research from the state of California shows that 72% of Family Law litigants in Los Angeles County are self-represented at the time of filing.
Few of our clients are familiar with the intricacies of the law and even fewer understand how the law interacts with federal laws, the Constitution, and public policy. As a result, an unrepresented client can make costly mistakes that limit her ability to stay safe.
It is imperative that women learn how to navigate the Family Law court system in order to protect themselves and their children.
Since 1999, Jenesse Center has provided on-site legal services at our Drop-In Education Center, and off-site services through our Domestic Violence Legal Clinic at the Inglewood Superior Court House. To date, Jenesse Center has helped more than 15,000 women and girls with their legal needs, but we know that we must do more.
Funding from this project will help Jenesse expand our Legal Clinic by launching, "Learning Everything Legal." The "Learning Everything Legal" program will assist self-represented litigants with document preparation, explanation of court process, and court accompaniment as needed, and will also provide legal classes and workshops.
Donations to this project will cover the following:
Coordinating and implementing a comprehensive legal education and empowerment curriculum that includes an interactive mock trial program; the trail will be videotaped role-play in a simulated courtroom using scripts based on real court cases and live feed-back from experienced Family Court attorneys and judges.
The creation and implementation of a Peer-to-Peer Legal Advocacy Training Program designed to teach volunteers and former program participants the skills necessary to mentor, guide and direct clients as they navigate the legal system.
Childcare services for workshop participants and Legal Advocacy Program trainees.
Community education and outreach forums.
Food services for workshop participants and Legal Advocacy Program trainees
Educational materials, instructional stipends, and promotional materials.
Peace in our homes is a human rights issue and we cannot rest until women and their daughters are empowered to access the systems that will help make them safer.