1 year impact report
"Where I grew up, men say that women should be quiet, stay home, and be obedient. I didn't. I am still growing and I am not planning to stop."
Impact for girls & women
This is the number of new women joined the choir since last year.
Estimated girls & women affected
15
Broader impact
This data is still being collected, and will be added to the project as soon as possible.
Estimated community members affected
?
Raising Voices for LGBT Rights
Since you supported us one year ago, a recent anti-gay referendum shook the Lesbian Gay Bisexual and Transgender (LGBT) community in Croatia. Our contribution to the "Vote AGAINST discrimination campaign" was a recorded music video for the unofficial anthem, "Love for All." We recruited a large number of Croatian public personalities to participate in the video and support LGBT rights. Shortly after release, the song got 50,000 views, and appeared on multiple media channels. In addition our next video, "To Russia with Love," was selected for the Women's Film Festival in Korea. The campaign inspired many people to audition for our choir, in fact, we gained 15 new members! In June 2014, we organized the free Slavonia tour, which was the first LGBT event held in certain eastern Croatian towns.
We also initiated a joint celebration of the historical victory against fascism in World War II and the International Day against Homophobia and Transphobia. We chose a joint celebration, because its symbolizes that the struggle against homophobia is also a fight against fascism. For the first time, local rural municipalities took initiative in honoring our struggle.
Get personal
Le Zbor builds confidence. Vesna, a choir member who faced discrimination said that "Singing in this kind of collective is…a cream on a cake with so... layers for personal growth."
Andrea, another member says, "First I thought I couldn't sing, but the hope in the other girls' eyes [the choir members] told me otherwise. Where I grew up, men say that women should be quiet, stay home, and be obedient. I didn't. I am still growing and I am not planning to stop. I am raising my voice!"
Risks and challenges
Most of our challenges are from the current economic and social crisis in Croatia. Unemployment is high among women and youth. Many of our members left due to money so we are in constant transition. It's difficult to raise funds from corporations, crowd funding is unknown, and state and city resources for culture have been dramatically cut. The right wing uprising in the country has increased its popularity by dividing society over WWII, leading to increased discrimination against vulnerable groups like ethnic and sexual minorities. They pushed a referendum, which declared marriage to be between a man and a woman, and people voted against us and our human rights. We expect these challenges to be present for the upcoming year.
What we've learned
We wouldn't change anything.
Budget
Line Items

Projected budget

Amount spent so far

Choir director and coordinator honorariums

Instruments

Costumes

Videos and photography

Website

Promotion

$8,420

$1,050

$3,000

$4,200

$2,330

$1,000

$10,000

$2,000

$1,000

$5,200

$800

$1000
More information
On the occasion of the opening of Olympic games in Sochi, we published a video for the Russian traditional song "Katjusha", expressing our solidarity with the LGBT citizens of Russia and worldwide.
Further reading
90 day report
Performing in a new town to much media attention
posted Oct 30, 2013 by Rati Bishnoi
Progress
We held one evening concert and one public action. The Evening evening concert was held in Pula, Istria county (Croatia). It was the first time we performed in Pula. The Concert was held on 8 October—a -Croatian National Holiday-Independence Day— and we used that occasion to speak about Croatian antifascist tradition and human rights.
Early morning the next day, we organized public action in Rovinj (small town close to Pula). We welcomed tourists from Olivia Travel cruise, a USA-based lesbian tourist agency and most of their 300 guests, many of whom were visiting Croatia for the first time. We presented to them our music and the very first Croatian lesbian souvenir-postcards with lesbian-feminist messages. Also, we wanted to show to the Croatian tourist board that it is necessary to include LGBT tourists in a national tourist strategy. Our evening concert in Pula got a lot of media attention. We were guests on local radio stations (Radio Maestral and Radio Pula), local television (TV Nova) and local newspapers (Glas Istre).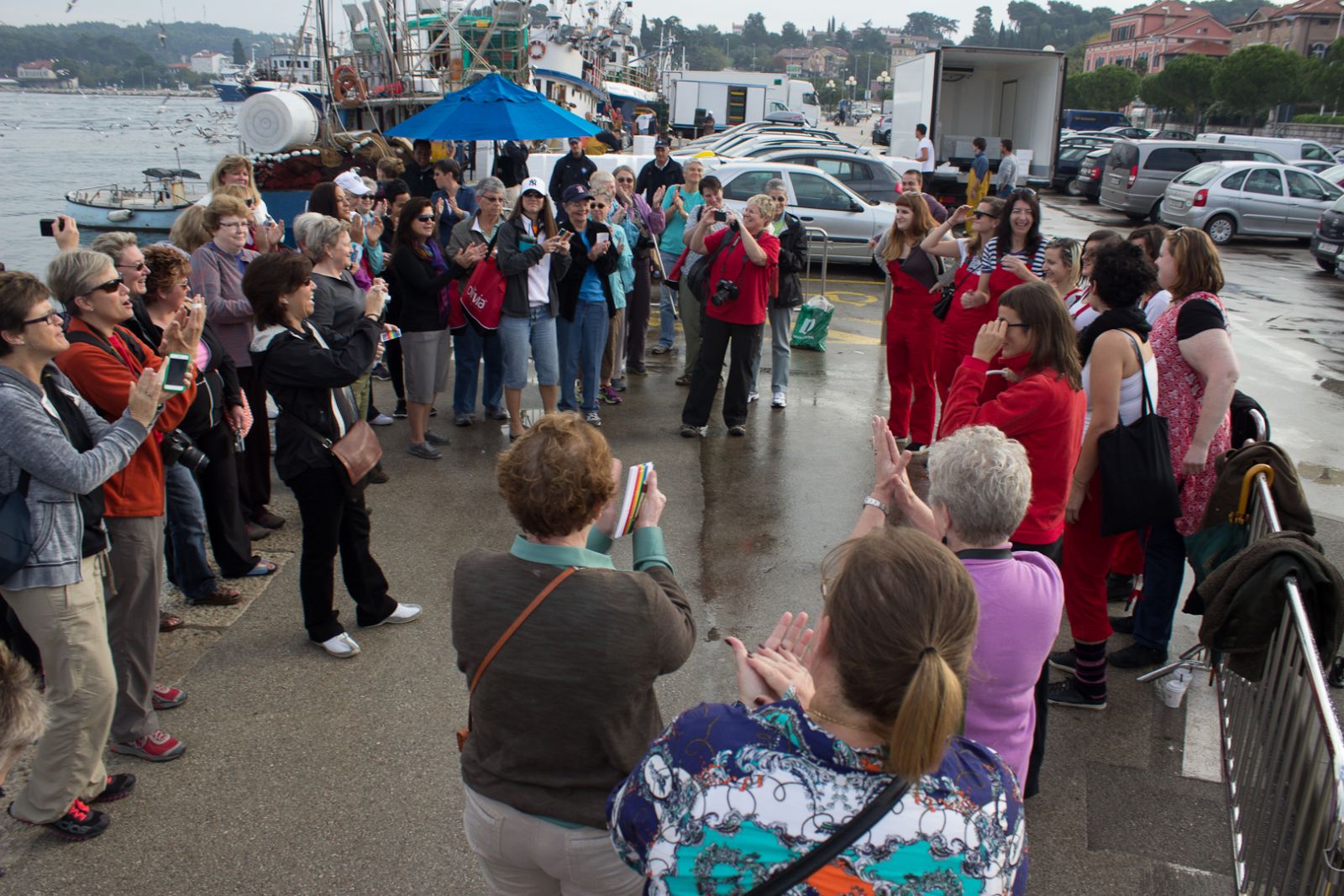 Risks and challenges
The biggest challenge was how to put lots of activities (concert, public action, media..) in short time (24 hours). But with good preparation and coordination we managed it.
Budget
We spent budget mostly according current needs and situation, so there were no expenses on instruments, costumes, and web items. Instead of that we use the budget to create Promo materials-Postcards with lesbian-feminist messages.
Support Le Zbor lesbian feminist choir challenge homophobic and sexist stereotypes in Croatia.
Why we care: Women in Croatia, especially in the LGBTQ community, face discrimination, violence, and exclusion from society.
How we're solving this: Through its music, the Le Zbor choir challenges sexism and homophobia, using new media and art to change discriminatory attitudes.
Homophobia is pervasive throughout the Balkans, including in Croatia. Discrimination and violent crimes based on gender identity and sexual orientation are constant struggles faced by LGBTIQ women and men. Women are discriminated against as men dominate politics, business, and the nonprofit sector. Lesbians therefore face double discrimination. Fearing retribution, very few women identify themselves as lesbians publicly.
Rising to challenge homophobic and sexist stereotypes is the country's one-of-a-kind, lesbian feminist choir, Le Zbor. Founded in 2005, the choir has gained a reputation as a major promoter of human rights and activism, while providing a safe, inclusive space for LBTIQ women. Based in the capital city of Zagreb, Le Zbor fearlessly and smartly bridges the gap between art and activism, delivering its original repertoire along with feminist messages to Zagreb's cultural scene. The group combines song, costumes, and street performances to shed light on human rights violations and raise visibility for women's rights.
Le Zbor has already delivered over 100 performances in Croatia and abroad. This year it will reach larger audiences by sharing its music and message of equality by capturing its performances and activism in a documentary film, a photography exhibit, and social media. Le Zbor will hire a choir director and coordinator to strengthen its musical repertoire, artistic collaborations, and media outreach. Overall Le Zbor will deepen its impact to create a world in which LGBTIQ women feel safe, supported, and included.