1 year impact report
Participants expressed a strong desire for more of our sessions to be conduced, particularly the psychosocial counseling to help women cope with the constant threat of violence, poverty, unemployment, and lack of security resulting the Israeli blockade on Gaza.
Impact for girls & women
270 divorced women received legal assistance from the trainings and 341 women received psychological support and attended counseling trainings.
Estimated girls & women affected
611
Broader impact
This data is still being collected, and will be added to the project as soon as possible.
Estimated community members affected
?
Providing aid for a better life
Thanks to your generosity,we were able to conduct legal awareness workshops and counseling. Over the past year, we successfully implemented the following activities:
Held twelve legal awareness sessions and six lectures in twelve locations throughout Gaza in collaboration with other local organizations. Three lawyers offered these trainings to 270 divorced women covering topics related to legal rights in divorce, particularly custody rights, alimony rights, and inheritance rights.
Offered psychosocial support and counseling sessions to 341 women in Gaza in collaboration with other local organizations. Women were grouped into groups of 12 and each group was given 15 hours of counseling. Strong emphasis was put on the use of psycho-drama techniques to facilitate self-expression and help the participants work through trauma.
Conducted community training and awareness sessions in order to inform the community of the programs we provide and raise awareness of the issues facing women in the community and the organization's efforts to address these issues.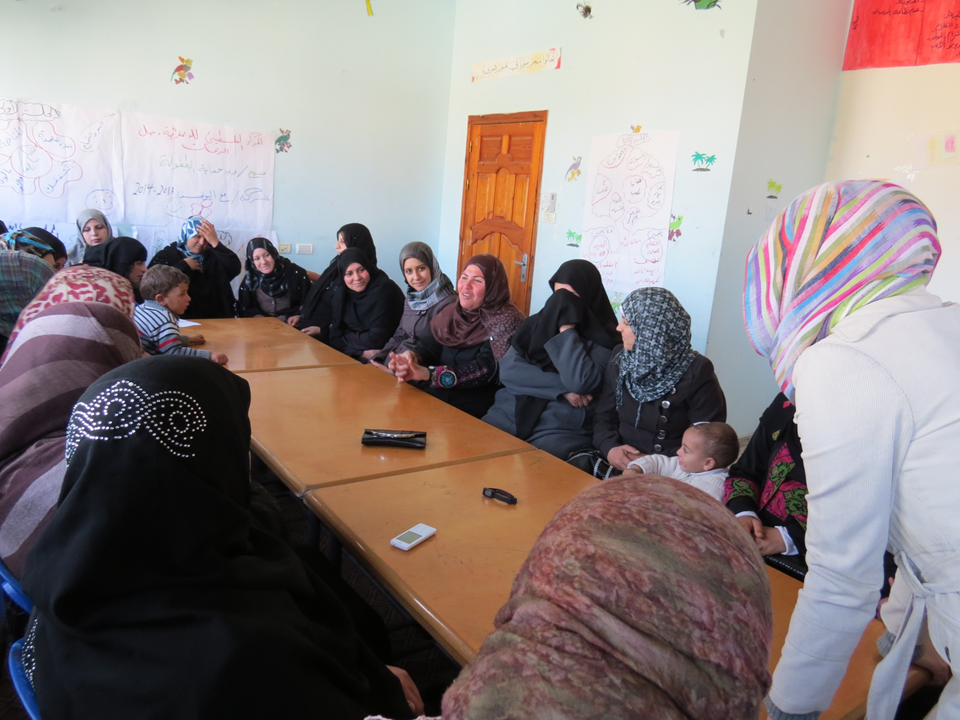 Get personal
One of our participants suffered from anxiety, grief, and depression after her son had been killed in the Gaza war of 2012. After participating in our psychosocial counseling sessions, particularly the ones involving psychodrama, she was able to express herself and work through her grief. She credits us for her improved state of mind.
Risks and challenges
One of the challenges we had was a larger than anticipated number of participants, many of whom attended sessions expecting to receive financial support or free meals. We also had difficulty reaching many of the locations where the sessions were being held due to the fuel shortages resulting from the Israeli blockade. It was a challenge to complete all sessions within the time allocated.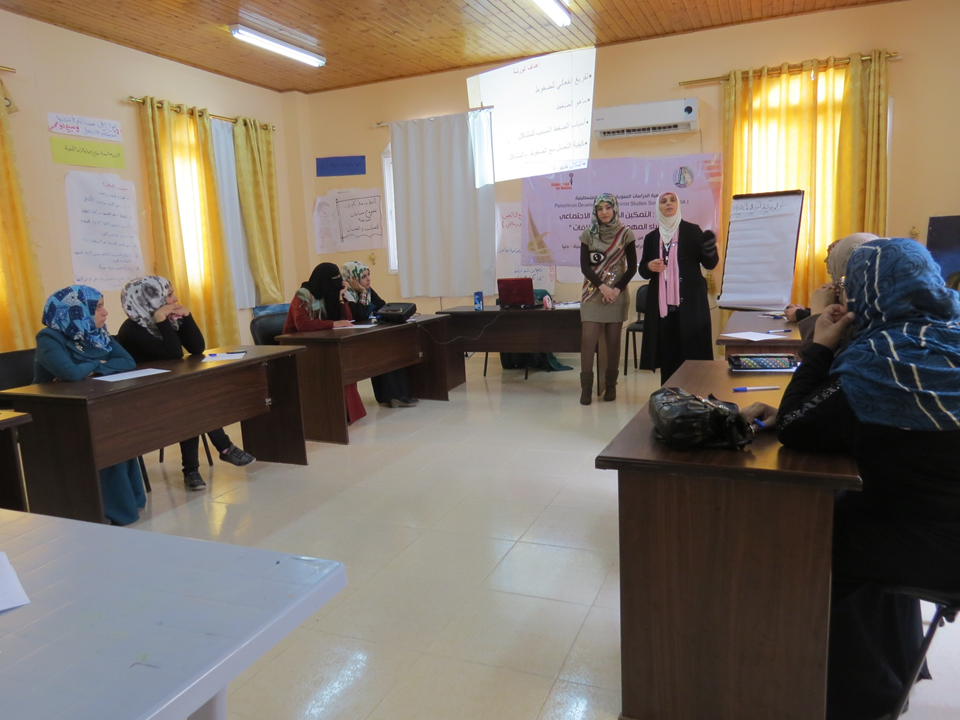 What we've learned
Participants in various sessions expressed a strong desire for more of these to be conduced, particularly the psychosocial counseling to help the women cope with the constant threat of violence, poverty, unemployment, and lack of security resulting the Israeli blockade on Gaza and the constant military incursions.
Budget
Line Items

Projected budget

Amount spent so far

Staff coordination

Legal awareness workshops

Health & advocacy trainings

Community sensitization trainings

Legal representation (30 cases)

Publication materials & media

Monitoring and evaluation

Administration

$6,800

$1,200

$6,000

$750

$1,500

$2,000

$1,000

$750

$6,800

$1,200

$5,000

$200

$1,500

$2,500

$2,000

$800
90 Day Report
Recruited a dedicated team, despite fuel shortages and power outages
Progress
Thanks to your support, the Palestinian Developmental Women Studies Association (PDWSA) launched this important program! We announced the program through email, social networking sites, and local media. With the launch, we started recruiting a dedicated team for the following positions: Project Coordinator, Field Coordinator, Psychologist, and Lawyer. After narrowing down nearly 100 applications to a short list of 23 candidates, we filled the positions. The team met to decide on a plan of action and is implementing their strategy. One member of our new team, the Project Coordinator, has already reached out to other women's groups in target areas and will soon host training workshops focused on legal awareness and psycho-social counseling for marginalized women.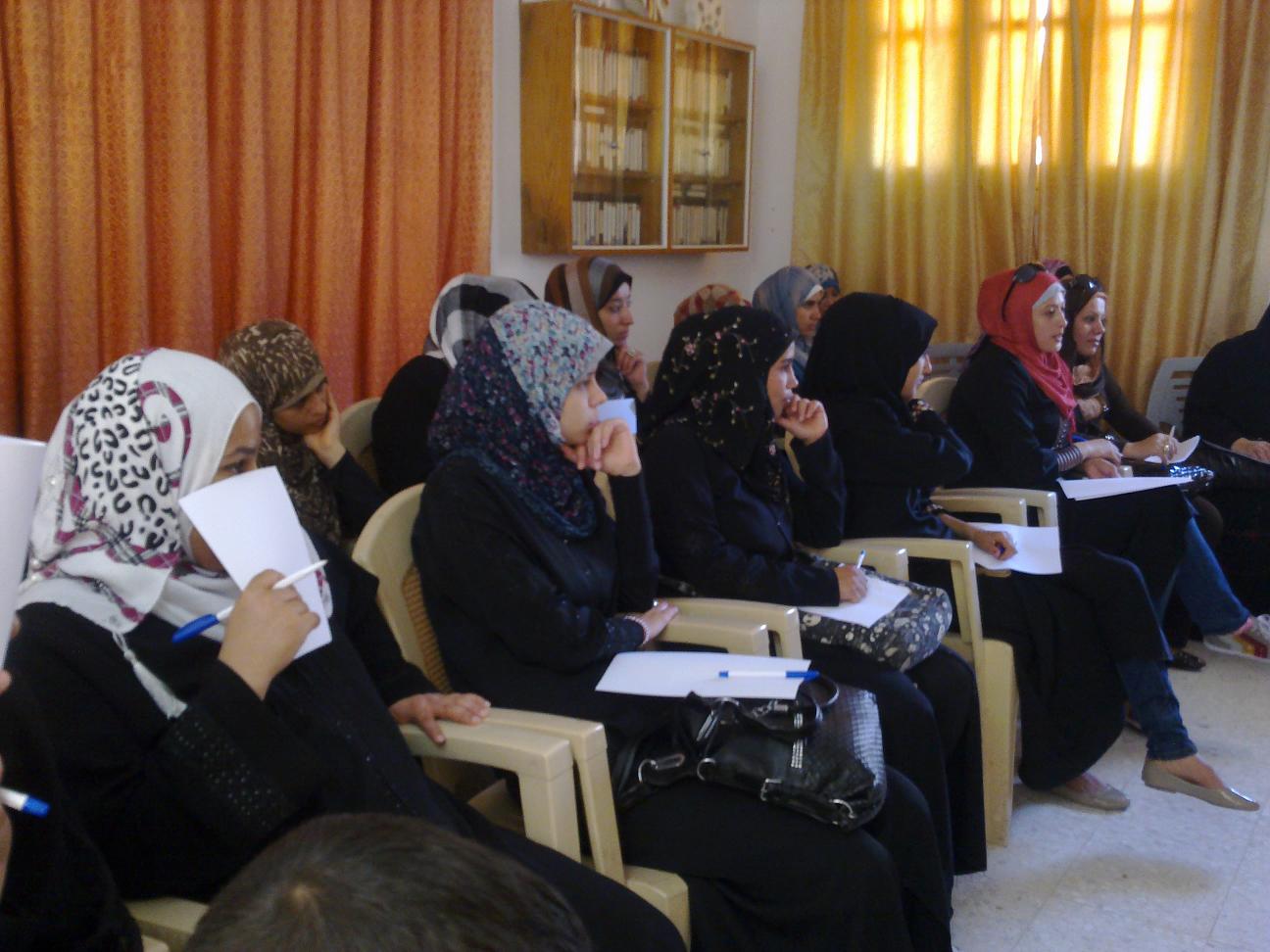 Risks and challenges
A major challenge has been the acute shortage of fuel in the Gaza Strip, as well as frequent and lengthy interruptions in power supply. This hinders participation at workshops and the ability of our staff to submit reports on time. To face the challenge of fuel shortages, PDWSA has coordinated with local women's groups to hold the trainings in locations that are easily accessible by foot. In dealing with power outages, which are magnified by the lack of fuel for generators, our team has set up a rotating schedule based on days and times when electricity is available and work from home when necessary.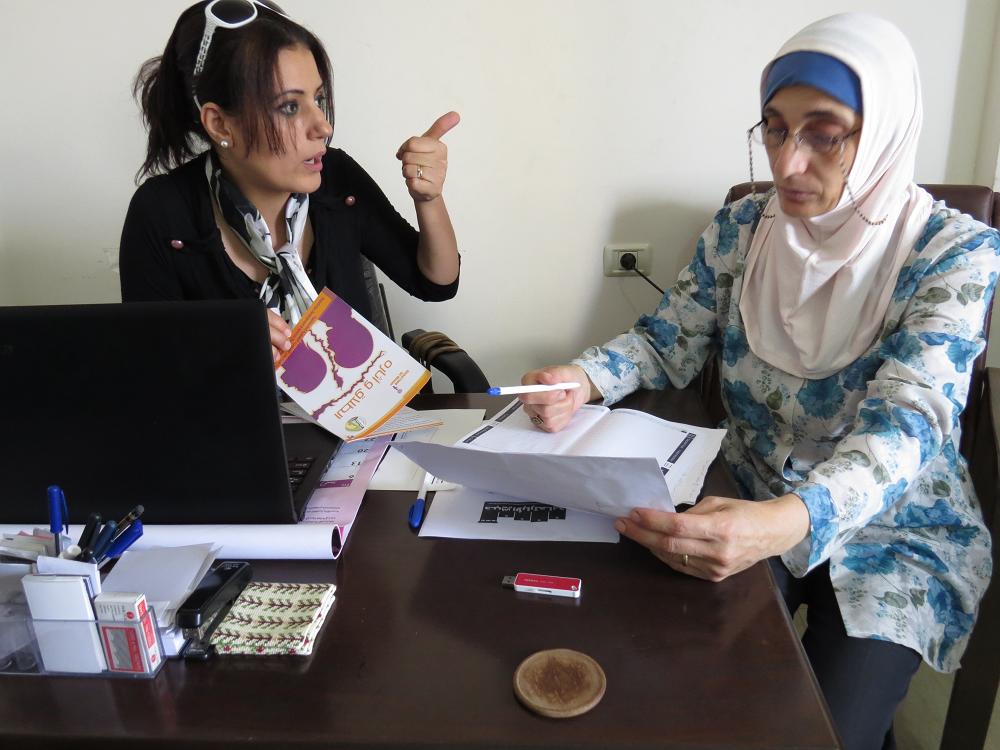 Next steps
Our team has been working hard to create a brochure containing certified legal information on the ramifications of divorce. Our next step is to distribute these brochures at workshops, clinics, and meeting places to raise awareness and alert women of their rights.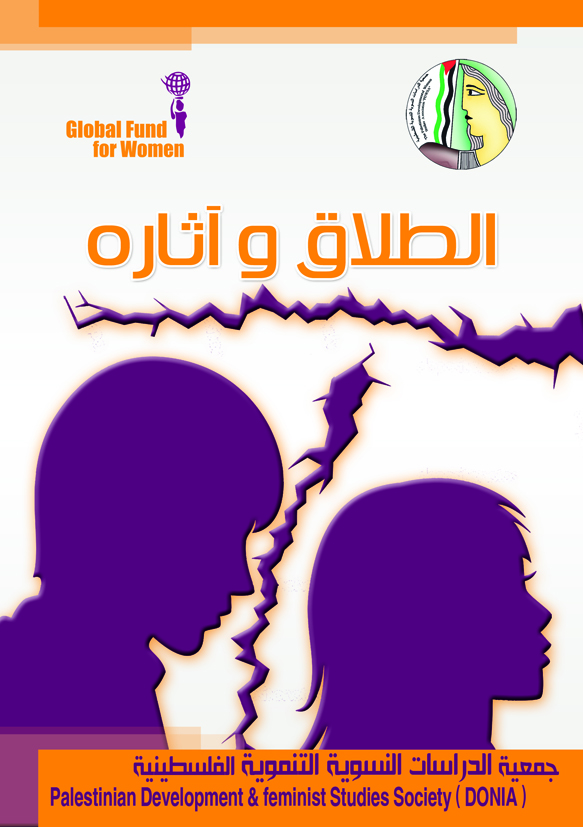 Divorced women in the Gaza Strip face high rates of unemployment and violation of their rights due to attitudes that shun women out of wedlock.
Why we care: Divorced women are disproportionately affected by the devastated economy and ongoing violence.
How we're solving this: Providing legal rights awareness workshops and pro bono legal services to divorced women in poor and violence-prone neighborhoods.
For more than eight years, a crippling blockade across the Gaza Strip has led to the collapse of the economic system, resulting in increased levels of poverty and unemployment. Women have suffered the most, as many are dependent on their families and husbands for financial support. Additionally, during the last three years, the percentage of divorces in the Gaza Strip hit an all time high of 15 percent.
Many people believe that women should stay at home and remain dependent on their husbands. Therefore, divorced women face discrimination when seeking work and have trouble accessing legal advice and representation. In addition, widespread social stigma influences decisions in judicial and legal institutions, often leading to women not receiving a fair case nor getting the mental health support they require, as well as losing their children and property.
These injustices cannot be ignored.
The Palestinian Developmental Women Studies Association (PDWSA) will ensure that women get the justice and legal support that they are entitled to. PDWSA will conduct legal awareness workshops, disseminate brochures, and organize public advocacy events to educate women from poor neighborhoods in North Gaza about their legal and political rights. PDWSA will also take on 30 legal cases, ensuring that women receive the best legal advice and counsel for their proceedings. Overall, women will acquire and pass on knowledge that all women, regardless of their marital status are entitled to; a life of dignity and legal protection.
As a result PDWSA will:
Teach 200 women about their legal rights, particularly the right to maintain custody of their children.
Train 200 women how to advocate for their rights, as well as gain access to affordable healthcare and psychosocial counseling.
Sensitize over 500 community members on women's rights.
Provide legal advice and representation to 30 women.
Publish multiple studies and brochures on women's political and legal rights.