1 year impact report
I was previously a sex worker myself, I understand their situation and point of view. They feel that I am able to listen and understand their difficulties and struggles. Society should pay more attention to the needs of these women, try to understand them and help them.
Impact for girls & women
Every client has an anonymous membership card which allows us to count the number of different women using our services.
Estimated girls & women affected
1424
Broader impact
All of the sexworkers using our services are women, we also provide prevention material and advice to a smaller number of men (360).
Estimated community members affected
1784
Driving to improve the lives of migrant sexworkers
In a year time our mobile clinic has intervened 207 times and had 20,000 visits from over 1,400 women. We have accompanied over 380 women to health and legal services, and conducted over 560 interviews in our drop-in centre.
Thanks to your support we have also been able to implement numerous improvements to our project and the services we offer:
Since June 2014 we have employed a former migrant sexworker as a community health worker. Her life experience and great communication skills has proved invaluable to better understand the difficulties faced by the women we meet and better adapt our services to their needs.
Since October 2014 we have been supporting a group of migrant sexworkers to create their own self-support organization called "The Steel Roses". Via this organization they aim to improve the lives of sex workers through cultural activities, advocacy and greater solidarity.
From February to July 2015 we recruited an intern to undertake research on the increasing numbers of migrant sexworkers working via the internet and social media. Through surveys and extensive interviews the intern was able to identify the main risks and problems encountered by those concerned and propose innovative ways to communicate with and support the often isolated and vulnerable women working in this way.
In July 2015 we received a new mobile clinic custom built for our needs which will greatly improve the quality of the services we provide.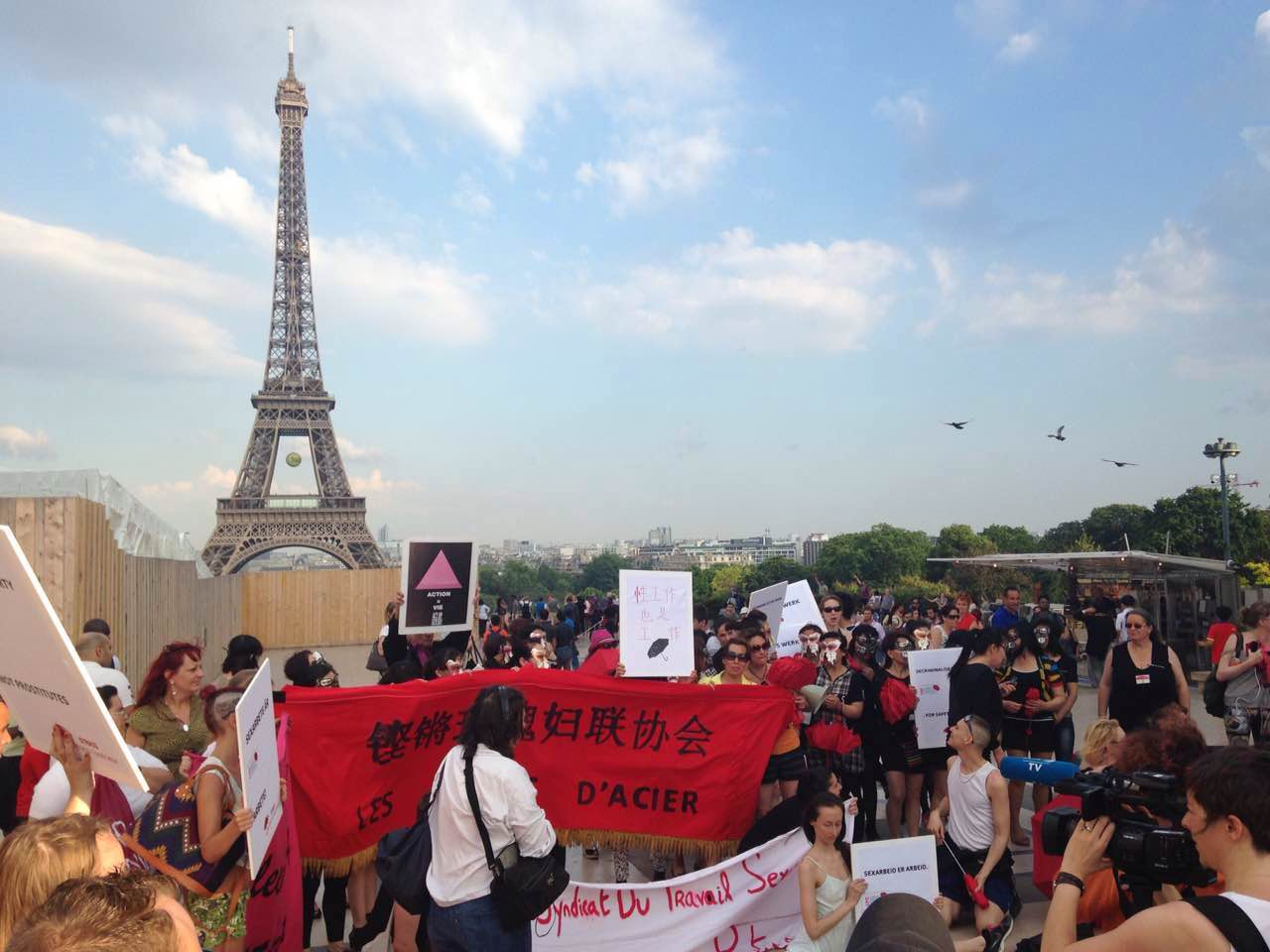 Get personal
The main aim of my work is to promote and inform Chinese female sexworkers about health prevention. Everyday we hear people's experiences of condoms breaking, of women being assaulted, of women falling ill… As I was previously a sex worker myself, I understand their situation and point of view. They feel that I am able to listen and understand their difficulties and struggles. Society should pay more attention to the needs of these women, try to understand them and help them.(Health peer worker)
Risks and challenges
The main challenges to our project are linked to the political context:
- A bill of law is currently being discussed in French parliament to make sexwork illegal by criminalizing clients. Sexworkers fear that this law will increase the risks and dangers they confront, forcing them to work in hidden places where they are at greater risk of violence or exploitation. Although we have participated actively in advocacy against this law it will probably become law in 2016 and will have an important negative impact on the women we work with whilst also making our job more difficult. The Paris municipal government has become increasingly hostile to the presence of sexworkers in the street and the police enforce no tolerance policies.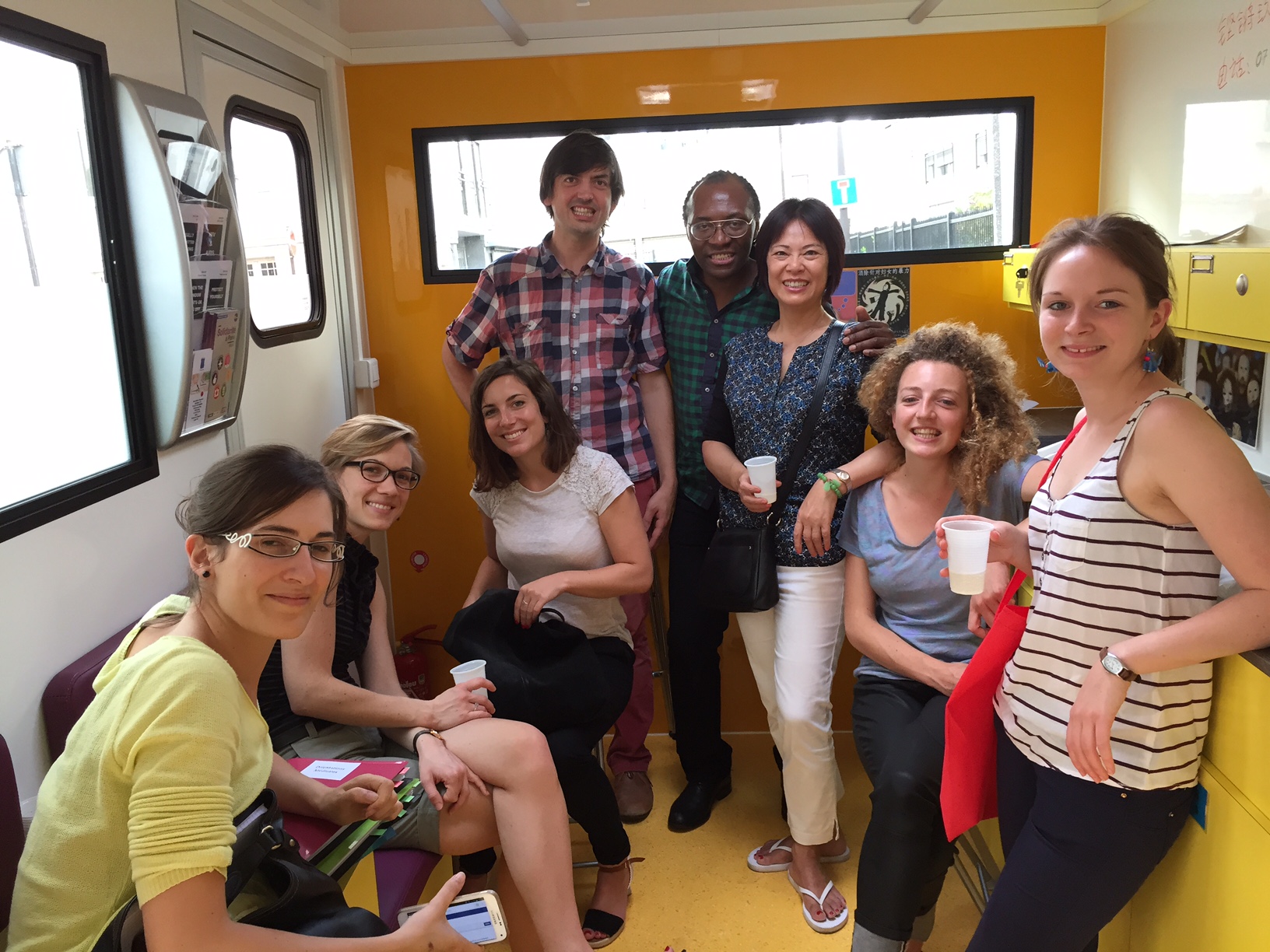 What we've learned
Our experience recruiting and working with peer workers this past year has confirmed what we previously only suspected, namely, that for a health prevention project to be really effective it is essential to involve and empower the women we aim to help. We are now convinced that promoting even greater involvement of migrant sexworkers in our team and decision making process is the way forward for us to improve our project and the quality of our services.
Next steps
As an always increasing number of Chinese migrants in France engage in sexwork to survive, the Lotus Bus project is more relevant than ever. Over the past year we have introduced exciting innovations to our project and over the following year we wish to consolidate the work we have begun. In particular we will focus on: improving access to legal rights and healthcare for sexworkers who are victims of violence, creating a website and doing regular outreach work towards women working via internet, further supporting the "Steel Roses" self-support group.
Budget
The budget has been fully spent and used as follows:
Line Items

Projected budget

Amount spent so far

Training of peer worker

Running workshops

Publishing Chinese language brochures

Travel (exchange visits)

Peer worker salary

Health prevention material

Total

$2500

$2500

$1500

$1000

$6000

$1500

$15,000

$2500

$2500

$1500

$1000

$6000

$1500

$15,000
More information
In English : Article in Accent Magazine - http://www.accentmagazine.org/?p=762 In French : Libération (Daily National Newspaper): http://www.liberation.fr/societe/2015/02/11/les-pas-perdus-des-marcheuses-de-belleville_1200551 France Culture (National Radio Broadcast): http://www.franceculture.fr/emission-sur-les-docks-collection-temoignages-les-marcheuses-de-belleville-2015-02-09 Charlie Hebdo (Weekly Satirical Magazine)
90 Day Report
The Lotus Bus - Empowering migrant sexworkers to protect their health and rights
Progress
In 2014 the Lotus Bus received 20434 visits from 1080 Chinese sexworkers. In June 2014 a full time peer-worker was recruited and received training (counseling techniques, health prevention, HIV testing, French language). The peer-worker undertook an extensive survey amongst Chinese sexworkers to better understand their difficulties accessing health care and prevention services. Following this survey we have developed a new weekly drop-in center in partnership with ARCAT another health organization, and the peer worker organizes weekly visits to STI screening clinic. The peer worker has also been instrumental in helping Chinese sexworkers establish and run their own self-support group called "The Steel Roses" who now provide French language classes and various cultural activities.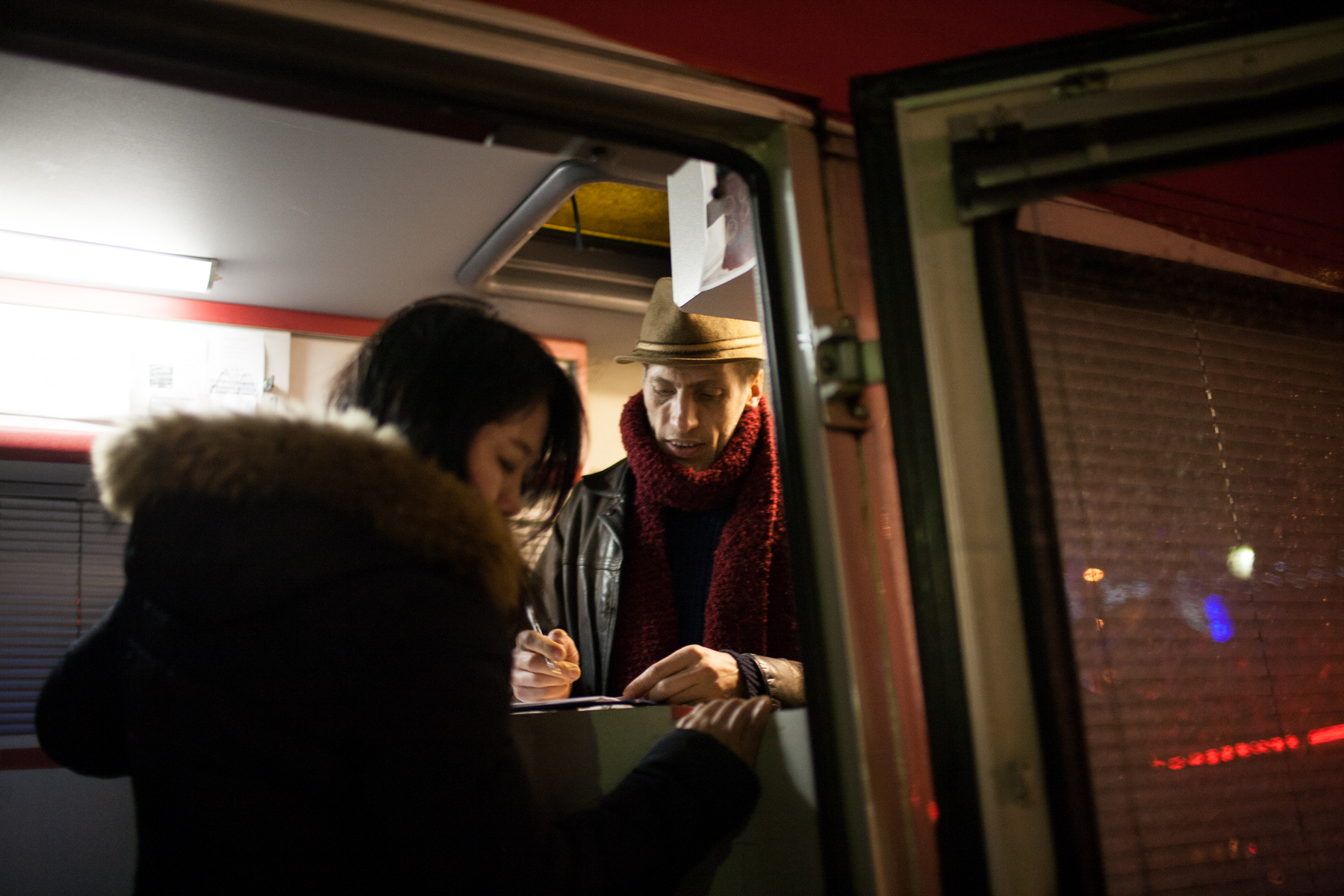 Risks and challenges
The major challenges encountered by our project are due to the political and legal context in France. Although sexwork is not illegal, sexworkers, and in particular migrant women, are regularly arrested for passive soliciting. This constant police pressure pushes sexworkers to hide and take greater risks for their health and security and undermines their confidence in the State. Furthermore, French parliament is currently discussing a law to prohibit sexwork. This has caused many sexworkers to leave the street and work via internet where they are invisible from the police but are more isolated and more easily exposed to exploitation.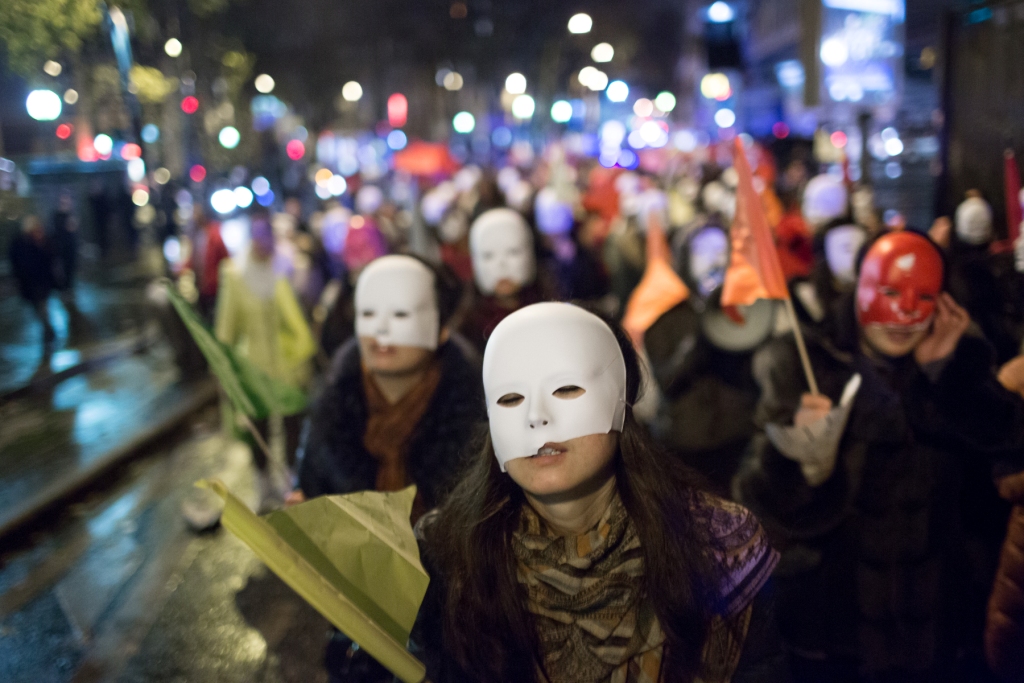 Up Close
"When I first started working as a sexworker I had never seen a condom in my life. The first time I saw one I thought it was a chewing gum, and when I opened the packet I thought it was a balloon ! When I met the Lotus Bus team I was able to find answers to many question: how to protect my health, what my rights are, what to do in an emergency... Today I feel more confident and am able to protect myself thanks to all that I have learned." - Weiwei - Lotus Bus client
Next steps
To adapt to a changing context, an intern will undertake research in 2015 to develop outreach services for sexworkers via internet. We will also start offering rapid HIV testing to our clients to facilitate access to healthcare. Furthermore we will receive a new mobile clinic in April 2015 which will improve the quality of our work in the street. Finally, we will continue supporting the development of the self-support group "The Steel Roses" so that the voice of sexworkers is heard.
Budget
The funding we received has so-far allowed us to provide training to our peer-worker, to run several workshops with our clients, and undertake exchange visits to partner organizations in France. We were also able to edit, illustrate and publish a series of four Chinese-language information brochures on health and rights issues. In 2014 we received funding from regional government to employ our peer worker, the Catapult funding will thus allow us to continue her contract into 2015.
Line Items
Projected budget
Amount spent so far

Training of peer worker

Running workshops

Publishing Chinese language brochures

Travel (exchange visits)

Peer worker salary

Health prevention material

Total

$2,500

$2,500

$1,500

$1,000

$6,000

$1,500

$15,000

$2,500

$2,500

$1,500

$1,000

$0

$1,500

$9,000
More Information
We provide essential frontline services to marginalized women. We are also witness to injustices or human rights abuses and we believe it is our duty to advocate for an end to these injustices. We aim to empower women to speak out, make their voice heard, and take an active role in society. We also attempt to influence decision makers in order to improve, in the long term, the situation in sexworkers in France. Our work would not be possible without the support of fund givers such as Catapult.
Further Reading
17/12/2014 - Inrockuptibles (weekly current affairs magazine) - "The streetwalkers of Belleville emerge from the shadows" 19/12/2014 - Metronews (free daily newspaper) - "The Women of the Lotus Bus"
Enable 1,200 Chinese migrant sex-workers in Paris to access health care and defend their rights.
Why we care: Thousands of Chinese women migrate to France every year. With limited opportunities, many decide to engage in sex work as a means of survival and face stigmatization in society.
How we're solving this: The Lotus Bus, run by Doctors of the World, provides essential health services and a vehicle of hope to these marginalized women.
Our mobile clinic travels four times a week to the streets of Paris where these women live and work. On board, a team of Chinese-speaking outreach workers provide information, trained doctors answer health questions and refer women to appropriate medical services, and a support worker gives advice on social services.
We help women like Fangfang, a 43-year-old sex worker in Paris, who explains, "The Lotus Bus helps us women working in the street and gives us material and psychological support. Thanks to the Lotus Bus we are able to protect ourselves. The Lotus Bus helps us overcome the many difficulties we may encounter and it gives a voice to the weak and vulnerable. "
As sex-workers, women like Fangfang are highly stigmatized, have an increased risk of contracting sexually transmitted infections, and are particularly exposed to violence from both clients and from law enforcement. 55% of the women we work with have been subjected to physical violence and 38% have been victims of rape.
In addition to operating the Lotus Bus, we host a weekly drop-in centre where women can come to find solutions to their health, social, or legal problems. Our team of Chinese-speaking interpreters is there to help, and French-language lessons are offered to ease the challenges of language barriers.
With your support, we will hire and train community outreach workers, organize health and rights workshops, publish new Chinese-language information materials, and develop online materials to reach out to the most isolated sex-workers.
Be a vehicle of change and help us provide a "home away from home" to over 1,200 women like Fangfang.