1 year impact report
Almost all of our women members have escaped poverty and the private lender trap, and now lead a life of dignity. Their quality of life has improved with increased self-esteem and power over decision-making.
Impact for girls & women
1,600 women attended our micro-entrepreneurship training programs and 800 women participated in exposure visits.
Estimated girls & women affected
2,400
Broader impact
This data is still being collected, and will be added to the project as soon as possible.
Estimated community members affected
?
Raising the economic status of marginalized women
Since you last heard from us, we were successful in creating activities that help empower women. Here at Sanmitra Trust, our vision is to transform Indian society through women empowerment and promotion of a community care culture. We concentrate our attention on the most marginalized women groups (ie. Sweepers, domestic servants, sex workers, minorities), and help them with the following activities:
We set up a permanent micro-entrepreneurship institute where we offer skills training and business management education.
We arranged tours for each women's group to visit and understand wholesale food markets, shopping malls, super bazaars, and food malls in order for the women to know potential resources and markets for their micro-enterprise.
We set up the opportunity for our women's groups to sell their items at seasonal markets and large fairs.
We created microcredit linkages between women's groups and banks, and educated the groups on how to improve their credit.
With the help of the funds, women in our area now have the resources to obtain financial inclusion and citizenship rights, open bank accounts, participate in solidarity groups, and feel economically empowered because they are able to create successful micro businesses. Almost all our women members have escaped poverty and the private lender trap, and now lead a life of dignity. Their quality of life has improved with increased self-esteem and power over decision-making.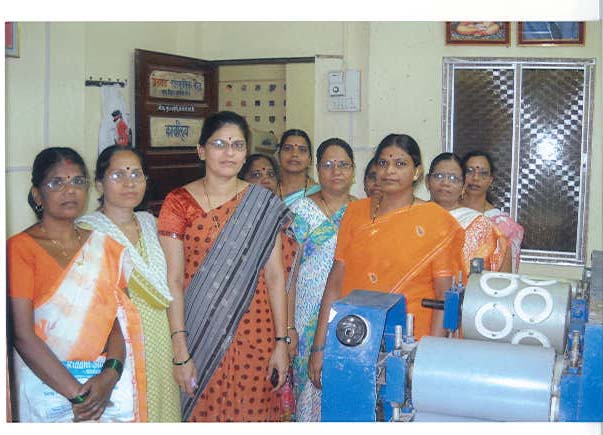 Get personal
Here's Kiran's success story: "In 2004 I joined service of Sanmitra Trust in AIDS control project because there was and AIDS epidemic in our area where sex workers lived in large numbers. First I became a peer educator and learnt the techniques of lay counseling. Slowly I was promoted as a peer leader. We received Best Performance trophy for the highest HIV testing and set up our own skill and micro enterprise institute to train our women in alternate skills and self-employment avenues."
Risks and challenges
We did not experience many challenges because our staff had done thorough ground work and maintained clean, transparent financial records and relationships with the women's groups and banks.
What we've learned
We learned that it is incredibly important to find long-term solutions to women's problems and develop solidarity with all partners.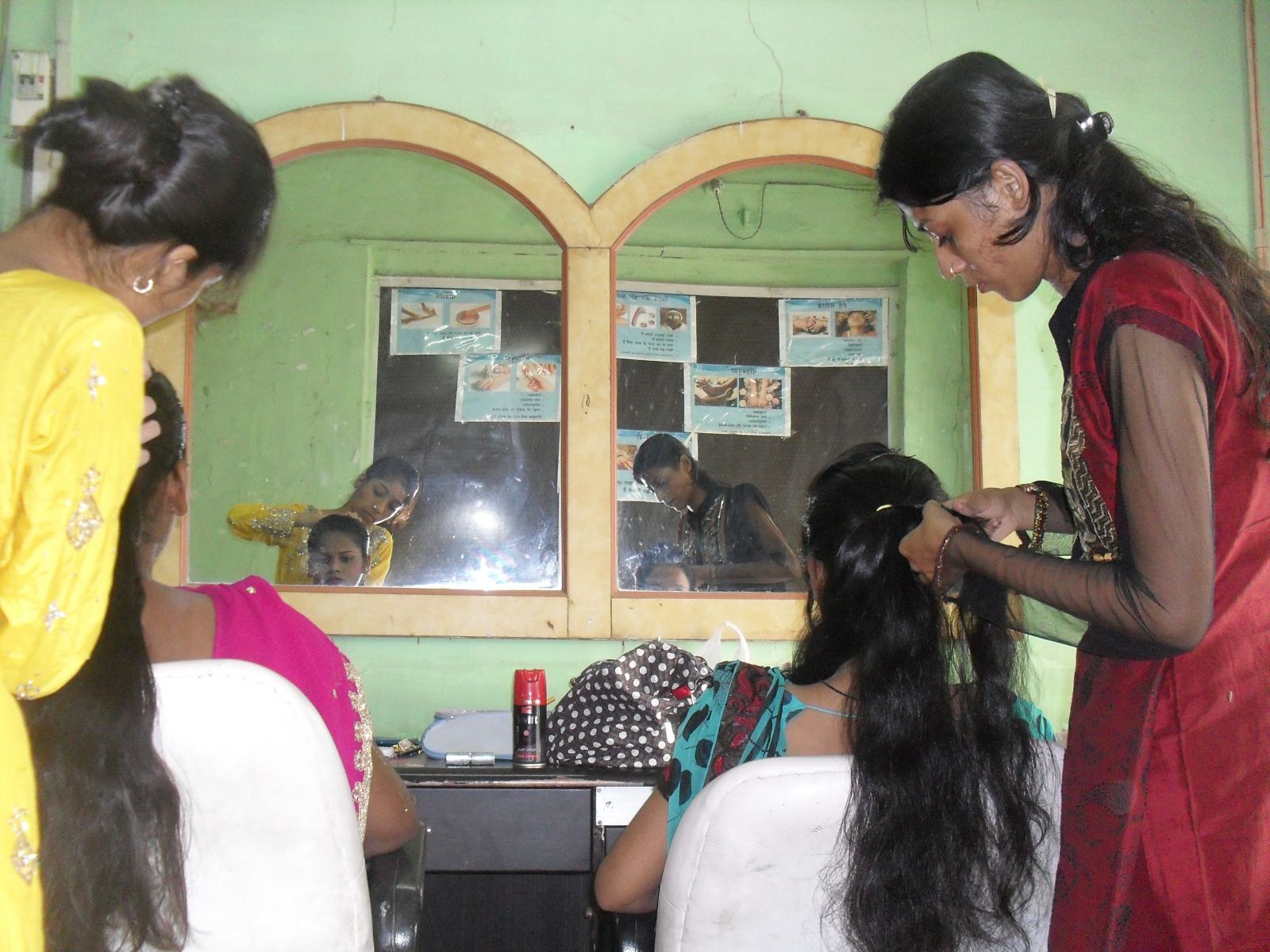 Next steps
We are now raising funds to ensure that the Institute will have a stable and long life.
Budget
Line Items
Projected budget
Amount spent so far

Entrepreneurship training

Visits to successful start-ups, job/product fairs

Equipment

Personnel

Local travel & admin

$5,800

$3,200

$2,200

$2,300

$1,500

$6,600

$3,200

$2,200

$1,500

$1,500
Self help groups are up and running!
posted Nov 8, 2013 by Catapult Intern
Progress
The execution of the Narishakti project started three months before we actually received funding from Catapult and Global Fund for Women in September 2013. 1. We have concentrated our work among infected and affected women, high risk prone female sex workers and scheduled caste women in urban slums. 2. We succeeded in forming self help and mutual help groups and 1600 women have formed 160 groups of 10 each and all of them registered their groups in the state bank of India and opened their saving accounts. The women were taught how to conduct meetings and share their experiences. Next, they identified suitable micro businesses which the groups of women felt confident of handling. The women identified selling fruits, vegetables, fish, and flowers as well as papad and pickle making, selling potable drinking water, making artificial jewelry, and ready-made clothes tailoring. Cloth and paper bag making, candle and lamp making, Diwali and Christmas sweets making were other options.
Risks and challenges
No challenges to report during the initial period of the grant.
Get personal
Sanmitra Trust did not respond to this question as it was not included in the initially agreed-upon reporting.
Next steps
Now we have a period of six months [( from September 2013 onwards) ] to complete the task of setting up of social infrastructure for economic progress of our women, who are marginalized and who face stigma and discrimination in Indian society.
Mahdu (name changed), a 20-year-old woman living with HIV who is widowed with two children, is one of thousands of women that The Sanmitra Trust has helped to escape a life of poverty.
Why we care: Women with HIV are severely marginalized in India
How we're solving this: ARV therapy, job training and self help group
Madhu has found a reason to live. Through The Sanmitra Trust's self help groups (SHGs), she has found a job and a support group, and she is now putting food on the table, sending her children to school, and receiving antiretroviral therapy. She is one of thousands of women that The Sanmitra Trust has helped to escape a life of poverty. Women living with HIV are severely marginalized in India – employers refuse to hire them in fear that other employees will not accept them and that they will miss days of work due to bouts of illness.
In 2009, 6.1 million people were living with HIV in Asia and the Pacific, and of those 2.4 million people were in India, accounting for about half (49%) of the HIV burden.[1] The Sanmitra Trust is doing its part to provide emotional support and economic opportunities to women living with HIV that they never thought they could have. Through SHGs, comprised of 10 to 15 women and a trained peer-counselor, women have new aspirations for their future as they gain job skills training, begin start-up businesses, and connect with other women living with HIV/AIDS. This is also the first time that poor, people living with HIV can gain access to loans through a partnership that The Sanmitra Trust formed with the State Bank of India.
"In 2010, the Indian government awarded The Sanmitra Trust a best performance trophy for organizing marginalized women into self help groups."
The Sanmitra Trust will extend services to another 500 women in the next six months through an intensive five-day training session to learn how to create solid business models, manage loans responsibly, and setup 50 small businesses. Women will also visit previous SHG groups who have successfully started businesses, attend wholesale markets to buy supplies, and meet with government officials to complete paperwork for their start-ups. SHG women will attend product and job fairs where they will meet women business entrepreneurs and potential business partners.
Celestine, a health clinic worker at The Sanmitra Trust, stands behind the SHG model and says, "I give women a new purpose and hope in life on a daily basis." Join The Sanmitra Trust and people like Celestine to give women new choices and resources to realize their full potential within society.
---
UNAIDS 2010 Report on the Global AIDS epidemic. WHO Global Health Observatory Database (WHO/GHO). UN MDG Indicators database