1 year impact report
"I had so many questions before. Now, I have all the answers."
Impact for girls & women
Number of women attending the three validation workshops. The final training videos, webinars and iLearn (new mobile-learning platform on EmpowerWomen.org and internet.org) have the potential to reach millions of women and girls.
Estimated girls & women affected
205
Broader impact
We asked each participant to share what they've learned with 3 firends/people in their networks
Estimated community members affected
615
Supporting young women in building their careers
One year ago, you supported the development of a series of 'online employment training for women workers'. Since then, we have been working hard on the selection and categorization of the training topics and content, delivery formats, and primary target groups. Thanks to our regional coordinators, now on board in 5 regions, we are now developing fresh and user-friendly content. Our community has grown to over 170,000 users and over 6,000 registered members. The content will be packaged under 4 main modules: (1) Employment skills; (2) Negotiation skills; (3) Leadership skills; and (4) Women's economic rights. The first module—currently being validated through a series of in-person workshops in Egypt—focuses on resume writing, interviews preparedness, job search and networking. Our initial intentions were to develop a webinar series. However, during the consultation process, we discovered that our audio and video content cannot be incorporated in this form of delivery and therefore a webinar is not the most appropriate modality. Instead, we will deliver the training within our Learning Center through videos and moderated e-discussions, Google Hangouts and webinars. We will also be posting modules on our mobile-learning platform iLearn currently available on regular mobile phones in Bangla, English, French, Hindi, Spanish, Swahili, and soon Arabic. iLearn is featured in Facebook's internet.org app with the potential of reaching millions of women and girls.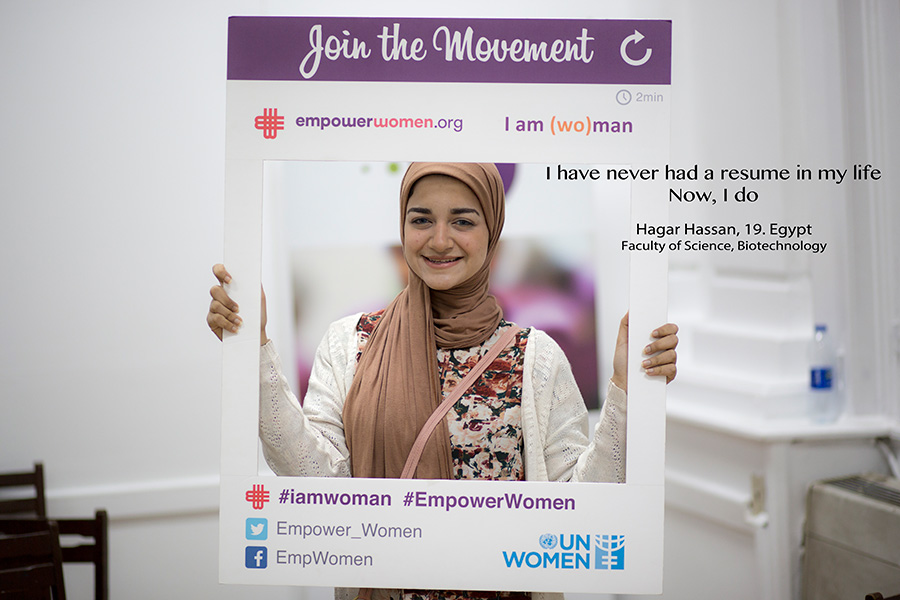 Get personal
400+ young women from schools and universities across Cairo responded to our invitation to three 3-hour validation sessions. 145 participants attended these sessions on resume writing, interview skills and career development in English. In view of the high demand, a full day session was held on 27 April for 60 young women. Hagar Hassan, 19, said "I have never had a resume in my life. Now, I do." Rana Khalid said, 20, said "I had so many questions before. Now, I have all the answers."
Risks and challenges
A key challenge is reaching the women and girls who need the training the most. In response, we have adopted 4 main strategies: (1) Use a variety of technologies for the delivery—from basic feature phones (through iLearn) to more advanced platforms, such as YouTube, Google Hangout, webinars and EmpowerWomen.org; (2) Content delivery in different languages, in particular through iLearn; (3) Outreach and communication in Arabic, French and Spanish through our regional coordinators; and (4) Collaboration with partners that can offer our training in local venues with reliable and free access to the Internet. A risk of delivering the training through in-person workshops is women's security getting to and from the venue.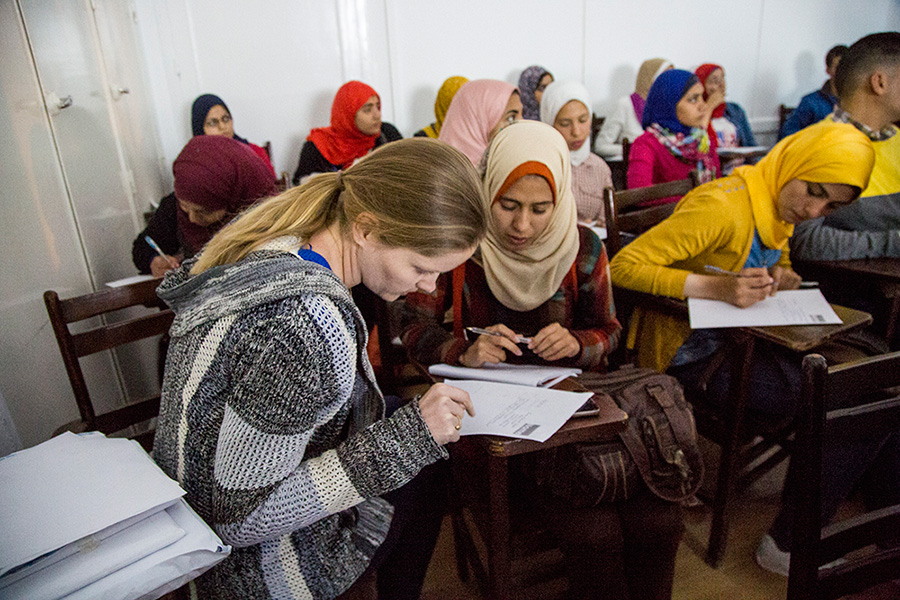 What we've learned
This has been a very interesting validation process and we have learned a lot from the participants. These lessons can be categorized as follows: (1) The need for this training is huge, as shown by the number of applicants and invitations to host more workshops; (2) Women with different backgrounds have different needs and our content needs to be further diversified to meet the demands of specific groups of women, such as students, recent graduates and those with some work experience; (3) Additional templates and material can help participants practice on their own; (4) Training of trainers can help in further disseminating the knowledge gained; and (5) Participants want to receive certificates for completing the training.
Next steps
We will continue to validate the 4 modules with women across regions before starting the video production. Other technology platforms, e.g. Google Hangout, and e-discussions, will be used to assess the most effective delivery mode. We will incorporate the content into our iLearn mobile learning platform, accessible free of charge in select countries. Modules for women entrepreneurs will also be developed. To measure the success and impact of our training, we will develop clear indicators.
Budget
Line Items

Projected budget

Amount spent so far

Content and script writer

Video production

Communication and outreach

Translation

Operating costs

Total

$2,420

$17,000

$2,000

$1,845

$235

$23,500

$0

$0

$0

$0

$235

$235
90 day impact report
Recruiting coordinators for online training sessions

Progress
Over the past 90 days, we've been busy recruiting coordinators to develop and structure webinars. Although the implementation of the project has been slightly delayed, since December 2013, we've begun recruiting six regional advisers who will be coordinating the delivery of the training sessions. Thanks to your support, the coordinators are now working to identify women beneficiaries for the training and ensure that the training module is developed to meet women's needs.
Risks and challenges
We've encountered some cultural challenges in developing the training modules. Cultural and regional differences make the development of generic training module more complex than originally anticipated, and we're working to carefully address these issues.
Next steps
We developed the training model in March 2014, and it will be finalized in April 2014. Our next step is implementing the training sessions that are scheduled to commence in July-August 2014. We look forward to updating you on our progress!
In many low-income countries, women lack access to job skills, technical and business training. UN Women is using webinars to train women to become economically empowered.
Why we care: Women bear a disproportionate burden of the world's poverty. They are often paid less than men for their work and employed in insecure, unsafe and low-wage jobs. According to UN Women, they receive just 10% of the world's income yet do 66% of the work.
How we're solving this: Training women workers in six countries with online webinars to secure employment and know their rights in the workplace.
UN Women's Knowledge Gateway for Women's Economic Empowerment will launch in September 2013. It is an online platform for women's economic empowerment. A Learning Centre within the Gateway will support women workers by providing online trainings to help groups of young women in developing countries to secure employment. Starting in December 2013, training sessions, led by recognized experts, will be rolled out over several months, in six pilot countries:
Thailand
Egypt
Kenya
Panama
Senegal
and Turkey.
The webinars will be recorded and stored on the Knowledge Gateway for continuous long-term usage by women. The training sessions will also introduce these women to online discussions taking place on the Knowledge Gateway.
UN Women is working closely with grassroots organizations to offer the webinars in internet cafes in local communities, or other locations with internet facilities, where women will be able to access the training for free. The content of the webinar training will include job preparedness, how to negotiate working conditions and equal pay, workplace policies and rights, and women's leadership in the economy.
The funds raised via Catapult will pay for two experts to develop and structure the content of the webinars. The supervision and monitoring costs will cover the logistical preparation prior to the sessions as well as supervision during the webinars. Local organizations will oversee the supervision and monitoring.
In parallel, UN Women will continue its outreach to ensure increased awareness of these free online tools. The training session webinars will therefore be able to reach an increasing number of women over time. We aim to reach at least 50,000 women in 2014 through the recorded webinars and will make use of the Knowledge Gateway's built-in analytic tools to assess the success of our project and ongoing engagement with the women trained via the Knowledge Gateway.