1 year impact report
Throughout our program, women regained the confidence to report the violence and leave abusive partners, recovering in our crisis shelters.
Impact for girls & women
This data is still being collected, and will be added to the project as soon as possible.
Estimated girls & women affected
?
Broader impact
This data is still being collected, and will be added to the project as soon as possible.
Estimated community members affected
?
From victims to survivors
Our program offered emotional support to survivors of Gender Based Violence (GBV). All survivors accessed a variety of tools such as the Hot Line and mediation to help them end the violence they endured. Women and children received individual, group, and family therapy, as well as security plans to remove them from harmful situations. We ensured all women know their rights and connected them with networks of other gender based violence survivors who support each other in the healing process. Throughout our program, women regained the confidence to report the violence and leave abusive partners, recovering in our crisis shelters. We helped them recognize their own potential.
Prevention is an important part of our work as well, which is why we worked with children to address the effects of witnessing gender based violence at home. Rather than be victims of gender roles, we gave them a community of youth to teach them to transcend the cycle.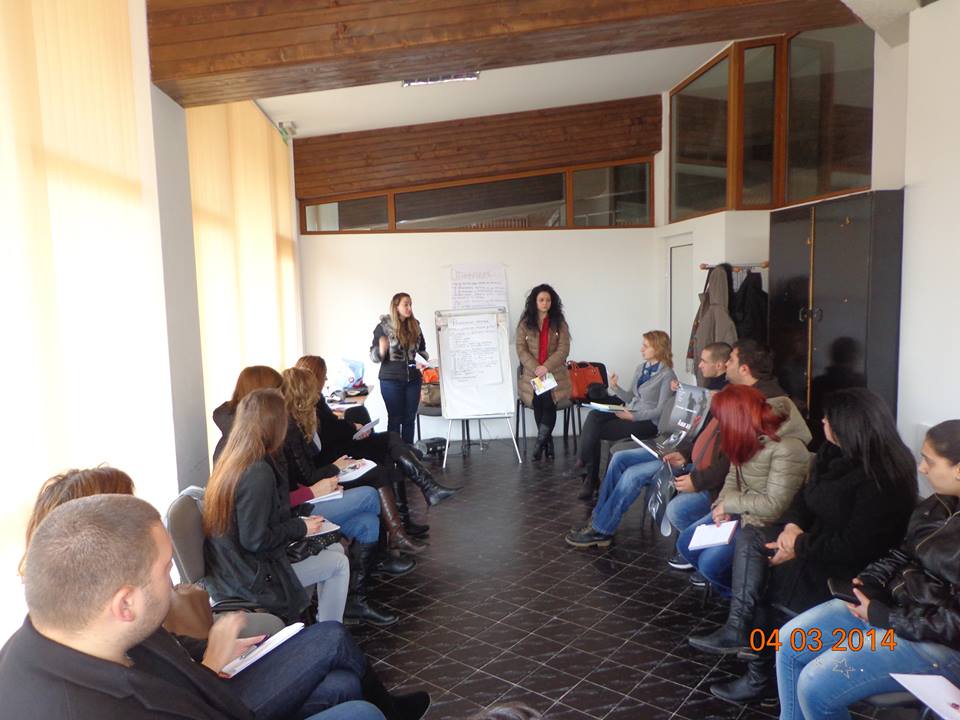 Get personal
Domestic violence is a human rights violation; no woman should be afraid to go home. We worked with a young woman who came to us in tears, her 11 month old in her arms. She was placed in a crisis center at our partner organization where she stayed for 20 days. Her partner was expelled from the home and our organization's psychologist worked with her as well as her oldest son. Now, a year later, she feels comfortable with her independence as she raises her children alone.
Risks and challenges
Domestic violence in many Southern Bulgarian communities, especially Muslim communities, is taboo.
What we've learned
If we were starting over, we'd add prevention activities to our programming.
Next steps
We are working on the project "Resilience Approach to Address Child Abuse in South West Bulgaria" in cooperation with the PULS foundation. The aim is to end sexual violence against children. Our project "Empowering Vulnerable Women through Knowledge and Awareness" aims to: make vulnerable women aware of their human and legal rights, as well as the consequences of gender based violence on children, give access to information, support and resources, and to increase self-esteem and confidence.
Budget
Line Items

Projected budget

Amount spent so far

Counseling services

Legal services and support

Phone volunteers and mediator

Rent and overhead

Administration

$2,600

$1,700

$2,000

$2,000

$700

$2,600

$1,700

$2,000

$2,000

$700
90 Day Report
Expanding services for violence survivors to new communities
posted Oct 28, 2013 by Rati Bishnoi
Progress
We used the grant to make a branch of our organization in Blagoevgrad, which will cater for the needs of all cities in region of Blagoevgrad and support of victims of domestic violence. We registered the branch of our organization as "Knowledge, Success, Change - Blagoevgrad branch" Association. Registration is made in the District Court of Blagoevgrad. Until we found a suitable office, we spent the first month in the office of our partner organization from Blagoevgrad. Since the beginning of September, we have hired a office for the Association in the town of Blagoevgrad, where we offer psychological consultations for survivors of violence, consultations to help perpetrators of violence overcome their aggression, legal aid for survivors, violence hotline, and crisis intervention. We have also met with police, social department, "Child Protection", and NGO partners.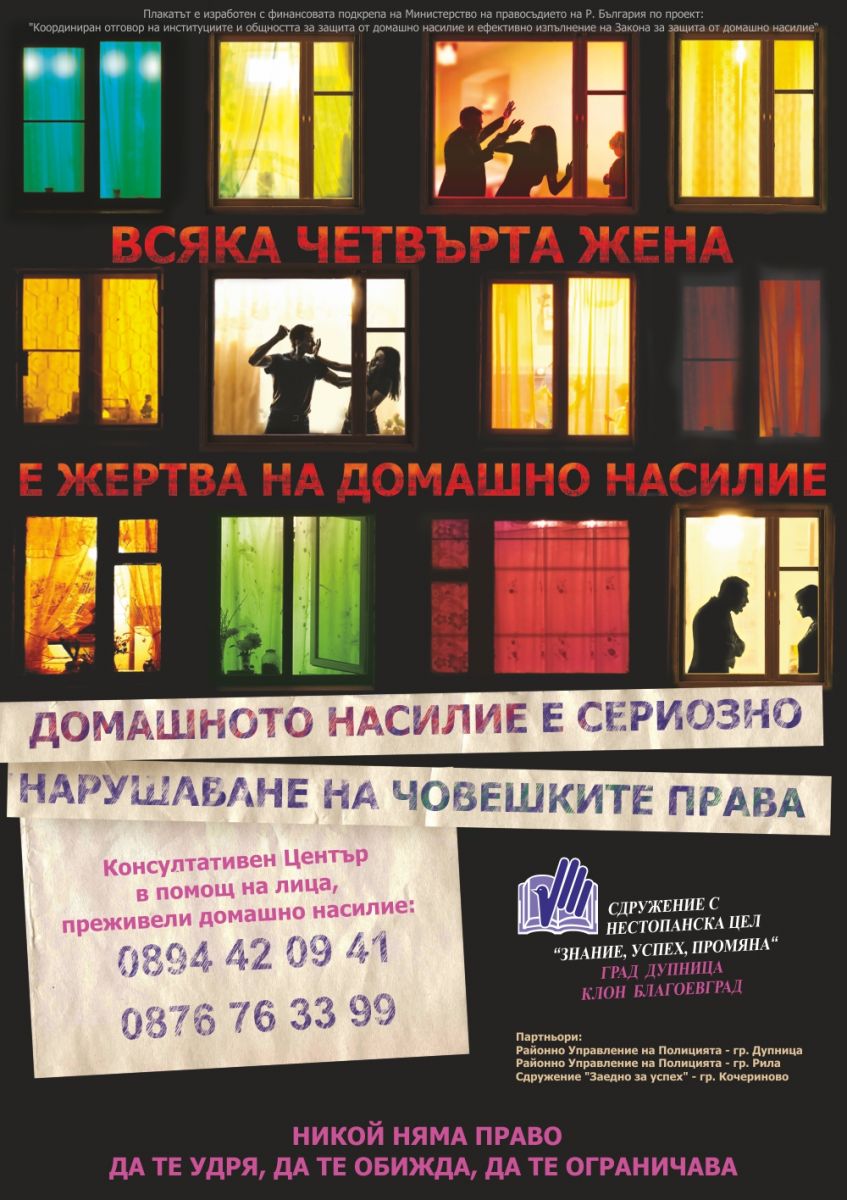 Risks and challenges
We intend to develop a range of services to help victims of domestic violence in Blagoevgrad because we see the great need for such social services. Domestic violence is a problem that requires work on all levels - direct support to victims, prevention and youth work, training and work with institutions, weekly supervision of the team and the institutions. In this way we work in town of Dupnitsa and we see greater efficiency of our work.
Get personal
A local woman went to a lawyer hoping to escape years of abuse by her husband, which her 10 year old often witnessed. The lawyer told her it was best to reconcile as there were few legal options for her. When she confided in a friend she heard about our services. She visited us with little expectations but now has a restraining order and her husband was removed from her home. Her husband still threatens her but with counseling and support she is healing and feeling more confident.
Next steps
We met with the President of the Municipal Council of Blagoevgrad. The purpose of the meeting was to discuss the funding opportunities from the municipal budget of services that we offer to assistance to victims of domestic violence.
Budget
There are no deviations from the originally planned budget.
Violence against women is viewed as acceptable in Bulgaria, and women who speak out are often blamed for causing it and shamed for not braving it.
Why we care: Women and children in Bulgaria experience high levels of domestic violence and incidences are on the rise as a result of the current economic crisis.
How we're solving this: Preventing violence by changing discriminatory policies and attitudes, and providing free counseling, legal aid, and life-saving information.
Women in Bulgaria seek help only as a last resort when violence threatens their very existence and the future of their children. Often, they are not aware of their legal rights and do not feel safe enough to report violence. The government has failed to implement policies protecting survivors, and at the same time NGO anti-violence services are limited and underfunded.
Knowledge, Success, Change is the only NGO that provided psychological support, legal advice, and representation, mediation services, and shelter in Southwest Bulgaria. In 2011, the Center recorded 167 calls on its telephone hotline, facilitated a total of 17 lawsuits, and conducted 196 psychological consultations for women and children survivors of domestic violence. A key aspect to success of the group's work is that they educate citizens that perpetrating domestic violence means breaking the law. The group challenges the common view that domestic violence is a problem to be dealt with in the home.
This year, Knowledge, Success, Change is partnering with media, police, lawyers, and courts to combine resources in support of survivors of domestic violence. The organization has trained networks of police and medical staff to recognize domestic violence and provide gender-sensitive support to survivors in two district towns, Kjustendil and Blagoevgrad. Knowledge, Success, Change will officially open a 24/7 consulting center in Blagoevgrad. The center will be a vital resource for women and children to receive support in overcoming trauma, access healthcare services, and build a future of dignity, independence, and success.