One Year Impact Report
This past year, our first class of 19 eighth grade girls graduated!
Impact For Girls & Women
This project funded 19 eighth graders - our first class to graduates from The Kakenya Center for Excellence.
Estimated girls & women affected
19
Broader Impact
There are 170 girls in our school. The graduates have had an immense impact on our younger students, who now have role models entering secondary school.
Estimated community members affected
170
Our graduates are soaring!
In December 2013, our first class of eighth grade girls graduated from the Kakenya Center for Excellence. These graduates have arrived at this milestone thanks to the generosity of many, and we are grateful for all of your support! We are thrilled to highlight some of their achievements. Our graduates ranked first out of 33 schools in the Keyian Division on the Kenya Certificate of Primary Education (KCPE) examinations. This national exam determines what students are eligible to attend secondary school. One of our graduates received the number one female ranking on the national exam in the Keyian Division Every one of our eighth grade graduates was accepted into high school, with 10 of them enrolled in prestigious national schools!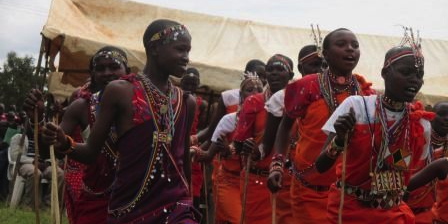 Our graduation celebration brought together students, teachers, parents, and officials. The day was was marked with an award ceremony, traditional dancing, poetry readings and a prayer service. We know that our graduates' educational paths do not end here. The Kakenya Center for Excellence is committed to supporting our girls as they move to high school through our newly created Network for Excellence which will provide evaluation, training, scholarships, and mentorship for all our graduates. Recently our graduates returned to the Kakenya Center for Excellence for a two-day training that focused on academics and provided an opportunity for the class to reconnect and spend time sharing their new experiences. Our mentorship program remains active. Many alumni were visited at their new schools by their mentors during the designated "visiting days" on campus.
Get personal
Jackline is a recent graduate. She dreams of becoming a lawyer because, she says, she wants "to build a center like Kakenya has done." With this center, Jackline wants to rescue girls from female circumcision and early marriage. Her favorite subject in school is English and she loves storytelling and playing soccer.

Kakenya is a recent graduate. Kakenya wants to become a doctor so she can help people in her community. "I'm hardworking and kind," she says. "The Kakenya Center for Excellence has changed my life."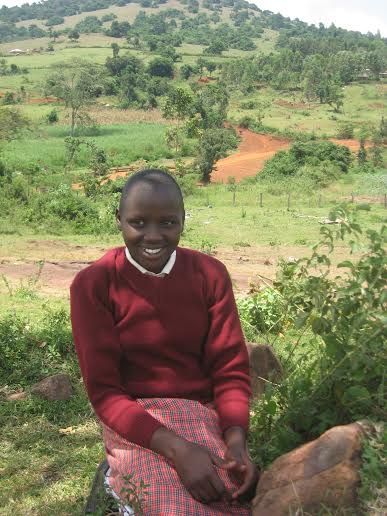 Risks and challenges
Technology: The schools our girls are attending do not all have sufficient technology in place to allow for online communication between mentors and students. We're developing a layered communication strategy that will include letter writing and personal visits as well as online communication.

Transportation: As in all rural areas in Kenya, transportation can prove challenging. We'll facilitate transportation arrangements and help with costs to ensure that our alumnae are able to travel from their secondary schools back to the Kakenya Center for Excellence for trainings and other alumnae activities.
What we've learnt
While our students did exceedingly well on their national examinations for secondary school placement, their acceptance into secondary school required the steadfast support of the Kakenya Center for Excellence's leadership, who worked tirelessly to open doors and facilitate the transition. We know that this support will require significant attention from our staff each year, and we remain committed to ensuring that our girls are accepted into prestigious and robust secondary schools.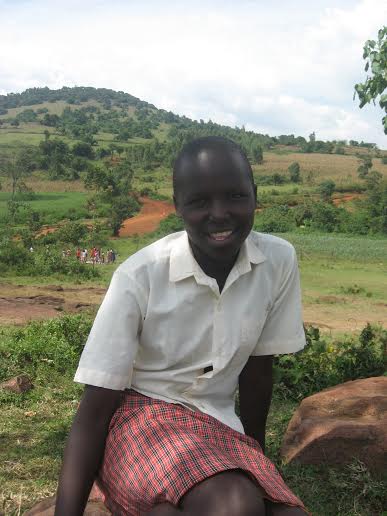 Next steps
Demands for our services continue to mount as we challenge our current students, expand our work, and fulfill our commitment to nurture our recent graduates. Our teachers and staff have worked tirelessly to ensure that girls do well academically, emotionally, and physically. We are inspired by our girls for embracing the gift of education and for believing in themselves, and we are enormously thankful to you for your support.
Budget
Line Items

Projected budget

Amount spent so far

Graduation

Nairobi trip

Network for Excellence

1,800

2,200

2,000

1,800

2,200

2,000
Further reading
Kakenya has given a TED talk that very powerfully tell hers story and shed light on the challenges girls in rural Kenya face in receiving an education.
90 Day Report
Vote for Kakenya as a CNN Hero
Donors, great news! Kakenya Ntaiya has been nominated to be CNN's Hero of the Year for her work!
As you know, Kakenya is a community crusader leading the Kakenya Center for Excellence in supporting young girls through education to become agents of change and to break the cycle of destructive cultural practices in Kenya such as female genital mutilation and early forced marriage.
Make sure to take a minute and vote for Kakenya!
Class of 2017 -- An amazing group of young women
Progress
Kakenya Center for Excellence remains committed to enriching our girls' academic experiences with opportunities outside the classroom. For our 8th graders, who will soon leave our campus and move on to secondary schools around the country, these opportunities are especially important.
This summer, all 19 of our 8th graders traveled to Nairobi to visit the cultural and historic sites of the Kenyan capital. This was the first time any of them had been to a big city! They visited the
National Archives,
Parliament, • Nairobi's international airport,
Nairobi National Park and
the University.
The girls were able to see the diversity of city life, from the VIP section of Parliament to Kibera, Africa's largest urban slum.
Risks and challenges
The field trip with the 8th graders went very smoothly.
Up Close
Read what some of the girls had to say about the Nairobi trip:
"The journey to the city was so enjoyable and we were all excited about the time we spent at Shalom House where we learned to use flush toilets and showers. The entire journey was very exciting and enjoyable and we will work hard so as to join these secondary schools in Nairobi" -- Shura
"We went to the airport. This was the most interesting part of the journey because we saw planes landing and taking off. I was so happy to see a very big airplane. I told myself that one day I'll be the one operating it." -- Peiyiai
"My dream is to be a neurologist and I believe that one day I will fly overseas and save lives of many. I promised myself to work hard since I wanted to be in such a place." Lepishoi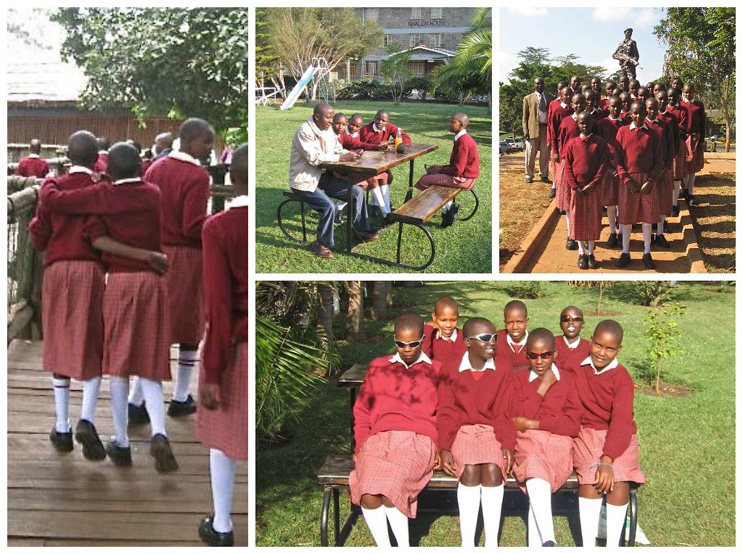 Next steps
We are thrilled that the field trip had such an impact on these young women. The girls are now back on campus and have begun their last term at Kakenya Center for Excellence.
The 8th graders are diligently preparing to take the National Exams mid November. This national test will determine what secondary schools the girls may apply to in Kenya. We are confident that their hard work will pay off!
The staff is busily preparing for KCE's very first graduation ceremony. It will showcase what girls can achieve when provided the opportunity to learn in a supportive environment. We are also planning our "Network of Excellence" which will provide our girls the needed support to transition and remain successful in secondary school.
Budget
The funding from this project enabled our 8th graders to have an amazing experience in Nairobi this summer. We spent the $2,200 allocated for the field trip. The remaining funds will be used as we begin final preparations for graduation and beyond.
Line Items

Projected budget

Amount spent so far

8th grade field trip

Graduation

Network of Excellence

$2,200

$1,800

$2,000

$2,200.

$00.00

$00.00
Other
It is hard to believe that 5 years has passed since these 8th grade girls began at KCE. We are so proud of these young women who now walk through our halls with their heads held high -- young women with not only dreams in their hearts, but the training and experience to achieve their dreams and goals.
Thank you for believing in these young women. Your continued support is creating a new generation of leaders in Kenya.
Girls face many challenges in the Maasai community, where cultural traditions such as female genital mutilation and forced early marriage prevent girls from continuing their education.
Why we care: The Maasai community has the highest rate of child marriage in Kenya, with 90% of young girls undergoing FGM, getting married and dropping out of school, ending any hope of continuing to secondary school.
How we are solving this: Changing the paradigm for girls' education and learning in rural Kenya.
Kakenya Center for Excellence (KCE) is the only primary boarding school for girls in Enoosaen, Kenya, with 155 students enrolled in grades 4 to 8. The school serves the area's most vulnerable and underprivileged girls and focuses on academic excellence, health education, female empowerment, leadership, and community development. In December 2013, KCE will graduate its first class of eighth grade girls from our school. This is an exciting and critical juncture for these 19 young women and their families, as 90% of these graduates will have the opportunity to be the first female in their family to complete secondary school. As role models, these graduates are paving the way for younger classmates by showing their peers what can be accomplished with hard work and perseverance.
Our girls are excelling academically. In 2012 the KCE eighth grade girls ranked #1 in the Transmara district. We are determined to ensure that our 19 graduates have the necessary resources to continue their educational journey and forever change their life trajectory. This Catapult project will support our graduating class by funding the following initiatives:
Secondary school prospecting and trip to Nairobi: In addition to rigorous academics, KCE strives to enrich and broaden the girls' knowledge through experiences outside the classroom. This fall our eighth grade girls will travel to Nairobi to visit the cultural and historic sites of the Kenyan capital. They will also visit secondary boarding schools throughout the area. This will be the first time any of our girls have been to a big city. The trip will truly be one of discovery, broadening their vision of the opportunities awaiting them as they continue on their path.
Graduation ceremony: KCE's first graduation ceremony will take place in December 2013. It will bring together all the KCE students, their families, teachers, and community leaders for a day of reflection and celebration. Graduation will serve as an important symbol of what can be accomplished when girls are supported, educated, cherished and empowered. The celebration will highlight their accomplishments and recognize girls who stand out as leaders.
Ongoing academic support: Our girls will need continued financial, academic, and social support as they transition into their high school experience. We are preparing to provide them with the resources they will need in the future, including scholarships, mentoring, career advice, and tutoring services.