One Year Impact Report
Throughout this past year, we've been making progress in Phoksundo, Nepal.
Impact For Girls & Women
Women of reproductive age in the Phoksundo Village Development Committee (VDC) of Nepal.
Estimated girls & women affected
130
Broader Impact
Includes the female population of Raha VDC (ward 8,9), the female population of Saldang VDC (ward 1,2), and the female population of Vijer VDC in Nepal. (ward 1)
Estimated community members affected
406
Progress in Phoksundo
Dolpa is one of the most remote districts in Nepal. After last summer's harvest season and harsh fall and winter weather, renovation of the existing health post in Phoksundo was initiated and is now nearly completed. A running (potable) water system was installed, in addition to structural improvements, insulation and flooring upgrades, sanitary upgrades, and more. We also trained the local nurse, Pasang Rokaya, to become a Skilled Birth Attendant. Pasang received two months of Skilled Birth Attendant training and a one month Rural Ultrasonography training, which will enable her to provide basic obstetrics services and preventative care.
Rural Ultrasonography training is aimed at providing early detection of possible complications to expecting mothers and fetuses during antenatal check-ups. One Skilled Birth Attendant delivery bag was provided to the staff nurse to ease her movements in the field and to increase access to safe deliveries at the community level. We are also collaborating with the District Health Office in Dolpa,and local NGOs, Dolpo Tulku Charitable Foundation and Tashi D ,for community mobilization, pharmaceutical support, and salary contributions for the local nurse.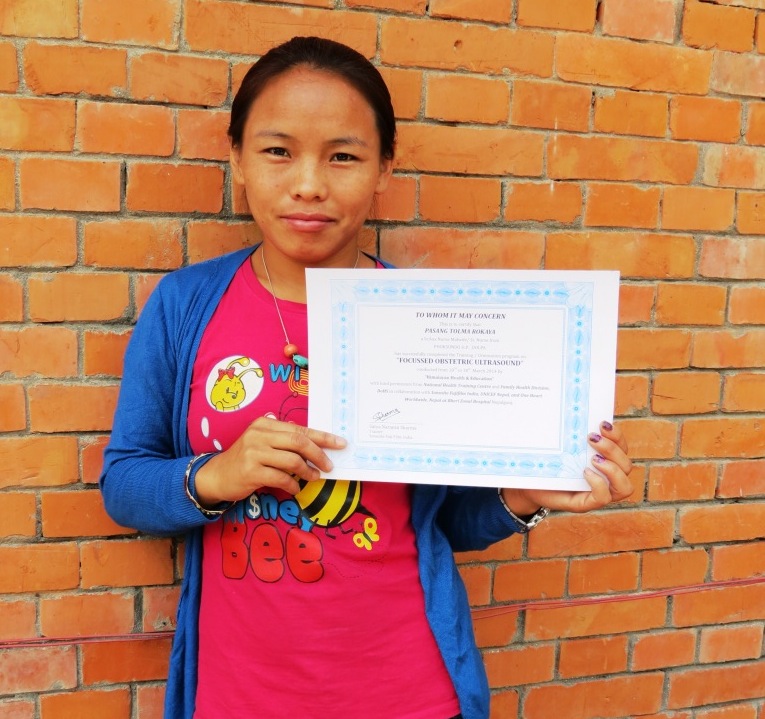 Get personal
"Since we are working in a region with extreme geographical difficulties and strong cultural beliefs, it might take a longer time to see the visible changes in terms of service utilization. Now it is time to focus on birthing center utilization since we completed staff training, building, equipment support, running water management etc. in Phoksundo." - Manju Rana, Field Supervisor, Dharma Karma Society
Risks and challenges
The location and difficult terrain of Dolpa have always posed major challenges. The remoteness and lack of infrastructure create issues when transporting supplies project sites, particularly during periods of harsh weather. It is hard to find any health workers during the winter season, as temperatures drop to extreme levels and many people leave upper Dolpa and move towards their hometowns to avoid the cold. The caterpillar fungi harvest in June and July also drives most people to other areas to participate in the collection. Another challenge is posed by communication difficulties. Local health workers do not have any means of communication if we need to contact them routinely, or to aid in emergency situations.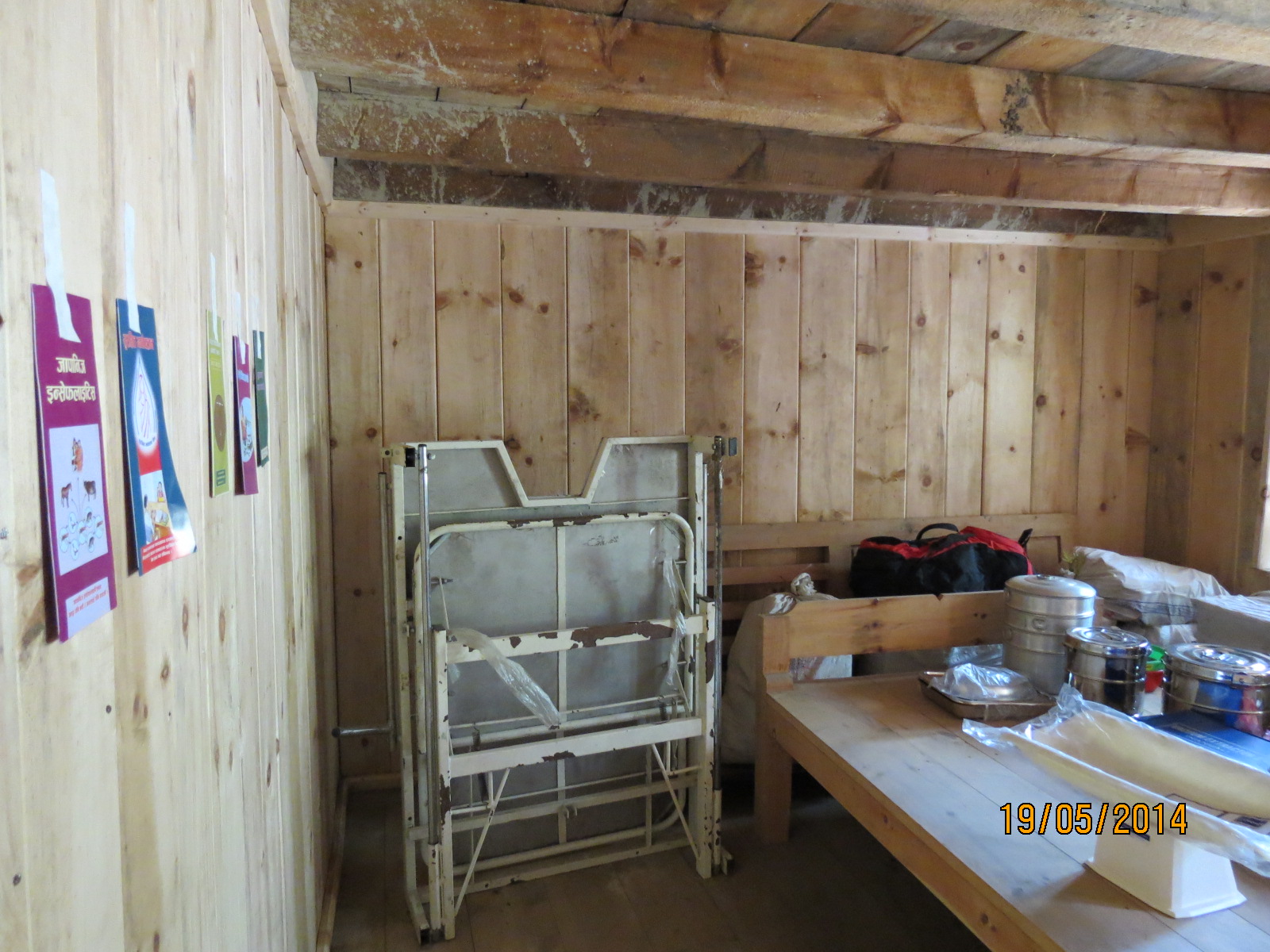 What we've learnt
One Heart World-Wide, along with our local partner, Dharma Karma Society, is trying to close the gap between providers and the local communities in Dolpa. However, program implementation is dependent upon variety of factors. For instance, service fluctuates depending on the availability of clinic staff in each coverage area. Often, health workers are unavailable, and government staff is nearly nonexistent in the most remote places. Access to services and program implementation are directly affected when clinics are understaffed. It is our hope that together with the District Health Office, we can make government nurses regularly available in each service area to increase the capacity of rural health posts.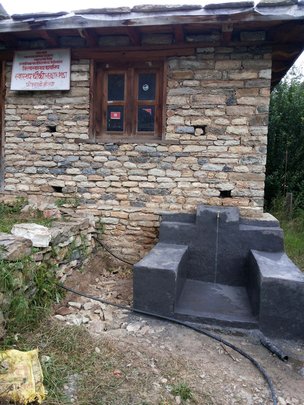 Next steps
Now that we have an upgraded structure, basic equipment, and skilled providers to staff the center, we will turn our focus to community outreach and education. We aim to increase birthing center utilization by raising awareness on the availability of services offered there and by communicating the importance of those services to the local community. Because many of the women in the region have never before had local access to a birthing facility or a Skilled Birth Attendant, outreach is key to the project's success.
Budget
Expenses for this project were slightly over what we had originally estimated. High transportation costs were not originally budgeted for. The amount of work that needed to be done to prepare the site prior to laying down pipes for the water system and to bring the building up to standard may have been underestimated. The building is now complete with both toilet facilities, as well as drinking water.
Line Items

Projected budget

Amount spent so far

Plumbing/Water System Installation (including excavation, parts, transportation)

Structural Improvements (including windows, flooring, insulation, basic furnishings)

Total:

$2,000

$3,000

$5,000

$5,445

$1,210

$6,654
More information
Recently, a partner organization working in Dolpa, Universal Currents, Inc., installed a portable hydro-kinetic power system in the nearby river. This development is now also providing reliable electricity to homes and schools in the area, as well as the birthing center.
Further reading
You can find our Annual Report here!
90 Day Report
posted Jul 2, 2013 by Robby Kilgore
Thank you all for your support and generosity! With your help, we are well on our way to upgrading one more health post so that it may function as a certified birthing center!​
Since receiving funding, we have started purchasing some of the materials needed to upgrade the existing building, including cement and the materials for the installation of a plumbing system. In collaboration with other local organizations, we have signed an agreement stating how costs and responsibilities for building the structure will be shared. This covers the renovation, training staff, and maintenance of equipment. One Heart World-Wide will cover funding for the renovation of the birthing center and the purchase of necessary medical equipment, in addition to providing technical expertise needed for the set up of the Neonatal and Maternal Health unit in Phoksundo, including data collection and quality assurance tools, as well as trainings for skilled birth attendants, a staff nurse, female community health volunteers, and local Amchi practitioners.
Because of the many challenges we face in working in a remote area, such as Dolpa, we will be unable to begin building the health post until later this year. Currently, the local airport is under construction, making travel to and from the district nearly impossible, as there are no roads to travel by land.
This time of year also brings the Yarchagumba harvest, which means that all potential laborers who would be available to hire for renovations are employed gathering the precious caterpillar fungus that provides a majority of the income for the people in the region.
As the season wraps up in the next couple of weeks, our local teams should be able to begin working on the upgrades. In the meantime, we will continue to gather construction materials, so that we are prepared when the time comes.
Once complete, the Phoksundo birthing center will be the third of five birthing centers we plan to build within the Dolpa district in order to ensure that no woman has to walk more than five hours; for many women in the area, the walk to a health facility can currently take up to five days. Reducing the challenges that women face in accessing care when it is needed is leading to healthier birth outcomes and saving lives.
Help convert an old building into a birthing center in Western Nepal.
Why we care: In the Dolpa District, pregnant women must walk incredible distances—sometimes up to eight days—over mountainous passes to reach a health facility.
How we're solving this: By converting an old building into a new birthing center in Dolpa, so that pregnant women reduce the time needed to access care.
Ringmo, a village in Nepal's Dolpa District, sits at about 12,000 feet (3660 meters) above sea level, making it one of the highest settlements in the world. Pregnant women living in and around Ringmo must walk for days before reaching a health facility. We can cut this time by half by updating an existing building to become a certified birthing center.
We need to buy insulation materials for the walls and roof, wood or cement flooring and windows. Winters in Ringmo are severe, making proper insulation a necessity to protect newborns from hypothermia. With airtight windows and doors, wood or cement flooring, and building insulation made from bricks, less heat escapes the birthing center, making conditions more suitable for women and their newborns. We also need to install a plumbing and water system to set up a bathroom and sanitation station.