1 year impact report
The workshops created a much-needed space that allowed local youths, especially women, to participate in moving discussions and understanding between secularists and Islamists in the area of women's rights.
Impact for girls & women
This is the number of women that attended our training on social media.
Estimated girls & women affected
15
Broader impact
This data is still being collected, and will be added to the project as soon as possible.
Estimated community members affected
?
Creating ties to protect women's rights
Through your support, we were able to hold two international workshops on the state of women's rights after the Arab Spring. At the workshops, Moroccans and youth from the Middle East and North Africa (MENA) were able to meet, interact, and build long-term connections with activists and academics from around the world. The workshops created a much-needed space that allowed local youths, especially women, to participate in moving discussions and understanding between secularists and Islamists in the area of women's rights.
The first workshop took place in January 2014 and addressed post-Arab Spring constitutions, feminist discourses in the MENA region, and women's activism in the aftermath of the Arab Spring. The second workshop occurred in June 2014 and focused on women's rights after the revolutions, namely in the areas of political participation, violence, and religion.
As a direct outcome of the workshops, we sent a list of twelve recommendations to our local authorities and the Moroccan Ministry of Solidarity, Women, Family and Social Development that called for the protection of women's rights and the support of increased women's participation in public society. We were also able to use the funds to provide training on the use of social media to fifteen young women.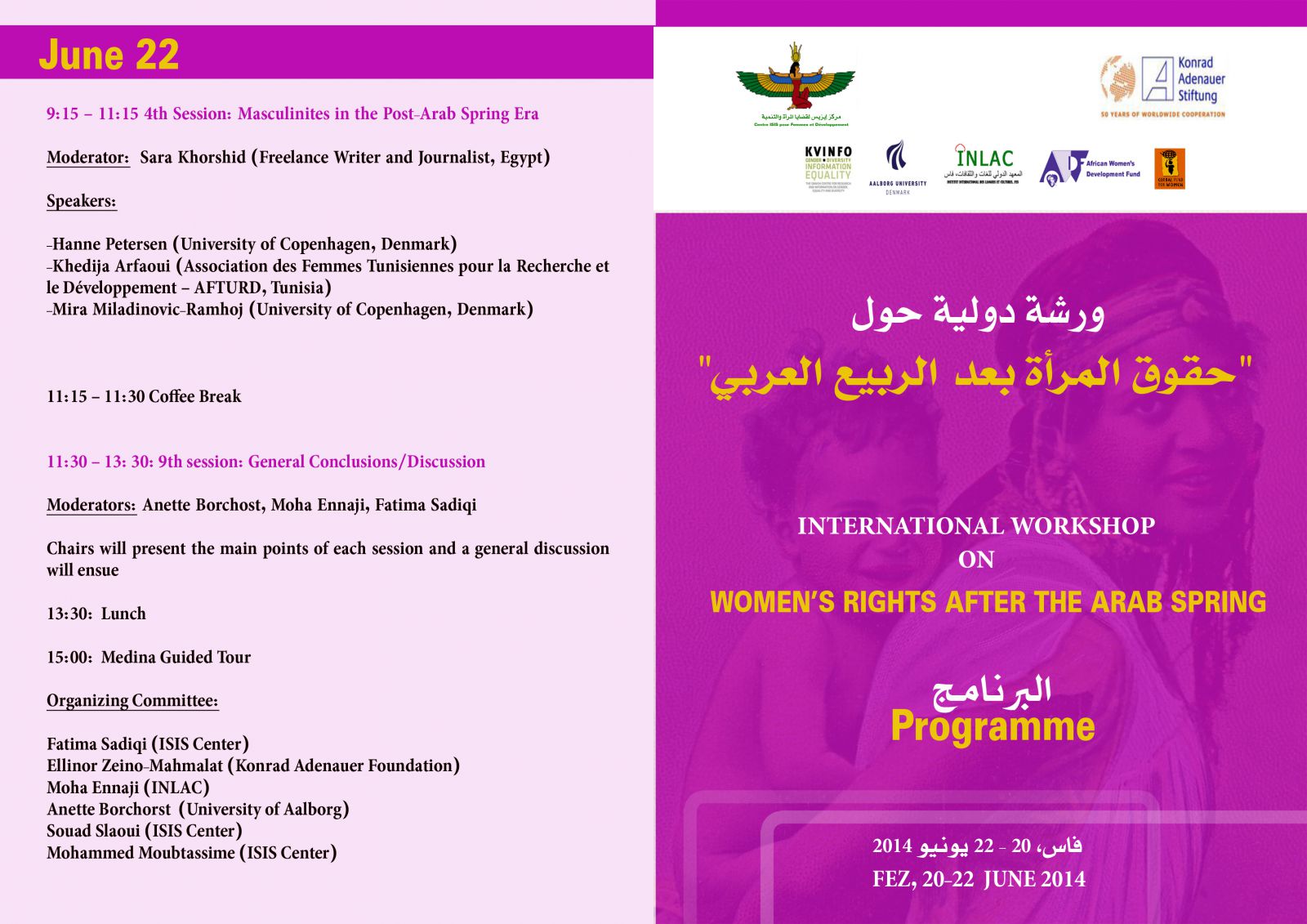 Get personal
Through our workshops, a Moroccan student was able to connect with a Danish scholar who is now helping secure that student a grant with Aalborg University. She plans on doing a comparative study of the status of MENA women's rights after the uprising and that of Danish women.
Risks and challenges
The major risks and challenges we face are decreasing motivation and desire to stay politically active from students and youths. In order to remain relevant to them, we need to provide quality and engaging activities, which will require sufficient funds. Another challenge was that getting specific youths to attend our workshops was difficult due to the politically volatile atmosphere in the MENA region.
What we've learned
We learned that for our future endeavors we must have more youth participate. We also learned that engaging with the local authorities with our list of recommendations made a huge difference in fostering understanding.
Budget
Line Items

Projected budget

Amount spent so far

Publication & media

Conference

Administration

Follow-up Workshops

Staff

$4,500

$6,500

$3,000

$3,000

$2,500

$2,050

$5,800

$0

$10,900

$0
More information
We are in the works to locally and internationally publish our results from the workshops with Palgrave Macmillan Publishers. Also, as a direct recommendation from the past workshops, we will host another international conference scheduled for June 2015. The international conference will focus on democracy and violence against women in the aftermath of uprisings in the region.
Further reading
Our event was showcased in Morocco's most widespread newspaper. See it here!
90 Day Update
Inviting scholars from across the region, establishing themes, and planning the program
Progress
ISIS has taken on the following activities since receiving funding from Catapult.
Planning to organize an international workshop on January 3, 2014 in Fez.
Getting in touch with the following scholars: One scholar from Algeria, two scholars from Tunisia, one scholar from Lybia, three scholars from Egypt, three scholars from Europe, fifteen scholars from inside Morocco
These scholars include academics, activist and graduate students. We are also planning to invite the media.
Working on the themes of the conference. The selected themes are: equality of sexes in the new constitutions; feminist discourses in the region (secular/liberal and Islamic feminisms); feminine and feminist activism.
We will establish the schedule of the workshop as soon as we have all the names
Risks and challenges
ISIS faces challenges in ensuring that all the choses representatives are able to attend the workshop.
Next steps
ISIS will undertake publication and dissemination of the results of the workshop after the conference in January.
Budget
We will start buying air tickets and booking hotel rooms in November. As of today we have not touched the budget.
Support feminist activists and Islamic feminists collaborated to target patriarchy in the aftermath of the Arab uprisings.
Why we care: The gains for women's rights in the Middle East and North Africa are being threatened by new governments that have few women in decision making positions.
How we're solving this: A two-year program for young academics and activists to create recommendations for achieving women's equal participation in governance.
While women of all ages, ethnicities and social statuses took part in the uprisings in Egypt, Tunisia, Morocco, and elsewhere in the Middle East and North Africa (MENA), the new elected governments have a very weak representation of women.
Women's rights advocates have been working for decades on "Islamic gains" as they fought to improve women's rights and lives under the Sharia laws. Feminist activists and Islamic feminists collaborated to target patriarchy, not religion per se, but new fundamentalist and governments are eroding those hard-fought gains.
ISIS Center for Women and Development in Morocco will convene motivated students, young activists, politicians, and scholars for an international conference to ensure women are prepared and organized to overcome the threats upon their human rights. Through a series of activities, participants from all sectors will discuss the challenges of patriarchal attitudes they face, and the goals of full rights and gender equality they want to achieve. To continue the momentum of the conference, women will participate in workshops to formulate strategic plans for maintaining the gains and for further promoting women's full participation in politics, the economy, and in education and healthcare. Women academics will partner with local NGOs to bridge gaps between civil society and academia by publishing best practices and case studies to further women's empowerment and advocacy. Lastly, women participants will develop new economic and political frameworks for women, with a goal of increasing women's confidence and leadership skills throughout the MENA region.