1 year impact report
We recognize that cleanliness plays a crucial role in self-esteem, and we want the moms and teens in our communities to realize their self-worth.
Impact for girls & women
We provided 58 teenage girls and 89 moms with free hygiene kits.
Estimated girls & women affected
147
Broader impact
The 147 women and girls who received free hygiene kits have families who are directly impacted by their healthier hygiene habits. We multiplied 147 women and girls with an average family size of five.
Estimated community members affected
735
Health starts with hygiene
One year ago, you supported the creation and distribution of hygiene kits to the women and girls in the communities where we work. In the last year, we have given hygiene kits,containing a small plastic dipper or tabo for washing, toothpaste, toothbrushes, soap, shampoo, nail clippers and combs, to 58 teenage girls and 89 moms in our communities.
In addition to distributing the hygiene kits to teens on the International Day of the Girl back in October, we have given out hygiene kits at various trainings and graduations. For example, following the training on taking vital signs and blood pressure, all of our Community Health Advocates (30 woman in total) received a hygiene kit, and many have since received a refill. We have also provided hygiene kits to the moms in three of our communities at their graduation from our financial literacy classes.
Our Director of Health Advocates, Belle, remarked that there is a noticeable difference in the cleanliness of the community teens and moms since we began distributing the hygiene kits.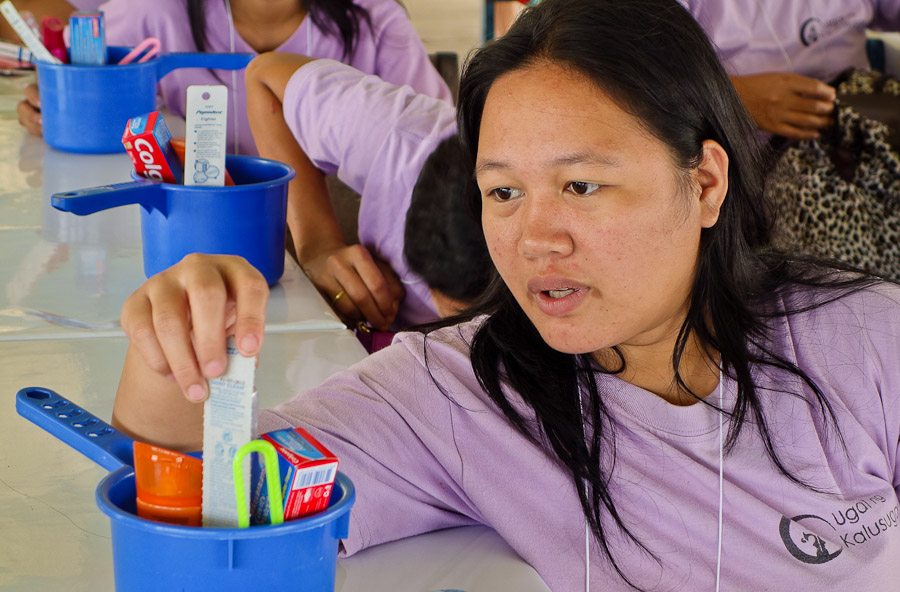 Get personal
Early in the project, at a financial literacy class, the moms were discussing what they would purchase if they had extra money. They agreed they would enjoy getting their hair styled or their nails manicured, something to make them feel beautiful. This discussion prompted us to provide hygiene kits to this group of moms, too. We recognize that cleanliness plays a crucial role in self-esteem, and we want the moms and teens in our communities to realize their self-worth.
Risks and challenges
Giving away free items is always tricky. We recognize that everyone in the communities would enjoy and benefit from receiving a hygiene kit. After we distributed the hygiene kits to the group of teenage girls on the International Day of the Girl, we quickly realized that the girls would have to share their hygiene items with other siblings and family members. We are not opposed to the sharing of these items, but are glad we are able to give these items directly to the teens as well as to some of their moms. In addition, with limited funds, it is not possible to give away endless hygiene kits or provide unlimited refills; however, we have realized that the initial distribution of the hygiene kits can help to jumpstart healthier habits.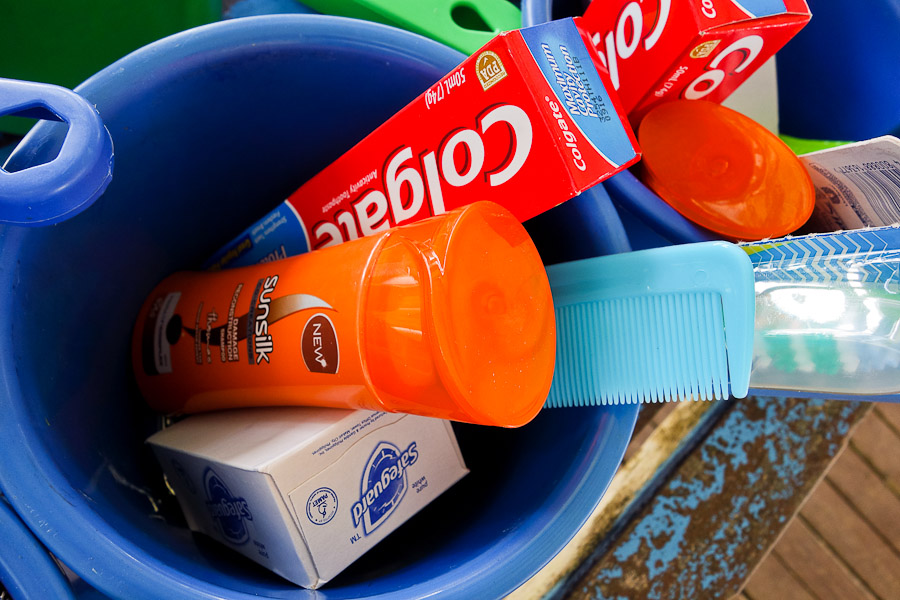 What we've learned
As we have distributed hygiene kits to teenage girls and moms we have learned that hygiene items such as toothpaste, soap, and shampoo are highly appreciated. The gratitude that the teens and moms have shown has been overwhelming, and we recognize that we have discovered, and started addressing, an important need within the communities. We have learned that sometimes the simplest solutions – providing hygiene kits and education on healthy hygiene habits – can yield the greatest returns.
Next steps
At the one-year mark for this project, we have just spent the reminder of the funding to buy refills. We will provide refills to the teenage girls in three of our communities and all of the moms who have not yet received a refill. We are happy that the teens and moms are adopting healthier hygiene habits, and expect these teens and moms will continue to have a positive influence on the hygiene habits of their family and friends.
Budget
Line Items

Projected budget

Amount spent so far

Combs

Refills

Soap

Shampoo

Teachers

Toothbrushes

Toothpaste

Transportation

Total

$65

$527

$104

$221

$240

$39

$195

$25

$1,416

$65

$515

$110

$220

$240

$40

$200

$30

$1,420
90 Day Report
Scrubbing our way to improved health
posted Jan 7, 2014 by Isabel Garcia
Progress
We kicked off this project with special gifts of personal hygiene products to teenage girls in 2 communities on the International Day of the Girl (IDG), 10/11/2013! Since this year's IDG focus was on health issues, our staff engaged teens in activities designed to promote health and cleanliness. They reviewed earlier hand washing lessons and surprised them with kits containing soap, toothpaste, toothbrushes, combs, nail clippers, and shampoo. These were all inside Filipino dippers called 'tabo' used for bathing, so every part of the gift was useful and the teens were delighted. Then our teachers brought out cake to round out the activities and the kids were so happy. Their delight reiterated for us the connection between personal cleanliness and higher self-esteem. We're convinced that high self-esteem leads in turn to healthier relationships, more dreams and ambitions, and less risky sexual behavior. We've gifted 43 teens and 33 moms. We'll give them at least 1 refill of products.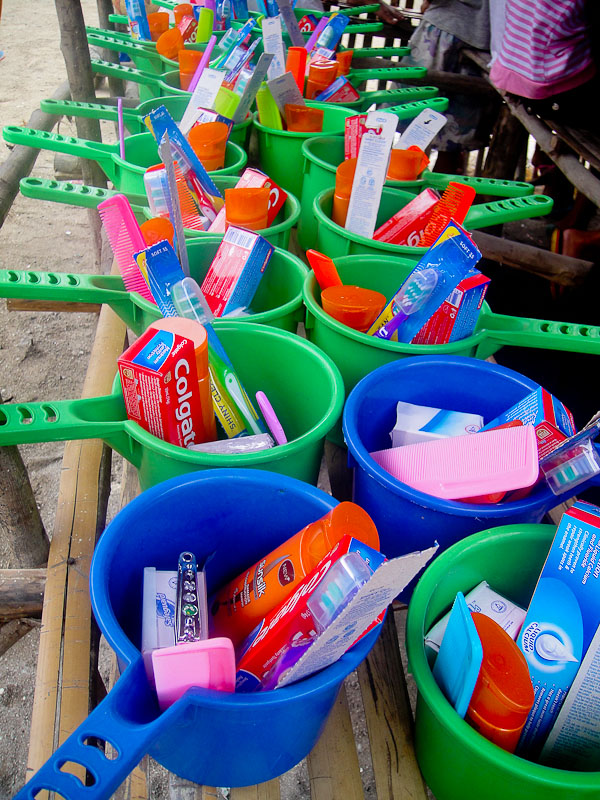 Risks and challenges
Everyone likes gifts, and everyone in our communities would like a free set of personal products! We have seen a little envy and fully realize that our young ladies are going to share their soap and toothpaste with their families, but that is okay – at least it was given to them. Older women who are working with us will also receive such gifts. We have even considered teaching the teenagers to make and market homemade toothpaste, but that will be for another time.
Up Close
One young girl thought she'd have to miss this session as she had to turn in a scholarship application at school, so she texted our staffer who leads the group, asking that she not be removed from the list of members! (Of course that would never happen after one absence!) In the end the girl did manage to come and arrived on time, and was very happy. Our teachers were also delighted to hear some of the moms telling their daughters that those gifts were really for them, the young people!
Next steps
We plan to keep checking on the personal hygiene of the teenagers, and to reopen discussion whenever problems arise. We will also provide refills once, and provide mothers with the gifts as well. We hope with further encouragement some of these products will be written into budgets.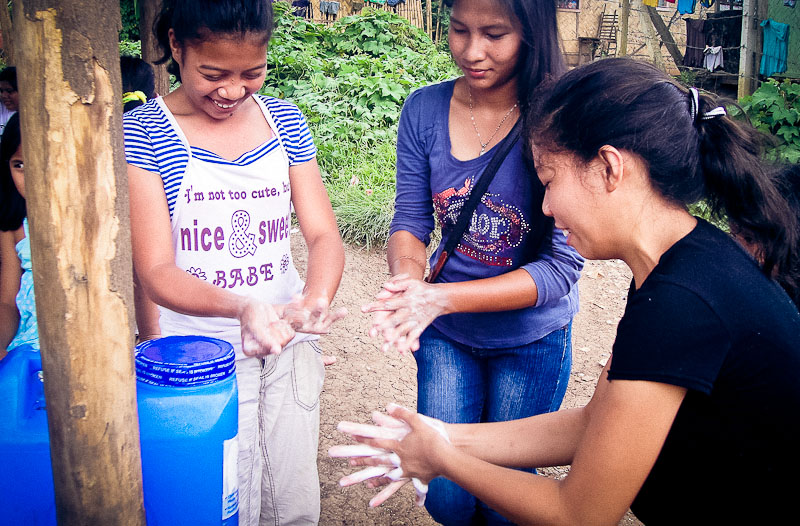 Budget
Line Items
Original budget
Amount spent so far

Combs

Refills

Soap

Shampoo

Teachers

Toothbrushes

Toothpaste

Transportation

Total

$65

$527

$104

$221

$240

$39

$195

$25

$1416

$8.58

$0

$41.50

$75

$60

$25

$68

$7

$285.08
Striving to help women and girls boost self-esteem through access to hygiene kits.
Why we care: Low self-esteem is related to some riskier sexual behavior.
How we're solving this: By working with teenagers in underserved communities to improve basic hygiene to reduce social stigma and increase self-esteem.
"Wow – at last I get to taste toothpaste!" "Umm – seems spicy!"

Roots of Health teachers were working with young teenagers in their communities, teaching them about hygiene. Staff encouraged them to take good care of their teeth, make sure their faces and hands are clean and they have bathed before going to school. Aside from good health habits, these lessons are a first step in boosting self-esteem, making the kids realize that they are as good as anyone else and that they can make their own futures.

We know that their mothers, too, if they were given extra money to spend as they please, would like to buy some hand soap, or shampoo, or toothpaste. They have told us that now and again they 'like to feel beautiful'.

Thus we aim to provide basic hygiene kits – combs or hair brushes, shampoo, soap, toothbrushes, and toothpaste – to the women who attend our sessions, and the preteens and teens with whom we work during summers, in our two new communities. We plan to provide 50 teens and 80 women with one hygiene kit, and one refill. Please help us provide these small gifts of health and the beginnings of improved self-esteem!!