1 year impact report
Trees, Water & People's heaters last for up to 25 years, ensuring a clean and renewable source of heat for years to come. The heaters are also built and installed by a Native-owned and operated company, Lakota Solar Enterprises. So, every time a heater is installed, local jobs and tribal economies are created and supported.
Impact for girls & women
Mothers and female children living in the homes.
Estimated girls & women affected
15
Broader impact
Family, friends, and community members
Estimated community members affected
300
Affordable Heating for Native American Mothers
Thank you to generous Catapult donors, one year ago we raised enough funds to build six solar air heaters for single, Native American mothers living on tribal lands in the United States. On the Wind River Reservation, home to the Eastern Shoshone Tribe, five solar air heaters were installed. The sixth heater was installed on the home of a mother on the White Earth Reservation (Ojibwe Tribe). This last heater was installed by one of our trainees, also a single mother, who attended our May 2014 solar heater training at the White Earth Reservation. For single mothers and grandmothers, who are already struggling to provide for their families, solar heaters offer a culturally appropriate and environmentally friendly heating option that greatly reduces monthly utility bills. The families we work with rely on very expensive propane and electricity to heat their homes. Some families must rely on wood stoves too. Propane costs can be exorbitant in the harsh winter months, and prices have increased greatly in recent years. TWP's heaters last for up to 25 years, ensuring a clean and renewable source of heat for years to come. The heaters are also built and installed by a Native-owned and operated company, Lakota Solar Enterprises. So, every time a heater is installed, local jobs and tribal economies are created and supported. Thank you for your support of this important project. We are so grateful for your caring and generosity!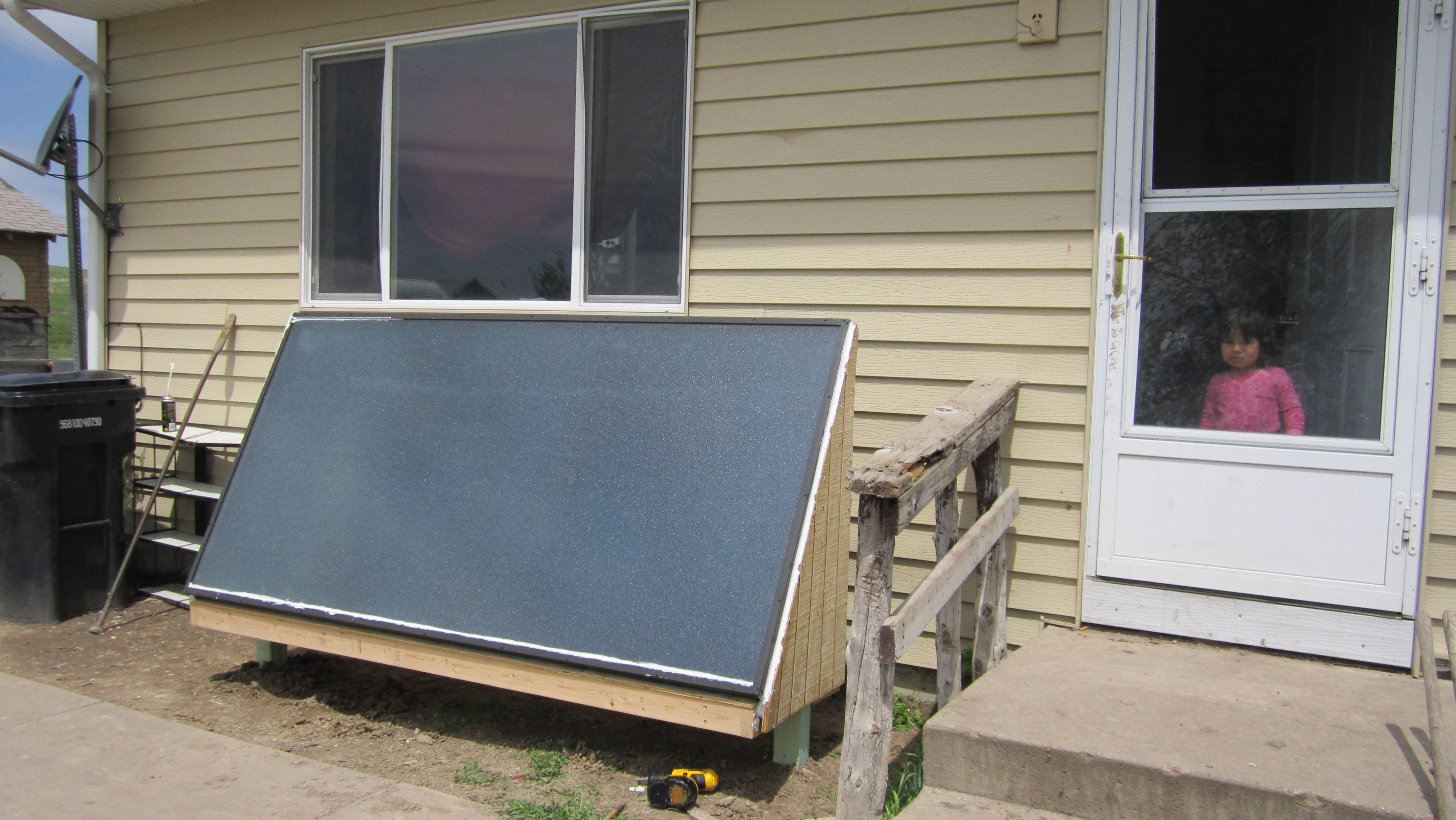 Get personal
"I am a single grandma and drive over 150 miles back and forth to work and home. The savings I get will help with transportation costs and day care." – Amellv, single grandmother from the Eastern Shoshone Tribe who spends up to $800/month on propane heating
Risks and challenges
Working on tribal lands can be very difficult due to poor infrastructure. Often times, families do not have access to reliable electricity, roads are in poor condition, and homes are located in very rural areas. This is why our local partners are so important to our work. Their knowledge of the communities and the people help us to deliver services in an efficient and timely manner.
What we've learned
This particular project was difficult because we were looking to work with a very specific population of people: single, Native mothers. This required us to ask more personal questions of our applicants that we don't usually discuss. However, there is a huge need among this population for reduced heating expenses, which we learned by asking these personal questions and finding out more about each applicants family dynamics and economic circumstances.
Next steps
The most important next step is follow-up and monitoring of the solar heaters we have installed. Just like any appliance or machine with moving parts, the solar heaters require care and maintenance. We want to ensure that the heaters are working at their full potential and saving mothers money on their heating bills while keeping their families warm. Working with trainees who have graduated from our solar heater workshops, we will provide mothers with service and parts for their heaters.
Budget
Line Items

Projected budget

Amount spent so far

Six Solar Air Heaters ($1,090 each)

Installation ($450 each)

Transportation ($150 each)

Total

$6,540

$2,700

$900

$10,140

$6,540

$2,700

$900

$10,140
More information
Please visit www.solarwarriors.org to learn more about our Tribal Renewable Energy Program.
Further reading
White Earth Solar Thermal Install & Training with Henry Red Cloud https://www.youtube.com/watch?v=OTKswAR25Oo
90 day impact report
Improving Native American women's lives with solar heating
Progress
Since this project was fully funded, we've started the first and most important phase: identifying and interviewing potential beneficiaries. Trees, Water & People works closely with Native American tribes around the country to identify tribal members in need of our solar air heaters. Potential beneficiaries, in this case single mothers, must complete our detailed applications for solar air heaters. These applications include questions about their socioeconomic situation, as well as their current energy and heating expenses and needs. Once we review these applications, we follow-up with phone interviews to determine if a solar air heater is right for their family. Thanks to your support, a total of six Native American single mothers will be selected.
Risks and challenges
Working on tribal lands presents several challenges. Many of the reservations where we install solar heaters are located in rural areas that lack basic services. Often, families don't have internet access or a reliable land line or cell phone, making communicating with beneficiaries very challenging. In addition, we have to respect Mother Nature's schedule. Across the Great Plains weather can be harsh, especially in the frigid winter months. We can't install heaters until the ground thaws, snow melts, and the temperature becomes milder, so most of our heater installations take place in the spring and summer months. Therefore, we try our best to screen applicants and complete interviews of potential beneficiaries during the winter.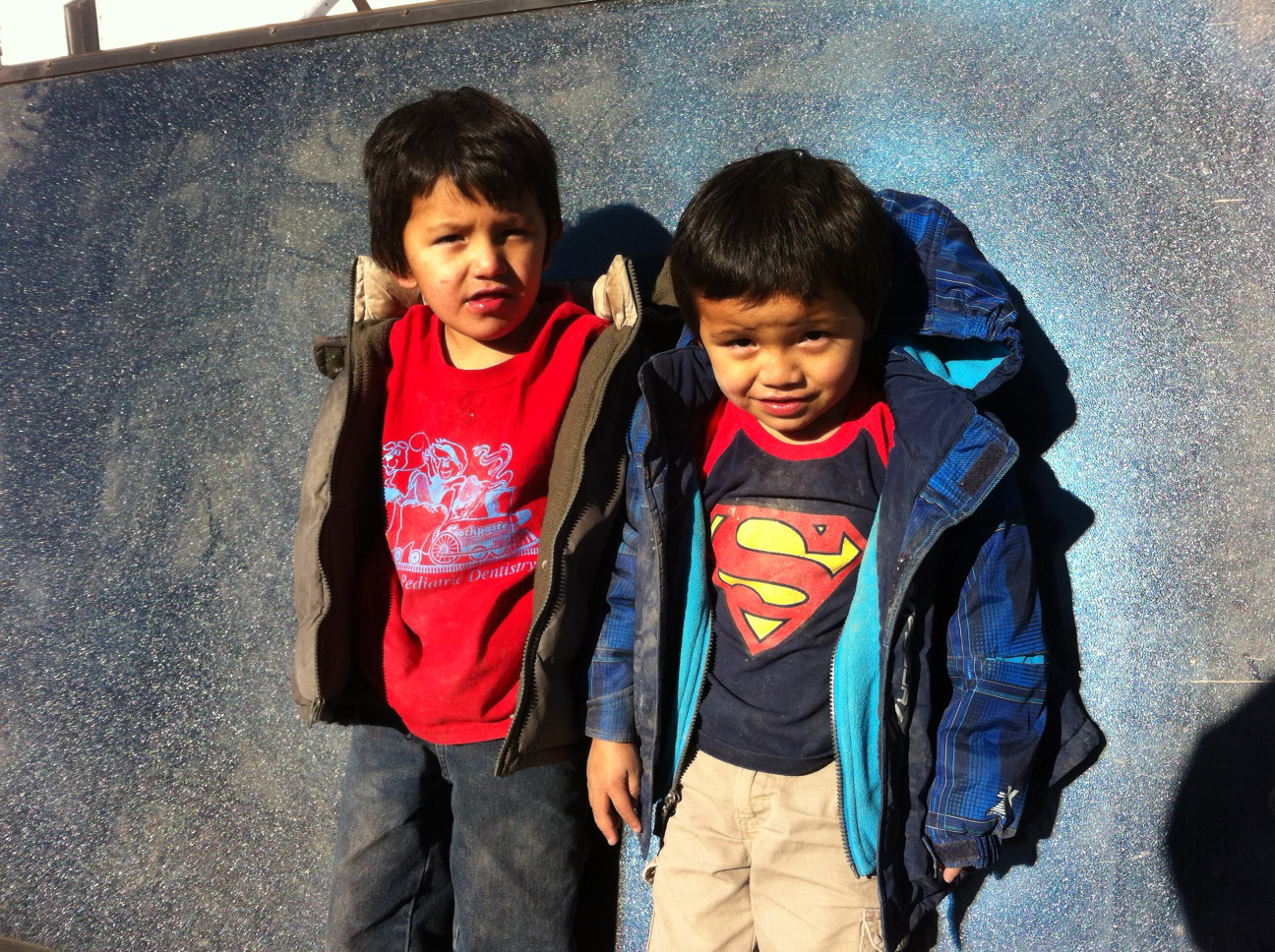 Up Close
"It will help heat my home that is usually cold and I will be able to buy my kids clothes and other things they go without because I have to pay the electric. If chosen to participate in your program I would appreciate it tremendously." –Yolanda, Eastern Shoshone Tribe "It would save money. Everything is electric. We have two wood burning stoves to warm the house. Our water pipes are frozen and broke. We need different heating or heaters." –Sandra, Eastern Shoshone Tribe
Next steps
Once finished interviewing solar heater applicants, we'll select six beneficiaries and finalize installation plans. Heaters will be manufactured by our partner, Lakota Solar Enterprises, on Pine Ridge Reservation and installed by trained tribal members. So, not only will single mothers and their families benefit from their new solar heater, but their fellow Native Americans who build and install them will receive wages. We expect to install all six solar heaters by the end of the summer.
Budget
To date, we haven't spent any of the funds, as we are still working to diligently select recipients.
More information
The energy poverty on Native American reservations of the US is unacceptable. This winter, propane prices skyrocketed and it was frigid, especially on the Great Plains. Families who apply for our heaters report paying an average of $350/month for electric and/or propane. We greatly appreciate the support of Catapult, Johnson & Johnson, and all of the donors who gave to this project. Thank you for helping to create awareness about this important issue that receives very little attention.
Further reading
This recent article describes energy costs on reservations and mentions the work of our partner, Lakota Solar Enterprises: http://indiancountrytodaymedianetwork.com/2014/02/11/life-or-death-heat-necessity-not-luxury
Solar air heaters provide warmth and economic security to single mothers' families during winter on Native American reservations on the Great Plains.
Why we care: Many single mothers are forced to choose between heating their family homes and buying food and healthcare during the cold winters of the Great Plains.
How we're solving this: Reducing winter utility costs by developing energy efficient solar-air heaters.

On reservations across the Great Plains, many families reside in low-cost, cheaply made government housing that is poorly insulated and energy inefficient. During the brutally cold winter months, heating costs soar. This forces many to choose between heating their homes or buying food and healthcare necessities. Households headed by single mothers face an even greater challenge, with only one income to support an entire family.
Single Native American mothers face not only the overwhelming challenges of caring for children on their own, but also the hardships of daily life on a reservation: poverty, poor health, unemployment, and drug abuse.
Solar air heaters lower the burden of outrageous winter utility bills for single Native American mothers struggling to keep their children warm and healthy on reservations throughout the Great Plains. The heaters also help to lower carbon emissions and protect Mother Earth, a culturally appropriate technology for indigenous mothers and their children.
Trees, Water & People (TWP) and our reservation-based partner, Lakota Solar Enterprises, have developed energy efficient solar air heaters that reduce winter utility costs by 20-30% and provide warmth whenever the sun is shining. These heaters last more than 20 years, providing significant savings across time that can be invested in food, healthcare, and education for the children of six single mothers living on reservations.
Your generous donation to this project will enable us to manufacture and install solar air heaters for six single Native American mothers and their children. We will compare utility bills after the installation to calculate the actual savings for each family. Additionally, we will follow up with every single mother to gather important personal feedback and better understand how this sustainable technology has affected the day-to-day life of her family.
And, there is more!
When you make a donation to this project you are also helping to employ Native Americans. Manufactured on the Pine Ridge Reservation by Oglala Lakota tribal members, these heaters for single mothers are built and installed by Native Americans who have received green job training at our Red Cloud Renewable Energy Center. Every donation makes a positive impact throughout the community!
Please help us make a difference in the lives of single Native American mothers and their children living on reservations throughout the Great Plains. Donate today!
Photo caption: Native American solar heater trainees and beneficiary (right) stand with a new solar heater they installed on a home at the Cheyenne River Reservation. The beneficiary featured is not a single mother, however, funds from this project will be for solar heater distributions to single mothers.