1 year impact report
On 23d of April, Radiant Women moves to Patan Durbar Square for an exceptional 3-days exhibition. A series of events took place with artists joining the campaign.
On 25th of April, an earthquake hit deeply Nepal and Patan Durbar Square. The exhibition is destroyed.

Impact for girls & women
The project portrays 50 individual women and girls. The majority are victims of human trafficking. Some are activists involved in Nepali organizations of defense and protection of human trafficking victims and exploitation, and some are both. These are victims who became actively engaged against human trafficking in Nepal. Those 50 girls and women wanted to speak out, and for their stories to be known as a form of verbal therapy for themselves (and as a part of a healing process). This is also a testimony to prevent other girls, and women from falling into the hands of the traffickers. During the exhibitions, the subject of the portrait were proud to pose in front of her portrait and give direct interview and testimonies of her story and engagement today.
Estimated girls & women affected
50
Broader impact
Several types of people and families are indirectly affected by the project: families of victims, returnees, as well as families of potential candidates attracted by employment abroad, who often play a crucial role in the decision process of the candidates. 10,000 is the estimation of people indirectly affected if we only take into consideration four members by returnees (2,000x3=6,000) plus per potential candidates (2,000x3=6,000). They are primarily the children of the families deprived of maternal care, and education for at least several years, but also the direct families members affected by the absence and burden that human trafficking and exploitation represent for victims and their relatives.
Estimated community members affected
12000
Radiant Women, Survivors Speak Out
One year ago, you chose to support Planète Enfants to embark on a photographic journey across Nepal to share the stories of 50 women and human trafficking survivors. 4 major events took place in various regions of Nepal: open launch events, exhibitions in public spaces & awareness workshops.
Each activity was organized with Nepalese NGO involved in fighting human trafficking and artists that joined the movement.
The first exhibition took place in February in Kathmandu where one of the portraits, Sunita Danuwar received a prize of the French Commission for Human Rights; followed in March by those in Nepalgunj and Dhangadi (Western Nepal).
They were largely covered by the local press with an attendance of several hundreds of visitors. A 1-day workshop gathered many activists from women organizations, and civil servants. The aim is to focus on changing perceptions and behaviors that justify violence against women, encouraging community action to reach at risk populations and to report abuses.
On 23d of April, Radiant Women moves to Patan Durbar Square for an exceptional 3-days exhibition. A series of events took place with artists joining the campaign.
On 25th of April, an earthquake hit deeply Nepal and Patan Durbar Square. The exhibition is destroyed.
The urgent need for rescue put on hold the initial program as we were fully involved in the immediate assistance of the victims and as exhibitions were planned in Sindulpalchow and Makwanpur districts both seriously affected.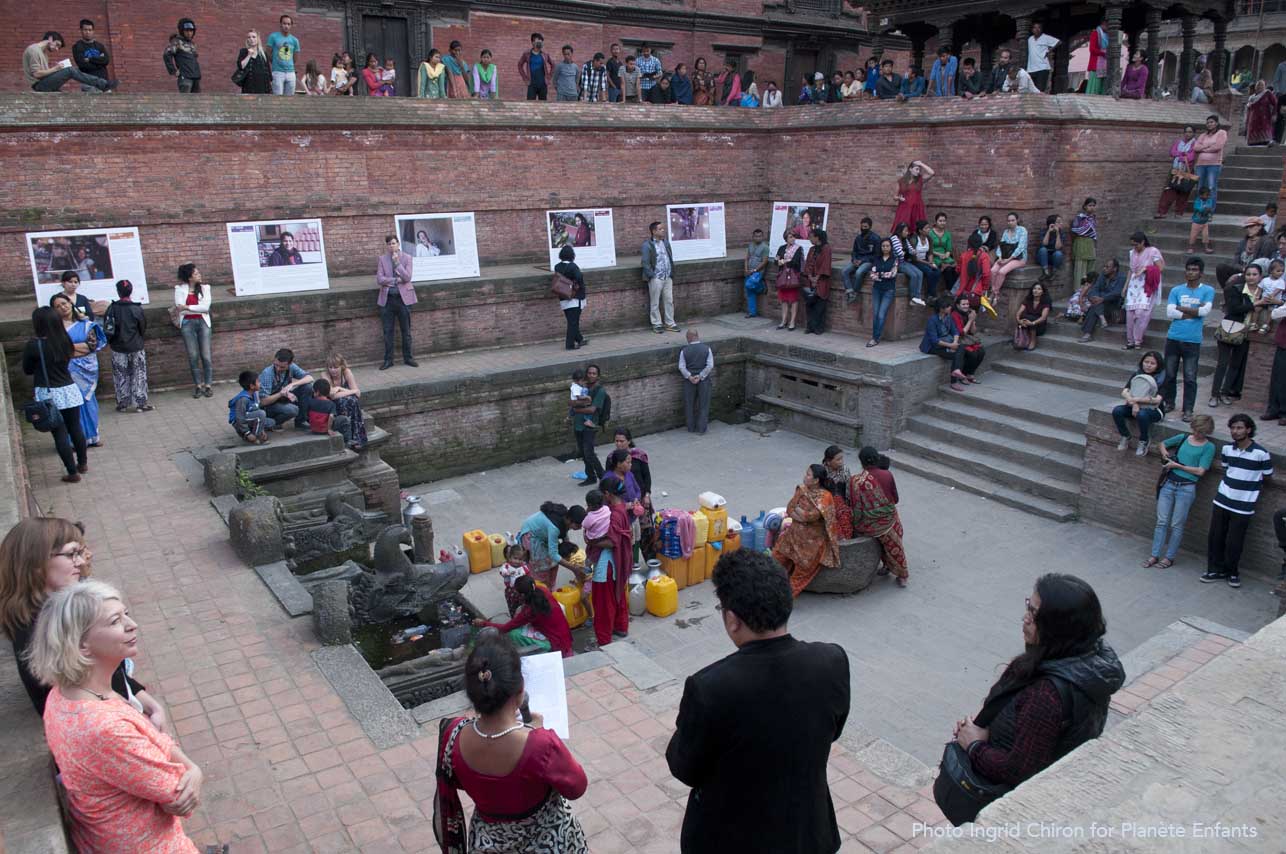 Get personal
"I had the luck to be present at the launching event in Patan, 2 days before the earthquake" says S. Selle, Executive Director based in Paris. "Everything was perfect; the location was exceptional, in the historical heart of Nepal and in the middle of a crowdie and joyful popular atmosphere. A lot of activists, artists and humanitarian staff but also the people of Patan were gathering to watch at the photos, to read the stories and to listen to the guests. It was powerful and energetic"
Risks and challenges
The major event that affected our project was the earthquakes of April 2015. Our exhibition was destroyed and was covered by bricks and temples rubble. Some of our staff present for the exhibition was injured at that time.
Planète Enfants and the partners organizations were rapidly and fully mobilized to collect and to deliver crucial aid to the people affected by the disasters in Kathmandu and in the regions including relief distribution and psychosocial support such foods, shelters, medical supplies, school shelters.
It was decided then to resume the last part of the exhibition program in spring 2016.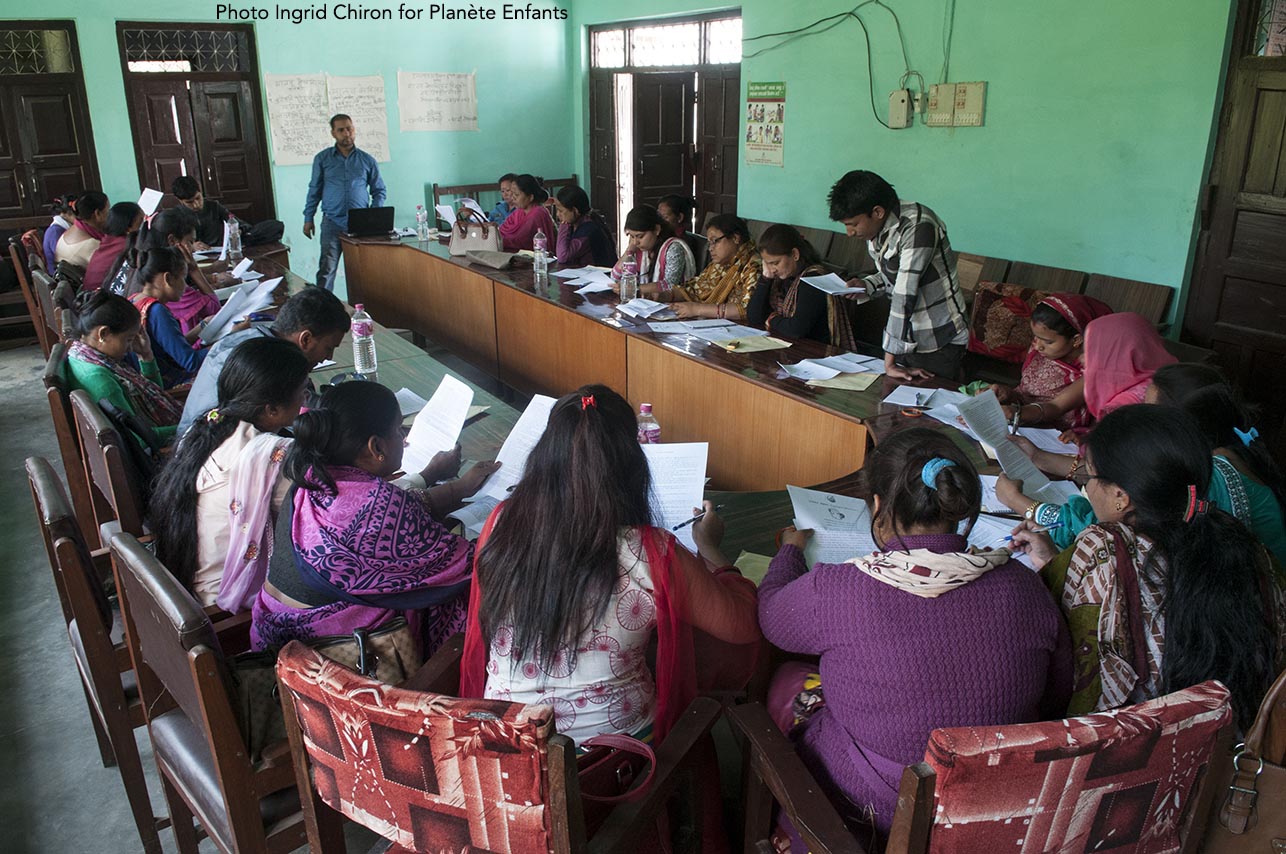 What we've learned
Around the photos exhibitions themselves, we organized workshops on violence and exploitation for the local organizations and stakeholders. There were quite successful and we gathered a large audience but maybe we should have prepared for them IEC materials (leaflets for instance) to help them using the testimonies in their awareness actions. These IEC materials were not included in the budget.
Next steps
As the project was interrupted quite suddenly, we have now to resume it. In 2016, we will put on the exhibition in 2 districts which were planned from the beginning: Makwampur and Kathmandu. We will cancel Sindupalchowk because this district has been intensively destroyed. And we plan to set up a lighter exhibition (10 to 15 photos) and to put it on in some of the villages affected by the earthquake, willages where we are intervening since last April.
Budget
There is no changes except the postponing of the major and event in Kathmandu , as well as in 2 districts outside of Kathmandu.
Line Items

Projected budget

Amount spent so far

Exhibitions and workshops (5 locations)

Production

Project Manager

Indirect Cost

Total

$7500

$5000

$2100

$730

$15380

$1253

$4046

$1536

$478

$7313
More information
Facebook
Women Fighting against Trafficking
LinkedIn
Further Reading
http://pressclubnepal.blogspot.com/2015/03/blog-post_17.html?spref=fb http://www.pressreader.com/search?newspapers=9108&query=radiance%20after%20the%20pain&stop=2015-04-25&start=2015-04-25 http://nepalitimes.com/about-town/events,133#.VgG9eHt0-V4 http://www.ambafrance-np.org/L-ONG-Shakti-Samuha-recoit-la https://nataliedo.wordpress.com/2014/11/19/radiant-survivors/ http://heyevent.com/event/23pivhuq5gheia/radiant-women https://kelseykoontz.wordpress.com/2015/05/20/snapshot-of-nepal/
90 Day Report
Survivors speak out and photography mission completed
November 25, 2014
Progress
In October 2014, Natalie completed four weeks of an intense mission in Nepal in order to launch the project. Along with out team, she developed the budget and the project further (calendar for exhibitions and workshops, Terms of Reference of the project manager, resource persons, etc).
Natalie met with the survivors and with our partner' organizations. She undertook a 1,300 km trip by local transport during which she addressed human trafficking with many community members. All of the protagonists were joyful and delighted to participate in the project, and lighthearted that the exhibitions will be taking place soon.
Most of the survivors' unveiled new traits and a sense of fulfillment despite past and ongoing struggles. Currently, we are focusing on editing the photographs and the stories for the exhibitions.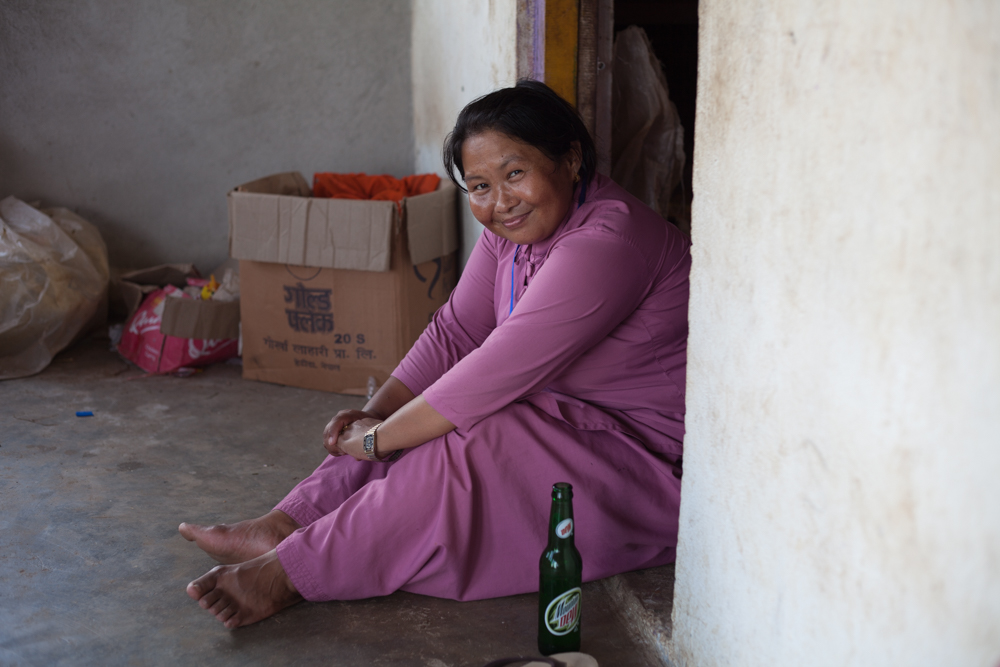 Risks and challenges
We can foresee two types of challenges. The first one is to ensure the support of government officials in talking about exploitation as it is still a taboo Nepal. We plan to embed them into the project process. For media coverage, we will also include journalists into our awareness workshops. The second challenge is related to the survivors who went through trauma and stigmatization. Although Their participation is voluntary, being exposed has put them as risk of being re-victimized.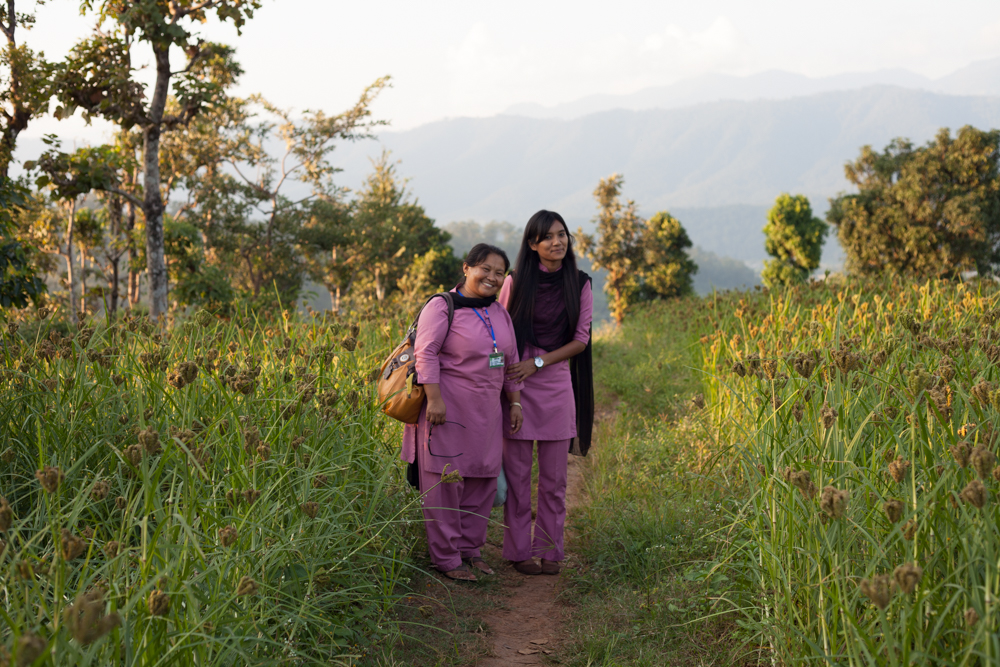 Get personal
"Over the years, I note significant changes on the women I photographed. From shy and reserved, they become confident and radiant. The metamorphosis is mainly due to empowerment programs designed to them. It starts with literacy groups where most of the women were denied education and it continues trough income generating projects to gain autonomy and Women Protection Networks to help them (domestic violence, initiate complaints or divorce)." - Natalie de Oliveira, photographer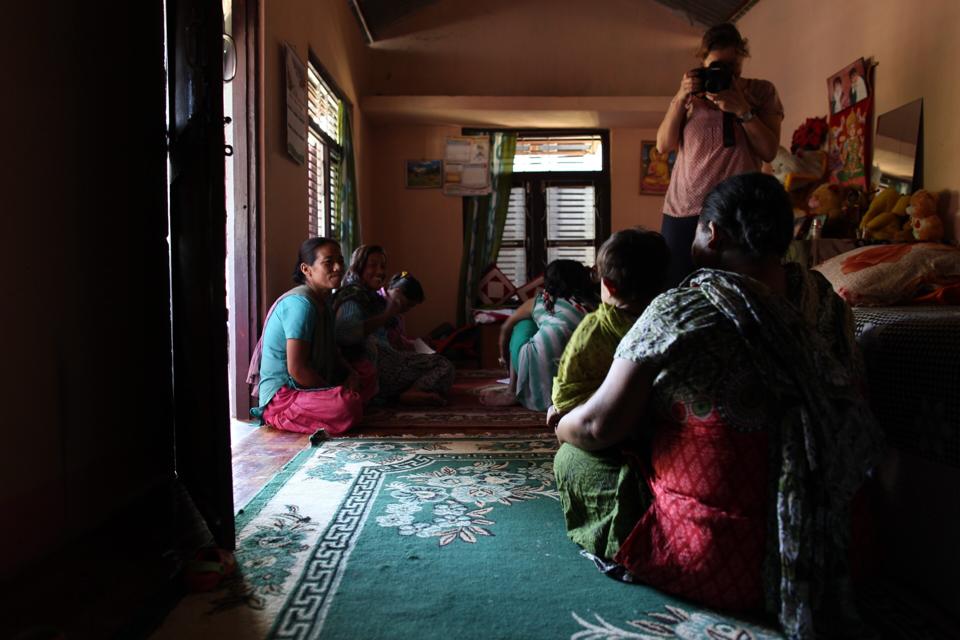 Next steps
The exhibitions are planned for Spring 2015. From March through April, the five exhibitions will launch consecutively for one week in each location. The project will recruit a project coordinator that will start from February 2015. In the meantime, the work is focusing on editing the materials to be ready for the exhibitions and tracking resources persons for translation the stories.
Budget
The money will be spent exactly as it was planed. The funds will be used for the activities of the project: the touring of the exhibitions and the workshops for social workers including launch events, the production of photos and texts (layout and printing) including the translation and the edition of the texts and the fees of the project manager and transportation of the persons taking part into the touring of the exhibitions. Natalie's time and hard work are completely pro bono.
Further reading
Natalie published on her blog on Wordpress, a selection of some pictures around the thematic of Radiant Survivors.
50 stories, five cities, and one cause: putting a face to the injustices of human trafficking and exploitation.
Why we care: Every year, 12,000 Nepali children become sex workers in India. Today, 40,000 girls are working in the industry in Kathmandu alone. The exploitation and trafficking of girls and women in Nepal is increasing despite efforts to stop this practice.
How we're solving this: By creating a photo exhibition that tells the stories of trafficked girls and women in Nepal. Exhibition from the perspective of survivors will help the survivors themselves escape from their isolation and encourage others in the community to realize the impacts of human trafficking on society.
Your support will allow us to cover the costs of five exhibitions, secure the materials to produce and edit the collection of stories and photos, and to recruit a project manager. We'll select and produce the images and stories of these women taken by photographer and human rights activist, Natalie de Oliveira. The photos will be displayed at exhibitions travelling through Nepal, from Kathmandu to other districts that are most affected by trafficking.
The project portrays the stories of 50 girls and women, the majority of whom are victims of human trafficking. Others are activists involved in Nepali organizations for the defense and protection of human trafficking victims and exploitation.
Through this photographic journey, taking place in five cities in Nepal, we'll share the lives and stories of young women exploited by the human trafficking trade. Nepal is widely affected by human trafficking but little information is given on schemes and tricks to lure the vulnerable people. At Planète Enfants, we believe that exposing the truths about human sex trafficking through sharing stories helps to create awareness and reform.
We plan to stop the abuses and exploitation of girls and women by combining the power of photography and the vivid accounts of victims. This campaign targets the people who can make a difference through actions in their everyday lives - fathers, brothers, uncles, officials, and community members. By making them aware of the stories of victims and how it could impact them and their family, we hope that instead of pushing their daughters and sisters to leave and earn money, they will choose to reinforce protection against potential traffickers.
Three groups of people will be directly affected: the visitors of the exhibitions, our NGO partners, and the social workers and stakeholders. The NGO partners are amongst the four most prominent organizations involved in human trafficking in Nepal - Planète Enfants, Saathi, Shakti Samuha, and Cap Nepal.
Together, let's enlarge the conversations about the causes of trafficking and possible solutions, which will forge dialogues with others in the victims' communities.