1 year impact report
Thanks to your support for our convention, we've developed a realistic strategic plan of action for the feminist activist network, and a listserv through which we can implement it.
Impact for girls & women
The group has yet to provide these numbers
Estimated girls & women affected
?
Broader impact
The group has yet to provide these numbers.
Estimated community members affected
?
A Meeting of Feminist Minds
Thanks to your support for our convention, we've developed a realistic strategic plan of action for the feminist activist network, and a listserv through which we can implement it. Together, we developed key areas for our activities: protecting and promoting the rights of women activists; joining our advocacy and research efforts; strengthening local actions by creating solidarity and momentum; mobilizing resources to create a regional feminist residency and retreat center in Georgia. Women activists are some of the most underserved women in our communities. We rarely take care of each other the same way we serve our members and communities. This meeting was an unique opportunity to recognize our needs and address them. We improved our skills in communicating amongst each other across different contexts, by making decisions based on consensus. By practicing this skill, our activities will become more sustainable. We shared practical and theoretical skills focused heavily on the prevention of and coping with burn-out. These sessions allowed us to actually allocate time in the busy timetable of our meeting to take care ourselves and each other. Recently backlash against women human rights defenders and feminist activists has significantly increased due to regional conflicts and religious and traditional fundamentalism. Catapult and GFW funding also went to support activists who survived attacks and are currently under threat.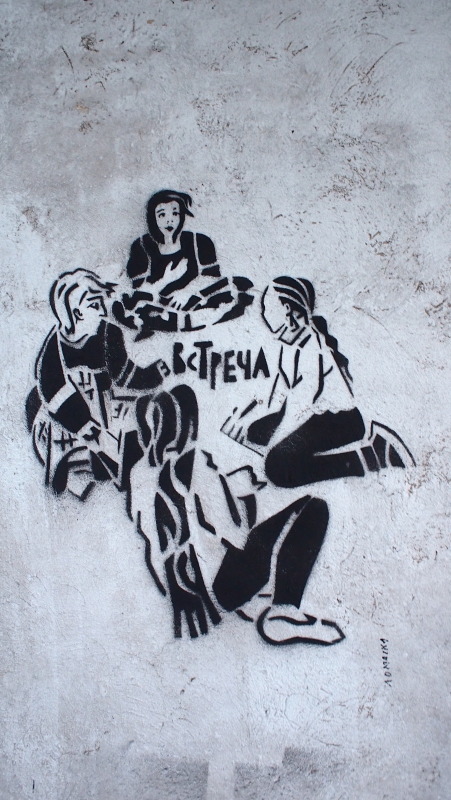 Get personal
The diversity of our group was impressive; women and transgender activists belong ranged in age from 13 to 53. Activists from 12 countries and 3 regions, including those working under repressive laws that criminalize their activism and communities. It took time to come to a common understanding of our vision and goals but for many participants the experience gained during the meeting was crucial for their self-esteem and professional development.
Risks and challenges
For much of the meeting, we faced challenges related to our different backgrounds, experiences, and expectations. While the majority of the participants speak Russian, others needed translation to participate. We initiated a group offering simultaneous translation on a rotating basis. Expectations regarding privacy and security varied. Some participants were eager to post about the event on all of their social networks, while others required anonymity to preserve their safety from violence in their local communities. The diversity of experiences of participants, led to many heated and emotional debates about strategy and future collaboration. We were pleased to be able to create a safe space to explore and come together.
What we've learned
If we were to approach this project differently, we would have held the meeting more in the format of a retreat instead of a conference. We would have preferred to gather in a location without internet so that we could really 'get away' from stress of our online activist lives. This retreat would have included trips into nature in order to assist in slowing down and relaxing, allowing for rejuvenation.
Next steps
Our project was intended to coordinate a network of feminist activists, however the network couldn't be created without horizontal organizing and strategic meeting of all the potential members. We prioritized the regional meeting. So the network is the logical next step.
Budget
We stayed on budget, but also supported an urgent action response for collective care, refuge and legal aid to activists under threat or who survived attacks and legal charges due to their activism.
Line Items

Projected budget

Amount spent so far

Venue for the regional meeting

International transportation for the meeting participants

Accommodation for the meeting participants

Logistics

Communications

Urgent action response

Bank fees

Total

$-

$-

$-

$-

$-

$-

$-

$19,440

$210

$9,520

$4,150

$280

$1,000

$4,000

$80

$19,240
90 day impact report
Ready, set, launch the Women's Solidarity Network!

Progress
From September-October, the Bishkek Feminist Collective SQ has been planning the announcement, blog and launch of the discussion on the regional feminist solidarity network. SQ had multiple Skype conferences, chats and Facebook discussions with various feminist and women's rights activists around the region.

Risks and challenges
There are many urgent unplanned work that many feminist and women's rights activists are facing in the last few months due to the overwhelming number of right wing/nationalist legal/public threats to the movements and their causes in the region.

Up Close
An activist from Central Asia mentioned to SQ staff that she is very excited and looking forward to the Regional Feminist Solidarity Network, as she really feels alone and excluded on her own as a feminist.

Next steps
Next actions are to create an organizing group of subregional focal points, start mailing lists and a blog, coordinate regional meeting, and launch networks in summer 2014.

Budget
No funding has been spent as of now since SQ is still in the planning stages.
Central Asia and the Caucuses urgently require strong feminist networks as women and girls continue to experience harassment and violence.
Why we care: Women activists in Central Asia, Caucasus, and Eastern Europe face violence, harassment, and marginalization when they stand up for their rights.
How we're solving this: Developing a regional network to strengthen feminist advocacy and campaigns, while providing protection and refuge for women's rights activists.
"Working together as a regional feminist group will make us more effective… We will become stronger multipliers of change, and share opportunities and resources… We will be united, but represent diversity of voices and experiences…for women's human rights." – activist from the Regional Feminist Network
According to a Global Study on Violence Against Women, conducted in 70 countries across four decades, "the mobilization of feminist movements is more important for change than the wealth of nations, left-wing political parties, or the number of women politicians." Central Asia and the Caucuses urgently require strong feminist networks as women and girls continue to experience harassment and violence at home, on the streets, at work, and at school. If they bravely demand respect for their social, political, and economic rights, they face discrimination and ostracism from families and communities. Women who speak out against these injustices face death threats, imprisonment, societal violence, and harassment.
The Bishkek Feminist Collective SQ refuses to accept a society in which women and girls live in fear. The group has worked since 2009 to address the root causes of gender oppression. The Collective has mobilized and organized awareness campaigns that reach thousands of people on combating gender-based violence; ending the criminalization of sex work; and resisting homophobia, transphobia, and bride-kidnapping.
This year, Bishkek Feminist Collective SQ will mobilize a regional network of young feminists throughout Kyrgyzstan, Kazakhstan, Tajikistan, Georgia, Armenia, Azerbaijan, Ukraine, Belarus, Chechnya, and other locations in the region. The group will unite close to 100 feminist activists to collectively organize and run advocacy campaigns aiming at ending all forms of gender-based violence and oppression.
The Collective will ensure that feminist activists come from diverse civil society organizations and represent underserved and politically underrepresented communities within the network. A core component of the network will be to support feminist activists through sharing knowledge and best practices on issues such as: effective activism strategies (including protests, art, spoken word, and social media campaigns), practices of self-care and nutrition on a low budget for activists, wellness and security and strategies for coping with trauma, and effective engagement with the police.
Bishkek Feminist Collective SQ will officially launch the network by bringing together for a conference 50 renowned feminists from Kyrgyzstan, Georgia, Russia and other post-Soviet countries. These core leaders will declare the network's mission, principles, and vision; create a strategic plan for 2015 – 2018; develop an urgent alert system that will ensure ongoing updates on situation in activists' respective countries and communities; and establish a peer support and refuge system to protect women human rights defenders and feminist activists under threat and at risk of burnt-out.