1 year impact report
The Kibera School for Girls strives to achieve the kind of learning that will transform our bright young girls into Kenya's future leaders.
Impact for girls & women
This is the number of students currently enrolled at the Kibera School for Girls, from pre-school through fifth grade.
Estimated girls & women affected
172
Broader impact
Because our model at Shining Hope for Communities is centered at the Kibera School for Girls, all our other program beneficiaries from Water, Sanitation, and Hygiene, along with clinic and community center activities, are indirectly affected.
Estimated community members affected
31,163
Thank you for helping our girls thrive!
The Kibera School for Girls capped the 2013 academic year with its annual closing ceremony. Performances included cultural dances from a unit that exposed the girls to all the ethnic cultures in Kenya, fostering collaboration and understanding. All classes wrote poems and plays about issues ranging from gender bias in education, child labor, and the power of dreaming. The fourth graders also delivered an impressive musical performance on the recorder, which they practice during class every Wednesday and Friday.
The new Pre-K class started in February 2014 and is made up of 40 girls, ages four and five, from all over Kibera. They are an extremely energetic class that needs to be told multiple times to go home at the end of the day. At first, they were shy, but after four months, they have come out of their shells and are very comfortable in the Kibera School for Girls environment. They are currently learning to sort and group in math class, where they are also exploring shapes and measurement.
45 of our students traveled to Mombasa, Kenya for the finals of the music and drama competitions. Our sign language poem came in second place, the song on the recorder came in fifth place, and our poem about ice-cream came in sixth place. In addition to the competition, the girls went to the beach, visited the ferry, and looked at geographic features of the region.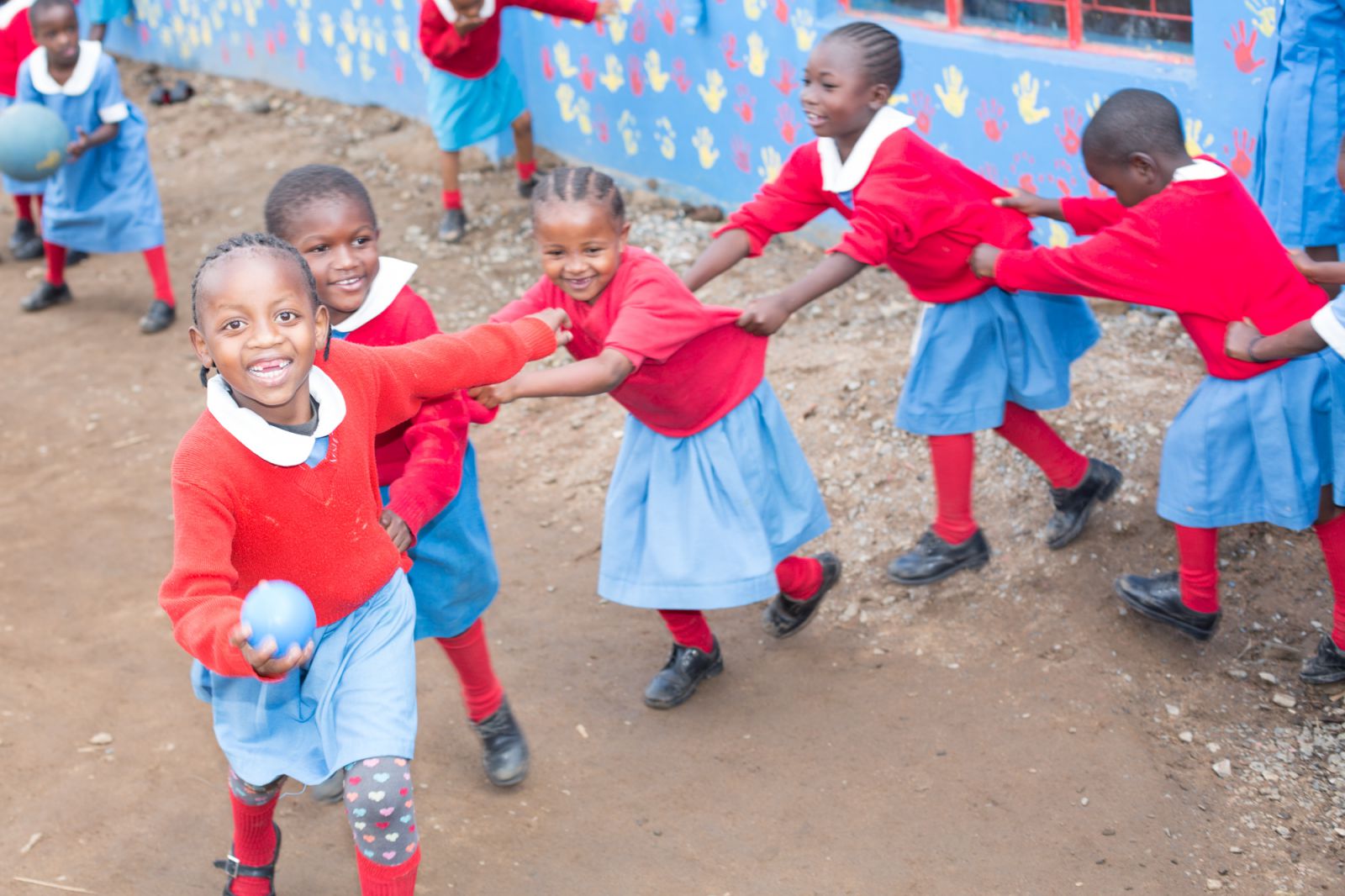 Get personal
Aileen is a student in Teacher Rita's Pre-K class. She is very responsible and has assumed the role of "student-teacher." Whenever the teachers are out of the classroom, Aileen will stand at the front of the class and instruct the other students to read the wall charts. The other girls in the class respect her and look to her as a role model and the teachers appreciate her help. At the end of the term, Aileen was awarded the "Most Responsible" title for the Pre-K class.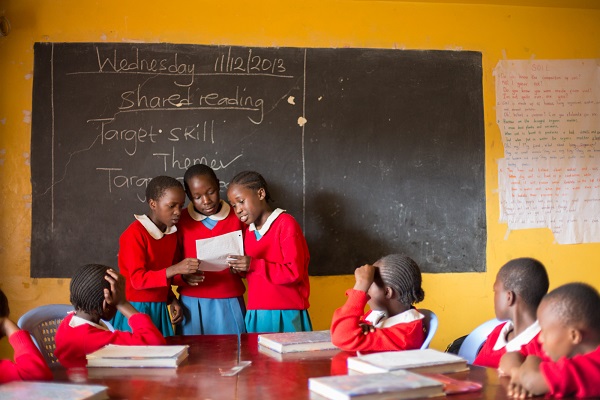 Risks and challenges
We are rapidly outgrowing our current school building which currently has 10 classrooms, three offices, a computer lab, a theater room, two storage rooms, a playground, and an auditorium with a holding capacity of 150-200 people. In 2013, we were able to secure the land for our expansion. The architect has submitted building designs and we hope to break ground this summer (2014). The new building will include the office block, classrooms, and a cutting-edge computer laboratory for our girls, and most importantly more space for after-school wellness activities - our hall can no longer hold 172 girls for their yoga classes!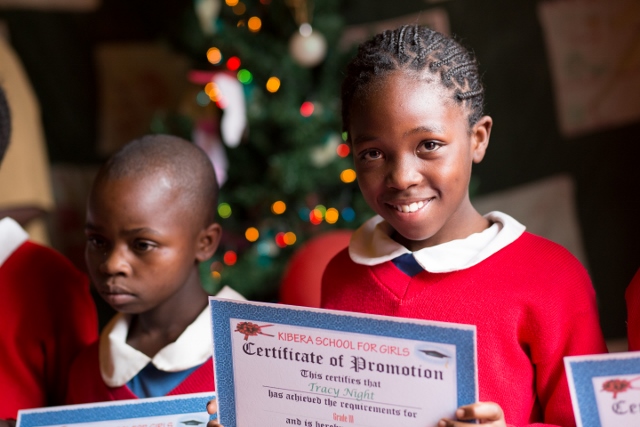 What we've learned
According to Harvard Family Research Project, participation in after-school programs influences academic performance in a number of ways, including better attitudes toward school and higher educational aspirations; higher school attendance rates and lower tardiness rates; less disciplinary action, such as suspension; lower dropout rates; better performance in school and deeper engagement in learning. Beyond academic performance, participants in after-school programs also show improvements in socio-emotional development. In the context of Kibera, Kenya where quality of education is generally low, the Kibera School for Girls strives to achieve the kind of learning that will transform our bright young girls into Kenya's future leaders.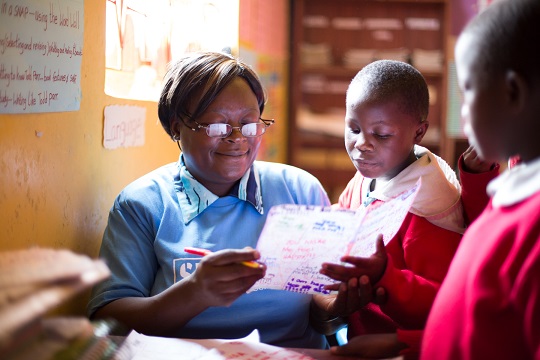 Next steps
Kibera School for Girls' new and improved play-centered, team-based approach in its after-school programs will begin by dividing the school population into four different teams. Each student will be permanently part of a team during the duration of her stay in primary school. By participating, each student has a role of contributing to the team by gaining points through winning in school-wide competitions in sports, art, music, and more. or by gaining recognition in external school-related activities.
Budget
Line Items

Projected budget

Amount spent so far

Supplies

Printing

Food

Field trips and special events

Salaries and benefits

$1,500

$1,000

$1,250

$800

$4,450

$788

$562

$1,255

$1,703

$4,911
More information
This is another must-watch: http://vimeo.com/88081404
Further reading
Nicholas Kristof wrote an op-ed titled "How Brave Girls Helped Crack a Taboo" featuring one of our girls at Kibera School for Girls
90 day report
Education beyond the classroom
posted Dec 4, 2013 by Rati Bishnoi
Progress
In early October, our students went to the Storymoja Hay Festival at the National Museums of Kenya. The Annual Storymoja Hay Festival, Kenya's premier literary event, celebrates Kenya's contemporary stories and culture. Our girls asked many tough questions that the authors were very surprised to hear from girls that age. On November 23rd, Kibera School for Girls participated in the fifth annual Running for Child Survival 2013 event with the theme "Put Firm Brakes on Diarrhea and Pneumonia on Our Children" sponsored by the Kenya Pediatrics Association. The fun run was held in the campus grounds of University of Nairobi.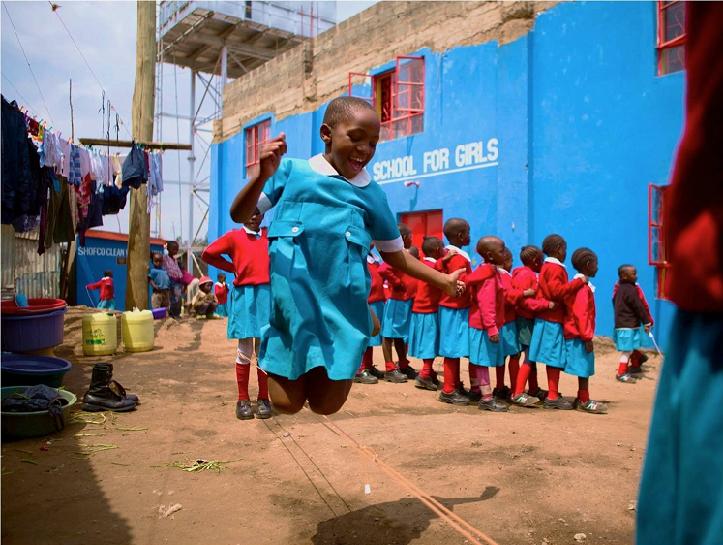 Risks and challenges
Our central challenge is sustainable growth while maintaining our commitment to answering grassroots demand for our services. Although Shining Hope for Communities constructed a larger building to house Kibera School for Girls in 2012, we are rapidly outgrowing the facility. We will need to construct additional rooms to accommodate for increased class size and new grade levels as we follow our students though the 8th grade. Last year, community leaders from the two nearby slums of Mathare reached out to Shining Hope for Communities to discuss the potential of expanding our program operations to those sites. Per our model, the first step in the implementation of our services is a free school for girls. Construction of the Mathare School for Girls has been delayed due to funding challenges.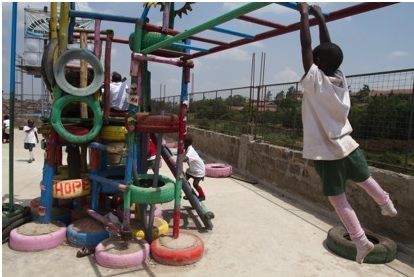 Get personal
Jeva Mishel Awuor, Kindergarten and National Poetry Competition Winner: " The first time that we went to poetry we were number one and the second time we were number one. When we went to Nukuru we first went to the boarding house. We went on a bus and we got there at night. We met another school called St. Veronika School and they sang us a welcome song. And we didn't want to go to sleep because they sang to us and they were nice."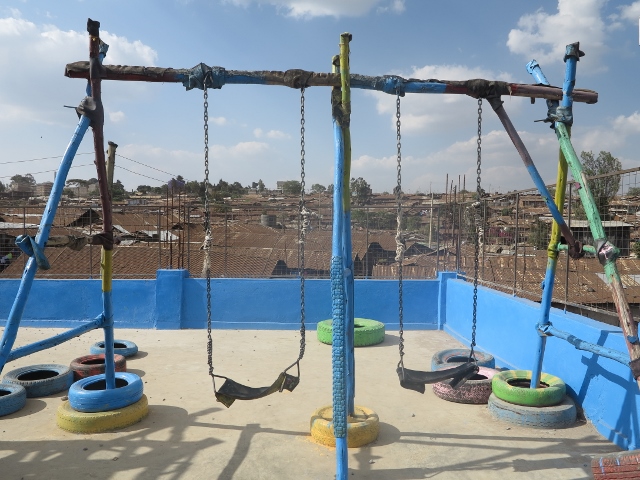 Next steps
Kibera School for Girls is currently preparing for its annual closing ceremony on December 20th. To celebrate their achievements, students will be delivering performances in poetry, song, and dance - which they practice during after-school hours.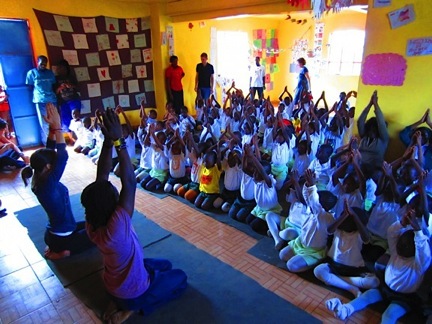 Budget
Shining Hope for Communities employs four dedicated afterschool teachers who provide thorough supervision for all student participants during the Afterschool Program which runs from 3:30 to 5:00 p.m. Supplies (such as paint, toys, etc.) have been used to improve the playground and diversify girls' recreational activities. Field trips are done at least one month and incur costs such as transportation, food, and registration.
Line Items
Original budget
Amount spent so far

Supplies

Printing

Food

Field trips and special events

Salaries and benefits

$1,500

$1,000

$1,250

$800

$4,450

$436

$211

$687

$493

$1,551
Kibera School for Girls offers free education and connects the entire community to services, such as computer skills training and health education.
Why we care: 43% of girls are out of school in Kibera, Kenya—Nairobi's largest slum with 1 million residents.
How we're solving this: We offer free schooling and an afterschool wellness program for the brightest girls makes educating girls not a question of resources, but of desire.
Women bear a disproportionate burden of the hardships of life in urban poverty and in Kibera, Kenya—women contract HIV at a rate five times their male counterparts. 43% of girls in are out of school, compared to 29% of boys; and 7 out of 10 women will experience violence.
Shining Hope for Communities built Kibera's first tuition-free primary school for girls in 2009, the Kibera School for Girls (KSG). To make the highest impact investment possible, we strategically identify both the brightest and the most at-risk girls for enrollment at KSG. We develop the next generation of leaders by providing a superior education through small classes, exceptional teachers, and cutting-edge curriculum. Several of our 3rd grade students read at 7th and 8th grade levels and 82% of students perform at or above US grade-level standards.
There is also an afterschool wellness program which runs for two hours each weekday and serves our students in kindergarten through 4th grade. Current teachers, parent volunteers, and a recently hired drama instructor lead these programs. Participation in the program is contingent on enrollment in the school and the activities are provided free of charge, offering a safe alternative for students after school ends. The programs support our educational purposes at the school by providing a learning environment where our students can enjoy an extra snack (in addition to the two meals provided during the day), and partake in extracurricular activities including yoga, theater and themed games that complement the lessons they are learning.