1 year impact report
"The Room to Read country director handed me exercise books, pens, a school bag, sanitary towels, a school uniform, a solar lamp for studying at home, and they told me that they had paid my school fees!"
Impact for girls & women
This is the total number of girls enrolled in our Girls' Education program.
Estimated girls & women affected
841
Broader impact
While we only directly track the number of girls in our program, we understand that our program impacts parents, community members, and siblings of the girls enrolled in our program.
Estimated community members affected
841+
One year later: Girls' education in Tanzania
One year ago, you generously decided to support the education of 50 girls in Tanzania through our Girls' Education Program, a comprehensive program that supports girls through the completion of secondary school and ensures they have the skills to succeed both in school and beyond.
In 2013, we continued to support girls through the program through the provision of academic and life skills support. Additionally, while our program focuses on female students, we believe that if male students are aware of the experiences of their female peers, they are more likely to become advocates for girls in their lives and feel more connected to girls' empowerment. Our teams began including male students in certain life skills sessions early in 2014 and we are exploring additional ways of involving boys and men in our program.
Also, at the end of 2013 we made a strategic decision to more closely align our Literacy and Girls' Education efforts in Tanzania. As a first step, we decided to focus both program interventions on the same communities, which will allow us to support girls during two critical stages in their education. We have found that too many Tanzanian girls in secondary school lack a strong foundation in literacy, which impacts their ability to learn and keep up academically. By aligning our programs and supporting girls through both primary and secondary school, we can help ensure they have both the academic and life skills they need to succeed.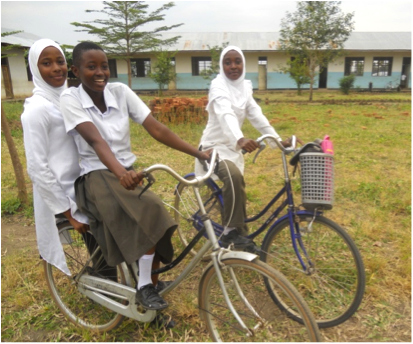 Get personal
"I will not forget when I was called in front of the headmistress. The Room to Read country director handed me exercise books, pens, a school bag, sanitary towels, a school uniform, a solar lamp for studying at home, and they told me that they had paid my school fees. It was like a dream to me because I was not expecting this to happen. I was tired with always being uncertain at school. Tears of happiness just dropped from my eyes." - Room to Read Girls' Education program participant.
Risks and challenges
In our 90 day report, we shared our plan to enroll a total of 587 girls in our Girls' Education Program in Tanzania through 2013. However, many girls from local primary schools did not pass the required exit exams needed to advance to secondary school, which impacted our ability to enroll more girls. This brought our total enrollment through 2013 to 551 girls. In 2014, we are enrolling 290 girls in our new Bagamoyo program.
What we've learned
As mentioned in our summary, we learned in the last year that girls in Tanzania often lack a strong foundation in literacy, therefore impacting their ability to learn. To combat this, moving forward we will be more closely aligning our literacy and girls' education program work in Tanzania. As a result of this decision, we have decided to move all new Girls' Education work to our new regions of operation in Bagamoyo.
Next steps
We will continue to support the two classes of girls who are already enrolled in the program in Mvomero through the end of secondary school, but will not enroll any additional classes of girls at this time. We began working with our first class of students in Bagamoyo earlier this year and are now supporting 290 girls in this region at four schools.
Budget
Line Items

Projected budget

Amount spent so far

Life skills training

Material support

Social mobilizers

Academic support

$1,250

$2,500

$3,750

$5,000

$1,250

$2,500

$3,750

$5,000
Further reading
We are pleased to share our recent 2013 Annual Report, "Working Smart."
90 Day Report
Update on your investment in Girls' Education in Tanzania
posted Nov 8, 2013 by Catapult Intern
Progress
In 2013 we welcomed our second cohort of students to our Girls' Education program in Mvomero. 267 Form 1 girls joined the program, bringing the total number of program participants to 587. To support our program growth, we expanded our staff of social mobilizers to a team of eight women who provide life skills training, mentoring and academic support at four secondary schools.
In 2013, we continued to focus on Life Skills Training within the program; through this we conducted workshops on personal health, education and family relationships to help girls negotiate key life decisions.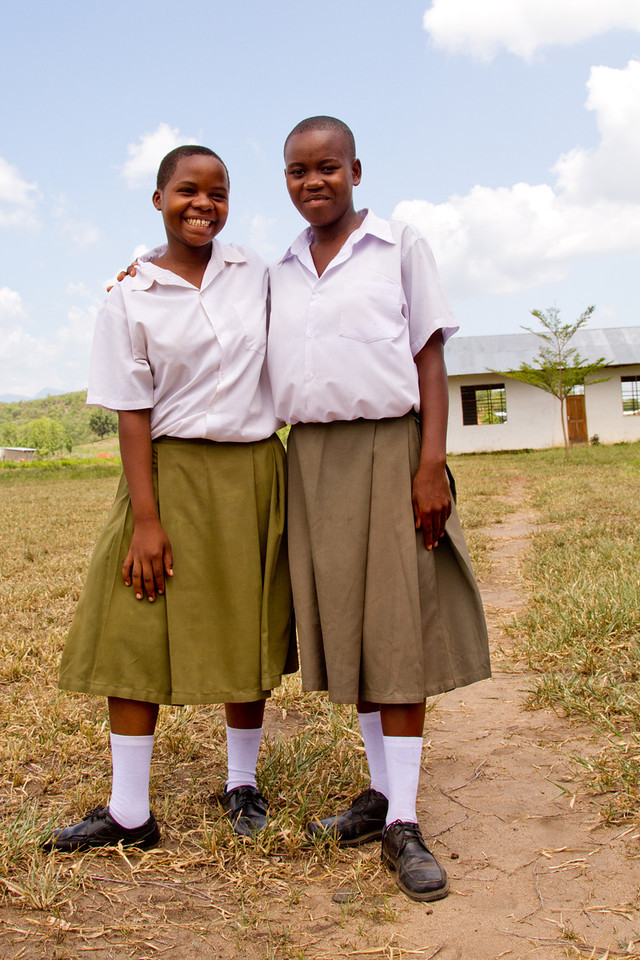 Additionally, we partnered with the Aga Khan University's Institute for Educational Development in East Africa (AKU-IED, EA) for our first three years of work in Tanzania. The vision of Aga Khan University's Institute for Educational Development in East Africa AKU-IED, EA is to raise the standard of education in East Africa region. It contributes to the improvement of education by providing training programs and development activities for educators and academic institutions.
Risks and challenges
Curbing the drop-out rate of girls in Tanzania is a challenge for our project. In 2010, 63 percent of all secondary school drop-outs in Tanzania were female, with truancy and early pregnancy accounting for 68 percent of these drop-outs.
However, our program has already had a marked impact on the drop-out rate at the three schools. Of the 320 girls who started the program, 10 left school because they were unable to read at a grade-appropriate level, six left due to pregnancy, and seven transferred schools. Omitting transfers, this equates to a drop-out rate of 5.1%, which is significantly lower than the 2009 national drop-out rate for female secondary school students, which was 13.3%.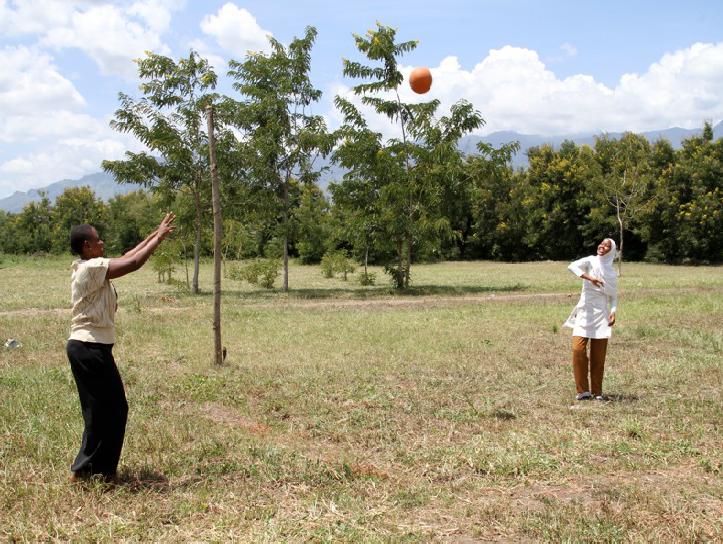 Get personal
"I thank Room to Read for their support and what the social mobilizers have done for me because without them talking and encouraging me through life skill sessions, I could have decided to leave school in just the first semester. I study very hard so that the support I get isn't wasted. Thank you all!" - Judith, Girls' Education program participant in Mvovmero, Tanzania.
Next steps
We will continue to carry out many of the same activities around life skills, family engagement and material support to ensure that the girls currently in our program get the support they need to graduate from secondary school. We look forward to updating you on our progress and sharing our targets for 2014 enrollment in the Girls' Education program in our next report. Thank you for your generous support!

Further Reading
Girl's Education Yearbook
Help Room to Read support girls in Tanzania complete secondary school and provide the support and skills to navigate through major life decisions.
Why we care: In 2010, 63 percent of all secondary school drop-outs in Tanzania were girls, with truancy—which can be attributed to the long distance girls must travel to school—and early pregnancy accounting for 68 percent of these drop-outs.
How we're solving this: Working at both the community and school level to provide girls with the academic, social, and material support they need to overcome educational and social barriers to completing school.
Although the number of girls enrolled in school increased significantly when universal primary education was introduced in Tanzania in 2000, a large gender gap in education still persists. While girls may have better access to education, barriers such as the cost of school materials, early pregnancy and marriage, and gender-based expectations impede achievement, causing many to fall behind in school or dropout. With only a few secondary schools in rural areas, many girls must travel long distances to attend school, sometimes under risky conditions, further contributing to low attendance rates and safety concerns among parents.
Room to Read is committed to supporting every girl enrolled in our program to complete secondary school by providing life skills education and mentoring, as well as focused academic tutoring and material support. For many of the girls in our program, Room to Read is their lifeline to continued educational opportunity.
We provide our girl scholars long-term financial assistance toward school fees, tutoring, mentoring and life skills training for girls to ensure their ability to complete secondary school with the relevant skills to succeed in school and beyond. Room to Read also works with parents, schools, and communities to positively change the educational environment and address systemic barriers to gender equality.
We have made a commitment to providing a set of core program activities to both girls and their communities as part of our new strategic vision. We believe that when implemented together, these program activities substantially increase girls' success in completing secondary school with the skills necessary to negotiate key life decisions, while helping to build a more gender equitable society.
In addition to providing direct supports to girl participants, Room to Read mobilizes the community to champion girls' education by hosting a series of parent meetings, community-wide events, and workshops that help community groups better understand their role in supporting girls' education.
This project will help raise funds for 50 girls to receive support and life-skills training on issues such as self-awareness, decision-making and problem solving, critical and creative thinking, and coping with emotions and stress. This project will also provide material and academic support to girls on a need-basis; this support can include tutors, school materials, school uniforms, and help with tuition when necessary.
Additionally, this project supports one Social Mobilizer who serves as a mentor and resource for the 50 girls who will be funded by this project. The Social Mobilizer works with program participants to ensure they are supported both in school and at home; this support ranges from making sure a girl receives material support if needed to working with a girl's parents to ensure she stays in school.